The late Teddi King ('Mr. Wonderful') was born in 1929
The late Dee Dee Ramone (born Doug Colvin – bass guitar with The Ramones – 'Rock 'n' Roll High School') was born in 1951
Kerry Livgren (guitarist with Kansas – 'Dust In The Wind') is 65
Alan 'Bam' King (guitarist with The Action – 'Baby You've Got It' and later with Ace – 'How Long?') is 69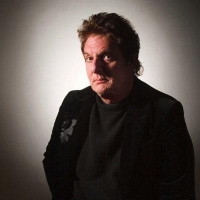 P.F. Sloan (born Philip Gary Schlein – singer/songwriter) is 69
Rock Factoid: As a staff songwriter with Screen Gems in 1961, Sloan was paired with Steve Barri. Under the name The Fantastic Baggys, they released an album of surfing music and had regional success on the West Coast with one single ('Anywhere The Girls Are').
Rock Factoid #2: Sloan and Barri provided the backing vocals for many of Jan & Dean's hit songs, including Sloan's soaring falsetto on 'The Anaheim, Azusa & Cucamonga Sewing Circle, Book Review And Timing Association' and 'The Little Old Lady From Pasadena'
Rock Factoid #3: In 1965, Sloan and Barri took advantage of the burgeoning folk-rock scene and recorded 'Where Were You When I Needed You' under the name of the Grass Roots. After the song became a modest hit, the record label wanted them to go on the road to tour. Sloan declined, so a talented but unknown Los Angeles group called The 13th Floor was signed and offered the choice to go with their own name or choose to adopt a name that had already been heard of nationwide. They chose the latter.
Rock Factoid #4: Sloan and Barri wrote 'You Baby' (Turtles), 'Secret Agent Man' (Johnny Rivers) and 'Summer Means Fun' (Jan & Dean) before the songwriting partnership fell apart. Sloan went on to write 'Let Me Be' for The Turtles and the folk-rock classic 'Eve Of Destruction' for Barry McGuire.
Frankie Avalon ('Venus') is 74
Jimmie Rodgers ('Honeycomb') is 81
The Dave Clark Five released 'Everybody Knows (I Still Love You)' / 'Ol' Sol'—1964
The Byrds recorded 'Satisfied Mind' and 'It Won't Be Wrong'—1965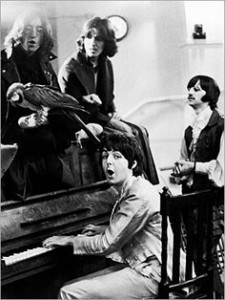 The Beatles recorded 'Birthday'—1968
Rock Factoid: After taping 20 takes of the backing track, The Beatles, along with Yoko Ono, Pattie Harrison, and Chris Thomas (who was filling for George Martin as producer), left the studio and went to Paul McCartney's house to watch the classic rock and roll film The Girl Can't Help It on BBC2. After that they went back into the studio and recorded the vocals and overdubs.
The Monkees opened a tour of the Far East with a concert in Melbourne, Australia—1968
Rush performed their first paying concert at The Coff-In at The United Church in Toronto. Their setlist included covers of songs by Jimi Hendrix, Cream and The Yardbirds. The band lineup at that first gig consisted of guitarist Alex Lifeson, bassist and front man Jeff Jones, and drummer John Rutsey. Within a couple of weeks of forming, and before their second performance, Jones was replaced by Geddy Lee—1968
Tiny Tim announced his engagement to Miss Vicki Budinger. He later said, "I was so moved I shed a tear and put it in an envelope that I always keep in my ukulele."—1969
Black Sabbath released their second album ('Paranoid'). It would eventually sell over 4 million copies in the U.S. alone—1970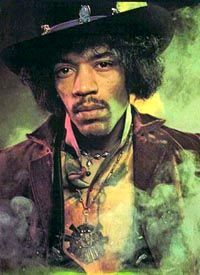 Jimi Hendrix died of a drug overdose—1970
Rock Factoid: In the days before his death, Hendrix had been in poor health, due in part to fatigue caused by overworking, a chronic lack of sleep, and an illness assumed to be influenza-related. The post-mortem examination concluded that Hendrix aspirated his own vomit and died of asphyxia while intoxicated with barbiturates.
Boston released 'More Than A Feeling' / 'Smokin'—1976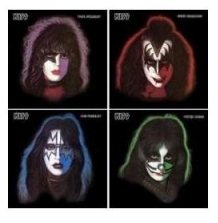 All four members of Kiss released solo albums—1978
Rock Factoid: Casablanca Records shipped five million total copies of the albums (guaranteeing instant platinum status). That was soon followed by retailers shipping them back to the record company. The actual and legitimate number of copies sold was slightly over 2 million.
The Who reached the top of the U.K. Album Chart for the first and only time with their fifth studio album, 'Who's Next'—1971
Greg Arama (bass guitar with The Amboy Dukes – 'Journey To The Center Of Your Mind') died (motorcycle accident)—1979
Kiss appeared on stage for the first time without their make-up—1983
Rob Tyner (born Robert Derminer – lead singer with The MC5 – 'Back In The U.S.A.') died (heart attack)—1991
At Sotheby's in London, Julian Lennon anonymously (and successfully) bid just over $39,000 for the recording notes for 'Hey Jude'. At the same auction, John Lennon's scribbled lyrics to 'Being For The Benefit Of Mr. Kite' sold for $103,500—1996
Jimmy Witherspoon ('Ain't Nobody's Business') died (throat cancer)—1997
Charlie Foxx ('Mockingbird' with sister Inez Foxx) died (leukemia)—1998
Paddy Chambers (lead guitar with The Escorts – 'From Head To Toe' and Paddy, Klaus & Gibson – 'Teresa') died (cancer)—2000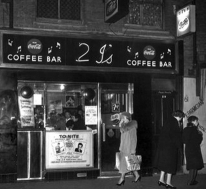 Sir Cliff Richard and a host of musical guests were present at the unveiling of a commemorative plaque at the 2 I's Coffee Bar in London's Soho—2006
Rock Factoid: The club, widely regarded as the birthplace of British rock & roll, began featuring music artists in 1956 and audiences crammed into the tiny basement to see acts such as Sir Cliff, Tommy Steele, The Shadows, The Tornados and Adam Faith.
Opal Courtney, Jr. (The Spaniels – 'Goodnight Sweetheart, Goodnight') died (heart attack)—2008
Compiled by Ray Lemire ©2014 RayLemire.com. All Rights Reserved.
You may not, under any circumstances, reproduce, record, publish, republish, post, transmit, publicly display, publicly exhibit or distribute any articles or photographs on RayLemire.com without obtaining the express written consent of the Operator.
[whohit]sept-18-rrh[/whohit]