"I was a pilot flying an airplane and it just so happened that where I was flying made what I was doing spying."
~Francis Gary Powers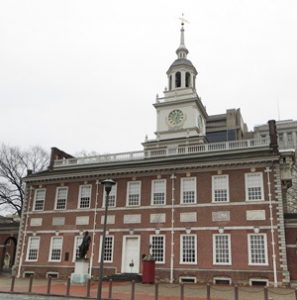 1776 – Standing on the steps of the Pennsylvania State House, Col. John Nixon – commander of the defenses of the Delaware River – gave the first public reading of the Declaration of Independence to a crowd gathered at Independence Square in Philadelphia.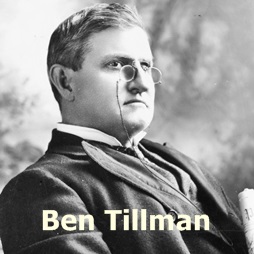 1876 – The Hamburg Massacre was a key event in the African American town of Hamburg, South Carolina with the goal of suppressing black voting, disrupting Republican meetings, and suppressing black Americans civil rights, through actual and threatened violence.
On July 4 (in the midst of a heated Reconstruction era local election season) a Black militia was engaged in military exercises when two white farmers attempted to drive through.
Although the farmers got through the military formation after an initial argument, this event provided the excuse sought by whites to suppress Black voting. On July 6, in a courtroom, the farmers charged the militia with obstructing the road.
The case was postponed to July 8, by which time more than 100 white men from local counties had gathered in town, armed with weapons.
As armed white men gathered in the vicinity, the militia company refused to disarm and took refuge in an armory. The white militia surrounded the building. Perhaps 25 black militia and 15 others were in the building when firing began. In the exchange of gunfire, McKie Meriwether, a local white farmer, was killed.
Outnumbered, running out of ammunition, and upon learning that the whites had brought a small cannon to the city from Augusta, the militia in the armory slipped away into the night.
The White supremacist militia rounded up around two dozen black citizens, some from the militia, and took them to a spot near the South Carolina Railroad and bridge. There, the whites formed what was later called the "Dead Ring" and debated the fate of the black men. The whites picked out four men and, going around the ring, murdered them one at a time.
The Sweetwater Sabre Company, led by Ben Tillman, was chosen to execute black state legislator Simon Coker of Barnwell. After being told of his impending execution, Coker asked the unit to give instructions to his wife regarding cotton-ginning and that month's rent. He was then executed mid-prayer.
A coroner's jury indicted ninety-four white men in the attack, including Tillman and others of the most prominent men in South Carolina and Georgia.
They were never prosecuted.
Tillman who later ran on a racist platform that blacks were inferior to whites and should have no political power, served as Governor of South Carolina from 1890 to 1894, and as a United States Senator from 1895 until his death in 1918.
Racist Factoid: In 1940, the state legislature of South Carolina erected a statue honoring Tillman on the capitol grounds. There have been repeated demands that the statue be removed but it is still standing today.
Racist Factoid #2: In 1946, Clemson University, one of South Carolina's public universities, renamed its main hall in Tillman's honor. Only after events in 2015, when white supremacist Dylann Roof murdered nine black church members during their prayer service, did Clemson vote to distance themselves from Tillman's "campaign of terror."
However, Tillman's name still remains on the main hall.
Postscript: On June 12, 2020, Clemson University's Board of Trustees said they want Tillman Hall, renamed to Main Building, the original identity. The move comes after protests from students and leaders who have called for the removal of Tillman's name for years.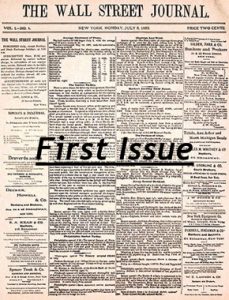 1889 – The Wall Street Journal was first published.
The first products of Dow Jones & Company, the publisher of the Journal, were brief news bulletins, nick-named "flimsies", hand-delivered throughout the day to traders at the stock exchange in the early 1880s. They were later aggregated in a printed daily summary called the Customers' Afternoon Letter.
Today, the Wall Street Journal is read by 2.4 million people a day.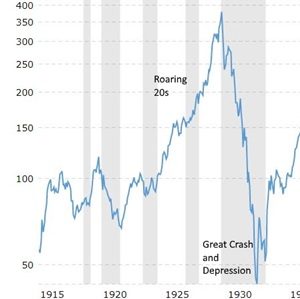 1932 – The Dow Jones Industrial Average reached its lowest level of the Great Depression, closing at 41.22.
In June 1930 Congress approved the Smoot–Hawley Tariff Act which raised tariffs on thousands of imported items.
The intent of the Act was to encourage the purchase of American-made products by increasing the cost of imported goods, while raising revenue for the federal government and protecting farmers.
Other nations increased tariffs on American-made goods in retaliation, reducing international trade, and worsening the Depression.
By July 1932, unemployment had reached 23.6% Drought persisted in the agricultural heartland, causing businesses and families to default on record numbers of loans. More than 5,000 banks failed.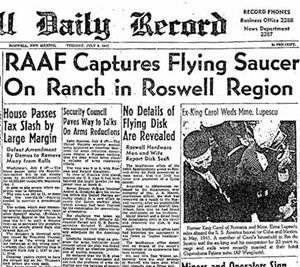 1947 – New Mexico's Roswell Daily Record reported an alien aircraft had crashed near a local ranch.
Following wide initial interest in the crashed "flying disc", the U.S. military stated that it was merely a conventional weather balloon and interest subsequently waned until the late 1970s, when ufologists began promoting a variety of increasingly elaborate conspiracy theories, claiming that one or more alien spacecraft had crash-landed and that the extraterrestrial occupants had been recovered by the military, which then engaged in a cover-up.
In the 1990s, the U.S. government published two reports disclosing the true nature of the crashed object: a nuclear test surveillance balloon from Project Mogul.
Nevertheless, the Roswell incident continues to be of interest in popular media, and conspiracy theories surrounding the event persist.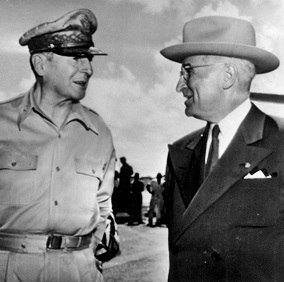 1950 – The day after the U.N. Security Council recommended that all U.N. forces in Korea be placed under the command of the U.S. military, General Douglas MacArthur, the hero of the war against Japan, was appointed head of the United Nations Command by President Harry S. Truman.
MacArthur's ego would guarantee the position wouldn't be his for long.
In September, he organized a risky but highly successful landing at Inchon, and by October, North Korean forces had been driven back across the 38th parallel.
With President Truman's approval, U.N. forces crossed into North Korea and advanced all the way to the Yalu River – the border between North Korea and communist China – despite warnings that this would provoke Chinese intervention.
When China did intervene, forcing U.N. forces into a desperate retreat, MacArthur pressed for permission to bomb China. President Truman, fearing the Cold War implications of an expanded war in the Far East, refused.
MacArthur then publicly threatened to escalate hostilities with China in defiance of Truman's stated war policy, leading Truman to fire him on April 11, 1951.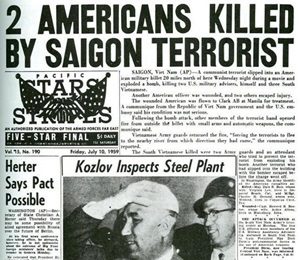 1959 – Maj. Dale R. Ruis and Master Sgt. Chester M. Ovnand became the first Americans killed in the American phase of the Vietnam War when guerrillas struck a Military Assistance Advisory Group (MAAG) compound in Bien Hoa, 20 miles northeast of Saigon.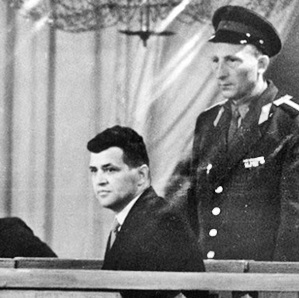 1960 – Francis Gary Powers was charged with espionage resulting from his flight over the Soviet Union.
The CIA had recruited him in 1956 to fly the Lockheed U-2, a spy plane that could reach altitudes of 80,000 feet, essentially making it invulnerable to Soviet anti-aircraft weapons. The U-2 was equipped with a state-of-the-art camera designed to snap high-resolution photos from the edge of the atmosphere.
On what turned out to be Powers' last flight for the CIA on May 1, the Soviets shadowed his U-2 at a lower altitude, then took him down as he crossed over Sverdlovsk, deep in enemy territory.
To make matters worse, Powers was unable to activate the plane's self-destruct mechanism, as instructed, before he parachuted safely to the ground, right into the hands of the KGB.
The incident undermined a major peace summit between the two Cold War superpowers, and resulted in the withdrawal of an invitation to President Dwight Eisenhower to visit Moscow.
One month after being charged, Powers was sentenced to 10 years in prison, but was released after two, in exchange for Soviet spy Rudolf Abel.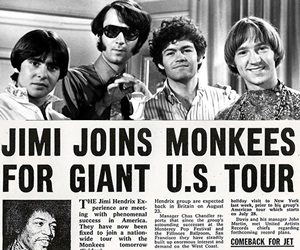 1967 – The Jimi Hendrix Experience opened for the Monkees in Jacksonville, FL.
So what do you get when you cross a guitar genius with one of the world's bestselling pop bands? A frustrated guitarist, a disappointed band and a bewildered and confused audience.
The Monkees young fans, as well as their parents who often accompanied them at shows, were less than thrilled.
"[The parents] were probably not too crazy about having to sit through a Monkees concert, much less seeing this guy playing music from hell," said Monkees drummer Micky Dolenz.
Hendrix stuck it out for six more shows, exiting after a run of three concerts on July 14, 15 and 16 at Forest Hills Tennis Stadium in New York City.
"It was evident from the start that we were witness to a rare and phenomenal talent," Dolenz wrote in his autobiography I'm A Believer. "I would stand in the wings and watch and listen in awe."
As seen below, guitarist Mike Nesmith agreed with Dolenz.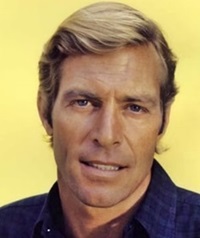 1991 – Actor James Franciscus, best remembered for his title roles in television's Mr. Novak and Longstreet, died from emphysema at the age of 57.
Mr. Novak – in which Franciscus played the role of teacher John Novak, was the first series to depict both teachers and students in a dramatic and realistic manner.
In its two year run, the program won over 47 awards from various educational institutions including the National Education Association and was the recipient of a prestigious Peabody Award for excellence.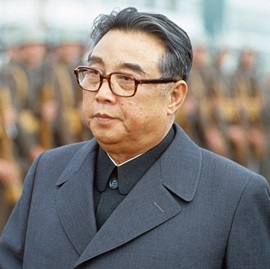 1994 – Kim Il sung, the communist dictator of North Korea since 1948, died of a heart attack at the age of 82.
From the very beginning of his reign, Kim led his country into a deep isolation from even its former communist allies. Repressive rule and a personality cult that celebrated him as the "Great Leader" kept him in power until his death.
He was succeeded as president by his son, Kim Jong il, whose reign was equally repressive and isolating. His son, Kim Jong-un, has continued the policy of keeping his nation virtually isolated from the world, even as millions of his country's people live in poverty.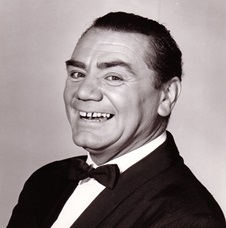 2012 – Academy Award winning actor Ernest Borgnine died of kidney failure at the age of 95.
His early career included supporting roles in China Corsair, From Here To Eternity, Bad Day at Black Rock and The Wild Bunch.
He won the Academy Award for Best Actor for Marty(1955).
He achieved continuing success in the sitcom McHale's Navy. and later co-starred in the action series Airwolf.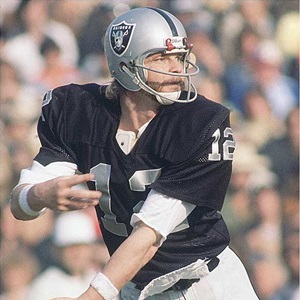 2015 – Former NFL quarterback Ken "Snake" Stabler died from complications of stage 4 colon cancer at the age of 69.
A two-year star at the University of Alabama and an NFL star for 15 seasons, Stabler quarterbacked the Oakland Raiders to victory in Super Bowl XI, was the 1974 NFL Most Valuable Player and was selected as a quarterback for the NFL 1970s All-Decade Team.
He was posthumously elected to the Pro Football Hall of Fame in 2016.
In February 2016, The New York Times reported that researchers at Boston University discovered high Stage 3 chronic traumatic encephalopathy (CTE) in Stabler's brain after his death.

Compiled by Ray Lemire ©2005-2020 RayLemire.com. / Streamingoldies.com. All Rights Reserved.