"I do not feel obliged to believe that the same God who has endowed us with sense, reason, and intellect has intended us to forgo their use. All truths are easy to understand once they are discovered; the point is to discover them. "
~Galileo Galilei
============================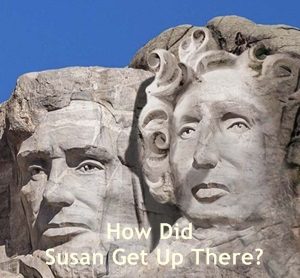 ============================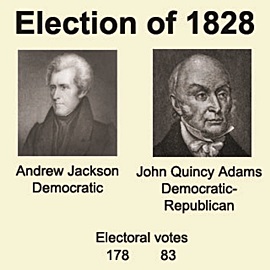 1828 – Polling opened for the 1828 presidential election.
Voting ran from October 31 to December 2 and featured a re-match of the 1824 election, as President John Quincy Adams of the National Republican Party faced Andrew Jackson of the Democratic Party.
And it was ugly.
The two parties engaged in a previously unsurpassed amount of public mudslinging, with personal attacks being the norm.
Adams was attacked for living in "kingly pomp and splendor" and for having premarital relations with his wife. He was vilified for (gasp!) "traveling on Sundays."
Jackson was attacked as being uneducated and reckless. He was also branded as a murderer for his executions of deserters. He also came under heavy attack as a slave trader who bought and sold slaves and moved them about in defiance of modern standards of morality.
Adams continued the tradition of presidential candidates not personally campaigning at all. Jackson, on the other hand, was intimately involved in organizing his campaign.
While Adams maintained his support in New England, Jackson won the southern and western states, which were enough to ensure his victory.
He won the Electoral vote, 178-83.

1903 – A railroad train collision in Indianapolis killed 17 people.
Two special trains operated by the Cleveland, Cincinnati, Chicago and St. Louis Railway (the "Big Four Railroad") were chartered to carry the Purdue football team and over 1,500 passengers from Lafayette to Indianapolis for the annual Indiana University / Purdue University rivalry football game.
At approximately 10:00 am, 16 passengers in the first coach were killed when the lead special collided with a coal train after rounding a curve.
Fourteen of the dead were members of the Purdue football team. At least 40 other passengers were injured, including 22 varsity members.
It could have been so much worse.
The lead special carried 950 passengers, including 600 students. The second special carried the remaining 550 passengers. The coal train consisted of seven 80,000-pound coal cars.
The collision drove the first coach car and the lead car of the coal train under the second coal car. The first coach car, where the team, coaches, and others were seated, was "split from end to end, thrown straight up in the air, and fell in splinters and twisted iron on either side of the track."
The body of the second coach car, where members of the marching band and students were seated, was torn from its frame and thrust down the embankment into a gravel pit to the east
Survivor Factoid: Team captain and future Indiana governor Harry G. Leslie was initially thought to have died in the accident, but was found to have a faint pulse at the morgue.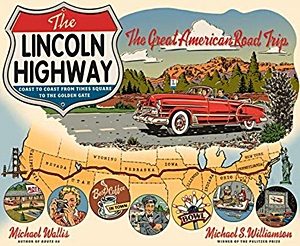 1913 – The Lincoln Highway, the first automobile highway across United States, was formally dedicated.
The highway ran coast-to-coast through 13 states; from Times Square in New York City to Lincoln Park in San Francisco.
During the early years, a trip from the Atlantic to the Pacific was, according to the Lincoln Highway Association Official Road Guide, "something of a sporting proposition."
The LHA estimated the trip would take 20 to 30 days, but that assumed the motorist could average a driving time of 18 miles an hour.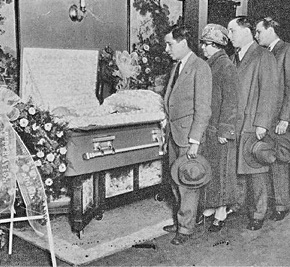 1926 – Harry Houdini died of peritonitis, secondary to a ruptured appendix, in Room 401 at Detroit's Grace Hospital. He was 52.
Yes, I did mention this last week but I'm adding his passing to today's lesson for a special reason.
Special Reason Factoid: Before the famed illusionist died, he made a pact with his wife, Bess, that she should attempt to contact him from the great beyond once a year (on Halloween night) for 10 years.
She did. He never showed.
As the 1936 séance concluded, Bess declared, "Turn out the light, it is finished. Good night, Harry."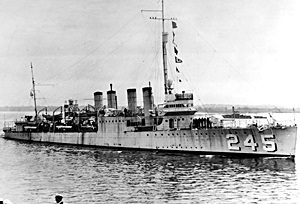 1941 – The destroyer USS Reuben James was torpedoed by a German U-boat near Iceland, killing more than 100 U.S. Navy sailors.
It is often mentioned that the Reuben James was the first U.S. Navy vessel sunk by enemy action in WWII. In fact, at the time of the attack, the U.S. had not even entered the war.
So what was the ship doing near Iceland?
On August 9, 1941, President Franklin Roosevelt had agreed to provide American destroyers as escorts for the Canada to Iceland portion of trade convoys sailing to and from England.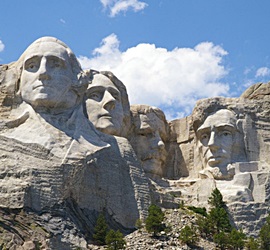 1941 – After 14 years of work, Mount Rushmore was completed.
The 400 workers had to endure conditions that varied from blazing hot to bitter cold and windy. Each day they climbed 700 stairs to the top of the mountain where 3/8 inch thick steel cables lowered them over the front of the 500-foot face of the mountain in a bosun's chair.
The carving of Mount Rushmore involved the use of dynamite, followed by the process of "honeycombing", a process where workers drilled holes close together, which allowed small pieces to be removed by hand.
Ninety percent of the 450,000 tons of granite removed from the mountain was taken out with dynamite.
Show Me The Money Factoid: Originally, it was planned that the figures would be carved from head to waist, but insufficient funding forced the carving to end.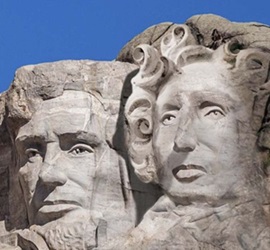 Susan B. Factoid: In 1937, a bill spearheaded by First Lady Eleanor Roosevelt was introduced in Congress to add the head of civil-rights leader Susan B. Anthony, but a rider was passed on an appropriations bill requiring federal funds be used to finish only those heads that had already been started at that time.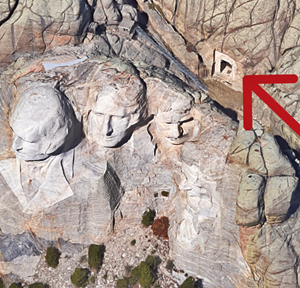 Hidden Factoid: There is a room up on that mountain. Its purpose was to hold American treasures such as documents and other valuable items, but the interior was never finished.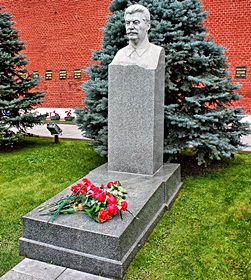 1961 – Joseph Stalin was kicked out of Lenin's tomb in Moscow.
Due to "violations of Vladimir Lenin's precepts," Nikita Khrushchev's de-Stalinization political reforms resulted in Stalin's embalmed body being removed from inside Lenin's tomb and buried in the Kremlin Wall Necropolis outside the walls of the Kremlin.
In case you were wondering, Lenin is still resting comfortably.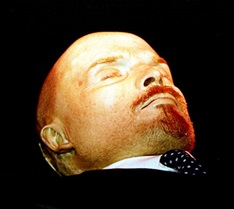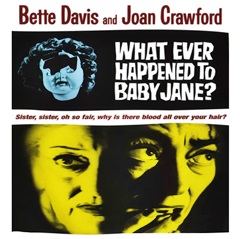 1962 – What Ever Happened to Baby Jane?, starring Bette Davis and Joan Crawford, premiered in U.S. theaters.
The real life bitter Hollywood rivalry between the film's two stars greased the wheels of the film's compulsive (and sadistic) forward momentum, right down to the myriad ways these divas one-upped each other during production.
The film was nominated for five Academy Awards, including Davis for Best Actress and Victor Buono for Best Supporting Actor, but ended with just one win; Best Costume Design, Black and White.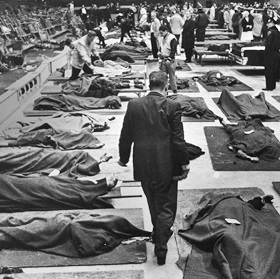 1963 – The Indiana State Fair held a "Holidays on Ice" skating exhibition, but the grand finale was not what anyone had expected.
Unbeknownst to organizers at the Indiana State Fairgrounds Coliseum, propane gas had been leaking from a nearby tank into the poorly ventilated room.
During a final act called "Mardis Gras," the propane gas caught fire, leading to a horrific explosion that propelled onlookers from their chairs.
The death toll was 74, and 400 additional people were injured.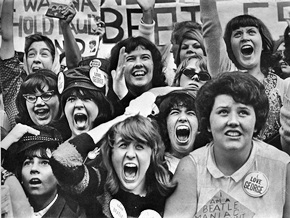 1963 – The Beatles returned to London after a successful tour of Sweden.
They were greeted by thousands of screaming fans and a group of photographers and members of the media.
Ed Sullivan and his wife were on their way home from a European talent scouting trip, changing planes at London's Heathrow Airport.
He was struck by the mania and decided to look into getting the group on his show.
Sullivan said later, "I made up my mind that this was the same sort of mass hit hysteria that had characterized the Elvis Presley days."

1968 – Citing progress with the Paris peace talks, President Lyndon B. Johnson ordered a halt to all U.S. bombing of North Vietnam.
"I have reached this decision on the basis of the developments in the Paris talks, and I have reached it in the belief that this action can lead to progress toward a peaceful settlement of the Vietnamese war."
And so Operation Rolling Thunder, a bombing campaign that began on March 2, 1965, came to an end.
Historians differ in their assessments of the strategic value of the campaign. Some claim that it came close to crippling North Vietnam's capacity to wage war.
However, critics contend that the campaign's effectiveness was limited because rules of engagement put in place to avoid provoking communist China and to minimize damage to Hanoi and Haiphong made it impossible for the U.S. air strikes to hit a number of important targets, including airfields, shipyards, power plants and oil storage facilities.
They also assert that U.S. leaders failed to coordinate the bombing campaign in North Vietnam with the ground operations in South Vietnam.
Aftermath: President Richard M. Nixon, Johnson's successor, resumed the bombing of North Vietnam shortly after taking office in 1969.
In 1972, Nixon unleashed another massive bombing campaign against North Vietnam called Operation Linebacker.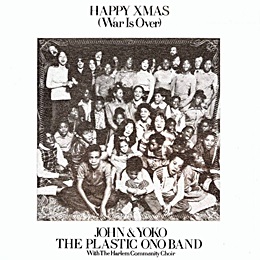 1971 – John & Yoko and The Plastic Ono Band completed the recording of Happy Xmas (War Is Over) at the Record Plant East in New York City.
The Harlem Community Choir, featuring around 30 children, were brought in to add backing vocals to the Christmas song.
It was not a success when initially released in the United States on December 1. The main factor was the lack of promotion it received, mostly due to it being recorded so late in the year.
The single failed to chart.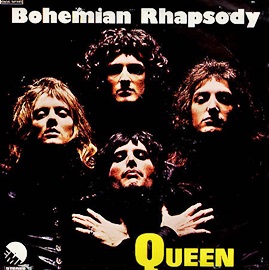 1975 – Queen released Bohemian Rhapsody in England.
Background: EMI, Queen's British record label, told the group the song was too long (5 minutes and 55 seconds) to be released as a single, and that it would never get airplay on the radio unless it was edited to a more reasonable length.
According to producer Roy Thomas Baker, he and the band bypassed this corporate decision by playing the song for Capital Radio DJ Kenny Everett.
Armed with a reel-to-reel copy of the song, Everett teased his listeners by playing only parts of the song. Audience demand intensified when Everett played the full song on his show 14 times in two days. Hordes of fans attempted to buy the single the following Monday, only to be told by record stores that it had not yet been released.
The same weekend, Paul Drew, who ran the RKO General stations in the U.S., heard the track on Everett's show in London. Drew managed to get a copy of the tape and started to play it in the States, which forced the hand of Queen's U.S. label, Elektra.
Baker later said "it was a strange situation where radio on both sides of the Atlantic was breaking a record that the record companies said would never get airplay!"
After its British release, it topped the UK Singles Chart for nine weeks and reached #1 again in 1991 for another five weeks when it was re-released following Freddie Mercury's death.
Bohemian Rhapsody eventually became the UK's third-best-selling single of all time.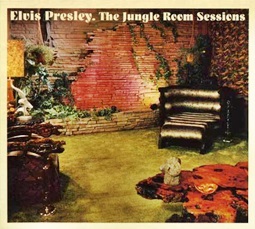 1976 – Elvis Presley recorded his version of Jim Reeves' He'll Have To Go in the Jungle Room at Graceland.
It was the final song he ever recorded in a studio setting.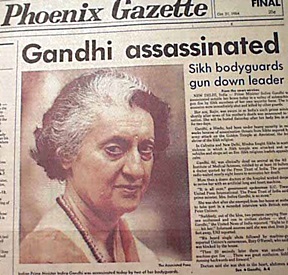 1984 – Indian Prime Minister Indira Gandhi was assassinated near her residence by two Sikh security guards.
She was walking through the garden of the Prime Minister's Residence to be interviewed by British actor Peter Ustinov who was filming a documentary.
Gandhi passed a gate guarded by Satwant and Beant Singh, and the two men opened fire.
Beant fired three rounds into her abdomen from his .38 revolver and Satwant fired 30 rounds from his Sten submachine gun after she had fallen to the ground.
In the next six minutes, Border Police officers captured and killed Beant, while Satwant was arrested by Gandhi's other bodyguards.
The assassins were Sikh extremists acting in retaliation for the storming of the Sikh holy shrine of the Golden Temple in Amritsar four months earlier.
Gandhi had been receiving death threats since the attack on the temple in which 1,000 people died.
The night before her death she told a political rally, "I don't mind if my life goes in the service of the nation. If I die today, every drop of my blood will invigorate the nation."
Satwant showed no remorse before he was hanged in 1989.
"I am proud of the task that I did! If I could I would give up a thousand lives to kill [thugs] like Indira Gandhi, and laugh as I become [a martyr] by hanging…."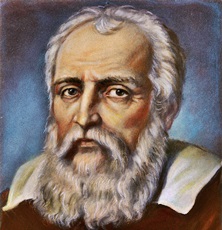 1992 – The Vatican admitted Galileo Galilei was right.
In 1633, the Inquisition of the Roman Catholic Church forced Galileo, one of the founders of modern science, to recant his theory that the Earth moved around the Sun. Under threat of torture, Galileo recanted.
He was condemned by the Catholic Church for being "vehemently suspect of heresy."
On this date, 359 years later, Pope John Paul II officially declared that Galileo had been right and the Church reinstated him.
Idle Thought: It took them 359 years to admit their mistake?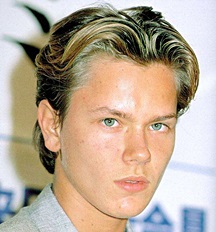 1993 – Actor River Phoenix died from a massive drug overdose after collapsing on the sidewalk outside The Viper Room, a West Hollywood nightclub.
He was 23.
An autopsy found that "Toxicology studies showed high concentrations of morphine and cocaine in the blood, as well as other substances in smaller concentrations. The cause of death was acute multiple drug intoxication, including cocaine and morphine."
He first drew national attention in Stand By Me in 1986. Running On Empty in 1988 earned him a nomination for an Academy Award for Best Supporting Actor, and in 1991 he won the Best Actor Award from the National Society of Film Critics for 1991's My Own Private Idaho.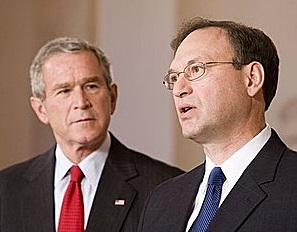 2005 – President George W. Bush nominated Judge Samuel Alito to the Supreme Court.
The ACLU formally opposed Alito's nomination with Executive Director Anthony Romero saying, "At a time when our president has claimed unprecedented authority to spy on Americans and jail terrorism suspects indefinitely, America needs a Supreme Court justice who will uphold our precious civil liberties."
Alito was subsequently confirmed by the U.S. Senate by a vote of 58-42.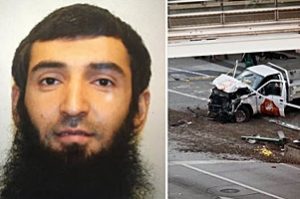 2017 – Terror struck New York City again.
Eight people were killed and almost a dozen injured when Sayfullo Habibullaevic Saipov, a 29-year-old man in a rented pickup truck drove down a busy bicycle path near the World Trade Center in Manhattan.
After crashing the truck into a school bus, Saipov exited, apparently wielding two guns (later found to be a paintball gun and a pellet gun). He was shot in the abdomen by a policeman and arrested. A flag and a document indicating allegiance to the terrorist group ISIS were found in the truck.
Saipov, who had immigrated to the United States from Uzbekistan in 2010, was charged with eight murders, twelve attempted murders and providing material support for a terrorist organization.
His trial is scheduled to begin on April 13, 2020.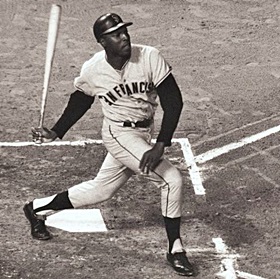 2018 – Baseball Hall of Famer Willie McCovey died at the age of 80.
He died after what was called a long term "battle with ongoing health issues."
Over a 22-year career between 1959 and 1980 he played 19 seasons with the San Francisco Giants and three more for the San Diego Padres and Oakland Athletics.
A fearsome left-handed hitter, he was a six-time All-Star, three-time home run champion, MVP, and was inducted into the Baseball Hall of Fame in 1986.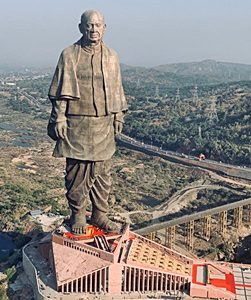 2018 – The Statue of Unity opened in Gujarat, India.
This is no ordinary statue … At a height of 597 feet, it is the world's tallest statue (and that doesn't include the 190-foot tall pedestal, which brings the total height to a staggering 787 feet!)
The statue commemorates Sardar Vallabhbhai Patel, the first Deputy Prime Minister and Home minister of independent India. Patel was highly respected for his leadership in uniting the 552 states of India to form the single Union of India.
Statue Size Envy: By comparison, the Statue of Liberty (including its pedestal) stands 305 feet tall.
Compiled by Ray Lemire ©2019 RayLemire.com / Streamingoldies.com. All Rights Reserved.