"We regard the agreement signed last night and the Anglo-German Naval Agreement as symbolic of the desire of our two peoples never to go to war with one another again."
~ British Prime Minister Neville Chamberlain
Announcing the Munich Agreement
"We have suffered a total and unmitigated defeat … This is only the beginning of the reckoning. This is only the first sip, the first foretaste of a bitter cup which will be proffered to us year by year unless by a supreme recovery of moral health and martial vigor, we arise again and take our stand for freedom as in the olden time."
~Winston Churchill
Denouncing the Munich Agreement
================================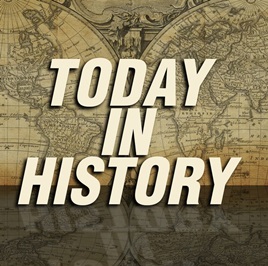 ================================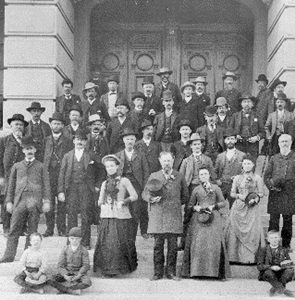 1889 – The Wyoming state convention approved a constitution that included a provision granting women the right to vote.
Formally admitted into the union the following year, Wyoming thus became the first state in the history of the nation to allow its female citizens to vote.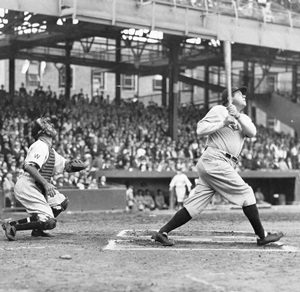 1927 – Babe Ruth hit his 60th home run of the season and with it set a baseball record that would stand for 34 years until Roger Maris, another New York Yankee, broke it in 1961.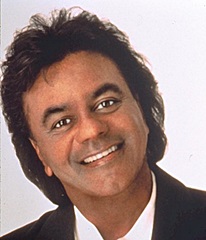 1935 – Singer Johnny Mathis was born. That's right, Mr. Mathis is 84 today!
But Ray, you don't usually mention birthdays. Why Mathis?
24 of his albums achieved gold or platinum status and … are you ready? … 73 of them made the Billboard charts.
By the way, one of his albums (Johnny's Greatest Hits) spent 490 consecutive weeks (nine and a half years) on the Billboard top 200 album charts.
His second longest album chart run was the 295 weeks belonging to his 1959 album, Heavenly.
That's why.
Mathis has been inducted into the Grammy Hall of Fame for three separate recordings: Chances Are, Misty, and It's Not For Me To Say.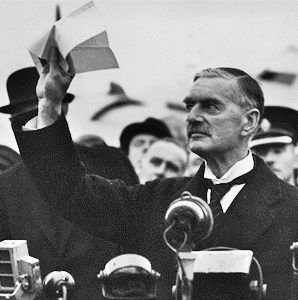 1938 – British Prime Minister Neville Chamberlain flew home to Britain, where he addressed a jubilant crowd in London and praised the Munich Agreement he had signed with Adolf Hitler earlier that day for bringing "peace with honor" and "peace in our time."
Although the agreement was to give Hitler only the Sudetenland – the part of Czechoslovakia where 3 million ethnic Germans lived – it also handed over to the Nazi war machine 66 percent of Czechoslovakia's coal, 70 percent of its iron and steel, and 70 percent of its electrical power.
It also left the Czech nation open to complete domination by Germany.
In short, the Munich Pact sacrificed the autonomy of Czechoslovakia on the altar of short term peace – very short term. The terrorized Czech government was eventually forced to surrender the western provinces of Bohemia and Moravia (which became a protectorate of Germany) and finally Slovakia and the Carpathian Ukraine.
In each of these partitioned regions, Germany set up puppet, pro-Nazi regimes that served Adolf Hitler. By the time of the invasion of Poland in September 1939, the nation called "Czechoslovakia" no longer existed.
Chamberlain had been convinced that Hitler's territorial demands were not unreasonable and sincerely believed Hitler was a "gentleman."
He could not possibly have been more wrong.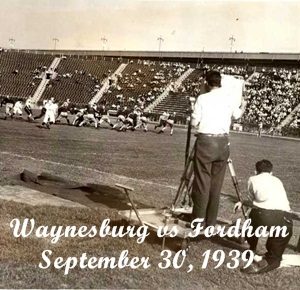 1939 – NBC aired the first televised football game.
The game between Waynesburg and Fordham was broadcast on station W2XBS (now WNBC) with one camera and Bill Stern as the sole announcer. Estimates are that the broadcast reached approximately 1,000 television sets.
By the way, Fordham won the game 34–7.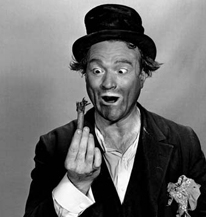 1951 – The Red Skelton Show debuted on NBC.
The show would later move to CBS and remained a fixture on U.S. television for 20 years.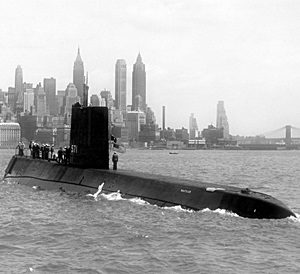 1954 – The U.S. submarine USS Nautilus was commissioned as the world's first nuclear-powered vessel.
Because her nuclear propulsion allowed her to remain submerged far longer than diesel-electric submarines, she broke many records in her first years of operation, and traveled to locations previously beyond the limits of submarines.
On July 23, 1958, Nautilus departed Pearl Harbor, Hawaii under top secret orders to conduct "Operation Sunshine," the first crossing of the North Pole by a ship.
Nautilus submerged in the Barrow Sea Valley on August 1 and two days later, she became the first watercraft to reach the geographic North Pole.
From the North Pole, she continued on and after 96 hours and 1,590 nautical miles under the ice, surfaced northeast of Greenland, having completed the first successful submerged voyage around the North Pole.

1955 – 24-year-old actor James Dean was killed in Cholame, CA, when the Porsche he was driving hit a Ford Tudor sedan at an intersection.
The driver of the other car, 23-year-old California Polytechnic State University student Donald Turnupseed, was dazed but mostly uninjured. Dean's passenger, German Porsche mechanic Rolf Wutherich was badly injured but survived.
Only one of Dean's movies, East Of Eden, had been released at the time of his death (Rebel Without A Cause and Giant opened shortly afterward), but he was already on his way to superstardom – and the crash made him a legend.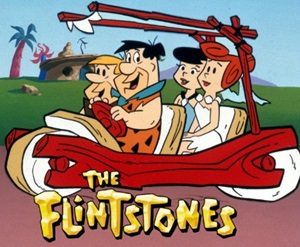 1960 – The Flintstones premiered on ABC. "Yabba Dabba Doo!"
It was the first animated series to hold a prime time slot and was the most financially successful and longest-running network animated franchise for three decades, until The Simpsons debuted in late 1989.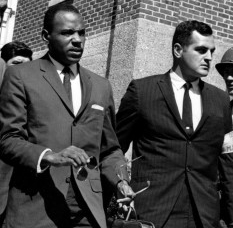 1962 – In Oxford, Mississippi, James H. Meredith, an African American, was escorted onto the University of Mississippi campus by U.S. Marshals, setting off a deadly riot.
Two men were killed before the racial violence was quelled by more than 3,000 federal soldiers. The next day, Meredith successfully enrolled and began to attend classes amid continuing disruption.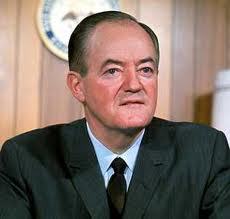 1968 – Trying to distance himself from Lyndon Johnson's policies, Democratic presidential candidate Hubert Humphrey announced that, if elected, he would halt the bombing of the North if there was any "evidence, direct or indirect, by deed or word, of communist willingness" to restore the Demilitarized Zone between North and South Vietnam.
Despite Humphrey's announcement, many voters saw him as only a continuation of the Johnson approach to the war, which had been marked by escalation and continued stalemate.
He was defeated by Richard Nixon, who hinted during the campaign that he had a secret plan to end the war and achieve "peace with honor."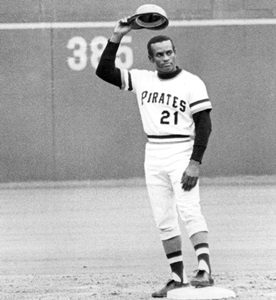 1972 – Pittsburgh's Roberto Clemente hit a double for his 3,000th career hit. It was the last regular season at-bat of his career.
On December 31, 1972, he died in an airplane crash while en route to deliver aid to earthquake victims in Nicaragua.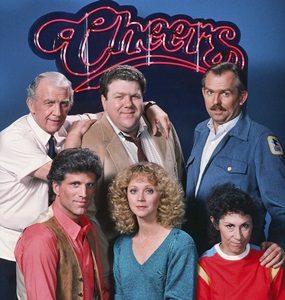 1982 – Cheers debuted on NBC.
It was nearly canceled during its first season when it ranked last in ratings for its premiere. Over its eleven-season run, the cast and crew garnered a record 111 Emmy Award nominations, with a total of 28 wins.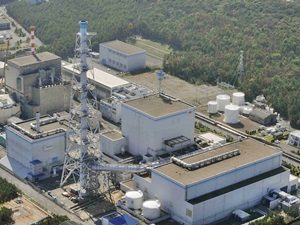 1999 – Large doses of radiation were released at Japan's Tokaimura nuclear plant.
It was Japan's worst nuclear accident, caused by a serious error made by workers at the plant. One person was killed, 49 were injured and thousands of others were forcibly confined to their homes for several days.
Workers were mixing liquid uranium when they made a serious, and inexplicable, mistake. Instead of pouring five pounds of powdered uranium into nitric acid, the workers poured 35 pounds, seven times too much.
The resulting chain reaction caused gamma rays and stray neutrons to flood the purification chamber, where the radioactive water was treated.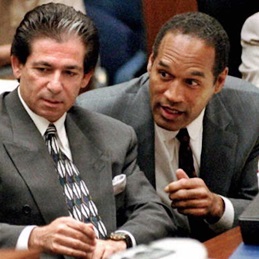 2003 – Robert Kardashian died of esophageal cancer at the age of 59.
He first drew public attention as one of O. J. Simpson's defense attorneys during Simpson's 1995 murder trial.
There was only one reason he was there.
As a member of the defense "Dream Team," Kardashian – a friend of Simpson since the early 70s – could not be compelled or subpoenaed to testify against Simpson in the case, which included Simpson's past history and behavior with his ex-wife Nicole.
Not long after the trial, Kardashian, who later admitted he struggled with the acquittal, severed his ties with Simpson.
It's Partially His Fault Factoid: He had four children with his first wife, Kris … Kourtney, Kim, Khloe, and Rob, who appear on their family reality television series, Keeping Up With The Kardashians and its equally ridiculous spinoffs.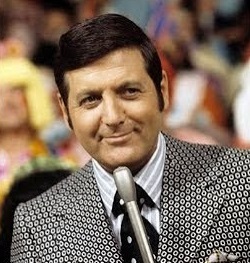 2017 – Monty Hall, co-creator and longtime host of Let's Make A Deal, died from heart failure at the age of 96.
Hall was well known for his philanthropic work. He helped raise close to one billion dollars for charity in his lifetime.
Compiled by Ray Lemire ©2019 RayLemire.com / Streamingoldies.com. All Rights Reserved.