"Strange, isn't it? Each man's life touches so many other lives. When he isn't around he leaves an awful hole, doesn't he?"
~Henry Travers as Clarence Odbody (Angel Second Class)
It's A Wonderful Life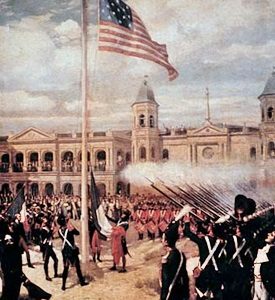 1803 – The French flag was lowered and the American flag raised in the Plaza de Armas (now Jackson Square) in New Orleans to mark the formal transfer of the Louisiana Purchase from France to the U.S.
What started as a plan to acquire New Orleans and Western Florida for "up to $9.375 million" had mushroomed into approximately 827,000 square miles of land west of the Mississippi River for a total of $15 million – $11.25 million, plus the forgiveness of $3.75 million in French debt.
Money Was Tight Factoid: The problem was the U.S. only had $3 million in gold and Napoleon wanted his money immediately. As a result, the U.S. was forced to borrow $8.25 million from two European banks at 6 percent interest.
It did not finish repaying the loan until 1823, by which time the total cost for the Louisiana Purchase had risen to over $23 million.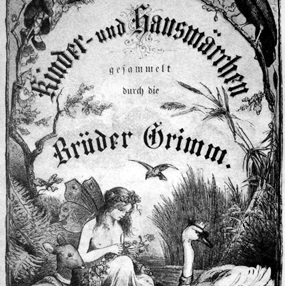 1812 – The Grimm's Fairy Tales (originally known as the Children's and Household Tales … in German, Kinder- und Hausmärchen) was published in Germany.
The first edition – compiled by brothers Jakob and Wilhelm Grimm – contained 86 stories, including Cinderella, Rumpelstiltskin, Hansel and Gretel, Little Snow White, and Rapunzel.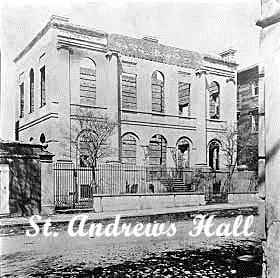 1860 – South Carolina became the first state to secede from the United States.
Less than a week after Abraham Lincoln's presidential victory, the South Carolina General Assembly called for a Convention of the People of South Carolina to draw up an Ordinance of Secession.
On this date in 1860, the Convention met in St. Andrews Hall on Broad Street (shown above) in Charleston and adopted the Ordinance of Secession on roll call vote.
On the question being put, "Will the Convention adopt the Ordinance?" It passed in the affirmative: Yeas, 169; Nays, none.
"We, therefore, the People of South Carolina, by our delegates in Convention assembled, appealing to the Supreme Judge of the world for the rectitude of our intentions, have solemnly declared that the Union heretofore existing between this State and the other States of North America, is dissolved, and that the State of South Carolina has resumed her position among the other nations of the world, as a separate and independent State; with full power to levy war, conclude peace, contract alliances, establish commerce, and to do all other acts and things which independent States may of right do."

1924 – Adolf Hitler was released from Landsberg Prison, having served only nine months of five-year sentence after being convicted of treason for his role in an attempted coup during the 1923 "Beer Hall Putsch" in Munich.
During his imprisonment, Hitler wrote Mein Kampf ("My Struggle"), his autobiographical book, which outlined his political ideology and future plans for Germany.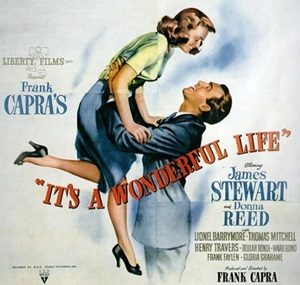 1946 – Frank Capra's It's A Wonderful Life had a preview showing for charity at New York City's Globe Theatre, a day before its official premiere.
The movie – starring James Stewart, Donna Reed, Henry Travers, Thomas Mitchell and Lionel Barrymore – has become regarded as a classic but it was initially a major disappointment.
The film's break-even point was $6.3 million, approximately twice the production cost. It was a figure it never came close to achieving in its initial release.
The movie was nominated for five Academy Awards, including Best Picture, Best Director and Best Actor (Stewart), but its only win came in the Technical Achievement category for developing a new method of creating artificial snow.
A Few Bedford Falls Factoids:
1 / The town of Bedford Falls was one of the longest sets ever constructed for a movie – 300 yards long (three city blocks) and over four acres. The set included 20 full-grown oak trees transplanted onto the set, 75 stores and buildings, a bank with a marble front, a post office and a library. The entire set was torn down soon after filming ended.
2 / RKO Pictures had wanted Cary Grant for the lead, but Frank Capra said he never wanted anyone but Jimmy Stewart to play his George Bailey.
3 / Capra originally asked Jean Arthur – who had co-starred with Stewart in Mr. Smith Goes To Washington – to play the part of Mary Bailey, a role which went to Donna Reed after Arthur rejected it.
4 / One requirement of the Production Code was that criminals in films were to receive punishment for their crimes. Mr. Potter was never penalized for his misdeeds. Capra said he received more mail on that subject than any other aspect of the film.
5 / The film's first script had George Bailey fall to his knees to recite "The Lord's Prayer" as the closing scene (in the movie's opening scene, the townspeople can be heard in prayer). Feeling that undermined the emotional impact of family and friends rushing to George's rescue, Capra had the closing scene rewritten.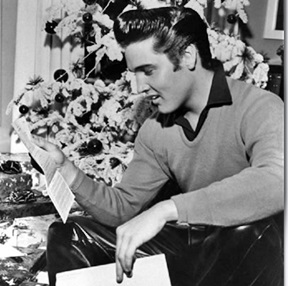 1957 – Elvis Presley received his draft notice … and did his best, as shown above, to put on a happy face.
Presley was originally scheduled to be inducted on January 20, 1958 but due to commitments at Paramount and the filming schedule of his latest film, King Creole, Presley had to personally write to the Memphis Draft Board to request a deferment.
He explained to them that Paramount had already spent up to $350,000 on pre-production of the film, and that many jobs were dependent on him being able to complete filming, which was due to begin on January 13.
They granted him an extension until the middle of March.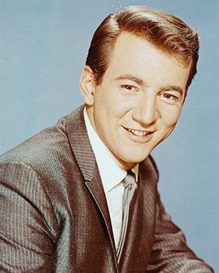 1973 – Singer/songwriter Bobby Darin died following heart surgery to repair a faulty heart valve. He was only 37.
A multiple Grammy Award winner, Darin had major hits with Mack The Knife, Splish Splash, Dream Lover, You're The Reason I'm Living, and several more.
He was inducted into the Rock and Roll Hall of Fame in 1990.
More Than A Singer Factoid: He was nominated for an Academy Award for Best Supporting Actor for his role as a shell-shocked soldier in Captain Newman, M.D..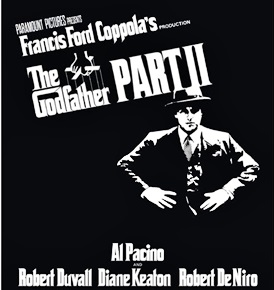 1974 – The Godfather: Part II premiered in U.S. theaters.
The film, both a sequel and prequel to 1972s The Godfather, starred Al Pacino, Robert De Niro, Robert Duvall and Diane Keaton.
It was nominated for eleven Academy Awards, and became the first sequel to win for Best Picture. Its six Oscar wins included Best Director for Francis Ford Coppola and Best Supporting Actor for De Niro.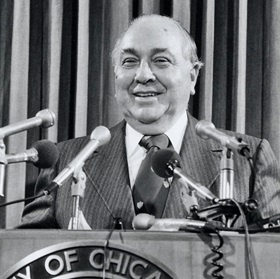 1976 – Chicago Mayor Richard J. Daley died of a massive heart attack at the age of 74.
Throughout his 21 years as mayor, Daley ruled Chicago with an iron hand and dominated the political arena of the city and, to a lesser extent, that of the entire state.
In August 1968, the Democratic National Convention was held in Chicago. Intended to showcase Daley's achievements to national Democrats and the news media, the proceedings during the convention instead garnered notoriety for the mayor and city, descending into verbal outbursts on the part of politicians, and a circus for the media.
Open Mouth, Insert Foot Factoid: Daley was known for verbal gaffes and he made one of his most memorable while defending what the news media reported as police misconduct during that year's violent convention.
"Gentlemen, get the thing straight once and for all. The policeman isn't there to create disorder, the policeman is there to preserve disorder."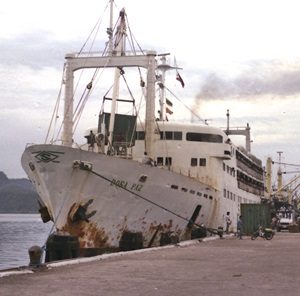 1987 – In the worst peacetime sea disaster in history, the passenger ferry Doña Paz sank after colliding with the oil tanker Vector – loaded with 8,800 barrels of petroleum – in the Tablas Strait in the Philippines, killing an estimated 4,000 people.
Upon collision, Vector's cargo ignited and caused a fire on the ship that spread onto the Doña Paz. Flames spread rapidly throughout the ferry, and the sea around the ship was on fire.
It was reported that the life jacket lockers had been locked away.
Only twenty-four survived.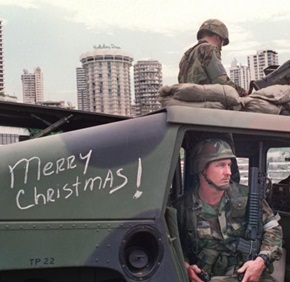 1989 – On orders from President George H. W. Bush, the United States invasion of Panama deposed Manuel Noriega.
In his statement, Bush stated that Noriega had declared that a state of war existed between the U.S. and Panama and that he threatened the lives of the approximately 35,000 U.S. citizens living there.
The invasion, dubbed Operation Just Cause, was the largest military action by the U.S. since the Vietnam War, and included more than 27,000 soldiers, as well as 300 aircraft.
A large number of civilians were killed in the invasion: the precise figure is a matter of debate. The U.S. government reported between 202 and 250 civilian deaths, while the United Nations put the estimate at 500 deaths.
Noriega remained at large for several days, but realizing he had few options in the face of a massive manhunt and a $1 million reward for his capture, he obtained refuge in the Vatican diplomatic mission in Panama City.
The U.S. military's psychological pressure on him and diplomatic pressure on the Vatican mission, however, was relentless, as was the playing of loud (very loud) rock-and-roll music day and night.
Noriega finally surrendered to the U.S. military on January 3, 1990.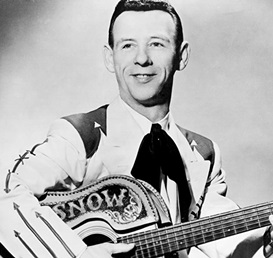 1999 – Country singer/songwriter Hank Snow died from heart failure at the age of 85.
In a career that spanned more than 50 years, he recorded 140 albums and charted more than 85 singles on the Billboard country charts from 1950 until 1980.
Some of his hit songs were I'm Moving On, The Golden Rocket, I Don't Hurt Anymore, Let Me Go, Lover! and I've Been Everywhere.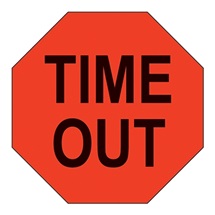 Please Note: This will be the final history column for this year. I always shut it down just prior to Christmas BUT I will return on January 6!
Compiled by Ray Lemire ©2019 RayLemire.com / Streamingoldies.com. All Rights Reserved.