"In mere seconds the sailors sensed that something unspeakably wrong was occurring. Battle-hardened men who had served in World War II went to their knees and prayed. I think many of us expected that we were witnessing the end of the world."
~L. Douglas Keeney
Castle Bravo Nuclear Detonation
======================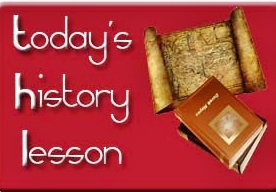 ======================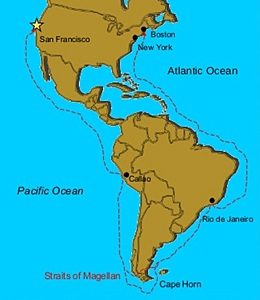 1849 – Regular steamship service from the east to the west coast of the United States began with the arrival of the SS California in San Francisco Bay.
The steamer made it to Rio de Janeiro in a record time of 24 days from New York. There she stopped for engine repairs and to resupply coal, fresh water, wood, fresh fruits and vegetables and other supplies.
After traversing the Straits of Magellan, California stopped at Callao, Peru (just outside Lima); for more supplies, before steaming into San Francisco.
The trip had only taken four months and 22 days after leaving New York Harbor.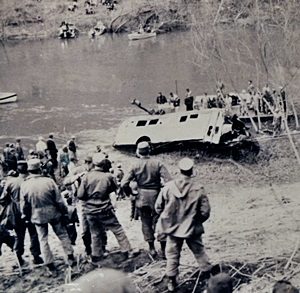 1958 – A school bus in Prestonburg, Floyd County, Kentucky hit a wrecker truck and plunged down an embankment into the Big Sandy River.
Twenty-two children escaped the bus in the first few minutes as it became fully submerged in the raging flood stage waters and made it safely out of the river.
However, 26 other children and the bus driver drowned.
The bus was finally located by Navy divers, and removed from the river 53 hours later. It remains one of the worst school bus accidents in U.S. history.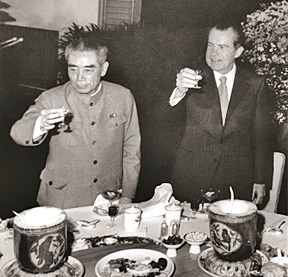 1972 – President Richard M. Nixon and Chinese Premier Zhou Enlai issued the Shanghai Communique at the conclusion of Nixon's historic visit to China, a step toward the eventual normalization of relations between the two countries.
The document pledged that it was in the interest of all nations for the United States and China to work towards the normalization of their relations, although this would not occur until the Joint Communiqué on the Establishment of Diplomatic Relations seven years later.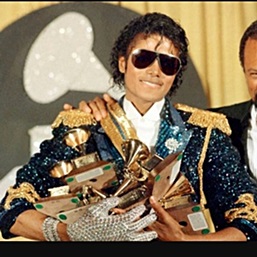 1984 – At the 26th annual Grammy Awards, Michael Jackson won 8 awards, including Album of The Year (Thriller), Record of The Year (Beat It), and Best Male Rhythm and Blues Performance (Billie Jean).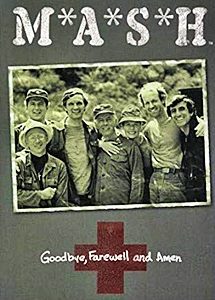 1983 – The final episode of M*A*S*H ("Goodbye, Farewell and Amen") aired, with almost 106 million viewers. It still holds the record for the highest viewership of a season finale.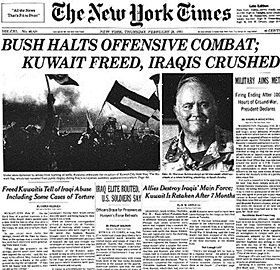 1991 – Allied and Iraqi forces suspended their attacks as Iraq pledged to accept all United Nations resolutions concerning Kuwait.
Two days after Iraqi troops began retreating from Kuwait, President George H.W. Bush declared a ceasefire, and said that Kuwait had been liberated.
There was some criticism of the Bush administration, as they chose to allow Saddam Hussein to remain in power instead of pushing on to capture Baghdad and overthrowing his government.
In their co-written 1998 book, A World Transformed, Bush and former National Security Advisor Brent Scowcroft argued that such a course would have fractured the alliance, and would have had many unnecessary political and human costs associated with it.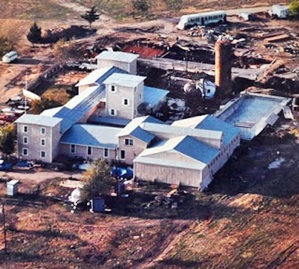 1993 – A gun battle erupted near Waco, Texas, when Bureau of Alcohol, Tobacco and Firearms agents tried to serve warrants on the Branch Davidians.
The day before, the Waco Tribune-Herald began publishing "The Sinful Messiah", a series of articles alleging that cult leader David Koresh had physically abused children in the compound and had committed statutory rape by taking multiple underage brides. The articles also stated Koresh and his followers were suspected of stockpiling illegal weapons.
Using an affidavit filed by ATF agents, the ATF obtained search and arrest warrants for Koresh and specific followers on weapons charges, citing the many firearms they had accumulated.
An ambulance company hired by the ATF agents leaked word of "Operation Trojan Horse" to a local TV station, which then sent a cameraman to check on the situation. The cameraman asked a local postman, David Jones, for directions to the Koresh compound.
He also told Jones about the raid. Jones, who happened to be David Koresh's brother-in-law, told his father about the impending operation, and the word reached Koresh.
What happened next remains unclear – both surviving Branch Davidians and surviving agents claimed the other side fired first – but the raid resulted in a bitter gun battle that killed five ATF agents and five Branch Davidians, and injured an additional 16 agents.
What followed was all but unprecedented in American history: a 51-day standoff between the Branch Davidians and the FBI, which had taken over from the ATF.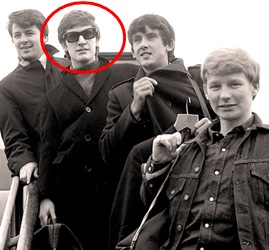 2005 – Chris Curtis, drummer with the Searchers, died at the age of 63 after a long illness.
The Searchers were renowned for intricate vocal arrangements, helped in no small part by their drummer's distinctive top harmony in the band's vocal mix.
Listen to Needles And Pins and pay attention to the high harmony voice of Curtis.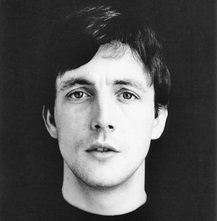 2008 – Mike Smith, lead singer, keyboardist and songwriter with the Dave Clark Five, died at the age of 64.
Smith, seriously injured in a 2003 fall at his home which left him permanently paralyzed from the waist down and in his right arm, died eleven days before the Dave Clark Five were inducted into the Rock & Roll Hall of Fame.
He wrote and sang lead vocals on Glad All Over, Can't You See That's She Mine, Having A Wild Weekend, and many more.
Ripped Off Factoid: The three songs listed above are credited to Dave Clark and Smith, but that is, to be quite blunt, bullshit.
As the leader of the band, Clark demanded he receive co-writing credit on every original song recorded by the group when he, in fact, had nothing to do with any of them.
Clark's real masterstroke was a clause in the group's three-year contract with record company EMI, which allowed him to claim ownership of all their tapes once the agreement expired.
Oh, and Clark – and only Clark – retained the copyright on each song.
That helps to explain why Mike Smith did not die a wealthy man. Despite the Dave Clark Five's string of hits and record sales totaling over 100 million copies, Smith's entire estate was valued at less than $90,000.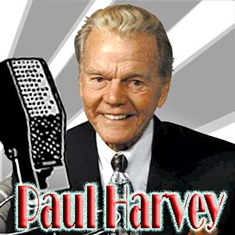 2009 – Radio broadcaster Paul Harvey died at the age of 90.
Known for his unique, staccato-style delivery of news combined with commentary, Harvey's style resonated with tens of millions of Americans for over five decades. His program was carried by over 1,200 radio stations and 400 Armed Forces Network stations around the world.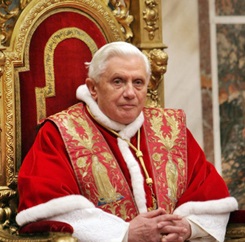 2013 – Pope Benedict XVI resigned as the pope of the Catholic Church, becoming the first pope to do so since Pope Gregory XII in 1415.
The move – which he had announced on February 11 – was unexpected, given that popes in the modern era have held the position from election until death. Benedict had served as leader of the Church since 2005.
The Pope stated that the reason for his decision was his declining health due to old age. He was 85 at the time.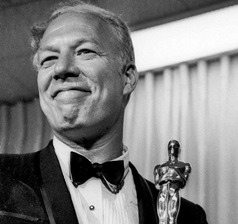 2016 – Academy Award winning actor George Kennedy died at the age of 91.
He appeared in more than 100 films, including Strait-Jacket, McHale's Navy, Shenandoah, The Sons of Katie Elder, The Flight of the Phoenix, The Dirty Dozen, The Boston Strangler, and Cool Hand Luke, for which he won the Academy Award for Best Supporting Actor.
Kennedy was the only actor to appear in all four films in the Airport series, He also played Police Captain Ed Hocken in the Naked Gun trilogy of comedy films.
Weekend History Bonus, highlighting significant events from February 29 and March 1.
ON FEBRUARY 29…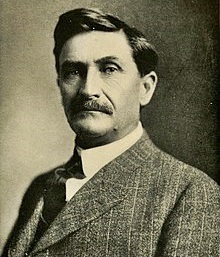 1908– Pat Garrett, the lawman who became renowned for shooting and killing William "Billy the Kid" Bonney at Fort Stanton in 1881, died under mysterious circumstances at the age of 57.
Dudley Poe Garrett, Pat's son, had signed a five-year lease for his Bear Canyon Ranch with Jesse Wayne Brazel. Garrett and his son objected when Brazel began bringing in large herds of goats. Brazel agreed to cancel his lease with Garrett – provided a buyer could be found for his herd of 1,200 goats.
Carl Adamson agreed to buy the 1,200 goats. Just when the matter seemed resolved, Brazel claimed that he had "miscounted" his goat herd, claiming there were actually 1,800 – rather than his previous estimate of 1,200. Adamson refused to buy that many goats, but agreed to meet with Garrett and Brazel to see if they could reach some sort of agreement.
While traveling from Las Cruces, New Mexico to his nearby ranch with Brazel and Adamson, Garrett got out of the buggy and while urinating, was shot in the back of his head. He spun around from the impact and another bullet enter his stomach.
Wayne Brazel confessed to the killing, but claimed he was acting in self-defense. After a one-day trial, Brazel was acquitted.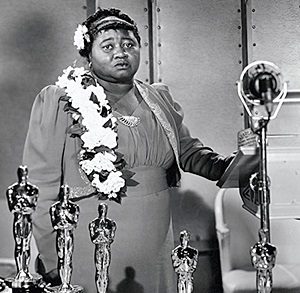 1940– At the 12th Academy Awards, David O. Selznick's Gone With The Wind won ten Academy Awards (eight competitive, two honorary) from thirteen nominations.
In addition to winning the Best Film award, the production also won Best Director (Victor Fleming), Best Actress (Vivien Leigh), and Best Supporting Actress (Hattie McDaniel).
McDaniel became the first African American to win an Academy Award but she was forced to suffer several indignities.
Indignity #1: Loew's Grand Theater in Atlanta was selected by MGM studio as the site for the December 15, 1939 premiere of Gone With The Wind. David O. Selznick asked that McDaniel be permitted to attend, but MGM advised him not to, because of Georgia's segregation laws.
Clark Gable threatened to boycott the Atlanta premiere unless McDaniel were allowed to attend, but McDaniel convinced him to attend.
Indignity #2: The Academy Awards ceremony was held at the Cocoanut Grove nightclub in The Ambassador Hotel. When McDaniel arrived, she was escorted, not to the Gone With the Wind table – where Selznick sat with Leigh, Gable, and Olivia de Havilland – but to a small table set against a far wall.
With the hotel's strict no-blacks policy, Selznick had been forced to call in a special favor just to have McDaniel allowed into the building.
Final Indignity: Even in death from breast cancer at the age of 59, she was denied her final wish – to be buried in Hollywood Cemetery – because of the color of her skin.

1968 – At the 10th annual Grammy Awards, the Beatles won 3 awards; Album of The Year, Best Contemporary Album, and Best Album Cover (all for Sgt. Pepper's Lonely Hearts Club Band).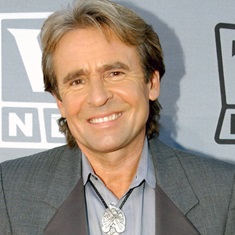 2012– Davy Jones died at the age of 66 from a heart attack resulting from arteriosclerosis.
A musician and actor best known as a member of the Monkees, Jones' career began when he was cast as the Artful Dodger in the London (1960) and Broadway (1963) productions of Oliver!, earning a Tony Award nomination for his Broadway performance.
From 1966 to 1971, Jones was a member of the Monkees, a pop-rock group formed expressly for a television show of the same name. Jones sang lead vocals on many of the Monkees' recordings, including Valleri, A Little Bit Me, A Little Bit You, Daydream Believer, and I Wanna Be Free.
Ed Sullivan Factoid: On February 9, 1964, Jones appeared on The Ed Sullivan Show with Georgia Brown who was playing Nancy in the Broadway production of Oliver!. This was the same episode of the show in which the Beatles made their first appearance.
Jones said of that night, "I watched the Beatles from the side of the stage, I saw the girls going crazy, and I said to myself, this is it, I want a piece of that."

ON MARCH 1…

1872– Yellowstone became the first national park in the U.S. when a bill established by the U.S. Congress was signed into law by President Ulysses S. Grant.
Covering over 2.2 million acres (3,468 square miles), the park is known for its wildlife and its many geothermal features, especially Old Faithful geyser, the most famous geyser in the park, and perhaps the world – but it is far from being the only one.
A study completed in 2011 found that at least 1283 geysers have erupted in Yellowstone. Of these, an average of 465 are active in a given year.
Half of the world's geysers and hydrothermal features are concentrated in Yellowstone.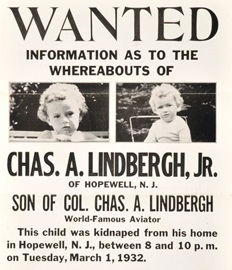 1932– Twenty-month-old Charles Augustus Lindbergh Jr. was abducted from his crib in the Lindbergh's rural home in East Amwell, NJ.
A man who claimed to be the kidnapper picked up a cash ransom of $50,000 on April 2, part of which was in gold certificates, which were soon to be withdrawn from circulation and would therefore attract attention. On May 12, the child's remains were found in woods not far from the Lindbergh home.
Richard Hauptmann, a 34-year-old German immigrant carpenter, was arrested near his home in the Bronx, NY, on September 19, 1934, after paying for gasoline with one of the ransom bills. $13,760 of the ransom money and other evidence was found in his home.
Hauptmann went on trial for kidnapping, murder and extortion on January 2, 1935, and was convicted on February 13.
He was electrocuted at Trenton State Prison on April 3, 1936
The case was widely called "The Crime of the Century". In response, Congress passed the so-called "Lindbergh Law", which made kidnapping a federal offense if the victim is taken across state lines or (as in the Lindbergh case) the kidnapper uses "the mail or … interstate or foreign commerce in committing or in furtherance of the commission of the offense", such as in demanding ransom.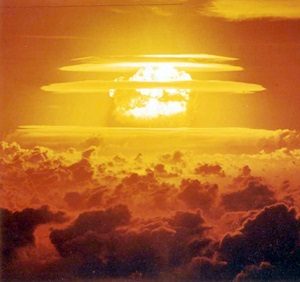 1954– Castle Bravo, the first in a series of high-yield thermonuclear weapon design tests conducted by the U.S. at Bikini Atoll, Marshall Islands, as part of Operation Castle, was detonated.
The yield was 15 megatons of TNT, 2.5 times the predicted 6.0 megatons, due to unforeseen additional reactions which led to the unexpected radioactive contamination of areas to the east of Bikini Atoll.
When Bravo was detonated, it formed a fireball almost 4.5 miles wide within one second and was visible over 250 miles away. The explosion left a crater 6,500 feet in diameter and 250 feet in depth.
The mushroom cloud reached a height of 47,000 feet in less than a minute, and eventually topped 130,000 feet above sea level.
As a result of the blast, the cloud contaminated more than 7,000 square miles of the surrounding Pacific Ocean.
The photo above was taken 3.5 seconds after detonation from a distance of 75 nautical miles from ground zero.
Castle Bravo was 1,000 times more powerful than each of the atomic bombs that were dropped on Hiroshima and Nagasaki during World War II.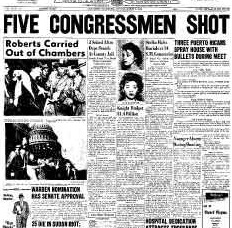 1954– Four Puerto Rican nationalists opened fire in the U.S. House of Representatives, wounding five congressmen.
Attempting to highlight their desire for Puerto Rican independence from U.S. rule, the assailants (3 men and a woman) shot 30 rounds from semi-automatic pistols from the Visitors' Gallery.
Five Representatives – Alvin Bentley (R-Michigan), Clifford Davis (D-Tennessee), Ben Jensen (R-Iowa), George Hyde Fallon (D-Maryland) and Kenneth Roberts (D-Alabama) – were wounded but all recovered.
The shooters were arrested, tried and convicted in federal court, and given long sentences, effectively life imprisonment.
In 1978 and 1979, they were pardoned by President Jimmy Carter; and all four returned to Puerto Rico.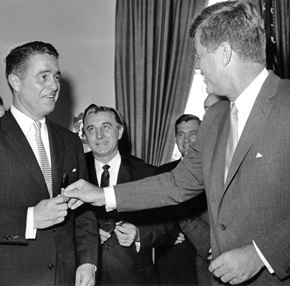 1961– President John F. Kennedy signed Executive Order 10924, officially starting the Peace Corps, enlisting men and women for voluntary, unpaid service in developing countries around the world.
Concerned with the growing tide of revolutionary sentiment in the Third World, Kennedy saw the Peace Corps as a means of countering the stereotype of the "Ugly American" and "Yankee imperialism," especially in the emerging nations of post-colonial Africa and Asia.
Kennedy appointed his brother-in-law, Sargent Shriver, to be the program's first director.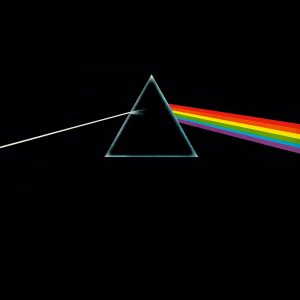 1973– Pink Floyd released the Dark Side of The Moon album.
The album, recorded at Abbey Road Studios, received critical acclaim upon release, and has since been hailed by critics as one of the greatest albums of all time.
The record reached #1 on the Billboard 200, and has charted for over 900 weeks in total. It remained in the Billboard album chart for a record-setting 736 weeks from 1973 to 1988.
It later entered the Pop Catalog Albums chart and stayed there for 759 weeks.
With estimated sales of over 45 million copies, it is Pink Floyd's best seller, and one of the best-selling albums in history.
Grammy Snub Factoid: The album was nominated for only one Grammy Award for Best Engineered Recording – Non-Classical at the 16th Annual Grammy Awards for the production work by Alan Parsons, but did not win.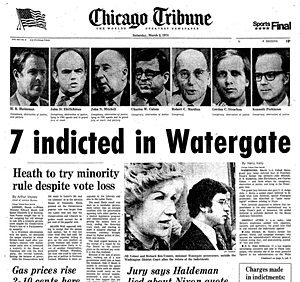 1974– A grand jury in Washington, D.C., indicted several former aides of President Richard Nixon.
The aides, who became known as the "Watergate Seven" – H. R. Haldeman, John Ehrlichman, John N. Mitchell, Charles Colson, Gordon C. Strachan, Robert Mardian, and Kenneth Parkinson – were indicted for conspiring to hinder the Watergate investigation.
The grand jury secretly named Nixon as an unindicted co-conspirator. The special prosecutor dissuaded them from an indictment of Nixon, arguing that a President can be indicted only after he leaves office.
Compiled by Ray Lemire ©2020 RayLemire.com / Streamingoldies.com. All Rights Reserved.