My daughter Wendy has always been a giver, even at a young age. If you need something, she is always the first to step up. So it came as no surprise that she took on an extraordinary task in July; the Challenge for Be The Match! That involved committing to taking 10,000 steps every day for 30 days.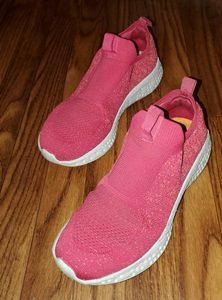 She did it to bring awareness to Be The Match.org. For the thousands of people diagnosed every year with life-threatening blood cancers like leukemia and lymphoma, a cure exists. Over the past 30 years, Be The Match, operated by the National Marrow Donor Program, has managed the most diverse marrow registry in the world.
She also did it in honor of 23-year old Jacob, the son of one of Wendy's dearest friends (Claudia). Jacob is fighting Hodgkin's Lymphoma … for the second time.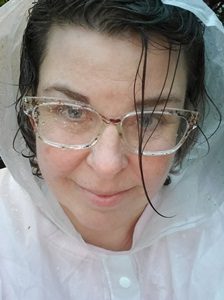 It wasn't always easy. During a very rainy day (and night), she realized she couldn't put off her duty.
"I grabbed my poncho and a flashlight. I needed to get to my daily goal of at least 10,000 steps. And I did. During my puddly, soggy walk, I caught myself thinking 'This is brutal!' Then I corrected myself and realized it was nothing compared to fighting cancer."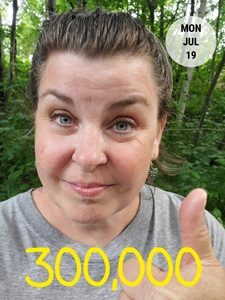 Wendy typically went above and beyond the challenge. When she hit the monthly goal of 300,000 steps by July 19, she decided to add another 100,000 steps to her total. The intense heat we all experienced in July did not slow her down.
She nailed the 400,000 by July 23!
And still she went on. By the time the month ended, Wendy had taken an amazing 511,000 steps! Think about that for a minute … over half a million steps!
"My challenge was nothing in comparison to fighting cancer and all the unknowns that lie ahead. I can take a break now, slow it down but cancer patients will continue to fight every damn day. Cancer is a wicked disease. I know too many family members and friends who have dealt with its crippling fear. It has been my honor to hold them in my heart and mind during my walks."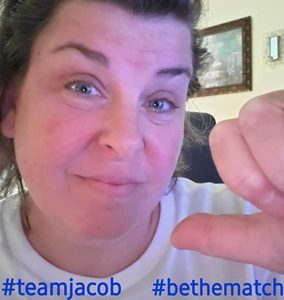 And the best news? On August 6, Claudia shared the news that a match had been found for Jacob! The selected donor is a 23 year old nameless young woman from somewhere overseas.
And so this "walking" medley is for Wendy; for all that she did, and for all that she is.
Play button is on the left … Volume slider is on the right
Wendy's Walking Medley
Ricky Nelson – Bangles – Left Banke
Rooftop Singers – Johnny Cash – Fats Domino
Dire Straits – Katrina & The Waves
Gerry & The Pacemakers
(For all who need hope)