"I'd like just to be remembered as a guy that came along and did his music, did his best and showed up on time, clean and ready to do the job, wrote a few songs, and had a hell of a time."
~Buck Owens
====================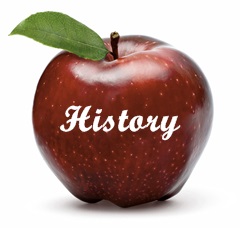 ====================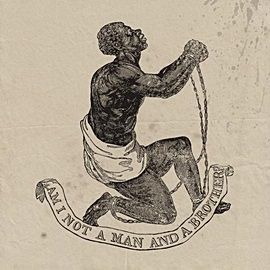 1807 – The Slave Trade Act became law, abolishing the slave trade in the British Empire.
It did not lead to the actual end of slavery, which remained legal in most of the British Empire until the Slavery Abolition Act in 1833.
Although it did not abolish the practice of slavery, the Slave Trade Act did encourage British action to press other nation states to abolish their own slave trades.
The Royal Navy, which then controlled the world's seas, established the West Africa Squadron in 1808 to patrol the coast of West Africa. Between 1808 and 1860 they seized approximately 1,600 slave ships and freed 150,000 Africans who were aboard.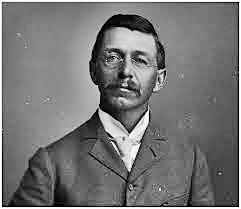 1894 – Coxey's Army began their march from Massillon, Ohio, to Washington, D.C.
The purpose of the march, termed a "petition in boots" and organized by Ohio businessman Jacob Coxey, was to protest the unemployment caused by the Panic of 1893 and to lobby for the government to create jobs which would involve building roads and other public works improvements.
The march originated with 100 men in Massillon and grew to 500 by the time it reached Washington on April 30.
On May 1, Coxey climbed the Capitol steps and started to read his petition, but he was quickly stopped. Police then turned on the crowd with sticks raised, beating the crowd back. It was over in 15 minutes.
Coxey and Carl Browne, an itinerant labor leader, were sentenced to 20 days in a workhouse for "trampling congressional shrubbery."
Coxey organized another march in 1914. That also failed, but 50 years later, on May 1, 1944, the former radical was invited back to Washington, hailed now as a visionary. This time, under FDR's New Deal, his wild scheme became the official policy of the United States.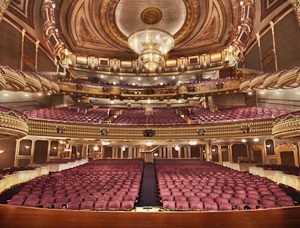 1913 – The Palace Theatre, the "home of vaudeville," opened in New York City.
With comedian Ed Wynn as the first headliner, it was not an instant success but soon became the premiere venue on the vaudeville circuit.
Jack Haley, who would later play the role of the Tin Man in the Wizard of Oz, said, "A feeling of ecstasy came with the knowledge that this was the Palace, the epitome of the more than 15,000 vaudeville theaters in America, and the realization that you have been selected to play it."
Other performers appearing at the Palace included Sarah Bernhardt, Al Jolson, Enrico Caruso, Bob Hope, Burns and Allen, Fred Astaire, Ethel Merman, Bing Crosby, and Jack Benny.
In 1965, it underwent a renovation, and reopened in 1966 with the gala opening of Sweet Charity. In recent years, Disney's Beauty and the Beast opened in April 1994, playing 2,250 performances.
Other productions at the theatre: Sunset Boulevard, An American in Paris, and La Cage aux Folles, which won six Tony Awards and ran for 1,761 performances
On September 16, 2018, the theater closed for an extensive renovation, and is expected to reopen in 2021.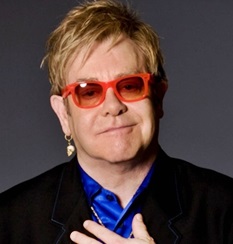 1947 – Sir Elton John was born.
Elton had at least one song reach the Top 40 every year between 1970-1999.He has sold than 300 million records, with more than fifty Top 40 hits in the UK Singles Chart and Billboard Hot 100, including seven #1 hits in the UK and nine in the U.S., as well as seven consecutive #1 albums in the U.S.
Rock Factoid: Candle In The Wind 1997, Elton's tribute to Princess Diana, is the biggest selling single in music history with over 34 million copies sold.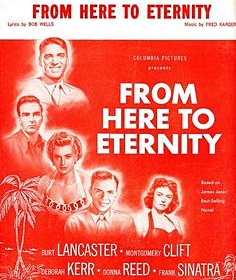 1954 – At the 26th Academy Awards, From Here To Eternity won eight Oscars.
Those awards included Best Picture, Best Supporting Actor (Frank Sinatra), Best Supporting Actress (Donna Reed), and Best Director (Fred Zinnemann).
William Holden won the Best Actor award for Stalag 17 and Audrey Hepburn won Best Actress for Roman Holiday.
Academy Factoid: Holden's speech for Best Actor was simply "Thank You," making it the shortest speech ever. The TV broadcast had a strict cutoff time which forced Holden's quick remarks.
He later personally paid for advertisements in the Hollywood trade publications to thank everyone he wanted to on Oscar night. He also remarked that he felt that either Burt Lancaster or Montgomery Clift should have won the Best Actor Oscar for From Here To Eternity instead of him.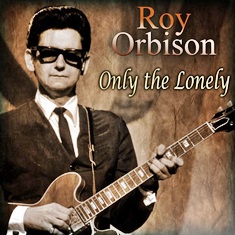 1960 – Roy Orbison recorded Only The Lonely.
Orbison and co-writer Joe Melson had tried to sell to the song to Elvis Presley, who turned it down. So did the Everly Brothers.
Orbison, who had been releasing songs since 1956 and had never charted higher than #59 (Ooby Dooby in 1956), decided to record it himself at RCA's Nashville studio.
Released as a 45 rpm single by Monument Records in May 1960, Only The Lonely went to #2 on the Billboard Hot 100 and #1 in the UK, Ireland, and Australia.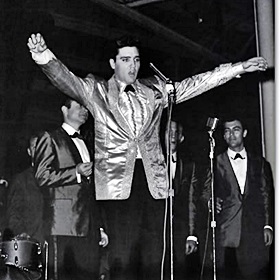 1961 – In what would be his final live concert for almost eight years, Elvis Presley performed at Pearl Harbor and raised over $60,000 for the USS Arizona memorial fund.
More than 4,000 fans attended the concert at Bloch Arena at Pearl Harbor, purchasing tickets ranging in price from $3 to $100.
Gross ticket sales were $52,000. An additional $5,000 check from Elvis (and he also paid all of the other performers out of his own pocket), along with concessions revenue and additional donations collected at the arena, pushed the memorial commission's proceeds over $62,000.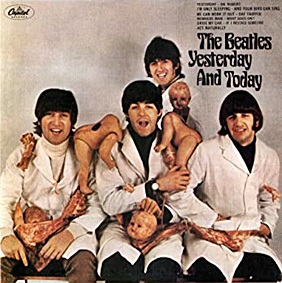 1966 – The Beatles' 'Butcher' cover for their Yesterday And Today album was photographed.
Photographer Robert Whitaker had the Beatles in the studio for a conceptual art piece titled A Somnambulant Adventure. For the shoot, Whitaker took a series of pictures of the group dressed in butcher smocks and draped with pieces of meat and body parts from plastic baby dolls.
Although not originally intended as an album cover, the Beatles submitted photographs from the session for their promotional materials. According to a 2002 interview published in Mojo, former Capitol president Alan W. Livingston stated that it was Paul McCartney who pushed strongly for the photo's inclusion as the album cover.
Capitol Records printed approximately 750,000 copies of Yesterday and Today with the so-called 'butcher cover'. Reaction was immediate, as Capitol received complaints from some dealers. The record was immediately recalled under orders from Sir Joseph Lockwood, chairman of Capitol's parent company, EMI.
Two of the Beatles defended the use of the 'butcher' photograph. John Lennon said that it was "as relevant as Vietnam" and McCartney described it as "our comment on the [Vietnam] war" and added that their critics were "soft".
However, this opinion was not shared by all band members. George Harrison said in The Beatles Anthology that he thought the whole idea was "gross" and "stupid", adding, "Sometimes we all did stupid things thinking it was cool and hip when it was naïve and dumb; and that was one of them."
For his part, Ringo Starr was disgusted by the whole thing.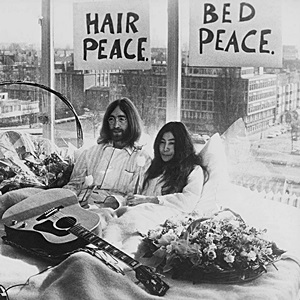 1969 – During their honeymoon, John Lennon and Yoko Ono hold their first Bed-In for Peace at the Amsterdam Hilton Hotel.
Following the weeklong event, Lennon insisted that the failure of the press to take the couple seriously was part of what he and Ono wanted.
"It's part of our policy not to be taken seriously. Our opposition, whoever they may be, in all manifest forms, don't know how to handle humor. And we are humorous.
However, Ono earned controversy in the Jewish community for outrageously claiming during the press conference that Jewish women could've changed Hitler by becoming his girlfriend and sleeping with him for 10 days.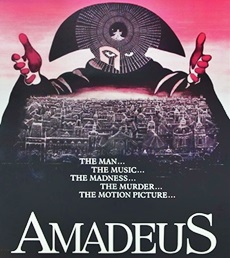 1985 – At the 57th Academy Awards, the big winner was Amadeus.
The film received 11 nominations and won 8 awards including Best Picture, Best Director (Milos Forman), and Best Actor (F. Murray Abraham).
Sally Field won the Best Actress Oscar for her performance in Places In The Heart.
Prince won the Academy Award for Best Original Song Score (from the film Purple Rain) and Stevie Wonder took home the Oscar for Best Original Song (I Just Called To Say I Love You from The Woman In Red).
Academy Factoid: Abraham's win in the Best Actor category pitted him against cast mate Tom Hulce, who played the title character in Amadeus. It was the last time a film received two Best Actor nominations.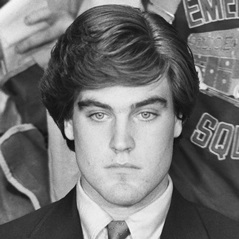 1988 – Robert E. Chambers Jr. pleaded guilty to first-degree manslaughter in the death of 18-year-old Jennifer Levin in New York City's so-called "preppy murder case."
Chambers was dubbed the Preppy Killer by the media after the August 26, 1986, New York City Central Park strangulation death of 18-year-old Jennifer Levin, for which he was originally charged with second degree murder. He claimed the death was accidental and the result of rough sex.
The defense sought to depict Levin as a promiscuous woman who kept a "sex diary"; however, no such diary existed. Levin, instead, kept a small notebook that contained the names and phone numbers of her friends and notations of ordinary appointments.
With the jury deadlocked for nine days, a plea bargain was struck in which Chambers pleaded guilty to the lesser crime of manslaughter in the first degree. He was sentenced to serve five to fifteen years.
Aftermath: Chambers was released from prison on February 14, 2003, after having served the entirety of his prison term due to numerous infractions.
Chambers was charged on November 29, 2004, with possession of heroin and cocaine. He was sentenced to 100 days in jail.
October 22, 2007, Chambers was arrested again and charged with three counts of selling a controlled substance in the first degree, three counts of selling a controlled substance in the second degree, and one count of resisting arrest.
On September 2, 2008, he was sentenced to nineteen years on the drug charge. His earliest release date from prison is January 25, 2024; his maximum release date is October 15, 2026.
Conclusion: Robert Chambers is a waste of oxygen.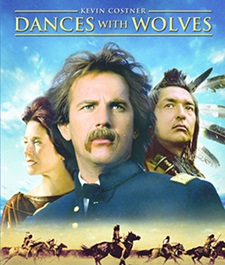 1991 – At the 63rd Academy Awards, Dances With Wolves won seven awards including Best Picture.
Kevin Costner (Dances With Wolves) won for Best Director, Jeremy Irons (Reversal of Fortune) was named Best Actor, and Kathy Bates (Misery) won the Oscar for Best Actress.


1992 – Actress Nancy Walker died from lung cancer at the age of 69.
She is best remembered for her long-running roles as Mildred on McMillan & Wife and Ida Morgenstern, who first appeared on several episodes of The Mary Tyler Moore Show and later became a prominent recurring character on the spinoff series Rhoda.
And of course, many will remember her for playing Rosie, a waitress in a series of commercials for Bounty paper towels, "the quicker picker upper," from 1970-90.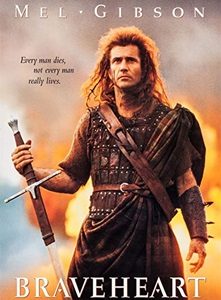 1996 – At the 68th Academy Awards, Braveheart was the big winner. Among the film's five wins were Best Picture and Best Director (Mel Gibson.
Susan Sarandon won the Academy Award for Best Actress for Dead Man Walking, and Nicolas Cage won the Best Actor Oscar for Leaving Las Vegas.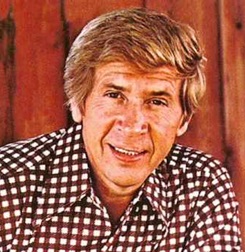 2006 – Alvis "Buck" Owens died of a heart attack at the age of 76.
He had twenty-one #1 hits on the Billboard country music charts, including Act Naturally, Love's Gonna Live Here, My Heart Skips A Beat, and I've Got A Tiger By The Tail. was a member of both the Country Music Hall of Fame and Nashville Songwriters Hall of Fame.
From 1969 to 1986, Owens co-hosted the popular television variety show Hee Haw with Roy Clark.
Name Factoid: In the biography About Buck, Rich Kienzle wrote, "'Buck' was a donkey on the Owens farm. When Alvis was three or four years old, he walked into the house and announced that his name also was 'Buck.' That was fine with the family, and the boy's name became "Buck" from then on."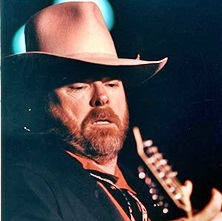 2009 – Dan Seals died from Mantle cell lymphoma at the age of 61.
He first gained fame as "England Dan", one half of the soft rock duo England Dan & John Ford Coley, who charted nine pop singles, including the #2 Billboard Hot 100 hit I'd Really Love To See You Tonight.
After the duo disbanded, Seals began a solo career in country music. He charted more than 20 singles on the country charts. Eleven of them reached #1, including Big Wheels In The Moonlight, Bop, and Everything That Glitters (Is Not Gold).
Family Factoid: He was the younger brother of Seals and Crofts member Jim Seals, who gave him the childhood nickname of "England Dan".

Compiled by Ray Lemire ©2020 RayLemire.com / Streamingoldies.com. All Rights Reserved.