"Now that conflict has come, the only way to limit its duration is to apply decisive force. And I assure you, this will not be a campaign of half measures and we will accept no outcome but victory."
~President George W. Bush
March 19, 2003
Announcing the start of 'Operation Iraqi Freedom'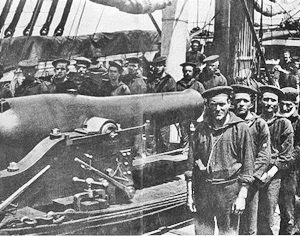 1863 – The SS Georgiana, said to have been the most powerful cruiser belonging to the Confederate States Navy during the Civil War, was destroyed on her maiden voyage.
The Georgiana was carrying a cargo of munitions, medicines, and merchandise then valued at over $1 million. On her maiden voyage from Scotland, where she was built, she encountered Union Navy ships engaged in a blockade of Charleston, SC, and was heavily damaged before being scuttled by her captain.
Lt. Comdr. John L. Davis, commander of the attacking USS Wissahickon (shown above), decided to burn the wreck to prevent the crew of the Georgiana – who had escaped via lifeboats – from trying to salvage her or her cargo.
The Georgiana burned for several days accompanied by large black powder explosions.
The story doesn't end there. It continues a little further down this column.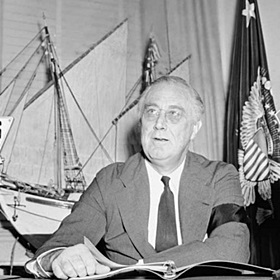 1942 – President Franklin Roosevelt ordered men between 45 and 64 to register for non-military duty.
Known as the "Old Man's Draft", the registration officially took place on April 27, 1942, at local draft boards around the country.
The sole purpose was to provide the government with a register of manpower who might be eligible for national service, and listed each registrant's industrial capacity and skills that could be used for military support during World War II.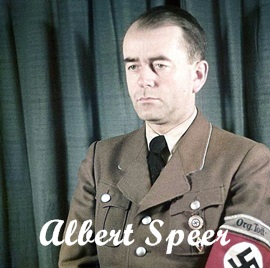 1945 – Adolf Hitler issued his so-called "Nero Decree" ordering the destruction of German facilities that could fall into Allied hands.
Officially titled Demolitions on Reich Territory Decree, it become known as the Nero Decree, after the Roman Emperor Nero, who supposedly engineered the Great Fire of Rome in 64 AD.
By March 1945, the German situation was desperate. Most of the conquered territories had been liberated or recaptured, and Allied armies were advancing on Germany from both the East and the West.
Hitler was not willing to accept the terms of unconditional surrender, and considered this as repeating the same shame of Versailles. He decided he would emulate the defense his armies had encountered in Russia: The German people would destroy everything that could be of possible use to the Allies as they advanced.
"The enemy will leave us nothing but scorched earth when he withdraws, without paying the slightest regard to the population. I therefore order all military transport and communication facilities, industrial establishments and supply depots, as well as anything else of value within Reich territory, which could in any way be used by the enemy immediately or within the foreseeable future for the prosecution of the war, will be destroyed."
The responsibility for carrying out the decree fell to Albert Speer, Hitler's Minister of Armaments and War Production. Speer was appalled by the order and deliberately failed to carry it out.
Hitler remained unaware of this until the very end of the war, when Speer, while visiting Hitler in his Berlin bunker, admitted to him that he had deliberately disobeyed the order.
Decree Factoid: The Nero Decree was not the first time Hitler had tried to destroy infrastructure before it could be taken. Shortly before the Liberation of Paris, Hitler ordered explosives to be placed around important landmarks, such as the Eiffel Tower, and key transportation hubs.
If the Allies came near the city, the military governor, Dietrich von Choltitz was to detonate these bombs, leaving Paris "lying in complete debris."
Von Choltitz did not carry out the order and surrendered to the Allies.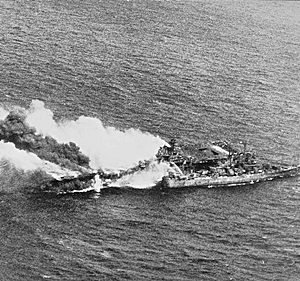 1945 – Off the coast of Japan, a dive bomber dropped two semi-armor-piercing bombs on the aircraft carrier USS Franklin, killing 807 of her crew and injuring another 480 .
Badly damaged, the Franklin was taken in tow by the heavy cruiser Pittsburgh until she was able to raise enough steam to reach a speed of 14 knots was able to return to Pearl Harbor under her own power.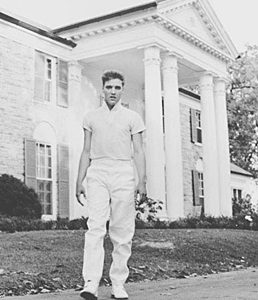 1957 – Elvis Presley signed a sales contract to purchase Graceland, a 13.8-acre parcel of property in Memphis.
Presley's parents had looked at the property on March 17 and paid a $1,000 deposit. When they returned to the residence with Elvis two days later, their son took less than an hour to sign the purchase and sales agreement. The closing was held on March 26.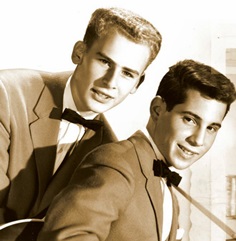 1958 – Tom & Jerry – before they became known as Simon & Garfunkel – released their second single (Our Song / Two Teenagers).
The record failed to hit the Top 200.
Rock Factoid: Simon wrote and recorded under the pseudonym of Jerry Landis, a name he chose because of the surname of then-girlfriend Sue Landis. Garfunkel named himself Tom Graph, a reference to his interest in mathematics.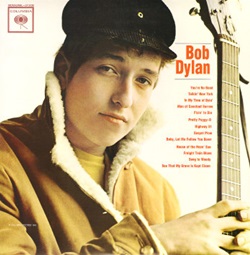 1962 – Bob Dylan's self-titled debut album was released by Columbia Records.
The album featured folk standards, plus two Dylan original compositions, and was recorded in three short afternoon sessions on November 20 and 22, 1961.
Bob Dylan remains Dylan's only release not to chart whatsoever in the U.S. Mitch Miller, Columbia's chief of A&R at the time, said U.S. sales totaled about 2,500 copies.
Idle Thought: He went on to bigger things.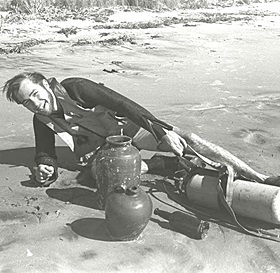 1962 – Exactly 102 years after her sinking, 18-year old diver E. Lee Spence discovered the wreck of the SS Georgiana.
Spence, who would become a pioneer in underwater archaeology, later made a stunning announcement about a character in Martha Mitchell's Gone With The Wind.
The cargo on the Georgiana was reported to have been owned by Fraser & Company, a Charleston based blockade-running firm that acted as a conduit for Confederate funds and supplies. The company was headed by a tall handsome Charleston resident named George Alfred Trenholm. Trenholm was said to have been the richest man in the South and was the historical basis for Mitchell's character of Rhett Butler – even though she had always maintained her novel was a complete work of fiction.
Indeed, found in the Georgiana shipwreck were brass sewing pins, which were highly sought after during the Civil War and one of the few specific items named as smuggled through the blockade by Rhett Butler in the novel.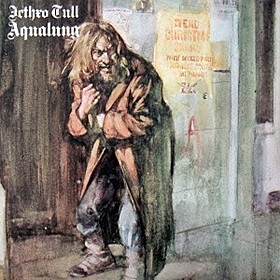 1971 – Jethro Tull released the groundbreaking Aqualung album.
Praised by music critic Bruce Elder as "one of the most cerebral albums ever to reach millions of rock listeners," it peaked at #4 on the UK Album chart and #7 on the Billboard Album chart.
To date, it has sold over seven million copies.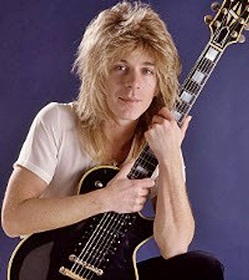 1982 – Randy Rhoads (founding member of Quiet Riot and later the lead guitarist with Ozzy Osbourne's band) died at the age of 25 in an airplane crash.
Rock Factoid: Osbourne's band was traveling on a bus to a gig in Orlando when they stopped in Leesburg, FL to spend the night at the home of country singer Jerry Calhoun.
The bus driver, Andrew Aycock, who was also a pilot, decided to take a joy ride – without permission – in a plane that was on the property.
Rhoads and Rachel Youngblood, the band's makeup artist and hairdresser, went along for the ride. The plane which had buzzed the tour bus three times, dipped too low on the fourth attempt and clipped the tour bus, spun out of control, hit a nearby pine tree and then nose-dived into the house.
The ensuing fireball killed all three passengers, who were left unrecognizable by the flames. Rhoads had to be identified by his jewelry.


1987 – Televangelist Jim Bakker resigned as chairman of his PTL ministry organization amid a sex-and-money scandal involving a former church secretary, Jessica Hahn.
A $279,000 payoff for the silence of Hahn, who alleged that Bakker and former PTL Club co-host John Wesley Fletcher drugged and raped her, was paid with PTL's funds through Bakker's associate Roe Messner.
Bakker, who made the PTL organization's financial decisions, allegedly kept two sets of books to conceal accounting irregularities.
Bakker was succeeded as PTL head by Southern Baptist pastor Jerry Falwell. Bakker believed that Falwell would temporarily lead the ministry until the scandal died down, but Falwell barred Bakker from returning to PTL on April 28.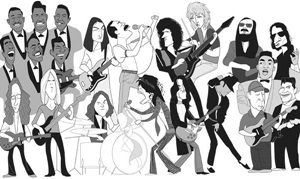 2001 – Aerosmith, Solomon Burke, The Flamingos, Michael Jackson, Queen, Paul Simon, Steely Dan, Talking Heads and Ritchie Valens were inducted into the Rock and Roll Hall of Fame.
Also inducted were James Burton and Johnnie Johnson (sideman category) and Chris Blackwell (non-performer category)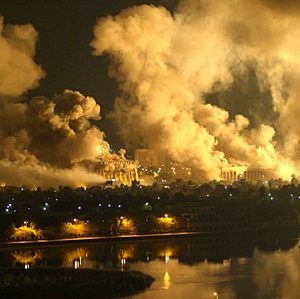 2003 – At 5:34 a.m. March 20 Baghdad time (9:34 p.m., March 19 EST) , the United States and three other countries (UK, Australia and Poland) began military operations in Iraq.
The invasion – Operation Iraqi Freedom – began with a "shock and awe" campaign of aerial bombardment intended as a show of force.
At 10:15 p.m. EST, President George W. Bush announced he had ordered the start of the war on Iraq, declaring: "On my orders, coalition forces have begun striking selected targets of military importance to undermine Saddam Hussein's ability to wage war."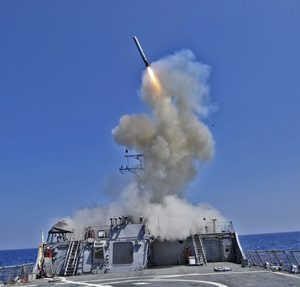 2011 – The U.S. fired more than 110 Tomahawk cruise missiles from the sea (Operation Odyssey Dawn) while French fighter jets targeted Muammar Gaddafi's forces from the air (Operation Harmattan), launching an international military effort with the goal of imposing a no-fly zone for Libyan government forces.
The no-fly zone was proposed during the Libyan Civil War to prevent government forces loyal to Muammar Gaddafi from carrying out air attacks on anti-Gaddafi forces.
Compiled by Ray Lemire ©2020 RayLemire.com / Streamingoldies.com. All Rights Reserved.