"Kennedy beat up the Eisenhower administration for allowing Castro to come to power and not doing anything about it. So he became president in large part because of his anti-communist rhetoric, and he didn't want to look like a hypocrite or soft on communism."
~Jim Rasenberger
'The Brilliant Disaster: JFK, Castro, and America's Doomed Invasion of Cuba's Bay of Pigs'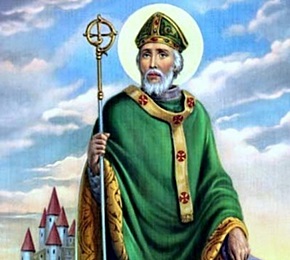 461 – According to tradition, Saint Patrick, the patron saint of Ireland, died on this date.
Patrick is said to be buried at Down Cathedral in Downpatrick, County Down, although this has never been proven.
At the age of 16, he had been captured by Irish pirates from his home in Great Britain and taken as a slave to Ireland. After six years of captivity, he escaped and returned home to Britain, but eventually returned to Ireland, settling in the west of the island, where, in later life, he became a bishop.
Patrick is credited with teaching the Irish about the doctrine of the Holy Trinity by showing people the shamrock, a three-leafed plant, using it to illustrate the Christian teaching of three persons in one God.
About Those Snakes… Legend has attributed the banishment of all reptiles from the island to Patrick. It is claimed he chased them into the sea after they attacked him during a 40-day fast he was undertaking on top of a hill.
However, all evidence suggests that post-glacial Ireland never had snakes.
"At no time has there ever been any suggestion of snakes in Ireland, so there was nothing for St. Patrick to banish", says naturalist Nigel Monaghan, keeper of natural history at the National Museum of Ireland in Dublin.

1776 – The 11-month siege of Boston ended when the Continental Army, under the command of George Washington, fortified a hilltop with cannons captured at Fort Ticonderoga.
In November 1775, Washington had sent Henry Knox to bring to Boston the heavy artillery that had been captured at Ticonderoga. In a technically complex and demanding operation, Knox and his men hauled 60 tons of cannon and other armaments by ox-drawn sleds across 300 miles of ice-covered rivers and the snow-draped Berkshire Mountains.
They arrived in the Boston area by January 1776. The artillery fortified Dorchester Heights (which overlooked Boston and its harbor), thereby threatening the British supply lifeline.
The British commander William Howe saw the British position as indefensible and withdrew his forces in Boston to the British stronghold at Halifax, Nova Scotia,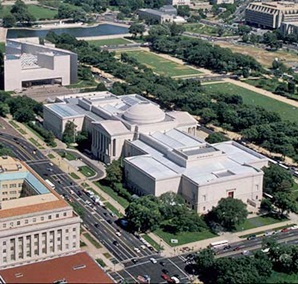 1941 – The National Gallery of Art opened in Washington, D.C.
Andrew W. Mellon, a financier and art collector from Pittsburgh who came to Washington in 1921 to serve as secretary of the treasury, believed that the U.S. should have a national art museum equal to those of other great nations.
In 1936, Mellon wrote to President Franklin D. Roosevelt, offering to donate his art collection for a new museum and to use his own funds to construct a building for its use. Mellon selected American architect John Russell Pope to design the building for the new museum.
Neither man lived to see the dream become a reality. Mellon and Pope died within 24 hours of each other in August 1937.
When the National Gallery of Art opened to the public, the nucleus of its world-class collection consisted of 126 paintings and 26 sculptures given by Mellon.
Today, it includes over 140,000 paintings, drawings, prints, photographs, sculpture, and decorative arts, tracing the development of Western art from the Middle Ages to the present.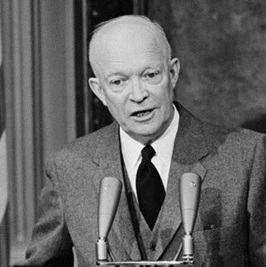 1960 – President Dwight D. Eisenhower signed the National Security Council directive on the anti-Cuban covert action program that would ultimately lead to the Bay of Pigs Invasion.
The first stated objective of the plan was to "bring about the replacement of the Castro regime with one more devoted to the true interests of the Cuban people and more acceptable to the U.S.
At this stage, however, it was still not clear that an invasion would take place. Contrary to popular belief, documents obtained from Eisenhower Library revealed that Eisenhower never ordered, or approved plans, for an amphibious assault on Cuba.
The CIA's Director at the time, Allen Dulles, was confident that the CIA was capable of overthrowing the Cuban government. On November 29, 1960, Eisenhower met with the chiefs of the CIA, Defense, State, and Treasury departments to discuss the new concept. None expressed any objections, and Eisenhower approved the plans with the intention of persuading President-Elect John Kennedy of their merit.
Two months later, President Kennedy was briefed, together with all the major departments, on the latest plan. Top aides to Kennedy, such as Dean Rusk and both Joint Chiefs of staff, later said that they had hesitations about the plans but said nothing at the time.
Military advisers were skeptical of its potential for success, as well. Despite these hesitations, Kennedy still ordered the attack to take place.
Idle Thought: And we all know how that fiasco turned out.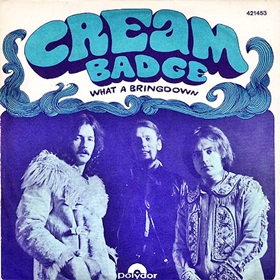 1969 – Cream released Badge in the U.S. The single peaked at #60 on the Billboard Hot 100.
The song, written by Eric Clapton and George Harrison, featured a mysterious guitar player who sat in with the band. His name? L'Angelo Misterioso.
His REAL name? George Harrison
Rock Factoid: Why was the song called Badge?
"We were working across from each other and I was writing the lyrics down and we came to the middle part so I wrote 'Bridge.' Eric read it upside down and cracked up laughing – 'What's badge?' We had a laugh and knew we had the name for the song." … George Harrison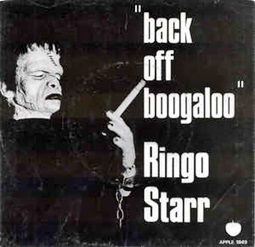 1972 – Ringo Starr released Back Off Boogaloo.
George Harrison produced the recording and added a prominent slide guitar. He also helped Starr write the song, although he remained uncredited as a co-writer until 2017.
The lyrics have been interpreted as an attack on Paul McCartney, reflecting Starr's disdain for the music McCartney had made as a solo artist over the previous two years, especially the Ram album, of which Starr said, "He disappoints me on his albums. I don't think there's one [good] tune on [Ram] It's like he's not admitting that he can write great tunes."
Get yourself together now and give me something tasty.
Everything you try to do, you know it sure sounds wasted.
And then there was this…
Wake up, meathead, don't pretend that you are dead, which some claim was a reference to the 'Paul is dead' saga.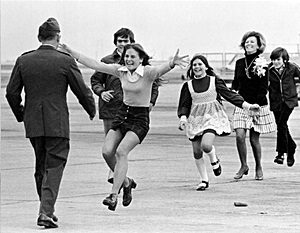 1973 – The Pulitzer Prize-winning photograph Burst of Joy was taken, depicting a former prisoner of war being reunited with his family, which came to symbolize the end of United States involvement in the Vietnam War.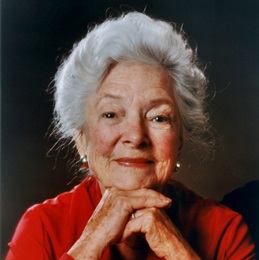 1993 – Academy Award winning actress Helen Hayes died of congestive heart failure at the age of 92.
The "First Lady of American Theatre" performed in more than eighty plays on Broadway,
and she was the first person to win an Oscar in two categories, Best Actress (The Sin of Madelon Claudet) and Best Supporting Actress (Airport).
Hayes also received the Presidential Medal of Freedom, America's highest civilian honor, from President Ronald Reagan in 1986.
She is one of only 15 people to receive all four prestigious entertainment awards: a Tony, Oscar, Emmy and Grammy. But it was something outside of acting that brought her the most joy.
Hayes took the most pride in her philanthropic work with Helen Hayes Hospital, a physical rehabilitation hospital located in West Haverstraw, New York. She was extremely proud of the strides the hospital made toward the rehabilitation of people with disabilities.
"I've seen my name in lights on theater marquees and in letters 20 feet tall on Broadway billboards, but nothing has ever given me greater sense of pride and satisfaction than my 49-year association with this unique hospital."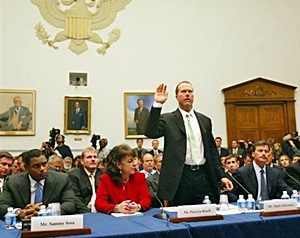 2005 – Baseball players Rafael Palmeiro and Sammy Sosa testified before Congress that they hadn't used steroids. Mark McGwire refused to say whether he had.
Palmeiro's opening statement was filled with anger. "Let me start by telling you this. I have never used steroids, period. I don't know how to say it any more clearly than that. Never."
On August 1, 2005, Palmeiro was suspended for ten days after testing positive for steroids.
Sosa, though his attorney (he had apparently forgotten how to speak English for the occasion) said, "To be clear, I have never taken illegal performance-enhancing drugs. I have never injected myself or had anyone inject me with anything. I have not broken the laws of the United States or the laws of the Dominican Republic."
McGwire declined to answer questions under oath. "My lawyers have advised me that I cannot answer these questions without jeopardizing my friends, my family, and myself. I will say, however, that it remains a fact in this country that a man, any man, should be regarded as innocent unless proven guilty."
On January 11, 2010, McGwire admitted to using steroids on and off for a decade.
Hall of Fame Factoid: All three players would have been almost automatic inductees into baseball's Hall of Fame if the steroid scandal hadn't occurred.
None of them were ever inducted.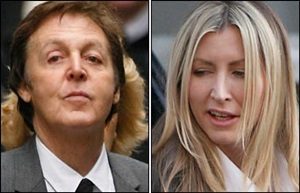 2008 – Paul McCartney's divorce from Heather Mills was settled for $48.6 million.
Along with a lump sum of $33 million, Mills received $15 million in real estate, including an English seaside condo and a countryside home.
McCartney was also ordered to pay $70,000 a year to support the couple's then 4-year-old daughter Beatrice, in addition to paying for her nanny and private school tuition.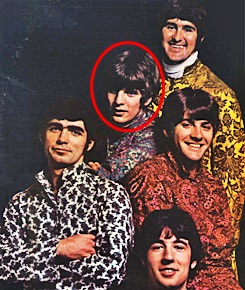 2010 – Singer Alex Chilton died of a heart attack at the age of 59.
He was just 16 years old when the Box Tops, in which he was the lead singer, had a #1 hit with The Letter.
The group went on to have several other major chart hits, including Neon Rainbow, Cry Like A Baby, Sweet Cream Ladies, Forward March, and Soul Deep before the band broke up in 1970.

Compiled by Ray Lemire ©2020 RayLemire.com / Streamingoldies.com. All Rights Reserved.