"I find that the prejudice in this country to color is very great, and I sometimes fear that it is on the increase. The colored race can be built up and assisted … in acquiring property, in becoming intelligent, valuable, useful citizens, without one hair upon the head of any white man being harmed."
~U.S. Senator Hiram R. Rhodes (R-MS)
=====================


=====================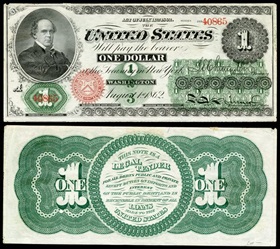 1862 – The First Legal Tender Act of 1862 was passed by the U.S. Congress, authorizing the United States Note (greenback) into circulation, the first fiat paper money that was legal tender in America.
Congress also formed the U.S. Bureau of Engraving and Printing to print the paper currency.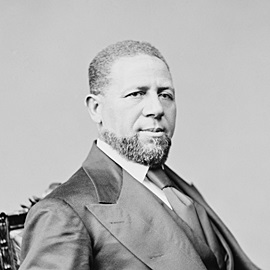 1870 – Hiram R. Revels, R-MS, became the first black member of the United States Senate … but it wasn't easy.
At the time, as in every State, the state legislature elected U.S. senators (they were not elected by popular vote until the passage of the 17th Amendment in 1913).
In 1870 Revels was elected by a vote of 81 to 15 in the Mississippi State Senate to finish the term of Albert Brown – not Jefferson Davis, as many historians claim.
When Revels arrived in Washington, D.C., southern Democrats in office opposed seating him in the Senate. Senator Charles Sumner (R-MA) said, "The time has passed for argument. Nothing more need be said. For a long time it has been clear that colored persons must be senators."
On February 25, Revels, on a party-line vote of 48 to 8, with Republicans voting in favor and Democrats voting against, became the first African American to be seated in the United States Senate.
Following that vote, Sen. Sumner praised his colleagues for their moral courage.
"All men are created equal, says the great Declaration, and now a great act attests this verity. Today we make the Declaration a reality. The Declaration was only half established by Independence. The greatest duty remained behind. In assuring the equal rights of all we complete the work."
Symbolic Factoid: Revels' appointment was particularly symbolic in that the seat he occupied had belonged to Brown, one of the most racist senators in U.S. history.
Brown was a strong advocate for the expansion of slavery.
"I want a foothold in Central America… because I want to plant slavery there…. I want Cuba, Tamaulipas, Potosi, and one or two other Mexican States; and I want them all for the same reason – for the planting or spreading of slavery. I would spread the blessings of slavery, like the religion of our Divine Master, to the uttermost ends of the earth."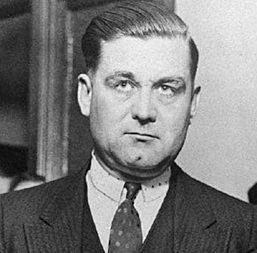 1957 – George "Bugs" Moran died of lung cancer at the age of 63.
A Chicago Prohibition-era gangster, Moran's North Side Gang was in competition with Al Capone's South Side Gang in the 1920s.
On February 14, 1929, Capone tried to strike a decisive blow against Moran with the notorious Saint Valentine's Day Massacre. The day before, a tempting phone call to Moran told him that a truckload of whiskey had just arrived from Detroit, and that he could have it at a bargain price.
He ordered the whiskey to be delivered at 10:30 the next morning at the garage of the S.M.C. Cartage Company on North Clark Street, where he kept his bootlegging trucks. Two gunmen dressed as Chicago police officers and two others in plain clothes lined up seven of Moran's people against the wall in the warehouse and gunned them down.
However, Moran, the main target of the "hit", narrowly eluded death, as he had decided to sleep in that day.
In 1957, while serving his third prison sentence – this one for a 1945 bank robbery – Moran died at the federal penitentiary in Leavenworth, Kansas.
Lung cancer had finally finished the job Al Capone botched.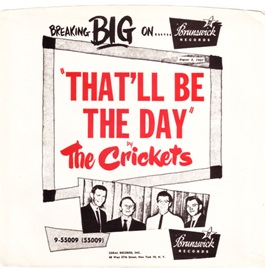 1957 – The Crickets recorded That'll Be The Day for Brunswick Records.
Due to unusual contract arrangements, all songs recorded by the group on the Brunswick label were released as The Crickets, while any song recorded for the Coral label was released as Buddy Holly.
That'll Be The Day, Oh, Boy!, Maybe Baby and Think it Over were technically not Buddy Holly records. They were Crickets tunes.
Peggy Sue and Rave On were credited to Buddy Holly….even though all of the songs were recorded by the same people.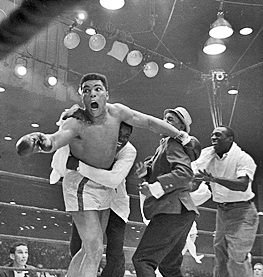 1964 – Cassius Clay (who later changed his name to Muhammad Ali) became the world heavyweight boxing champion by defeating Sonny Liston in Miami Beach.
Clay, who was a 7–1 underdog, won in a major upset when Liston gave up at the opening of the seventh round.
Although there were allegations of a fix as soon as the fight ended, Liston said he quit the fight because of a shoulder injury, and there has been speculation since about whether the injury was severe enough to actually prevent him from continuing.
Dr. Alexander Robbins, chief physician for the Miami Beach Boxing Commission, diagnosed Liston with a torn tendon in his left shoulder.
As shown above, Clay was a little excited when Liston quit.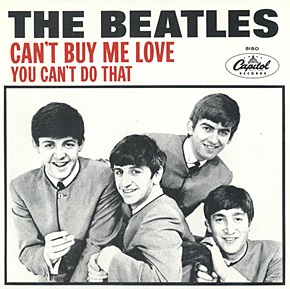 1964 – The Beatles recorded You Can't Do That.
Rock Factoid: The song – which became the B-side to Can't Buy Me Love – featured George Harrison's first prominent use of his new Rickenbacker 12-string guitar. The instrument gave the song its distinctive chiming sound, heard most prominently in the intro and ending.
The guitar solo on You Can't Do That was performed by John Lennon – the first such occurrence on a Beatles release.
"It drove me potty to play chunk-chunk rhythm all the time. I never play anything as lead guitarist that George couldn't do better. But I like playing lead sometimes, so I do it." … John Lennon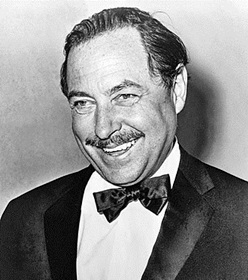 1983 – Playwright Tennessee Williams, apparently trying to ingest barbiturates, choked to death on a plastic bottle cap. He was 71.
An autopsy performed the next day showed that the writer had choked to death on a bottle cap – the type used on nasal spray or eye solution – that he had swallowed or inhaled.
Medical Examiner, Dr. Elliot M. Gross, said the cause of death was asphyxia, but chemical tests of tissue samples disclosed the presence of the barbiturate secobarbital in his system when he died.
Williams, who won Pulitzer Prizes for his plays A Streetcar Named Desire and Cat On A Hot Tin Roof, struggled with depression and a variety of illnesses, some of which were caused by his increasing reliance on alcohol and drugs.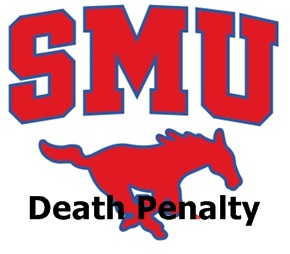 1987 – Southern Methodist University's football program became the first college football program to be banned from competition by the NCAA's Committee on Infractions.
The most serious violation was the maintenance of a slush fund used for "under the table" payments to players and their families to entice them to come to SMU to play.
As a result, the SMU football team was not allowed to participate in the 1987 season. SMU also was not permitted to play home games in the 1988 season, but the school decided to suspend the program itself for an additional year as it found itself unable to field a viable team.
The severity of the "death penalty" left the SMU football program in ruin. The Mustangs had only one winning season over the next 20 years and failed to make another bowl game until 2009.
To date, it is one of the most severe penalties ever imposed on a Division I program, and the only time the NCAA has canceled a football-playing school's entire season at any level.

1987 – Actor James Coco died of a heart attack at the age of 56.
He became a Broadway star for a touching and flamboyantly amusing performance in Neil Simon's Last of The Red Hot Lovers, winning a Tony Award nomination for Best Actor in a Play.
He is best known for his supporting roles in the films Man of La Mancha and Only When I Laugh, earning an Academy Award for Best Supporting Actor for the latter.

1991 – During the Persian Gulf War, an Iraqi Scud missile disintegrated in the air and the debris crashed to the earth with deadly results, hitting a U.S. barracks in Dhahran, Saudi Arabia and killing 28 American servicemen and wounding another 100.
The death toll included Spc. 4 Christine Mayes and Spec. Beverly Clark, the first two female soldiers reported killed in the Gulf War.
Brig. Gen. Richard Neal of the U.S. Command said the Scud could not be tracked by the Patriot missile radar system because it fragmented when it entered the atmosphere.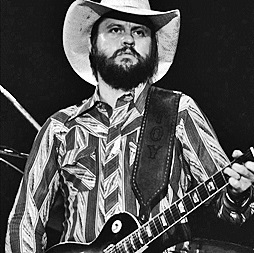 1993 – Toy Caldwell died of cardio-respiratory failure at the age of 45.
He was the lead guitarist, main songwriter, and a founding member of the Marshall Tucker Band, who had hit songs Heard It In A Love Sing, Fire on The Mountain and Can't You See (with Toy on lead vocals).
Tragedy Factoid: The Caldwell family has experienced more than their fair share of tragedies.
Toy was the older brother of co-founder and bass guitarist Tommy Caldwell, who was killed at age 30 in an automobile accident on April 28, 1980, and to Tim Caldwell, who on March 28, 1980, one month prior to Tommy's death, was killed at age 25 in a collision with a truck.
Semper Fi Factoid: Toy Caldwell served as a sergeant in the U.S. Marine Corps in Vietnam. After he was injured by a land mine in 1968, he was awarded a Purple Heart and medically discharged. Tommy Caldwell also served in Vietnam as a U.S. Marine.
In 2004, the Spartanburg, SC chapter of the Marine Corps League was named the Hutchings-Caldwells Detachment in honor of Toy, his brother Tommy and another Marine, Pvt. Nolan Ryan Hutchings who was killed during the Iraq Invasion in 2003.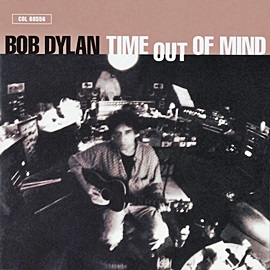 1998 – At the 40th Grammy Awards, Bob Dylan won Album of The Year for Time Out Of Mind.
Not Dark Yet was the first single from the album, and it remains my all-time favorite Bob Dylan song.
Family Factoid: It was a good night for the Dylan family. Bob's son Jakob won a Grammy for writing the Best Rock Song (One Headlight) and another as part of The Wallflowers, winner of the Best Rock Vocal Performance by a Duo or Group (One Headlight.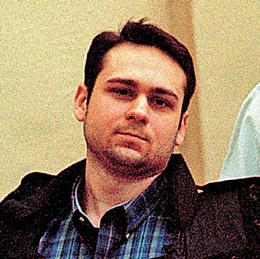 1999 – A jury in Jasper, Texas, sentenced white supremacist John William King to death for the 1998 dragging death of James Byrd Jr., an African-American man.
I am going to spare you the horrific details of the murder because they were so gruesome.
King – a white supremacist – had several racist tattoos: a black man hanging from a tree, Nazi symbols, the words "Aryan Pride", and the patch for a gang of white supremacist inmates known as the Confederate Knights of America.
In a jailhouse letter to Brewer that was intercepted by jail officials, King expressed pride in the crime and said that he realized while committing the murder that he might have to die. "Regardless of the outcome of this, we have made history. Death before dishonor. Sieg Heil!"
King and two others – Shawn Berry and Lawrence Brewer – were all convicted of the heinous crime. Berry was sentenced to life in prison, while Brewer was executed by lethal injection on September 21, 2011, and King on April 24, 2019.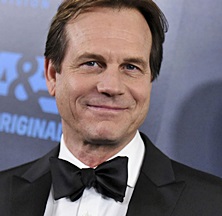 2017 – Actor Bill Paxton died of a stroke following open heart surgery to repair a damaged heart valve and his aorta. He was 61.
His brilliant career included performances in films such as The Terminator, Commando, Weird Science, Aliens, Tombstone, Apollo 13, Twister, and Titanic.
He also starred in the HBO drama series Big Love, earning three Golden Globe Award nominations during the show's run. He was nominated for a Primetime Emmy Award and a Screen Actors Guild Award for portraying Randall McCoy in the History channel miniseries Hatfields & McCoys.
Compiled by Ray Lemire ©2020 RayLemire.com / Streamingoldies.com. All Rights Reserved.