"None of the explanations so far offered removed the episode from the category of complete mystification. This was either a practice raid, or a raid to throw a scare into 2,000,000 people."
~Congressman Leland Ford
Discussing the "Battle of Los Angeles"
========================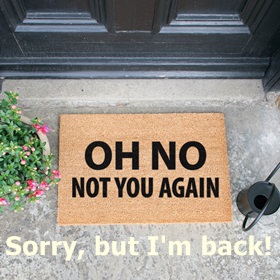 ========================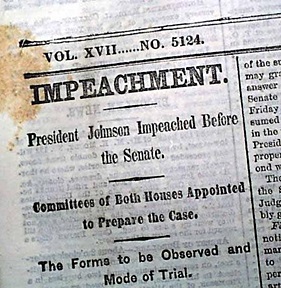 1868 – The U.S. House of Representatives impeached President Johnson following his attempted dismissal of Secretary of War Edwin M. Stanton.
The primary charge against Johnson was violation of the Tenure of Office Act, passed by Congress in March 1867, over his veto. Specifically, he had removed from office Edwin M. Stanton, the secretary of war — whom the act was largely designed to protect – and attempted to replace him with Brevet Major General Lorenzo Thomas.
Johnson was later acquitted by the Senate … by one vote.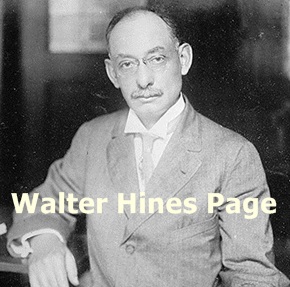 1917 – Walter Hines Page , the U.S. ambassador to the United Kingdom, was given the Zimmermann Telegram, in which Germany pledged to ensure the return of New Mexico, Texas, and Arizona to Mexico if Mexico declared war on the United States.
Page then reported the story to President Woodrow Wilson, including details verified from telegraph-company files in the United States. Wilson released the text to the media on February 28.
It should be noted that Mexican President Venustiano Carranza immediately assigned a military commission to assess the feasibility of the Mexican takeover of their former territories contemplated by Germany. The generals concluded that it would be neither possible nor even desirable for Mexico to attempt such a move.
Nonetheless, the revelation of the contents enraged Americans, especially after German Foreign Secretary Arthur Zimmermann publicly admitted on March 3 that the telegram was genuine, helping to generate support for the United States declaration of war on Germany in April.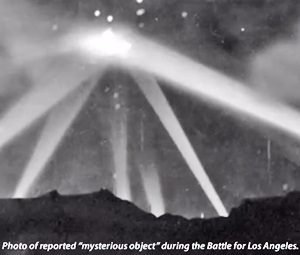 1942 – The Battle of Los Angeles: A false alarm led to an anti-aircraft barrage over Los Angeles that lasted into the early hours of February 25.
The incident occurred less than three months after the United States entered World War II in response to the Japanese Navy's surprise attack on Pearl Harbor.
Initially, the target of the aerial barrage was thought to be an attacking force from Japan, but speaking at a press conference shortly afterward, Secretary of the Navy Frank Knox called the incident a "false alarm."
When documenting the incident in 1949, the United States Coast Artillery Association identified a meteorological balloon that "started all the shooting" and concluded that "once the firing started, imagination created all kinds of targets in the sky and everyone joined in."
In 1983, the U.S. Office of Air Force History attributed the event to a case of "war nerves" triggered by a lost weather balloon and exacerbated by stray flares and shell bursts from adjoining batteries.
Idle Thought: If it was a weather balloon, why did the 1,400 shells fired at it have no effect? Inquiring minds (well, mine, anyway) want to know?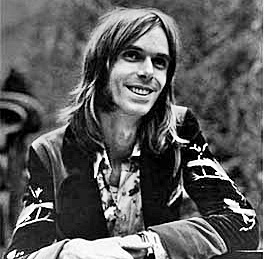 1944 – Keyboardist extraordinaire Nicky Hopkins was born.
You may not recognize his name but let's see if you remember the songs he played piano on as a much-in-demand session man.
Sunny Afternoon (Kinks)
My Generation (The Who)
She's A Rainbow (Rolling Stones)
Gimme Shelter (Rolling Stones)
Angie (Rolling Stones)
Sympathy For The Devil (Rolling Stones)
Revolution (Beatles … single version)
Barabajagal (Donovan)
Volunteers (Jefferson Airplane)
Jealous Guy (John Lennon)
Nobody Loves You (When You're Down and Out) (John Lennon)
#9 Dream (John Lennon)
Happy Xmas (War Is Over) (John Lennon)
Give Me Love (Give Me Peace on Earth) (George Harrison)
Living In The Material World (George Harrison)
Photograph (Ringo Starr)
You're Sixteen (Ringo Starr)
You Are So Beautiful (Joe Cocker)
And I have barely scratched the surface!
Hopkins died on September 6, 1994, at the age of 50 from complications resulting from intestinal surgery related to his lifelong battle with Crohn's disease.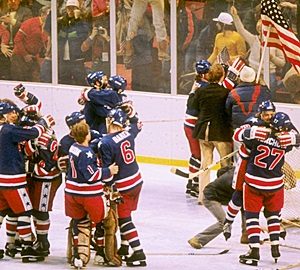 1980 – The United States Olympic hockey team defeated Finland 4–2 to win the gold medal at the Lake Placid Winter Olympics.
The victory came two days after the 4-3 "Miracle on Ice" victory against the Soviet Union.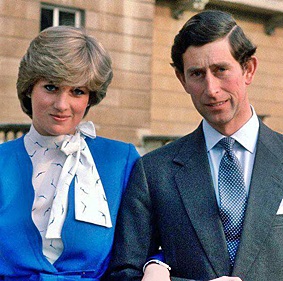 1981 – Buckingham Palace announced the engagement of Britain's Prince Charles to Lady Diana Spencer.
Asked how she would cope with a dramatic change to her life, the 19-year old kindergarten teacher said, "With Prince Charles beside me, I cannot go wrong."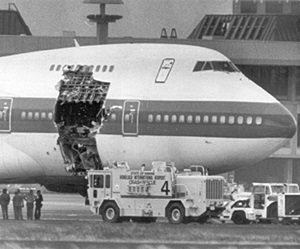 1989 – United Airlines Flight 811, bound for New Zealand from Honolulu, ripped open during flight, blowing nine passengers out of the business-class section.
The plane took off from Honolulu International Airport with 337 passengers and 18 crew members on board.
During the climb, the crew made preparations to detour around thunderstorms along the aircraft's track; the captain anticipated turbulence and kept the passenger seatbelt sign lit.
The plane had been flying for 17 minutes and was passing from 22,000 feet to 23,000 feet when the flight crew heard a loud "thump" which shook the aircraft. A second and a half later, the forward cargo door blew off.
The door swung out with such force that it passed its normal stop and slammed into the side of the fuselage, bursting the fuselage open. Pressure differentials and aerodynamic forces caused the cabin floor to cave in, and ten seats (G and H of rows 8 through 12) were ejected from the cabin.
The aircraft – now flying with just two operating engines instead of four – returned to Honolulu, where it landed safely.
Despite extensive air and sea searches, no remains were found at sea of the nine victims.
Hero Factoid: I would be remiss if I failed to mention the name of the heroic pilot who brought that badly damaged plane back to Honolulu.
Captain David Cronin, when asked how he handled the situation with so many emergencies taking place at the same time, simply said, "I just prayed. I just prayed and got on with it."
Captain Cronin died in 2010 at the age of 81.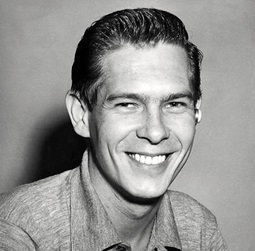 1990 – Singer Johnnie Ray died of liver failure at the age of 63.
He shot to fame in 1952 with a pair of hit songs; Cry and The Little White Cloud That Cried.
Ray's performing style included theatrics such as tearing at his hair, falling to the floor, and crying on stage. He quickly earned the nicknames "Mr. Emotion" and "The Prince of Wails".
He went on to record several more hit songs (Walkin' My Baby Back Home and Just Walking In The Rain), but by 1960, his record label dropped him.
A gay man in an era that cost gay performers their careers, he suffered from alcoholism throughout his life and it was alcohol which ultimately ended it.
Hearing Factoid: At age thirteen, Ray became deaf in his left ear following a mishap that occurred during a Boy Scout ritual called a "blanket toss."
Surgery performed in 1958 left him almost completely deaf in both ears, although hearing aids helped his condition.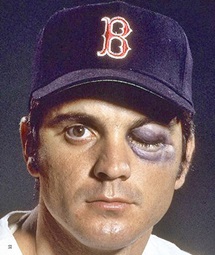 1990 – Tony Conigliaro died from pneumonia and kidney failure. He was 45.
In 1965, Conigliaro led the American League in home runs, becoming the youngest home run champion in American League history.
In that season, at age 22, he not only reached a career total of 100 home runs, but attained that milestone at the youngest age for an American League player.
During the Red Sox "Impossible Dream" season of 1967, he was hit in the face by a pitch from California Angels pitcher Jack Hamilton that caused a severe eye injury and derailed his career. Though he would make a comeback from the injury, his career was never the same afterwards.
On January 9, 1982, then 37-year-old Conigliaro was in Boston to interview for a broadcasting position when he suffered a heart attack. Shortly thereafter, he suffered a stroke and lapsed into a coma. Conigliaro never fully recovered and suffered slight brain damage due to the stroke, until his death more than eight years later.

Tony was more than a ballplayer. He had a promising career as a singer, too.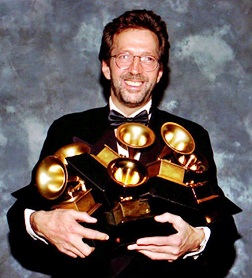 1993 – At the 35th Grammy Awards, Eric Clapton was the night's big winner, winning six awards out of nine nominations including Album (Unplugged), Song and Record of the Year (both for Tears In Heaven).
Tears Factoid: On March 20, 1991, Clapton's 4-year-old son Conor died after falling from the 53rd-floor window of a New York City apartment building.
After isolating himself for a period, Clapton began working again, writing music for the film Rush. He dealt with the grief of his son's death by co-writing Tears in Heaven for the film soundtrack with Will Jennings.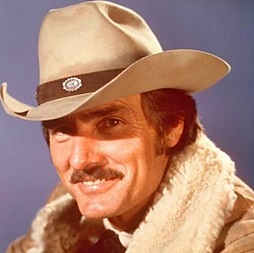 2006 – Actor Dennis Weaver died at the age of 81 of complications from cancer.
Although he appeared in dozens of films, including Seven Angry Men, Touch Of Evil, and the television film Duel (the first film of director Steven Spielberg), Weaver's two most famous roles were as Marshal Matt Dillon's trusty partner Chester on Gunsmoke and as Deputy Marshal Sam McCloud on the NBC police drama McCloud.

2006 – Actor Don Knotts died at the age of 81 from pulmonary and respiratory complications of pneumonia related to lung cancer.
He was best known for his role as Deputy Sheriff Barney Fife on The Andy Griffith Show, a 1960s sitcom for which he earned five Emmy Awards,, and for his role as Ralph Furley on the highly rated sitcom Three's Company.
He also starred in multiple comedy films, including No Time For Sergeants, The Ghost and Mr. Chicken, The Incredible Mr. Limpet, The Reluctant Astronaut, and The Apple Dumpling Gang.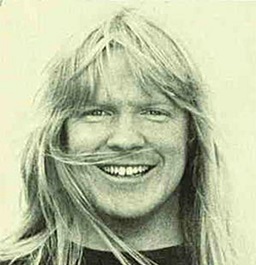 2008 – Singer/songwriter Larry Norman died at the age of 60 after years of serious heart problems.
He was the lead singer for People! Their cover version of the Zombies' I Love You became a hit single in 1968, peaking at #14 on the Billboard Hot 100.
After all of the band members except Norman embraced Scientology, he was issued an ultimatum: Join Scientology or leave the band. Norman, a devout Christian, decided to leave.
He became one of the pioneers of Christian rock music and released more than 100 albums.
In 2008, Christian rock historian John J. Thompson wrote, "It is certainly no overstatement to say that Larry Norman is to Christian music what John Lennon is to rock & roll or Bob Dylan is to folk music."
For the record, People! Never had another hit after forcing Larry Norman out of the band,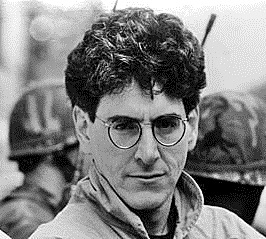 2014 – Actor/Director/Screenwriter Harold Ramis died from complications of autoimmune inflammatory vasculitis, a rare disease that involves swelling of the blood vessels. He was 69.
His best-known film acting roles were in Ghostbusters, Ghostbusters II, and Stripes — and each one of those films was co-written by him.
As a director, his films included Caddyshack, National Lampoon's Vacation, Groundhog Day, Analyze This, and Analyze That.
Compiled by Ray Lemire ©2020 RayLemire.com / Streamingoldies.com. All Rights Reserved.