"The lovers of romance can go elsewhere for satisfaction but where can the lovers of truth turn if not to history?"
~Katharine Anthony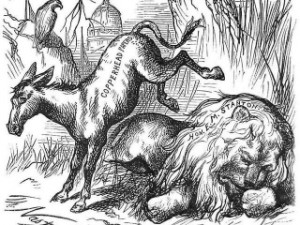 1870 – The first recorded use of a donkey to represent the Democratic Party appeared in Harper's Weekly.
Drawn by political illustrator Thomas Nast, the cartoon ("A Live Jackass Kicking A Dead Lion") referred to the Democrat-dominated newspapers of the South, and the dead lion represented the late Edwin Stanton, President Abraham Lincoln's secretary of war during the final three years of the Civil War.
In the background is an eagle perched on a rock, representing the postwar federal domination in the South, and in the far background is the U.S. Capitol.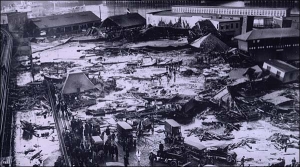 1919 – A large molasses tank at the United States Industrial Alcohol building in Boston burst and a wave of boiling molasses rushed through the streets, killing 21 people and injuring 150 others.
Workers were loading freight-train cars within the large building. Next to the workers was a 58-foot-high tank filled with 2.5 million gallons of crude molasses.
Suddenly, the bolts holding the bottom of the tank exploded, shooting out like bullets, and the hot molasses rushed out. An eight-foot-high wave of molasses swept away the freight cars and caved in the building's doors and windows. The few workers in the building's cellar had no chance as the liquid poured down and overwhelmed them.
The huge quantity of molasses then flowed into the street outside. It literally knocked over the local firehouse and then pushed over the support beams for the elevated train line. The hot and sticky substance then drowned and burned five workers at the Public Works Department.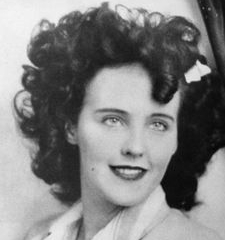 1947 – The body of Elizabeth Short was found mutilated, her body sliced in half at the waist, in Leimert Park, Los Angeles. According to newspaper reports shortly after the murder, Elizabeth Short received the nickname "Black Dahlia" at a Long Beach drugstore in mid-1946 as wordplay on the film, The Blue Dahlia – a claim which was false. In fact, Los Angeles County district attorney investigators' reports state that the nickname was invented by newspaper reporters covering the murder – all in the name of selling more papers.
William Randolph Hearst's newspapers, the Los Angeles Herald-Express and the Los Angeles Examiner, sensationalized the case in a despicable manner.
The black tailored suit Short was last seen wearing became "a tight skirt and a sheer blouse" and Elizabeth Short became the "Black Dahlia", an "adventuress" who "prowled Hollywood Boulevard."
Short's unsolved murder – one of the oldest unsolved murder cases in Los Angeles history – has been the source of widespread speculation, leading to many suspects, along with several books and film adaptations of the story.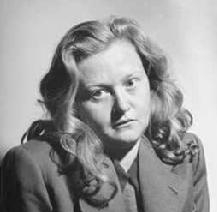 1951 – Ilse Koch, wife of the commandant of the Buchenwald concentration camp, was sentenced to life imprisonment in a court in West Germany.
Koch was nicknamed the "Witch of Buchenwald" for her extraordinary sadism. She had been given free reign in the camp, whipping prisoners with her riding crop as she rode by on her horse, and, most horrifying, collecting lampshades, book covers, and gloves made from the skin of tattooed camp prisoners.
Koch was tried for crimes against humanity at Nuremberg and sentenced to life in prison, but the American military governor of the occupied zone subsequently reduced her sentence to four years.
His reason ("lack of evidence") caused a Senate investigation back home. She was released but arrested again, tried by a West German court, and sentenced to life.
She committed suicide in 1967 by hanging herself with a bed sheet.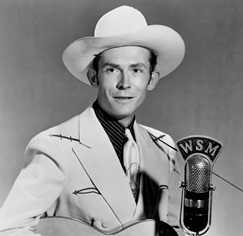 1953 – MGM Records released Hank Williams' Your Cheatin' Heart.
Williams had recorded the song on his last session at Castle Records in Nashville on September 23, 1952.
Propelled by Williams' death just two weeks earlier during a trip to a New Year's concert in Canton, Ohio, the song became an instant success, outshining the single's A-side, Kaw-Liga, also part of William's final recording session.
The single topped Billboard's Country & Western chart for six weeks, and sold over a million copies.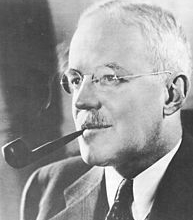 1953 – Testifying before the Senate Foreign Relations Committee prior to taking office as the new secretary of state, John Foster Dulles argued that U.S. foreign policy must strive for the "liberation of captive peoples" living under communist rule – although he remained vague about exactly how the "liberation" would take place.
In 1956, however, Dulles's oft-repeated calls for the liberation of captive peoples backfired badly when Hungarian citizens rose up in revolt against the Soviet presence in their country.
As the Russians crushed the uprising, the United States – despite Dulles's claim that "We shall never have a secure peace or a happy world so long as Soviet communism dominates one-third of all of the peoples" – did nothing while Hungarian rebels pleaded helplessly for assistance.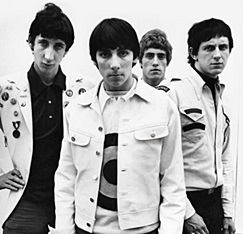 1965 – The Who released I Can't Explain, their first single.
Songwriter Pete Townshend noted the song's similarity to the contemporaneous hit All Day and All of The Night by the Kinks: "It can't be beat for straightforward Kink copying."
Although the single peaked at #8 in England, it was much less successful in the U.S, reaching only #93 on the Billboard Hot 100.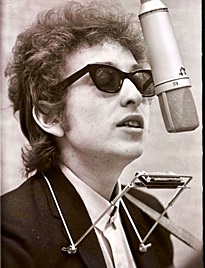 1965 – In one epic afternoon of work at Columbia Records' Studio A in New York City, Bob Dylan recorded It's All Over Now, Baby Blue, Maggie's Farm, On The Road Again, Gates Of Eden, Mr. Tambourine Man and It's Alright Ma (I'm Only Bleeding).
The songs were all released on Dylan's Bringing It All Back Home album on March 22, 1965.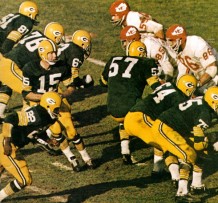 1967 – The Green Bay Packers beat the Kansas City Chiefs, 35-10, in the AFL-NFL World Championship.
Although it has become known as Super Bowl I, the term "Super Bowl" was not officially introduced until 1969.

1967 – Roy Orbison's The Fastest Guitar Alive premiered in New York. The plot (such as it was) for the western centered on confederate spy Orbison's bullet shooting guitar.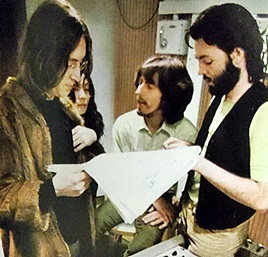 1969 – After a five-hour meeting, George Harrison agreed to end his 5-day old exit from the Beatles and return with the understanding they give up Paul McCartney's idea of a live concert before an audience.
Harrison also insisted the band move from the cavernous and chilly Twickenham film studios to the Beatles' new studio in their Apple headquarters.
George did, however, agree to be filmed making an album, and his new rules didn't rule out a live performance for the cameras, although he insisted it be casual and "not an event for the masses."
The band finally re-grouped in front of the cameras on January 22 at Apple.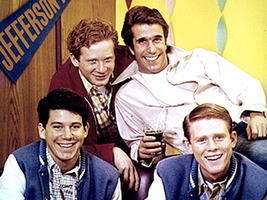 1974 – Happy Days premiered on ABC with 'Rock Around The Clock' as its original theme song.
The popularity of the television show put Bill Haley's song back into the Billboard charts at #39, nineteen years after it had reached #1.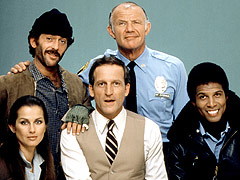 1981 – Hill Street Blues debuted on NBC, beginning a six-year run.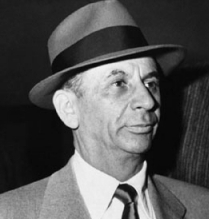 1983 – Meyer Lansky, a major organized crime figure, died of lung cancer at the age of 80.
Despite all the attempts by U.S. law enforcement agencies to tie him to various crimes, Lansky was never found guilty of anything more serious than illegal gambling.
The Hyman Roth character, portrayed by Lee Strasberg in The Godfather, Part II, was based on Lansky.
In the film, Roth's statement to Michael Corleone that "We're bigger than U.S. Steel" was actually a direct quote from Lansky, who said the same thing to his wife while watching a news story on the Cosa Nostra.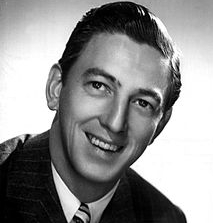 1987 – Actor Ray Bolger (best known for his portrayal of the scarecrow in The Wizard Of Oz) died of bladder cancer at the age of 83.
At the time of his death, he was the last surviving main cast member of the classic film.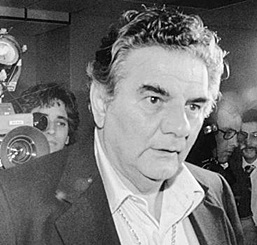 1988 – During an interview with Ed Hotaling, a producer-reporter for NBC-owned WRC-TV in Washington, D.C., Jimmy "The Greek" Snyder – a sports commentator on CBS' NFL Today program – was asked what he thought the next step in civil rights progress for African Americans should be.
Hotaling said that he had been doing interviews with various people in the restaurant for a program celebrating the birthday of Martin Luther King Jr. and what they thought the next step in civil rights progress for African Americans should be.
Snyder's response was not what Hotaling – or anyone else – expected.
"The black is a better athlete to begin with, because he's been bred to be that way. Because of his high thighs and big thighs that goes up into his back. And they can jump higher and run faster because of their bigger thighs. And he's bred to be the better athlete because this goes back all the way to the Civil War, when, during the slave trading, the big, the owner, the slave owner would breed his big black to his big woman so that he could have a big black kid, see. That's where it all started!"
Within 24 hours, Snyder was fired by CBS.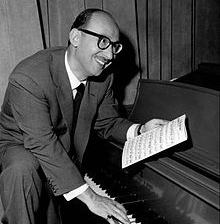 1993 – Sammy Cahn (lyricist for Let It Snow! Let It Snow! Let It Snow!, Three Coins In A Fountain, All The Way, High Hopes, Call Me Irresponsible, My Kind Of Town) died of congestive heart failure at the age of 79.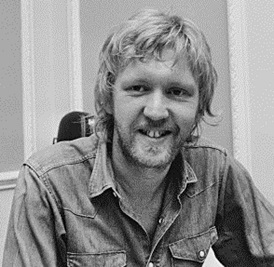 1994 – Singer/songwriter Harry Nilsson died of heart failure at the age of 52.
During his too short musical career, he recorded seven Top 40 songs: Without You (a #1 single), Everybody's Talkin', Coconut, Me And My Arrow, I Guess The Lord Must Be In New York City, Jump Into The Fire, and Spaceman).
Death Factoid: Nilsson owned Flat #12 at 9 Curzon Place in London, but his work and interests kept him in the U.S. for extended periods, and while he was away, he lent his place to numerous musician friends.
During one of his absences, singer Cass Elliot, formerly of The Mamas & The Papas, stayed at the flat while she performed solo at the London Palladium. Following a strenuous performance on July 29, 1974, Elliot was discovered in one of the bedrooms, dead of heart failure at the age of 32.
On September 7, 1978, The Who's drummer Keith Moon returned to the same room in the flat after a night out, and died at 32 from an overdose of a prescribed anti-alcohol drug.
Nilsson, distraught over another friend's death in his flat, and having little need for the property, sold it.
Get Mariah Outta Here Factoid: Some people believe Mariah Carey recorded the best version of Without You.
Nonsense.
No one ever did the song, written by Pete Ham and Tom Evans of Badfinger fame, better than Harry Nilsson.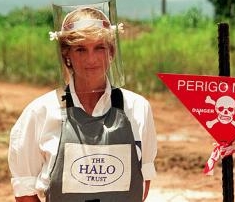 1997 – Princess Diana angered government ministers after calling for an international ban on landmines.
Her comments – made during a visit to Angola to see for herself some of the victims of landmines – were seen as out of step with government policy.
Junior Defense Minister Earl Howe, described the princess as a "loose cannon, ill-informed on the issue of anti-personnel landmines."

2009 – About a minute after taking off from New York's LaGuardia Airport, US Airways Flight 1549 collided with one of the aviation industry's most threatening foes: a flock of geese. Crippled by the bird strike, both engines lost power and went quiet, forcing Captain Chesley Burnett Sullenberger to make an emergency landing.
When air traffic controllers instructed the seasoned pilot to head for nearby Teterboro Airport, he calmly informed them that he was "unable" to reach a runway. "We're gonna be in the Hudson," he said, and then told the 150 terrified passengers and five crew members on board to brace for impact.
Ninety seconds later, Sullenberger glided the Airbus 320 over the George Washington Bridge and onto the chilly surface of the Hudson River, where it splashed down midway between Manhattan and New Jersey.
As flight attendants ushered passengers into life jackets, through emergency exits and onto the waterlogged wings of the bobbing jet, a flotilla of commuter ferries, sightseeing boats and rescue vessels hastened to the scene.
One survivor suffered two broken legs and others were treated for minor injuries or hypothermia, but no fatalities occurred. After walking up and down the aisle twice to ensure a complete evacuation, Sullenberger was the last to leave the sinking plane.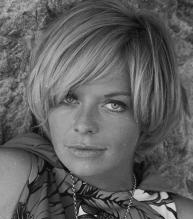 2011 – Actress Susannah York (A Man For All Seasons, The Killing Of Sister George, Images, Tom Jones, Superman and They Shoot Horses, Don't They?, for which she was nominated for a Best Supporting Actress Academy Award) died from multiple myeloma at the age of 72.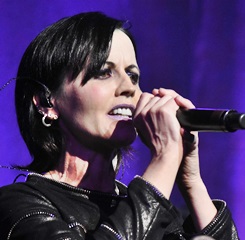 2018 – Irish singer/songwriter Dolores O'Riordan died as a result of accidental drowning in a bathtub. She was 46.
She was the lead vocalist for alternative rock band The Cranberries (Linger, Free To Decide, Zombie, Salvation) and also achieved success as a solo artist (Ordinary Day).
In September 1995, O'Riordan performed Ave Maria along with Luciano Pavarotti at a charity concert for the children of Bosnia in Modena, Italy. Princess Diana, who attended the live performance, told O'Riordan that the song brought her to tears.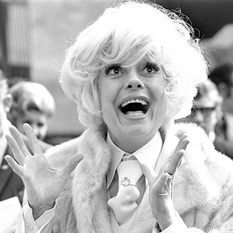 2019 – Carol Channing died of natural causes at the age of 97.
After graduating from Bennington College in Vermont, Channing began her career as a Broadway musical actress as Eve Arden's understudy in Let's Face It! before starring in Gentlemen Prefer Blondes.
She became a superstar when she starred in Hello, Dolly! in 1964, winning the Tony Award for Best Actress in a Musical.
As a film actress, she won the Golden Globe Award and was nominated for the Academy Award for Best Supporting Actress for her performance as Muzzy in Thoroughly Modern Millie.
Damn Proud Of It Factoid: In 1973, it came to light during the Watergate hearings that Channing, an outspoken liberal Democrat, was on a master list of President Richard Nixon's political opponents, informally known as Nixon's "enemies list".
She said that her appearance on this list was the highest honor in her career.
Compiled by Ray Lemire ©2020 RayLemire.com / Streamingoldies.com. All Rights Reserved.