Last week I announced I had discovered that "pigs could fly" and several people wondered what in hell I was talking about. The announcement involves two recent decisions but before I say what they are, perhaps a bit of background will help.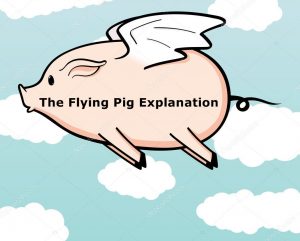 I left WCFR in Springfield twelve years ago – and I will admit retiring at 57 was incredibly stupid – and ever since then, people have wondered if I would ever go back to radio.
My standard answer has always been I would return "when pigs fly," obviously believing they can't.
Turns out I was wrong.
There have been several opportunities to go back in the last twelve years, but I never took any of them too seriously. I had no interest in starting over at a new station – I've already worked at four of them – so I was content to continue working on my blog/website.
Okay, I have stalled long enough. Here's what has transpired in the last few weeks.
Three weeks ago, I returned to WCFR/Rewind 106.5 with the intention of covering my hometown Springfield Cosmos throughout the football playoffs. Unfortunately they lost in the first round and I grabbed my gear and went home, believing that was it.
Since then I have been asked to broadcast the Cosmos' basketball teams this year – both girls and boys. My initial reaction was to decline but after several lengthy discussions with station management, I accepted the offer.
That's Part 1.
Last Friday, I was back at the station to discuss the basketball schedule and the conversation turned to what "hometown radio" should be.
I offered my thoughts on the subject and while not all of my suggestions were openly embraced, there was enough agreement – combined with what ownership called my "obvious passion for Springfield" – that I was asked to return to broadcasting a morning show again.
We mutually agreed that starting out as a Saturday morning show would be best, and if that goes over well (and enough people listen), I will become the "morning guy" Monday-through-Friday again.
I'll be the first to admit this is going to be a daunting task. There is a lot of work to be done before I flip on the microphone again, but I'm confident it will all work out because if "pigs can fly," anything is possible.