"You may say I'm a dreamer
But I'm not the only one
I hope someday you'll join us
And the world will be as one."
~John Lennon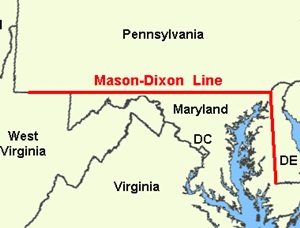 1767 – Surveying for the Mason–Dixon line separating Maryland from Pennsylvania was completed.
The four-year survey by Charles Mason and Jeremiah Dixon resolved a border dispute involving Maryland, Pennsylvania, and Delaware in Colonial America.
It is still a demarcation line between four U.S. states, forming part of the borders of Pennsylvania, Maryland, Delaware, and West Virginia (part of Virginia until 1863).
Later it became known informally as the border between the free (Northern) states and the slave (Southern) states.
The Virginia portion was the northern border of the Confederacy, the only place where the Union and the Confederacy shared a land border.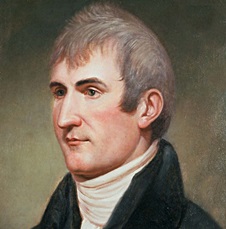 1809 – A suicide in Tennessee claimed the life of an American hero … but was it really suicide?
Three years after explorer Meriwether Lewis and his co-commander William Clark had completed their brilliant exploration of the newly acquired Louisiana Territory and the Pacific Northwest, Lewis died under mysterious circumstances in the early hours of the morning after stopping for the night at The Grinder Inn along the Natchez Trace in Tennessee.
Lewis had been appointed as Governor of the Upper Louisiana Territory and was traveling back to Washington with his papers that he hoped to have published in a book. According to the account given by Mrs. Grinder (her husband owned the inn), during his final hours, Lewis began to pace in his room and talk aloud to himself.
She then heard a pistol shot and then another. Lewis staggered from his room and called for help, but Mrs. Grinder did nothing to help him; she later said that she was too afraid. Fatally wounded in the head and abdomen, Lewis died shortly after sunrise.
Based largely on Mrs. Grinder's story, most historians have argued that Lewis killed himself with two pistol shots. However, others have raised questions about the reliability of Mrs. Grinder's story.
First and foremost, Lewis possessed one pistol and reloading it after shooting himself once would seem to have been impossible.
Those who doubt her story suggest that Lewis was murdered, either by Mrs. Grinder's husband or by bandits.
More than two centuries after the event, we may never be able to discover exactly what happened that night along the Natchez Trace when one of the nation's greatest heroes died at the tragically young age of 35.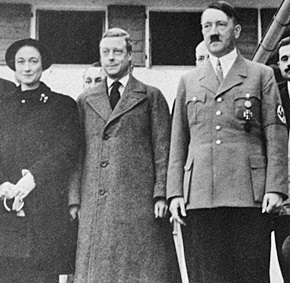 1937 – The Duke and Duchess of Windsor arrived in Nazi Germany for a 12-day tour.
Having abdicated the British throne in December 1936 and marrying Wallis Simpson in June 1937, the Duke was emphatic that the visit was a private trip and needed no approval.
The British Government was firmly against the visit; they suspected – correctly, as events showed – that the Nazis would use Edward's presence as a propaganda coup while revealing nothing to him that they did not wish him to see.
The couple spent time with high-ranking Nazis such as Goebbels, Goring, von Ribbentrop, and Speer, before meeting with Adolf Hitler (shown above) on the 22nd in Berchtesgaden.
Popular opinion of the couple soon declined, and the second leg of their tour – a visit to America – was cancelled.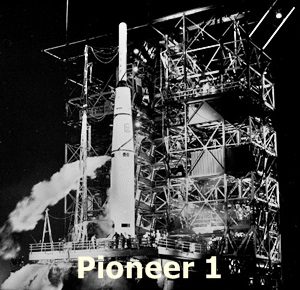 1958 – Lunar probe Pioneer 1, the first spacecraft launched by the newly formed NASA, was launched from Cape Canaveral.
Intended to orbit the moon, Pioneer's velocity was insufficient to escape the earth's gravity due to a programming error in the upper stage (third stage). The resulting trajectory took the satellite to an altitude of 70,700 mi.
During the flight, the spacecraft transmitted 43 hours of scientific data before burning up upon reentry into the earth's atmosphere two days later.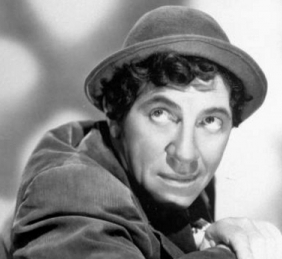 1961 – Comedian/actor Leonard "Chico" Marx – the oldest of the Marx Brothers – died of arteriosclerosis at the age of 74.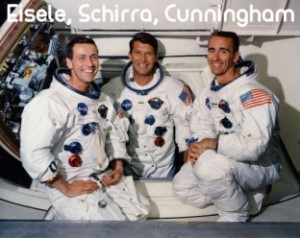 1968 – Apollo 7, the first manned Apollo mission, was launched with astronauts Walter M. Schirra, Jr., Donn F. Eisele, and Walter Cunningham on board.
Under the command of Schirra, the crew conducted an 11-day orbit of Earth, during which the crew transmitted the first live television broadcasts from orbit.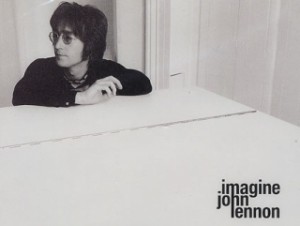 1971 – John Lennon released the Imagine single in the U.S.
The song ranks #30 on the Recording Industry Association of America's list of the 365 Songs of the Century bearing the most historical significance.
It earned a Grammy Hall of Fame Award and an induction into the Rock and Roll Hall of Fame's 500 Songs that Shaped Rock and Roll.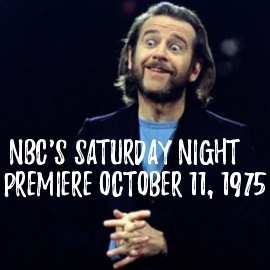 1975 – Saturday Night Live premiered on NBC with guest host George Carlin.
The show's ensemble cast (better known as the Not Ready For Primetime Players) included Chevy Chase, John Belushi, Dan Aykroyd, Gilda Radner, Garrett Morris, Jane Curtin and Laraine Newman.
The show was originally known as NBC's Saturday Night because there was another show on ABC called Saturday Night Live with Howard Cosell.
However, NBC eventually purchased the naming rights, and since 1977 the comedy program has been called Saturday Night Live.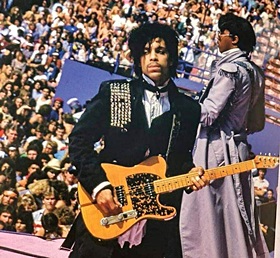 1981 – Prince quit as the opening act for the Rolling Stones at L.A. Coliseum.
Prince wasn't a rock star yet. 1999, Purple Rain, Little Red Corvette and Let's Go Crazy were still to come, but at the time, he was a quirky upstart with one pop-funk hit (I Wanna Be Your Lover) under his belt.
His performance on the opening night didn't go well.
94,000 Stones fans pelted the musician and his band with insults, and when that didn't work, they threw objects, forcing him off the stage … after just three songs.
A frustrated and upset Prince cried backstage and vowed to skip the second show on this date.
"Prince has to find out what it means to be a prince. That's the trouble with conferring a title on yourself before you've proved it," Stones' guitarist Keith Richards said, apparently unaware that Prince was his legal birth name.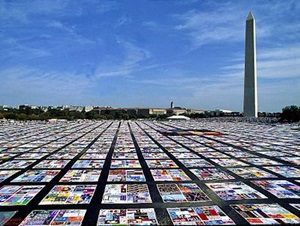 1987 – The AIDS Memorial Quilt was first displayed during the Second National March on Washington for Lesbian and Gay Rights.
It covered a space larger than a football field and included 1,920 (3′ x 6′) panels. Half a million people visited the Quilt that weekend.
The overwhelming response to the Quilt's inaugural display led to a four-month, 20-city, national tour for the Quilt in the spring of 1988. The tour raised nearly $500,000 for hundreds of AIDS service organizations.
Local panels were added in each city, tripling the Quilt's size to more than 6,000 panels by the end of the tour. Weighing an estimated 54 tons, it is the largest piece of community folk art in the world.

1991 – Comedian/actor Redd Foxx died of a heart attack at the age of 68.
Foxx, well known for his risqué nightclub acts during the 1950s and 1960s, achieved his most widespread fame starring in the television sitcom Sanford and Son, an adaptation of the BBC series Steptoe and Son
What's In A Name Factoid: On his hit show, Foxx, born John Elroy Sanford, played the role of Fred G. Sanford, which was actually Foxx's father's and brother's name.
What's In A Name Factoid #2: Academy Award winning actor Jamie Foxx (born Eric Bishop) adopted his stage name in tribute to the comedian.
"I chose Foxx because Redd Foxx is one of my favorite comedians, so it was a tip of the hat to him. I've got to be thankful for him for blazing the trail as a comedian and allowing me to sort of ride on his coattails."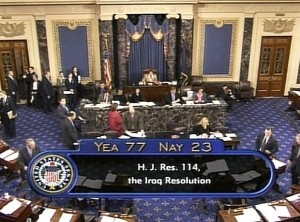 2002 – The Iraq Resolution (formally H.J. Resolution 114 – Authorization for Use of Military Force Against Iraq Resolution of 2002) was approved by the U.S. Senate (by a vote of 77-23).
The resolution was signed into law by President George Bush on October 16.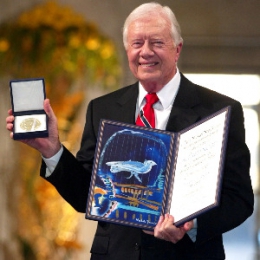 2002 – Former President Jimmy Carter won the Nobel Peace Prize "for his decades of untiring effort to find peaceful solutions to international conflicts, to advance democracy and human rights, and to promote economic and social development."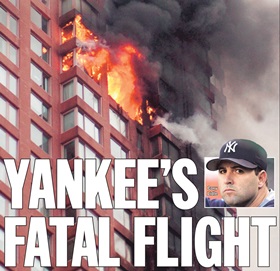 2006 – Major League pitcher Cory Lidle was killed when the small aircraft he owned crashed into a residential building in New York City.
Lidle played with seven different teams during his nine-year career and was a member of the New York Yankees when he died.
Lidle and co-pilot/flight instructor Tyler Stanger were flying a Cirrus SR20 airplane when it crashed into the Belaire Apartments complex on East 72nd Street on New York City's Upper East Side, killing them both.
The plane was flying above the East River past the Queensboro Bridge toward restricted airspace. A strong wind from the east due to an incoming front caused the plane to be blown into the building as it was making a 180-degree turn.
In addition to the deaths of Lidle and Stanger, 26 people were injured in the accident, about half of them New York City firefighters.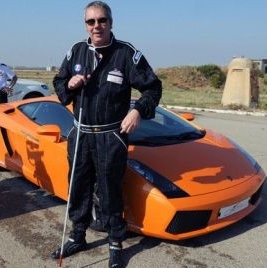 2008 – Luc Costermans set a new world speed record for blind drivers when he reached 192 mph on a long, straight stretch of airstrip near Marseilles, France.
He was accompanied by a carload of sophisticated navigational equipment as well as a human co-pilot, who gave directions from the Lamborghini's passenger seat.
Compiled by Ray Lemire ©2019 RayLemire.com / Streamingoldies.com. All Rights Reserved.