"Whether or not 10,000 Russian women collapse from exhaustion while digging a tank ditch interests me only in so far as the tank ditch is completed for Germany."
~Heinrich Himmler

1777 – 11,000 patriots under General George Washington attempted an early morning attack on British General William Howe's 9,000 British troops at Germantown, Pennsylvania, five miles north of the British-occupied capital city of Philadelphia.
Washington's Continental forces were poorly trained, poorly fed and poorly clothed, but Washington still thought them ready to fight and had planned to send four columns into battle with bits of white paper tucked into their hats to help them identify each other in the darkness of early morning.
His elaborate plan was thrown into disarray, however, when two columns got lost in heavy morning fog and smoke as they approached the Benjamin Chew House.
By 10 a.m., the battle was over. Although the Americans were forced into a retreat (both sides suffered heavy losses – 152 dead, 521 wounded and 400 captured for the Patriots and 71 dead, 450 wounded and 14 missing for the British), the battle demonstrated Washington's strategic abilities.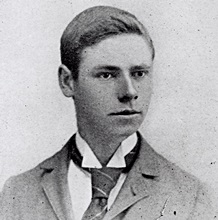 1895 – The first U.S. Open golf tournament was held on a nine-hole course at the Newport Country Club in Rhode Island.
It was a 36-hole competition and was played in a single day. Ten professionals and one amateur entered.
The winner was Horace Rawlins, a 21-year-old Englishman who had arrived in the U.S. earlier that year to take up a position at the host club. He received $150 cash out of a prize fund of $335, plus a $50 gold medal.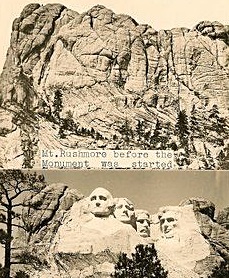 1927 – Gutzon Borglum began sculpting on the side of Mount Rushmore in the Black Hills National Forest of South Dakota.
It would take another 12 years for the impressive granite images of four of America's most revered and beloved presidents – George Washington, Thomas Jefferson, Theodore Roosevelt, and Abraham Lincoln – to be completed.
Rushmore Factoid: The four presidents were chosen to represent the nation's birth (Washington), growth (Jefferson), development (Roosevelt), and preservation (Lincoln).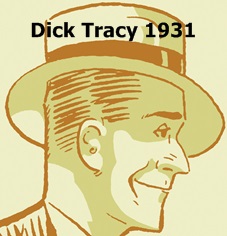 1931 – The comic strip "Dick Tracy" by Chester Gould made its debut, appearing in the Detroit Sunday Mirror.
Dick Factoid: Basing the character on U.S. federal agent Eliot Ness, Gould had drafted an idea for a detective named "Plainclothes Tracy" and sent it to Joseph Patterson of the Chicago Tribune New York News Syndicate.
Patterson suggested changing the hero's name to Dick Tracy, and also put forward an opening storyline in which Tracy joined the police after his girlfriend's father was murdered by robbers.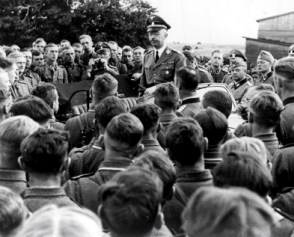 1943 – Reichsfuhrer-SS Heinrich Himmler addressed the squad leaders of his Nazi secret police, attempting to fill them with pride for the work they had "accomplished" – the murder of more than 1 million Jews in German occupied Russia during a one-and-a-half-year period.
"Most of you know what it means to see a hundred corpses lying together, five hundred, or a thousand. To have stuck it out and at the same time to have remained decent fellows, that is what has made us hard. This is a page of glory in our history which has never been written and shall never be written."
It was Himmler who oversaw the establishment of the Auschwitz concentration camp cluster, as well as the Warsaw ghetto massacre. The organizing of some prisoners for slave labor and the inflicting of gruesome medical experimentation on others can also be attributed to him.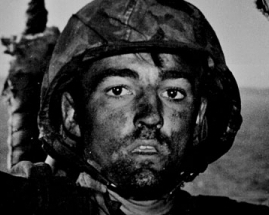 1944 – Gen. Dwight D. Eisenhower distributed to his combat units a report by the U.S. Surgeon General that revealed the hazards of prolonged exposure to combat.
"The danger of being killed or maimed imposes a strain so great that it causes men to break down. One look at the shrunken, apathetic faces of psychiatric patients is enough to convince most observers of this fact."
The Surgeon General's report went on to lament the fact that a "wound or injury is regarded, not as a misfortune, but a blessing."
On the basis of this evaluation, as well as firsthand experience, American commanders judged that the average soldier could last about 200 days in combat before suffering serious psychiatric damage.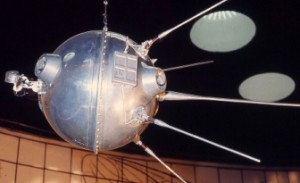 1957 – The Soviet Union inaugurated the "Space Age" with its launch of Sputnik 1, the world's first artificial satellite.
With a diameter of 22 inches and weighing 184 pounds, Sputnik circled Earth once every hour and 36 minutes.
Visible with binoculars before sunrise or after sunset (its farthest point from Earth was only 584 miles), Sputnik transmitted radio signals back to Earth strong enough to be picked up by amateur radio operators.
Those in the United States with access to such equipment tuned in and listened in awe as the beeping Soviet spacecraft passed over America several times a day.
In January 1958, Sputnik's orbit deteriorated, as expected, and the spacecraft burned up in the atmosphere.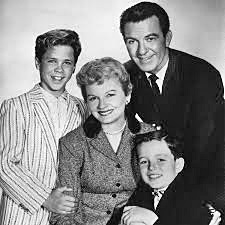 1957 – Leave It to Beaver premiered on CBS.
The show starred Jerry Mathers as Theodore "The Beaver" Cleaver, Barbara Billingsley and Hugh Beaumont as June and Ward Cleaver, and Tony Dow as Beaver's brother Wally.
It ran for six full 39-week seasons (234 episodes), moving to ABC in its second season, where it stayed until completing its run on June 20, 1963.
The show has attained an iconic status in the United States, with the Cleaver family exemplifying the idealized suburban family of the mid-20th century.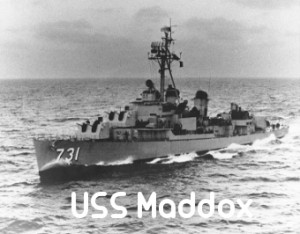 1964 – President Johnson issued the order to reactivate North Vietnamese coastal raids by South Vietnamese boats as part of Oplan 34A. The raids had been suspended after the Gulf of Tonkin incident in early August.
On August 2, North Vietnamese patrol boats attacked the destroyer USS Maddox, which was conducting an intelligence gathering mission in the same general area that had just come under attack by several Oplan 34A raids.
Two days after the first attack, there was another incident, the details of which remain unclear. The Maddox, joined by destroyer USS C. Turner Joy, engaged what were believed to be additional North Vietnamese patrol boats.
Although it was questionable whether the second attack actually happened – and there isn't much proof that it ever did – the incident provided the rationale for retaliatory air attacks against the North Vietnamese and the subsequent Tonkin Gulf Resolution, which became the basis for the initial escalation of the war in Vietnam and ultimately, the insertion of U.S. combat troops into the area.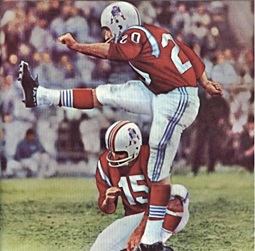 1964 – Gino Cappelletti had a very nice day in Denver.
The Boston Patriots' kicker was 6-for-6 on field goal attempts and 3-for-3 on extra points in Boston's 39-10 win over the Denver Broncos.

1966 – Pope Paul VI addressed 150,000 people in St. Peter's Square in Rome and called for an end to the war in Vietnam through negotiations.
Although the Pope's address had no impact on the Johnson administration and its policies in Southeast Asia, his comments were indicative of the mounting antiwar sentiment that was growing both at home and overseas.

1970 – Singer Janis Joplin died of a heroin overdose at the age of 27.
One of the most powerful singers of the Sixties, Joplin was a blues aficionado and as a teenager, was drawn to the purest source material – Bessie Smith, Billie Holiday and Leadbelly – all while living a lonely adolescence.
She performed folk blues on the coffeehouse circuit before joining Big Brother and The Holding Company in 1966, finding a release in Big Brother's psychedelic blues-rock.
In 1969, she formed a new backing band, the Kozmic Blues Band, and was on her way to solo stardom before overdosing at the Landmark Motor Hotel in Hollywood.
She was inducted into the Rock and Roll Hall of Fame in 1995.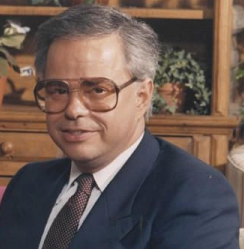 1988 – Televangelist Jim Bakker was indicted on federal charges of mail and wire fraud and of conspiring to defraud the public.
The case against the founder of Praise the Lord (PTL) Ministries and three of his aides exploded in the press when it was revealed that Bakker had a sexual encounter with former church secretary Jessica Hahn.
Bakker eventually paid Hahn over $350,000 to remain silent. When the arrangement became public, the scandal helped to bring down the entire PTL ministry.
Bakker was convicted in 1989 and sentenced to 45 years in prison. The sentence was later reduced to eight years, and he was released in 1994.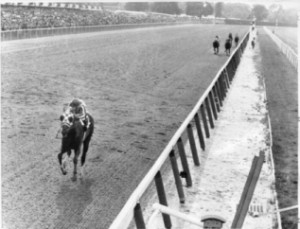 1989 – Secretariat, who, in 1973 became the first Triple Crown winner in 25 years, was euthanized at the age of 19, due to laminitis – a painful and debilitating hoof condition.
His record-breaking win in the 1973 Belmont Stakes, where he left the field 31 lengths behind him (photo above), is widely regarded as the greatest horse race of all time.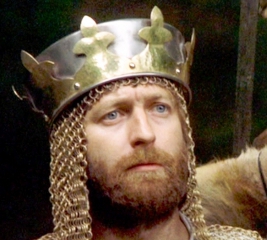 1989 – Graham Chapman, English comedian, writer, actor, and one of the six members of the surreal comedy group Monty Python, died of cancer at the age of 48.
Chapman played the lead role in two Python films, Monty Python and The Holy Grail and Life of Brian.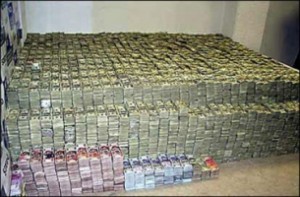 1997 – The second largest cash robbery in U.S. history occurred at the Charlotte, North Carolina office of Loomis, Fargo and Company.
An FBI investigation eventually resulted in 24 convictions and the recovery of approximately 95% of the $17.3 million stolen cash.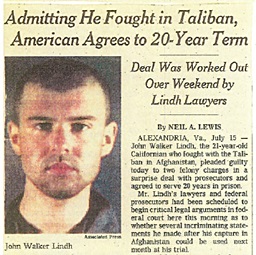 2002 – John Walker Lindh, the so-called "American Taliban," was sentenced to 20 years in prison by a federal judge in Alexandria, VA.
He had pleaded guilty to supplying services to the Taliban and carrying explosives in commission of a felony.
When Lindh was indicted, the Department of Justice said that he met personally with Al Qaeda leader Osama Bin Laden and trained at an Al Qaeda camp in Afghanistan prior to the 9/11 attacks. The government dropped terrorism charges in exchange for his guilty plea.
On May 23, 2019, Lindh was released from the Terre Haute, Indiana federal prison prior to the end of his 20-year sentence for good behavior, although he accepted several probation requirements due to his continued support of Islamist ideology.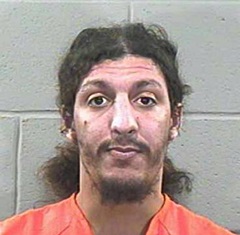 2002 – Richard Reid pleaded guilty in a federal court to trying to blow up a trans-Atlantic flight with explosives hidden in his shoes.
On December 22, 2001, he boarded American Airlines Flight 63 between Paris and Miami, wearing shoes packed with explosives, which he unsuccessfully tried to detonate.
He was sentenced to 3 life terms plus 110 years in prison without parole and is currently being held at ADX Florence, a super maximum security prison in Colorado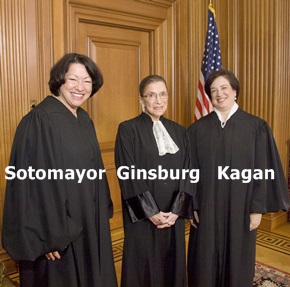 2010 – The Supreme Court began a new era with three women serving together for the first time as new associate justice Elena Kagan took her place on the bench alongside Ruth Bader Ginsburg and Sonia Sotomayor.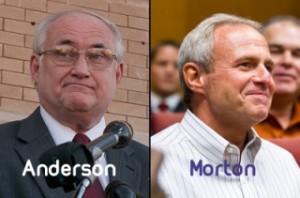 2011 – Michael Morton, who had spent 25 years in prison for his wife's murder, was released after DNA evidence implicated another man in the crime. Ken Anderson, the prosecutor in the case, was later accused of withholding evidence indicating that Morton was innocent.
In October 2012, after a nearly year-long investigation, the State Bar of Texas filed a disciplinary petition against Anderson (who became a Texas district judge in 2002), alleging he withheld various pieces of evidence from Morton's attorneys, including a transcript of an August 1986 taped interview between the case's lead investigator and Morton's mother-in-law, in which she stated that Morton's 3-year-old son had told her in detail about witnessing his mother's murder and said his father was not home at the time.
Anderson agreed to serve 10 days in jail, perform 500 hours of community service, give up his law license and pay a $500 fine.
Idle Thought: 10 days in jail seems like a damn small price to pay for putting an innocent man behind bars for 25 years.
Compiled by Ray Lemire ©2019 RayLemire.com / Streamingoldies.com. All Rights Reserved.