"Of one thing we may be sure. The future will never have to ask, with misgiving, what could the Nazis have said in their favor. History will know that whatever could be said, they were allowed to say. They have been given the kind of a trial which they, in the days of their pomp and power, never gave to any man. If you were to say of these men that they are not guilty, it would be as true to say that there has been no war, there are no slain, there has been no crime."
~Robert Jackson
Chief of Counsel for the United States
Nuremberg Trials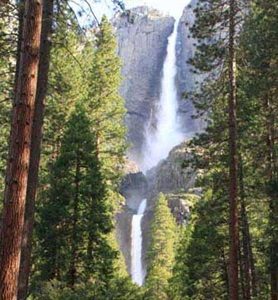 1890 – An act of Congress created Yosemite National Park.
Environmental trailblazer John Muir and his colleagues campaigned for the congressional action. Muir had discovered that the vast meadows surrounding Yosemite Valley, which lacked government protection, were being overrun and destroyed by domestic sheep grazing.
Today, over 3 million people visit annually at Yosemite and check out such stunning landmarks as the 2,425-foot-high Yosemite Falls – one of the world's tallest waterfalls – rock formations Half Dome and El Capitan, the largest granite monolith in the U.S., and the three groves of giant sequoias, the world's biggest trees.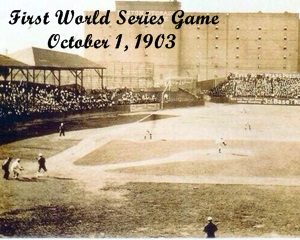 1903 – The First World Series game: The visiting Pittsburgh Pirates beat the Boston Americans 7-3 at Huntington Avenue Baseball Grounds in Boston.
Pittsburgh's Jimmy Sebring hit the first home run in World Series history (off Boston's Cy Young) and winning pitcher Deacon Phillippe threw the first of five complete games he would register in the series.
The Americans (changed to the Red Sox in 1908) would go on to win the series, 5 games to 3.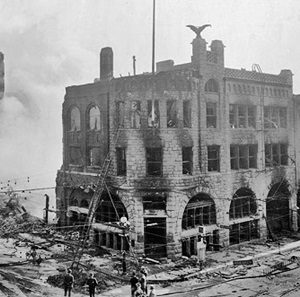 1910 – The Los Angeles Times building in Los Angeles was firebombed by a union member belonging to the International Association of Bridge and Structural Iron Workers.
The explosion (caused by multiple sticks of dynamite) started a fire which killed 21 newspaper employees and injured 100 more.

1920 – Scientific American magazine reported that the rapidly developing medium of radio would soon be used to broadcast music.
"Music can be performed at any place, radiated into the air through an ordinary radio transmitting set and received at any other place, even though hundreds of miles away," the report continued, noting that "the music received can be made as loud as desired by suitable operation of the receiving apparatus."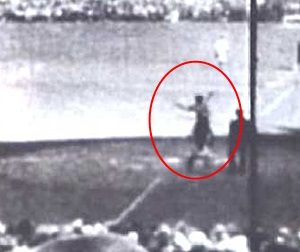 1932 – Babe Ruth "called" his home run to center field … or did he?
During the fifth inning of Game 3 of the 1932 World Series between the Chicago Cubs, the story goes that Ruth pointed to the center-field bleachers during the at-bat. It was allegedly a declaration that he would hit a home run to that part of the park. On the next pitch, Ruth hit a home run to center field.
One of the most celebrated incidents in baseball history, the longtime dispute is over Ruth's gesture: did he point to center field? To the pitcher? To the Cubs bench? Even a couple of films of the called shot that emerged in the 1990's have not drawn any definitive conclusions.
Cubs starting pitcher Charlie Root's first pitch to Ruth was a called strike that had Chicago fans erupting into a loud cheer. Ruth looked over at the Cubs dugout and raised one finger with his right hand. Root missed with the next two pitches, momentarily tempering the crowd, but the next pitch was a called strike, and the crowd again cheered loudly.
Ruth now waved back the Cubs to their dugout and held up two fingers. He began to shout at Root, and it is at this point Ruth made a pointing gesture in the direction of Root, center field, or to the Cubs bench where Chicago players were taunting him mercilessly.
Root's next pitch was a changeup curve that Ruth blasted about 440 feet to center field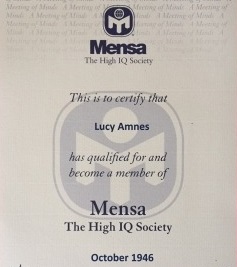 1946 – Mensa International, the largest and oldest high IQ society in the world, was founded at Lincoln College, in Oxford, England. It is a non-profit organization open to people who score at the 98th percentile or higher on a standardized, supervised IQ or other approved intelligence test.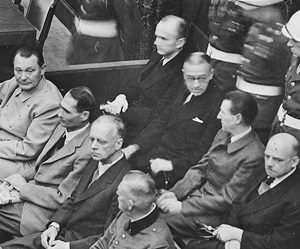 1946 – After a trial which lasted ten months, the two-day sentencing of Nazi war criminals ended in Nuremberg.
The accusers – USA, Great Britain, France and the Soviet Union – were successful in unveiling the background of developments leading to the outbreak of World War II, which cost at least 40 million lives in Europe alone, as well as the extent of the atrocities committed in the name of the Hitler regime.
Twelve of the accused were sentenced to death, seven received prison sentences, and three were acquitted.
Not included were Adolf Hitler, Heinrich Himmler, and Joseph Goebbels, all of whom committed suicide several months before the indictment was signed.
• Martin Bormann – Guilty, sentenced in absentia to death by hanging. Later proven he committed suicide to avoid capture at the end of World War II.
• Hermann Goering – Guilty, sentenced to death by hanging, committed suicide before execution.
• Hans Frank – Guilty, sentenced to death by hanging
• Wilhelm Frick – Guilty, sentenced to death by hanging
• Alfred Jodl – Guilty, sentenced to death by hanging.
• Ernst Kaltenbrunner – Guilty, sentenced to death by hanging
• Wilhelm Keitel – Guilty, sentenced to death by hanging
• Joachim von Ribbentrop – Guilty, sentenced to death by hanging
• Alfred Rosenberg – Guilty, sentenced to death by hanging
• Fritz Sauckel – Guilty, sentenced to death by hanging
• Arthur Seyss-Inquart – Guilty, sentenced to death by hanging
• Julius Streicher – Guilty, sentenced to death by hanging
• Rudolf Hess – Guilty, sentenced to life imprisonment, committed suicide in prison in 1987.
• Walther Funk – Guilty, sentenced to life imprisonment, released in 1957 due to poor health.
• Baldur von Schirach – Guilty, sentenced to 20 years' imprisonment
• Albert Speer – Guilty, sentenced to 20 years' imprisonment
• Erich Raeder – Guilty, sentenced to life imprisonment (released 1955 on grounds of ill health)
• Konstantin von Neurath – Guilty, sentenced to 15 years' imprisonment (released 1954 on grounds of ill health)
• Karl Donitz – Guilty, sentenced to 10 years' imprisonment.
• Hans Fritzsche – Acquitted, but convicted and sentenced to nine years' imprisonment by a separate West German denazification court. Released September 1950.
• Franz von Papen – Acquitted, but convicted and sentenced to eight years' imprisonment by a separate West German denazification court. Released on appeal in 1949.
• Hjalmar Schacht – Acquitted
• Gustav Krupp von Bohlen und Halbach – Medically unfit for trial
• Robert Ley – Committed suicide before his trial began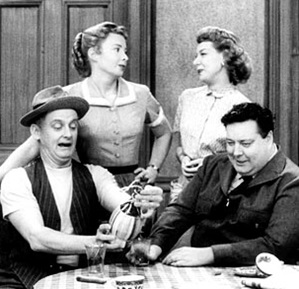 1955 – It had previously aired in sketch form on the DuMont Network's Cavalcade Of Stars, but on this date, The Honeymooners officially premiered on CBS.
Although it has attained an almost cult status, only 39 episodes were ever broadcast. The program ended after one season, but lived on via syndication.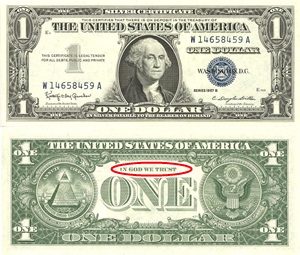 1957 – Although it had been used on U.S. coins since 1864, "In God We Trust" was first used on paper money when it appeared on the one-dollar silver certificate.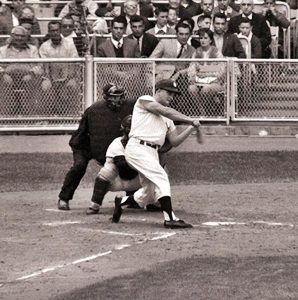 1961 – New York Yankee Roger Maris became the first major-league baseball player to hit more than 60 home runs in a single season, hitting his 61st off Tracy Stallard of the Boston Red Sox.
Babe Ruth had set the record of 60 in 1927.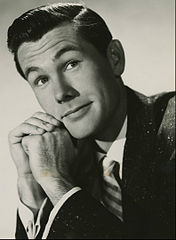 1962 – Johnny Carson replaced Jack Paar as host of the late-night talk program The Tonight Show.
The 90-minute show was broadcast live from Studio 6B in New York. His guests that night were Groucho Marx, Joan Crawford, Rudy Vallee, Tony Bennett, and Mel Brooks.
Carson went on to host the program for three decades, becoming one of the biggest figures in entertainment in the 20th century.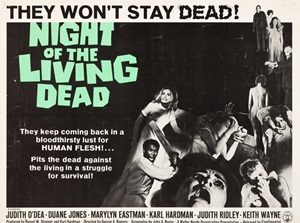 1968 – Director George Romero's cult zombie film Night of The Living Dead premiered at the Fulton Theater in Pittsburgh.
The MPAA film rating system did not go into place until November 1968, so young children were able to purchase tickets.
What they saw shocked them to their very core.
Roger Ebert, film critic for the Chicago Sun-Times, chided theater owners and parents who allowed children access to the film with such potent content for a horror film they were entirely unprepared for:
"The kids in the audience were stunned. There was almost complete silence. The movie had stopped being delightfully scary about halfway through, and had become unexpectedly terrifying. At that age, kids take the events on the screen seriously, and they identify fiercely with the hero. When the hero is killed, that's not an unhappy ending but a tragic one: Nobody got out alive. It's just over, that's all."
Despite the controversy, the film became a box-office bonanza. Produced on a budget of $114,000, Night of The Living Dead earned $15 million at the U.S. box office after a decade, and today has generated over $30 million.
The film "inspired" another five zombie horror films, all created by Romero, over the next five decades.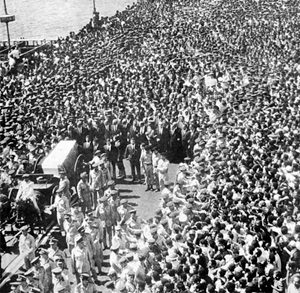 1970 – Scores of people were crushed or battered to death in Cairo as millions of people crowded onto the streets for Egyptian President Abdel Nasser's funeral.
Soldiers protecting the cortege were overwhelmed when a mass of men and women swarmed around the entourage. Soldiers used rifle butts and batons to repel the crowd in the ensuing pandemonium.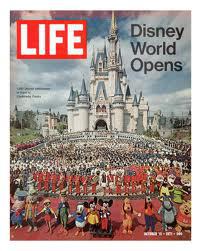 1971 – Walt Disney World opened in Orlando, Florida with the unveiling of the Magic Kingdom, the first of four theme parks at the resort.
Designed to supplement Disneyland in Anaheim, California, which had opened in 1955, the complex was developed by Walt Disney in the 1960s. Disney died from circulatory collapse caused by lung cancer on December 15, 1966, before his vision was realized.
His brother Roy Disney carried on the work but died at age 78 on December 20, 1971, less than three months after the property opened.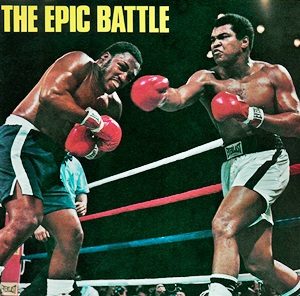 1975 – The "Thrilla in Manila" – the third and final boxing match between Muhammad Ali and Joe Frazier – was fought at the Araneta Coliseum in Quezon City, Metro Manila, Philippines.
The bout, which Ali won, is consistently ranked as one of the best in boxing history and proved to be the culmination of the bitter rivalry between Ali and Frazier.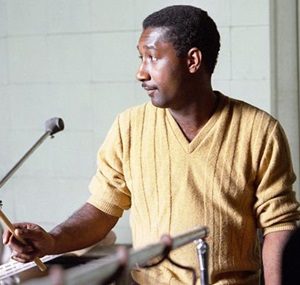 1975 – Al Jackson, Jr. (drummer with Booker T. & The MG's – 'Green Onions') was killed by burglars … or was he murdered by his wife?
Jackson – who had been shot in the chest by his wife three months earlier but didn't press charges – was in the process of moving from Memphis to Atlanta. After a night out, he returned home to find intruders and was shot him five times in the back. Barbara later claimed the burglars had tied her up but nothing appeared to be stolen and the house showed no signs of a disturbance.
Officials questioned how she managed to free herself in order to run out in the street pleading for help after Jackson had been murdered. Although they were considered as suspects, Barbara, singer Denise LaSalle, and LaSalle's boyfriend (the supposed triggerman) were never charged.
The boyfriend was subsequently killed in a gunfight with Seattle police.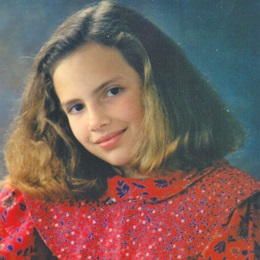 1993 – Polly Klaas was abducted at knifepoint by an intruder in her Petaluma, California, home during a slumber party with two friends.
Despite a massive manhunt and national attention, there was no sign of the missing 12-year-old or her abductor for two months.
Eventually, investigators found some children's clothing in the northern California woods, along with a car that had gotten stuck at this same location on the night of the kidnapping. The car was traced to Richard Allen Davis, who had previous convictions for burglary, assault, and kidnapping. He had been sentenced to 16 years in prison but had managed to get out on parole in a fraction of that time.
A partial palm print found on Polly's bunk bed was matched to Davis, who led detectives to Polly's burial spot when faced with the evidence against him.
On June 18, 1996, Davis was convicted of the kidnapping and murder. Two months later, he was sentenced to death. All these years later, he remains alive on California's Death Row and more than likely will remain so.
On March 13, 2019, California Governor Gavin Newsom issued an executive order to suspend the state's death penalty.
Aftermath: After his daughter's murder, Marc Klaas lobbied to bring about California's "Three Strikes Law," under which a person convicted of a felony who had two or more prior convictions for serious or violent felonies was sentenced to 25 years to life.
However, the law was not drafted very artfully because it mandated that even those convicted on nonviolent felonies could be sent to prison for life.
In 2012, California voters amended the "Three Strikes Law" by adding the condition that the third strike must be a violent or serious felony.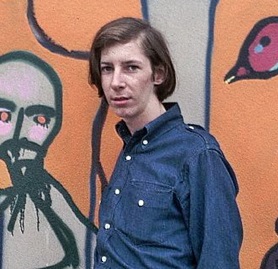 2004 – Musician Bruce Palmer died of a heart attack at the age of 58.
Palmer, a native Canadian, was the original bass guitarist with Buffalo Springfield (For What It's Worth) but his legal problems – numerous arrests for marijuana possession and immigration charges – forced him out of the band.
He was the most mysterious member of the group, usually playing with his back to the audience and often posing in photographs with his face turning away or hidden from the camera.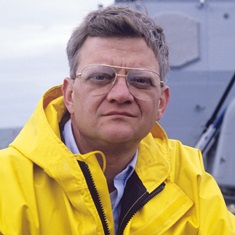 2013 – Espionage and military thriller author Tom Clancy, whose books included The Hunt For Red October and Patriot Games, died in Baltimore at age 66 following a brief illness.
During a career that spanned nearly 30 years, Clancy penned more than two dozen novels, a number of which were made into hit movies and popular video games. By the time of his death, more than 100 million copies of Clancy's books were in print and 17 of his novels had reached the top of The New York Times best-seller list.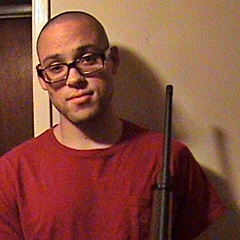 2015 – A student killed nine people at Umpqua Community College in Roseburg, Oregon.
Chris Harper-Mercer, a 26-year-old student, fatally shot an assistant professor and eight students in a classroom. Eight others were injured.
Roseburg police officers responding to the incident engaged Harper-Mercer in a brief shootout. After being wounded, he killed himself with a fatal gunshot to his head.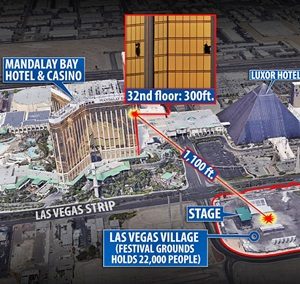 2017 – The worst mass shooting by a lone gunman in American history occurred when Stephen Paddock, a real-estate investor, fired into a crowd of approximately 22,000 concertgoers attending a country music festival on the Las Vegas Strip.
The mass shooting occurred between 10:05 and 10:15 p.m. PDT on the third and final night of the Route 91 Harvest music festival. When the shooting began, country music singer Jason Aldean was giving the closing performance.
Paddock fired more than 1,100 rounds from his suite on the 32nd floor of the nearby Mandalay Bay hotel, killing 58 people and leaving 851 injured from gunfire and the resulting panic.
An hour after the massacre, Paddock was found dead in his room from a self-inflicted gunshot wound.
His motive remains unknown.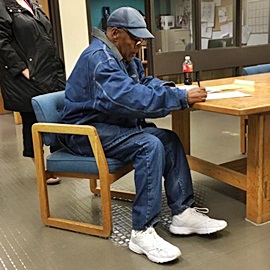 2017 – O.J. Simpson was released from Nevada's Lovelock Prison after serving nine years of a 33 year-sentence for armed robbery and kidnapping.
He had been convicted and sentenced after a 2008 incident in which he, with armed men, attempted to retrieve sports memorabilia he said belonged to him from a Las Vegas hotel room.
Compiled by Ray Lemire ©2019 RayLemire.com / Streamingoldies.com. All Rights Reserved.