You only thought the Beatles knew they were finished as a band after completing the recording of their Abbey Road album.
A recently discovered tape indicates that wasn't the case.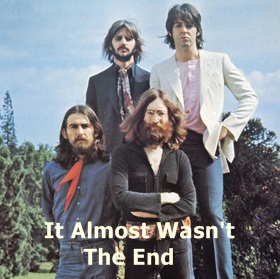 In fact, the Beatles discussed radically shifting their approach on a potential follow-up to Abbey Road.
The news comes courtesy of Beatles expert Mark Lewisohn, who unearthed a tape from a meeting the Beatles held on Sept. 8, 1969, at Apple headquarters on London's Savile Row.
The recording was made while Ringo Starr was hospitalized with stomach problems. "Ringo – you can't be here, but this is so you can hear what we're discussing," John Lennon says at the beginning of the tape.
"It's a revelation," Lewisohn told The Guardian, a British tabloid.
"The books have always told us that they knew Abbey Road was their last album, and they wanted to go out on an artistic high. But no – they're discussing the next album. And you think that John is the one who wanted to break them up but, when you hear this, he isn't. Doesn't that rewrite pretty much everything we thought we knew?"
The tape captures the three Beatles discussing plans for their next album, including the potential of releasing a single in time for Christmas.
Lennon suggested the proposed recording more fairly showcase each from the group's principal composers, giving George Harrison equal footing for the first time. He would have the opportunity to contribute four songs, the same as Lennon and Paul McCartney. (Ringo Starr, Lennon added, could have two – "If he wants them.")
John also refers to "the Lennon-and-McCartney myth," clearly indicating that the authorship of their songs, previously presented to the public as a partnership, should at last be individually credited.
McCartney still seemed taken aback by Harrison's recent songwriting successes, which included the chart-topping Something and Here Comes The Sun, a key album track.
"I thought until this album that George's songs weren't that good," McCartney said on the tape, despite the fact that Harrison's Taxman opened the Beatles' 1966 masterpiece Revolver, and While My Guitar Gently Weeps was a mainstay on the 1968 White Album. He also ignored The Inner Light, the first Harrison song to be released on a single, and a song McCartney had lavishly praised in 1968.
The responses to Paul's swipe, however, showed that some tensions remained.
"That's a matter of taste," Harrison fires back on the recording. "All down the line, people have liked my songs."
Left unsaid was the fact that several of McCartney's writing efforts had been less than stellar, including Wild Honey Pie, Why Don't we Do It In The Road, and Honey Pie, all from the White Album.
However, Lennon did bring up one of Paul's songs for criticism on the tape. He openly complains about Maxwell's Silver Hammer, a McCartney contribution from Abbey Road that began with 21 grueling takes.
Lennon suggested that McCartney give things like that to other artists, including Mary Hopkin – who had just scored a #2 U.K. hit with a discarded McCartney tune.
McCartney would have none of it.
"I recorded it," McCartney says, "because I liked it."
The entire conversation became moot when Lennon agreed to play the Live Peace Festival in Toronto on September 13 with his hastily assembled Plastic Ono Band.
Eight days later, he informed Paul he was leaving the band.
"When I got back from Toronto there were a few meetings in the office… Paul was saying 'I think we should go back to little gigs', and I kept saying, 'No, no, no' to everything he said. So it came to a point that I had to say something. So I said, 'The group's over, I'm leaving.'"
Sooooo … what would that potential album from the group consisted of? Try these on for size, and I'm sorry, Ringo only had one song recorded in 1970 that would have fit.

What Is Life (Harrison)
Teddy Boy (McCartney)
Working Class Hero (Lennon)
Isn't It A Pity (Harrison)
Love (Lennon)
Maybe I'm Amazed (McCartney)
It Don't Come Easy (Starr)
All Things Must Pass (Harrison)
Junk (McCartney)
Mother (Lennon)
My Sweet Lord (Harrison)
Every Night (McCartney)
Instant Karma (We All Shine On) (Lennon)