"I like people who buck the system. Individualists. I often warn people: "Somewhere along the way, someone is going to tell you, 'There is no "I" in team.' What you should tell them is, 'Maybe not. But there is an "I" in independence, individuality and integrity.'"
~George Carlin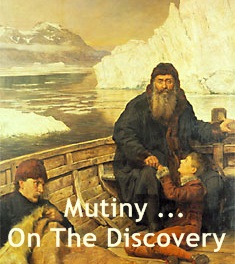 1611 – After spending a winter trapped by ice in present-day Hudson Bay, the starving crew of the Discovery mutinied against its captain, English navigator Henry Hudson, and set him, his teenage son, and seven supporters adrift in a small, open boat.
Two years earlier, Hudson had sailed to the Americas to find a northwest passage to Asia after repeatedly failing in his efforts to find a northeast ocean passage. Exploring the North American coast, he entered the present-day Chesapeake, Delaware, and New York bays, and then became the first European to ascend what is now called the Hudson River.
His final expedition set out from London on April 17, 1610. Between Greenland and Labrador he entered the present-day Hudson Strait and by it reached Hudson Bay. After three months of exploration, the Discovery was caught too far from open sea when winter set in, and the crew was forced to set up a winter camp.
Lacking food or supplies, the expedition suffered in the extreme cold. Many of the crew held Hudson responsible for their misfortune, and on this date, with the coming of summer, they mutinied against him.
The Discovery later returned to England, and its crew was arrested for the mutiny, though they would escape any punishment for the crime.
Henry Hudson and the eight others were never seen again.

1938 – In what would become one of the most famous boxing matches of all time and is remembered as one of the major sports events of the 20th century, Joe Louis and Max Schmeling met for the second time in the boxing ring.
Following his defeat of Louis in 1936, Schmeling had become a national hero in Germany. His victory over an African American was touted by Nazi officials as proof of their doctrine of Aryan superiority.
The fight – held in Yankee Stadium before a crowd of 70,043 – lasted two minutes and four seconds. Schmeling was knocked down three times and only managed to throw two punches in the entire bout. On the third knockdown, Schmeling's trainer threw in the towel and referee Arthur Donovan stopped the fight.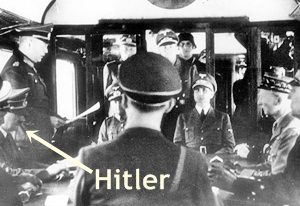 1940 – France was forced to sign an armistice eight days after German forces overran Paris. The armistice was signed in the same railroad car which the Germans used to sign the Treaty of Versailles when they surrendered in 1918.
The agreement established a German occupation zone in Northern and Western France that encompassed all English Channel and Atlantic Ocean ports and left the remainder "free" to be governed by the French.
Adolf Hitler not only deliberately chose Compiègne Forest as the site to sign the armistice due to its symbolic role as the site of the 1918 Armistice but also in the very same railway car (removed from a museum building and placed on the precise spot where it was located in 1918).
Hitler sat in the same chair in which Marshal Ferdinand Foch had sat when he faced the representatives of the defeated German Empire.
After listening to the reading of the preamble, Hitler – in a calculated gesture of disdain for the French delegates – left the carriage, as Foch had done in 1918, leaving the negotiations to his (High Command of the Armed Forces) Chief, General Wilhelm Keitel.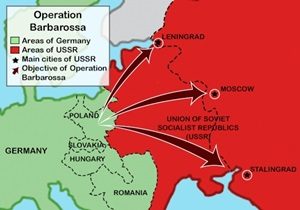 1941 – Over 3 million German troops invaded Russia in three parallel offensives, in what was the most powerful invasion force in history.
Nineteen panzer divisions, 3,000 tanks, 2,500 aircraft, and 7,000 artillery pieces poured across a thousand-mile front as Adolf Hitler foolishly went to war on a second front.
Dubbed Operation Barbarossa, the German offensive caught Russia off guard. By the end of the first day of the invasion, the German air force had destroyed more than 1,800 Soviet aircraft. Later that month, German troops captured Minsk, Byelorussia, encircling 27 Soviet Army divisions in the process.
By August, Germany had taken nearly 900,000 prisoners and destroyed or captured 13,100 tanks, 9,100 aircraft and more than 10,000 heavy guns, and on September 19, 1941, German troops captured Kiev, along with 600,000 prisoners and 2,500 tanks.
On December 2, 1941, the Germans were within 15 miles of Moscow, but were halted by blizzards. As luck would have it, the winter of 1941-1942 was the coldest in decades. Weather conditions had also largely grounded the Luftwaffe, preventing large-scale air operations.
Three days later, the Soviets launched a massive counter-attack. The offensive halted on January 7, 1942, after having pushed the Germans back 200 miles from Moscow.
Operation Barbarossa had clearly failed. Despite the serious losses inflicted on the Red Army and extensive territorial gains, the mission to completely destroy Soviet fighting power and force a capitulation was not achieved.
The Wehrmacht had lost the Battle for Moscow. The 5 ½ month battle had cost the lives of over six million soldiers and millions of civilians.
Barbarossa Trivia: Exactly 129 years and one day before Operation Barbarossa began, another dictator – this one from France – invaded Russia and made it all the way to the capital before the roof fell in.
History does repeat itself.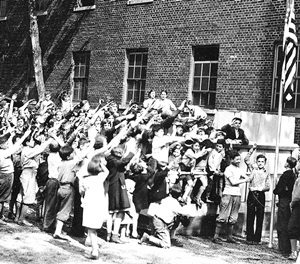 1942 – In a "Joint resolution to codify and emphasize existing rules and customs pertaining to the display and use of the flag of the United States of America," Congress passed an amended Flag Code (Public Law Numbered 623) decreeing the Pledge of Allegiance "should be rendered by standing at attention facing the flag with the right hand over the heart."
The previous stance – the so-called Bellamy Salute (photo above) – was too reminiscent of the Nazi salute, which called for students to keep their "right hand uplifted, palm downward, to a line with the forehead and close to it."
The Nazi salute was adopted by the Nazi Party to signal obedience to the party's leader, Adolf Hitler, and to glorify the German nation. It was not based on the Bellamy salute (let's end that myth) but rather on a combination of Jacques-Louis David's 1784 painting Oath of the Horatii and the 1914 silent film Cabiria. That style of salute was adopted by the Italian Fascist Party in 1919 and copied by Nazi Germany.
President Franklin D. Roosevelt, recognizing the similarity of the American and German salutes, asked Congress to adopt a change. The hand-over-the-heart gesture was the answer.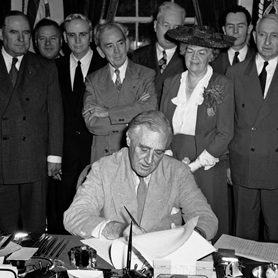 1944 – President Franklin D. Roosevelt signed the G.I. Bill, an unprecedented act of legislation designed to compensate returning members of the armed services for their efforts in World War II. Roosevelt acknowledged the sacrifices of America's men and women in uniform and emphasized the moral responsibility of the American people not to let their veterans down once they returned to civilian life.
As the last of its sweeping New Deal reforms, Roosevelt's administration created the G.I. Bill – officially the Servicemen's Readjustment Act of 1944 – hoping to avoid a relapse into the Great Depression after the war ended.
By giving veterans money for tuition, living expenses, books, and supplies, the G.I. Bill transformed higher education in America. Before the war, college had been an option for the most privileged classes. There were 160,000 graduates in 1939. By 1950, nearly 500,000 Americans graduated from college.
In addition to the educational assistance, low interest home loans enabled millions of American families to move out of urban centers and buy or build homes outside the city, changing the face of the suburbs.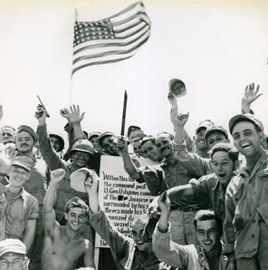 1945 – The U.S. 10th Army overcame the last major pockets of Japanese resistance on Okinawa Island, ending one of the bloodiest battles of World War II.
That same day, Japanese Lieutenant General Mitsuru Ushijima, the commander of Okinawa's defense, committed suicide with a number of Japanese officers and troops rather than surrender.
The Japanese lost 120,000 troops in the 83-day defense of Okinawa, while the Americans suffered 12,500 dead and 35,000 wounded.
Of the 36 Allied ships lost, most were destroyed by the 2,000 Japanese pilots who gave up their lives in kamikaze missions.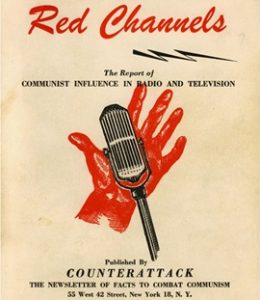 1950 – Prominent figures in the music industry, including Leonard Bernstein, Burl Ives, Aaron Copland, Lena Horne, Pete Seeger and Artie Shaw, were named publicly as suspected Communist sympathizers in the infamous publication Red Channels: The Report of Communist Influence in Radio and Television.
Other famous names on the Red Channels list were Orson Welles, Lillian Hellman, Arthur Miller, Dorothy Parker ,Burl Ives, former Library of Congress folklorist Alan Lomax and The New York Times music critic Olin Downes.
The "evidence" of Communist leanings offered in Red Channels included Lena Horne's appearance on the letterhead of a South African famine relief program, Aaron Copland's appearance on a panel at a 1949 Scientific and Cultural Conference for World Peace, and Leonard Bernstein's affiliation with the Committee to Re-Elect Benjamin J. Davis, a black, socialist New York City councilman.
Joseph McCarthy and his Red Scare witch hunt were just getting started.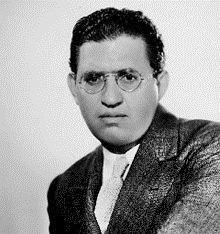 1965 – Movie producer David O. Selznick died at the age of 63 following several heart attacks.
His films received seven Academy Award nominations for Best Picture, winning twice (Gone With The Wind and Rebecca).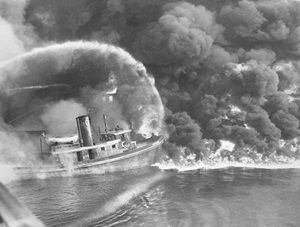 1969 – The Cuyahoga River literally caught fire (again) in Cleveland, Ohio, drawing national attention to water pollution, and spurring the passing of the Clean Water Act and the creation of the Environmental Protection Agency.
The Cuyahoga caught fire because flammable petroleum products were being directly and indirectly dumped into it.
At least 13 fires have been reported on the Cuyahoga River – which feeds into Lake Erie – but it was the 1969 fire that caught the attention of Time magazine, which described the Cuyahoga – one of the most polluted rivers in the United States during the twentieth century – as the river that "oozes rather than flows" and in which a person "does not drown but decays."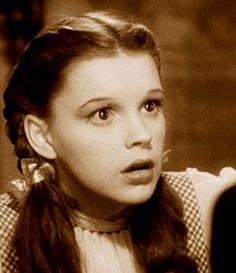 1969 – Actress and singer Judy Garland died from "an incautious self-overdosage" of barbiturates. She was 47.
Perhaps best remembered for her performance as Dorothy Gale in The Wizard of Oz, she was nominated for the Academy Award for Best Actress for her performance in A Star Is Born, and received a nomination for Best Supporting Actress for her role in Judgment at Nuremberg.
She also made record-breaking concert appearances, released eight studio albums, and was the first woman to win the Grammy Award for Album of the Year for her live recording Judy at Carnegie Hall.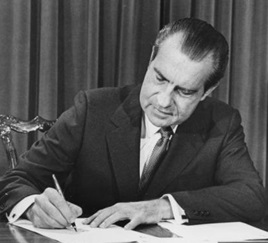 1970 – President Richard Nixon signed an extension of the Voting Rights Act of 1965 that required the voting age to be 18 in all federal, state, and local elections.
In his statement on signing the extension, Nixon said, "The time has come to give 18-year olds the vote, as I have long urged. The way to do this is by amending the Constitution. Because of the likelihood that the 18-year-old vote provision of this law will not survive its court test, the constitutional amendment pending before the Congress should go forward to the States for ratification now."
Congress listened. On March 10, 1971, the Senate voted 94–0 in favor of proposing a Constitutional amendment to guarantee that the minimum voting age could not be higher than 18. Two weeks later, the House of Representatives voted 401–19 in favor of the proposed amendment.
Ratification of the Twenty-sixth Amendment was completed on July 1, 1971.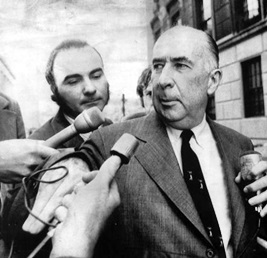 1977 – Former Attorney General John N. Mitchell began serving a sentence for his role in the Watergate cover-up.
He had been found guilty of conspiracy, obstruction of justice, and perjury and originally sentenced to two and a half to eight years in prison for his role in the Watergate scandal.
The sentence was later reduced to one year from four years, and Mitchell served only 19 months of his sentence at Maxwell Air Force Base in Montgomery, Alabama, a minimum-security prison, before being released on parole for medical reasons.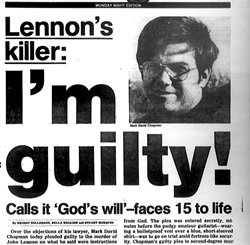 1981 – Mark David Chapman pleaded guilty to killing former Beatle John Lennon on December 8, 1980.
His lawyer, Jonathan Marks, had instructed him to enter a plea of not guilty by reason of insanity at his original hearing.
Six months later, Chapman said he wanted to drop the insanity defense because God had told him to plead guilty. He promised he would not change his plea or ever appeal, regardless of his sentence.
On August 24, 1981, he was sentenced to twenty-years-to-life, originally at Attica Correctional Facility, but he is now housed at the Wende Correctional Facility in Alden, New York.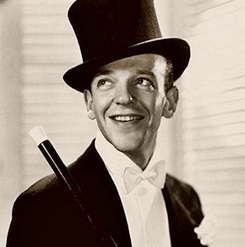 1987 – Actor, dancer and singer Fred Astaire died of pneumonia at the age of 88.
Astaire is widely regarded as one of the most influential dancers in the history of film and television musicals. His stage and subsequent film and television careers spanned a total of 76 years, during which he starred in more than 10 Broadway and London musicals, made 31 musical films, 4 television specials, and numerous recordings.
As a dancer, he is best remembered for his sense of rhythm, his perfectionism, and as the dancing partner and on-screen romantic interest of Ginger Rogers, with whom he co-starred in a series of ten Hollywood musicals.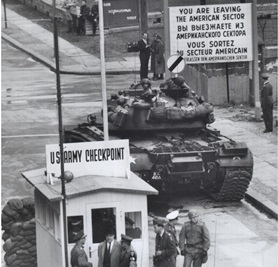 1990 – Checkpoint Charlie, the name given by the Western Allies to the best-known Berlin Wall crossing point between East Berlin and West Berlin during the Cold War, was officially closed in a military ceremony.
Before its removal, the unassuming guardhouse spent nearly 30 years as the main demarcation point between Allied-occupied West Berlin and the Soviet-held East.
"For 29 years, Checkpoint Charlie embodied the cold war," U.S. Secretary of State James Baker said during the proceedings. "We meet here today to dismantle it and to bury the conflict that created it."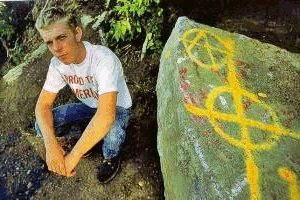 1992 – The Supreme Court unanimously ruled that hate-crime laws that banned cross-burning and similar expressions of racial bias violated free-speech rights.
The Court struck down St. Paul, Minnesota's Bias-Motivated Crime Ordinance, reversing the conviction of Robert Victoria (pictured) for violating the First Amendment's protections for freedom of expression by burning a cross on the lawn of an African American family.
The Court concluded, "Let there be no mistake about our belief that burning a cross in someone's front yard is reprehensible. But St. Paul has sufficient means at its disposal to prevent such behavior without adding the First Amendment to the fire."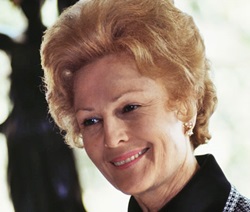 1993 – Former first lady Pat Nixon died the day after her fifty-third wedding anniversary. She was 81.
The wife of Richard Nixon oversaw the collection of more than 600 pieces of historic art and furnishings for the White House, an acquisition larger than that of any other administration.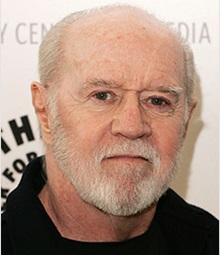 2008 – Influential stand-up comedian, author, and actor George Carlin died of heart failure at the age of 71.
Once a relatively clean-cut, conventional comic, Carlin reinvented himself around 1970 as an eccentric, biting social critic and commentator … and his career took off.
A routine from his third hit album, Class Clown, grew into the comic's now-famous profanity-laced routine "Seven Words You Can Never Say On Television."
When it was first broadcast on New York radio, a complaint led the Federal Communications Commission to ban the broadcast as "indecent." The U.S. Supreme Court later upheld the order, which remains in effect today.
The routine got him in trouble with radio brass as well as with law enforcement, but made him a hero to his fans.
The first host of Saturday Night Live (in 1975), Carlin would go on to appear in 14 comedy specials on HBO, in addition to supporting roles in Outrageous Fortune (1987), Bill & Ted's Excellent Adventure, and The Prince of Tides.
Carlin also wrote best-selling books based on his comedy routines, including Brain Droppings, Napalm & Silly Putty and When Will Jesus Bring the Pork Chops?.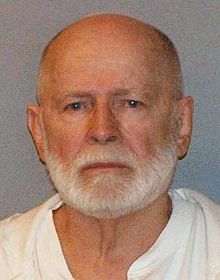 2011 – After 16 years at large and 12 years on the FBI Ten Most Wanted Fugitives list, James "Whitey" Bulger, a violent Boston mob boss wanted for 19 murders, was arrested with his longtime companion, Catherine Greig, in Santa Monica, California. He was 81 years old at the time of the arrest.
Law enforcement officials found weapons, fake identification and more than $800,000 stashed in Bulger's Santa Monica apartment. He later revealed to them that during his years on the lam he had traveled frequently to such places as Boston, Mexico and Las Vegas, armed and sometimes in disguise.
After their arrest, Bulger and Greig were returned to Boston. In June 2012, as part of a plea agreement, Greig was sentenced to eight years in prison for helping Bulger remain in hiding.
The following summer, Bulger went on trial, and on August 12, 2013, he was convicted in a federal court in Boston of 31 of the 32 counts against him, including participating in 11 murders and other criminal acts.
On November 14, 2013, a federal judge sentenced Bulger to two life terms in prison plus five years.
Bulger was transferred to United States Penitentiary, Hazelton, in West Virginia on October 29, 2018. At 8:20 a.m. on October 30, the 89-year-old Bulger was found unresponsive in the prison.
Bulger was in a wheelchair and had been beaten to death by multiple inmates armed with a sock-wrapped padlock and a makeshift knife.
Compiled by Ray Lemire ©2019 RayLemire.com. / Streamingoldies.com. All Rights Reserved.