"The best political weapon is the weapon of terror. Cruelty commands respect. Germans who wish to use firearms should join the SS or the SA. Ordinary citizens don't need guns, as their having guns doesn't serve the State. Men may hate us. But we don't ask for their love; only for their fear."
~Heinrich Himmler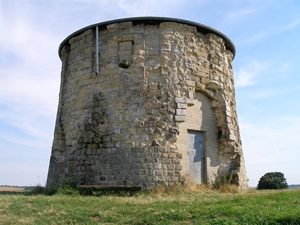 1430 – Joan of Arc, known as the "Maid of Orléans", was captured at Compiegne when her forces attempted to attack the Burgundians, a group of French nobles allied with the English.
After being imprisoned at Beaurevoir Castle (the last remaining above ground structure of the castle complex is shown above), she was sold to the English and later put on trial for heresy.
Her story will continue in seven days.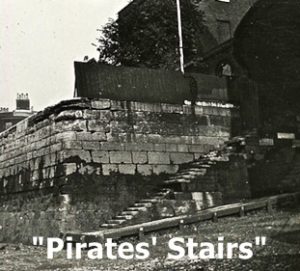 1701 – At London's Execution Dock in Wapping, British privateer William Kidd, popularly known as Captain Kidd, was hanged after being convicted on five charges of piracy and one count of murder. The first rope around his neck broke and he was actually hanged twice.
Kidd, who was born in Scotland, had been recommend to the British government as the best man to take on the charge of ridding the seas of piracy, and bringing in enemy ships as prizes.
In time, they captured six ships, the richest being Quedagh Merchant, an Armenian vessel flying the French flag, a legitimate prize for an English privateer. Unfortunately for Kidd, the ship was actually under the employ of the East India Company and was flying a false flag.
A warrant was issued for his arrest and when he became aware of the action, Kidd sailed to New York to talk with an admiralty lawyer. He was given a safe-conduct to Boston in June 1699 but his original supporter, Richard Coote, Earl of Bellomont, broke his word, and Kidd found himself a prisoner and was sent to England for trial.
A hardened seaman but a man of considerable moral fiber, Kidd was unwilling to testify against the lords who had originally contributed to his voyage and commission, even though he was told that this cooperation would set him free.
Two hundred years later it was found from papers discovered in the public records office that records that would have saved Kidd's life had been deliberately suppressed.
The photo above shows the "Pirates' Stairs" leading to the site of the execution dock at Wapping, where Kidd was hung.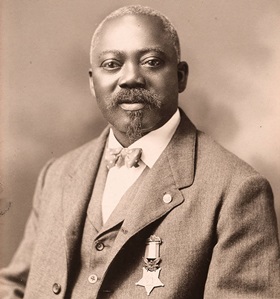 1900 – It took thirty-seven years but Sergeant William Harvey Carney was awarded the Congressional Medal of Honor for his bravery while fighting as a member of the 54th Massachusetts Colored Infantry.
Sergeant Carney distinguished himself when he kept the regiment's colors from falling to the ground after Colonel Robert Gould Shaw was shot during the assault on Fort Wagner on July 18, 1863 at Morris Island, South Carolina.
He was the first African American to receive the Medal of Honor.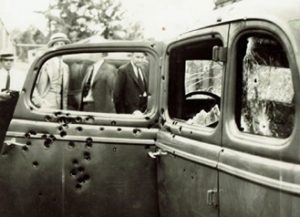 1934 – Notorious criminals Bonnie Parker and Clyde Barrow were shot to death by Texas and Louisiana police personnel – all of them working under the direction of former Texas Ranger Capt. Frank Hamer – while driving a stolen 1934 Ford Deluxe V-8 near Sailes, Louisiana.
Barrow approached the ambush spot at a speed of 85 mph when a truck set up as a distraction forced him to slow down and move closer to the side of the road where the police waited in the bushes.
The lawmen opened fire, killing Barrow and Parker, shooting a combined total of about 130 rounds. Coroner Dr. J. L. Wade's report listed 17 separate entrance wounds on Barrow's body and 26 on Parker's.
"Each of us six officers had a shotgun and an automatic rifle and pistols. We opened fire with the automatic rifles. They were emptied before the car got even with us. You couldn't hear any one shot. It was just a roar, a continuous roar. Then we used shotguns. There was smoke coming from the car, and it looked like it was on fire. After shooting the shotguns, we emptied the pistols at the car, which had passed us and ran into a ditch about 50 yards on down the road. It almost turned over. We kept shooting at the car even after it stopped. We weren't taking any chances."
Bob Alcorn and Ted Hinton / Texas Deputy Sheriffs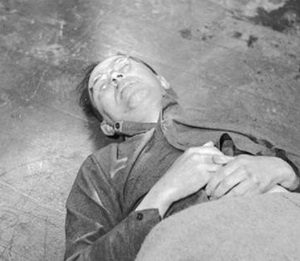 1945 – Heinrich Himmler, chief of the SS, assistant chief of the Gestapo, and architect of Adolf Hitler's program to exterminate European Jews, committed suicide by biting on a potassium cyanide pill.
His suicide came two days after being captured with a forged pay book under the name of Sergeant Heinrich Hitzinger, and one day after he was brought to the British 31st Civilian Interrogation Camp near Lüneburg, Germany.
The power he held rivaled that of the German army; it also prove highly effective in eliminating all opposition to Hitler and the party, as well as in carrying out the infamous "Final Solution".
Himmler's body was buried in an unmarked grave near Lüneburg. The grave's location remains unknown.
And exactly fifteen years later…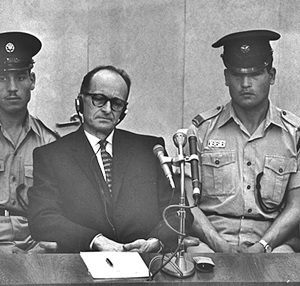 1960 – Israeli Prime Minister David Ben-Gurion announced that Nazi war criminal Adolf Eichmann had been captured and would stand trial in Israel.
Eichmann, the Nazi SS officer who organized Adolf Hitler's "final solution of the Jewish question," was seized by Israeli agents in Argentina on May 11 and smuggled to Israel nine days later.
Eichmann had coordinate the identification, assembly, and transportation of millions of Jews from occupied Europe to the Nazi death camps, where Jews were gassed or worked to death. He carried this duty out with horrifying efficiency, and between three to four million Jews perished in the extermination camps before the end of World War II, with close to two million more executed elsewhere.
Eichmann faced 15 charges, including crimes against humanity, crimes against the Jewish people, and war crimes. He claimed he was just following orders, but the judges disagreed, finding him guilty on all counts and sentenced him to death.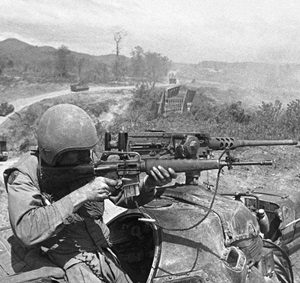 1967 – A public controversy over the M-16, the basic combat rifle in Vietnam, began after Representative James J. Howard (D-New Jersey) read a letter to the House of Representatives in which a Marine in Vietnam claimed that almost all Americans killed in the battle for Hill 881 died as a result of their new M-16 rifles jamming.
The Defense Department acknowledged on August 28 that there had been a "serious increase in frequency of malfunctions in the M-16."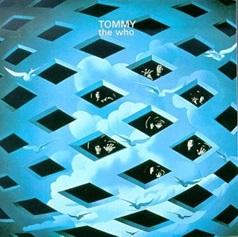 1969– The Who's rock-opera album Tommy was released.
The album was mostly composed by guitarist Pete Townshend and told a story about a "deaf, dumb and blind" boy, including his experiences with life and his relationship with his family.
Townshend came up with the concept of Tommy after being introduced to the work of Meher Baba, an Indian spiritual master who said he was the Avatar, God in human form.
From July 1925 to the end of his life in 1969, Meher Baba maintained silence, communicating by means of an alphabet board or by unique hand gestures.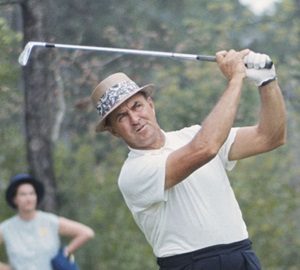 2002 – Samuel "Slammin' Sammy" Snead died following complications from a stroke at the age of 89.
Snead was one of the top golfers in the world for most of four decades. He won a record 82 PGA Tour events, including seven majors. He never won the U.S. Open, though he was runner-up four times.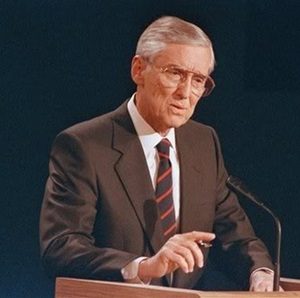 2006 – Lloyd Bentsen, four-term U.S. Senator from Texas, and the Democratic Party nominee for Vice President in 1988 on the Michael Dukakis ticket, died at the age of 85.
Bentsen will forever be remembered for his strongly critical rebuttal of a comment made by his vice presidential opponent, Sen. Dan Quayle of Indiana during an October 1988 debate. Quayle had stated he had as much experience "in the Congress as Jack Kennedy did when he sought the presidency."
Bentsen's timeless response … "Senator, I served with Jack Kennedy. I knew Jack Kennedy. Jack Kennedy was a friend of mine. Senator, you're no Jack Kennedy."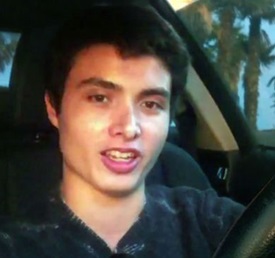 2014 – In Isla Vista, CA,22-year-old Elliot Rodger killed six people and injured fourteen others near the campus of University of California, Santa Barbara, before killing himself inside his vehicle.
The attack began when Rodger stabbed three men to death in his apartment. Two hours later, he drove to a sorority house and shot three female students outside, killing two. He drove past a nearby deli and shot to death a male student who was inside.
He began to speed through Isla Vista, shooting and wounding several pedestrians and striking several others with his car. Rodger exchanged gunfire with police twice during the attack, receiving a non-fatal gunshot to the hip.
The rampage ended when his car crashed into a parked vehicle and came to a stop. Police found him dead in the car with a self-inflicted gunshot wound to the head.
The day before the killings, Rodger recorded a chilling YouTube video (Elliot Rodger's Retribution) in which he outlined details of his upcoming attack and his motives. He explained that he was "a perfect guy" and wanted to punish women for rejecting him ("if I can't have you, I will destroy you") and that he envied sexually active men and wanted to punish them for being sexually active.
He uploaded the video the next day, just moments before driving to the sorority house.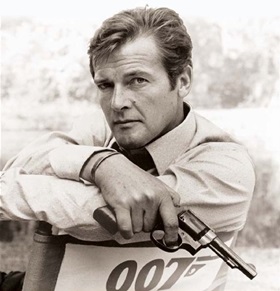 2017 – Actor Sir Roger Moore died from prostate cancer that had spread to his liver and lungs. He was 89.
Moore played the role of Beau Maverick in the western television series Maverick for two seasons, and later starred as Simon Templar in the television series The Saint from 1962-1969.
But he was best known for playing Ian Fleming's fictional British secret agent James Bond in seven feature films from 1973 to 1985.
Often criticized for a "wooden delivery," Moore's Bond was very different from the version played by Sean Connery. Moore was cast as a seasoned, debonair playboy with a sense of humor and witty one liners.
Compiled by Ray Lemire ©2019 RayLemire.com. / Streamingoldies.com. All Rights Reserved.