"You live in the most beautiful house in Brentwood and you don't care if your clothes are stretched out from wire hangers. And your room looks like some two-dollar-a-week furnished room in some two-bit backstreet town in Oklahoma. Get up. Clean up this mess!"
~Joan Crawford
As quoted in the book 'Mommie Dearest'
by Christina Crawford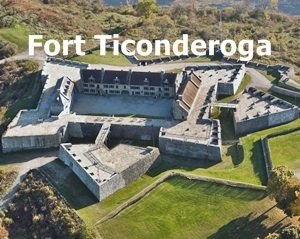 1775 – A small force of 83 Green Mountain Boys led by Ethan Allen and Benedict Arnold surprised and captured the Fort Ticonderoga's British garrison of 48 soldiers.
The only sentry on duty at the south gate fled his post after his musket misfired, and the Americans rushed into the fort. Lieutenant Jocelyn Feltham – not Captain William Delaplace, the fort's commander, as Allen claimed – was awakened by the noise and demanded to know by what authority the fort was being entered.
Allen replied, "In the name of the Great Jehovah and the Continental Congress!"
Delaplace finally emerged from his chambers (fully clothed, not with "his breeches in his hand," as Allen would later say) and surrendered his sword.
More significant than the capture of the fort was an effort led by Colonel Henry Knox, in which cannons and other armaments from Ticonderoga were transported to the heights commanding Boston Harbor, forcing the British to withdraw from that city.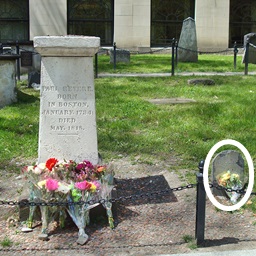 1818 – Paul Revere died at the age of 83 at his home in Boston.
A silversmith, engraver, early industrialist, and Patriot in the American Revolution, Revere is best known for his midnight ride to alert the colonial militia in April 1775 to the approach of British forces before the battles of Lexington and Concord.
He was buried at Granary Burying Ground in Boston. The photo above shows the actual grave marked with a small, domed tablet headstone, and a pedestal monument near the grave.
Granary Burying Ground Factoid: The cemetery is the final resting place for many notable Revolutionary War-era patriots, including Revere and three signers of the Declaration of Independence: John Hancock, Samuel Adams, and Robert Treat Paine.

1863 – The Confederacy lost one of its boldest and most colorful generals when 39-year-old Thomas J. "Stonewall" Jackson died of pneumonia a week after his own troops accidentally fired on him during the Battle of Chancellorsville in Virginia.
He died, as he had wished, on a Sunday, with these last words: "Let us cross over the river and rest under the shade of the trees."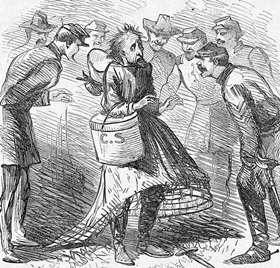 1865 – Jefferson Davis, president of the fallen Confederate government, was captured with his wife and entourage near Irwinville, Georgia, by a detachment of Union General James H. Wilson's 4th Michigan cavalry.
Robert E. Lee's surrender of the Army of Northern Virginia a month earlier effectively ended the Civil War but Davis hoped to flee to a sympathetic foreign nation such as Britain or France, and was weighing the merits of forming a government in exile when he was arrested.
A certain amount of controversy surrounded his capture, as Davis was wearing his wife's black shawl when the Union troops cornered him. The Northern press (as shown in the Harper's Weekly cartoon above) ridiculed him as a coward, alleging that he had disguised himself as a woman in an ill-fated attempt to escape.
However, Davis, and his wife maintained that he was ill and that she had lent him her shawl to keep his health up during their difficult journey.
Imprisoned for two years at Fort Monroe, Virginia, Davis was indicted for treason, but was never tried because the federal government feared that Davis would be able prove to a jury that the Southern secession of 1860 to 1861 had been legal.
In May 1867, Davis was released, with several wealthy Northerners helping him pay for his freedom.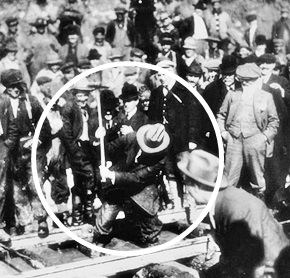 1869 – The presidents of the Union Pacific and Central Pacific railroads met in Promontory, Utah, and drove a ceremonial last spike into a rail line that connected their railroads. This made transcontinental railroad travel possible for the first time in U.S. history.
The photo above shows Central Pacific President Leland Stanford driving the ceremonial gold spike to officially join the two railroads.
Railroad workers had finished the work, laying nearly 2,000 miles of track ahead of schedule and under budget. Journeys that had taken months by wagon train or weeks by boat now took only days.
Their work had an immediate impact: The years following the construction of the railway were years of rapid growth and expansion for the United States, due in large part to the speed and ease of travel that the railroad provided.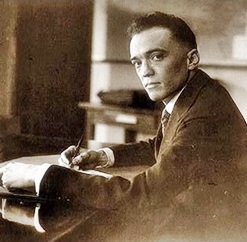 1924 – J. Edgar Hoover was appointed first Director of the United States' Federal Bureau of Investigation, and remained so until his death in 1972.
According to President Harry S. Truman, Hoover transformed the FBI into his private secret police force. Truman stated that "we want no Gestapo or secret police. The FBI is tending in that direction. They are dabbling in sex-life scandals and plain blackmail. J. Edgar Hoover would give his right eye to take over, and all congressmen and senators are afraid of him."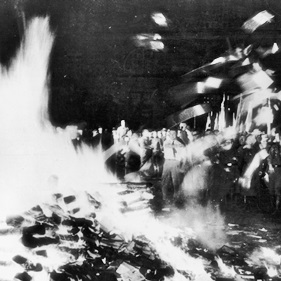 1933 – The German Student Union burned 25,000 volumes of "un-German" books in the square at the State Opera in Berlin, thereby presaging an era of uncompromising state censorship.
In many other university towns, nationalist students marched in torchlight parades against the "un-German" spirit. Students threw the pillaged, banned books into the bonfires with a great joyous ceremony that included live music, singing, "fire oaths," and incantations.
In Berlin, 40,000 people heard Joseph Goebbels deliver an incendiary address: "No to decadence and moral corruption! Yes to decency and morality in family and state! I consign to the flames the writings of Heinrich Mann, Ernst Glaeser, Erich Kästner."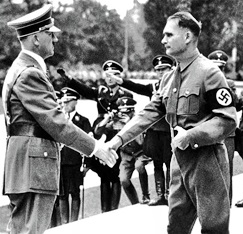 1941 – Rudolf Hess, Deputy Führer to Adolf Hitler, flew to Great Britain in a Messerschmitt Bf 110, and landed by parachute in Scotland.
He stated to the Home Guard and the Police that he was on a mission to see the Duke of Hamilton. That "special mission," he claimed, was to open peace negotiations with the British.
Hess had prepared extensive notes to use during this meeting, at which he spoke about Hitler's expansionary plans and the need for Britain to let the Nazis have free rein in Europe, in exchange for being allowed to keep its overseas possessions.
Before his departure from Germany, Hess had given his adjutant, Karlheinz Pintsch, a letter addressed to Hitler that detailed his intentions to open peace negotiations with the British.
Pintsch delivered the letter to Hitler on May 11. Hitler described the departure by Hess as one of the worst blows of his life, as he considered it a personal betrayal. He stripped Hess of all of his party and state offices, and secretly ordered him shot on sight if he ever returned to Germany.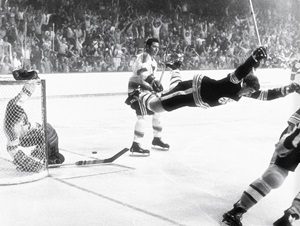 1970 – Bobby Orr scored "The Goal" to win the 1970 Stanley Cup Finals for the Boston Bruins' fourth NHL championship in their history.
The goal came off a give-and-go pass with teammate Derek Sanderson at the 40-second mark of the first overtime period in the fourth game, helping to complete a sweep of the St. Louis Blues.
The photograph by Boston Record-American photographer Ray Lussier of a horizontal Orr flying through the air, his arms raised in victory, has become one of the most famous and recognized hockey images of all time.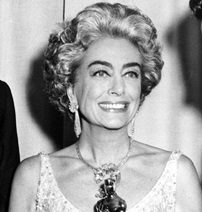 1977 – Academy Award winning actress Joan Crawford died of a heart attack at the age of 73.
In 1945 she starred in Mildred Pierce and won the Academy Award for Best Actress. She would go on to receive Best Actress nominations for Possessed and Sudden Fear.
Crawford's relationships with her two elder children, Christina and Christopher, were acrimonious. After Crawford's death, Christina released a well-known "tell-all" memoir, Mommie Dearest, which painted an unflattering portrait of Crawford's personal life.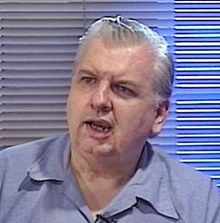 1994 – John Wayne Gacy, Jr., a serial killer and rapist who sexually assaulted and murdered at least 33 teenage boys and young men between 1972 and 1978 in Cook County, Illinois, died by lethal injection at Stateville Correctional Center in Crest Hill, IL.
Compiled by Ray Lemire ©2019 RayLemire.com. / Streamingoldies.com. All Rights Reserved.