"The true beauty of music is that it connects people. It carries a message, and we, the musicians, are the messengers."
~Roy Ayers
There are three happy memories in the five videos below. There are also two very sad ones.
On the plus side, March 5, 1951 marked the recording of perhaps the very first rock and roll record, and two other classic songs were recorded on the same date on the calendar a few years later.
On the negative side, March 5, 1963 was the day three legendary country musicians passed away in a tragic plane crash, while a brilliant comedian threw away everything in a drug-related death 19 years later.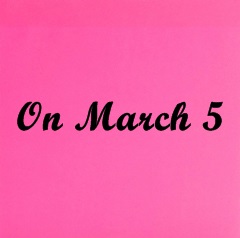 On March 5, 1951 (68 years ago today!), Jackie Brenston and his Delta Cats recorded 'Rocket 88' for Sam Phillips at his Memphis Recording Service in Memphis. The recording is considered by many to be the first rock & roll record.
The Delta Cats did not actually exist. The song was put together by Ike Turner and his Kings of Rhythm in rehearsals at the Riverside Hotel in Clarksdale, Mississippi. Brenston, a saxophonist in Turner's band, sang lead vocal and received the glory – and the songwriting credit even though Ike Turner co-wrote it.
Although Turner became famous as a guitarist, he played piano on the record. Band member Willie Kizart handled the guitar.

On March 5, 1959 (60 years ago today!), Bobby Darin recorded a song which would reach #2 on the Billboard Hot 100. 19-year old Neil Sedaka played piano on the song.

On March 5, 1963 (56 years ago today!), country music legends Patsy Cline, Hawkshaw Hawkins, and Cowboy Copas were killed when their single-engine plane crashed in Camden, Tennessee.
The plane was piloted by Randy Hughes, who was Cline's manager and touring guitarist. In a tragic twist, the quartet was returning to Nashville from Kansas City, where they had performed at a benefit for the widow of DJ Cactus Jack Call, who had been killed in a car crash.

On March 5, 1963 (56 years ago today!), the Beatles recorded a song which would reach #35 on the Billboard Hot 100 when it was released as the B-side of 'Do You Want To Know A Secret'.

On March 5, 1982 (37 years ago today!), John Belushi died of a drug overdose at the Chateau Marmont Hotel on Sunset Boulevard in Hollywood. Belushi was 33.
He and Dan Aykroyd had a hit record as The Blues Brothers in 1978 with a remake of the Sam And Dave classic, "Soul Man", while their album "Briefcase Full of Blues" reached #1 on the Billboard 200.