People often refer to April 10, 1970 as the day the Beatles ended. That was the day Paul McCartney announced he was releasing a solo album (one week later) and leaving the band.
In a bizarre self-interview that was released to the media, McCartney did not directly say that the Beatles had split up, but his intent was crystal clear. His disparaging comments about the group, their management by Allen Klein, and his assertion that Lennon-McCartney would never be an active songwriting team again, effectively cut the ties.
McCartney's actions angered John Lennon, who had, on September 20, 1969, told his three bandmates that he was leaving but was persuaded to keep quiet while the group renegotiated their recording contract.
Ringo Starr, the "lovable" Beatle, had walked out on August 22, 1968 because felt that "the other three were really happy and I was an outsider." Two weeks later, he returned after being assured he was loved and needed.
However
It was 50 years ago today that the real ending of the group started its final descent. On January 10, 1969, George Harrison, after years of being treated like a hired session man by Lennon and McCartney, abruptly walked out during the sessions for the Let It Be album/movie.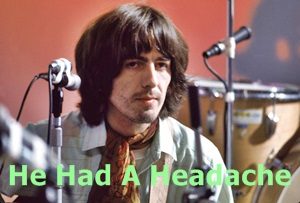 The conflicts with Paul were nothing new.
In The Beatles Anthology, George recalled, "There used to be a situation where we'd go in (as we did when we were kids), pick up our guitars, all learn the tune and chords and start talking about arrangements.
"But there came a time when Paul had fixed an idea in his brain as to how to record one of his songs. It was taken to the most ridiculous situations, where I'd open my guitar case and go to get my guitar out and he'd say, 'No, no, we're not doing that yet.'"
That practice began in 1965 when McCartney convinced producer George Martin to remove Harrison's guitar solo on Another Girl. He later did the same thing on Penny Lane and Hello, Goodbye.
Each time, Harrison shrugged off the insult but by 1969, he finally stood up for himself.
George and Paul's argument, as documented in the Let It Be movie, happened on January 6 while the group was rehearsing Two Of Us.
Harrison had suggested adding guitar fills between the lyrics but was – quite rudely – told by McCartney that it wasn't going to happen.
After Paul's lecture, Harrison replied, "I'll play whatever you want me to play, or I won't play at all if you don't want me to play. Whatever it is that'll please you, I'll do it."
On January 10, a more severe argument took place in which Harrison berated Lennon for contributing nothing positive to the rehearsals. He added a few blunt comments about Yoko Ono's constant presence on the film set.
Lennon responded, as he had for years, by ridiculing Harrison's songwriting.
Over the first three days at Twickenham Film Studios, Harrison had presented new compositions such as All Things Must Pass, Let It Down and Hear Me Lord for consideration. Each song received derision and disinterest from Lennon or heavy-handed interference from McCartney.
By January 10, George had reached the breaking point. At lunchtime he quietly walked up to John, Paul, and Ringo and said, "See you 'round the clubs."
"Paul wanted nobody to play on his songs until he decided how it should go," Harrison later said. "For me it was like 'What am I doing here? This is painful!'
"They were filming us having a row. It never came to blows, but I thought, 'What's the point of this? I'm quite capable of being relatively happy on my own and I'm not able to be happy in this situation. I'm getting out of here.'
"Everybody had gone through that. Ringo had left at one point. I know John wanted out. It was a very, very difficult, stressful time, and being filmed having a row as well was terrible. I got up and went home. That afternoon I wrote Wah-Wah."
The message of the song, according to Harrison, was,"you're giving me a bloody headache," and while Lennon played a major role in Harrison's frustration, the person most responsible for the headache was McCartney.
The lyrics in the first verse touch on the failure of friendships within the band, which in the case of Harrison and McCartney, dated back to school years.
And I'm thinking of you
And all the things that we used to do.
The second verse reflects Harrison's frustration at being viewed by Lennon and McCartney as subservient to their ambitions.
You made me such a big star.
Being there at the right time.
Cheaper than a dime.
In the middle eight, Harrison laments that his bandmates never take the time to notice his sorrow.
Oh, you don't see me crying.
You don't hear me sighing.
In the song's final verse, Harrison provides a statement of his independence from the Beatles.
And I know how sweet life can be.
If I keep myself free of wah-wah.
Harrison didn't know it at the time but by walking out, he was, for the first time, in a commanding position. When the other three suffered through a series of dismal sessions at Twickenham, George was able to set down his terms for returning to the group.
During a five-hour meeting on January 15, he made it clear that he would permanently leave the group unless McCartney's idea of a live show before an audience was dropped.
Harrison also demanded that sessions be moved from Twickenham to the new studio in the basement of Apple's headquarters in Savile Row, London.
If not for Harrison's bold move, the Beatles would have been finished in January 1969. Suddenly, the quiet Beatle had spoken with a very loud voice. Yes, it proved to be only a temporary fix but without it, there would have been no Abbey Road.
All because the friction had given him a headache.
Compiled by Ray Lemire ©2019 RayLemire.com / Streamingoldies.com. All Rights Reserved.