"I was a monster. I don't deny it. I wasn't a monster until a few years ago. But you have to be a monster to survive in New York City. New York City doesn't give a damn about violence. I would, without any hesitation, shoot a violent criminal again."
~Bernhard Goetz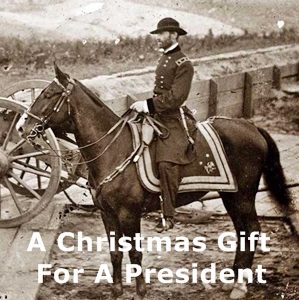 1864 – One day after Savannah Mayor Richard Arnold surrendered his city to Gen. William T. Sherman and Union troops, Sherman sent a short message to President Abraham Lincoln.
"I beg to present you, as a Christmas gift, the city of Savannah, with 150 heavy guns and plenty of ammunition, and also about 25,000 bales of cotton."
Sherman, who had wrecked Atlanta and pillaged and burned his way through Georgia, applied a gentle touch to Savannah. In one rare moment, after burning his way through Georgia and before doing the same to South Carolina, Sherman spared the city's historic architecture from the hard hand of war.
Idle Thought: It was a strange end to the March To The Sea, but perhaps it should not have been unexpected. When Sherman instituted his destructive war, he told Southerners that as long as they continued their resistance, he would make them pay dearly, but that the process would stop when they quit the fight.
As soon as the mayor of Savannah surrendered his city, Sherman kept his word.
Sherman was a brute, but he waged a war that did not result in countless deaths. He saw destruction of property as less onerous than casualties. It is estimated that during the six-week March to the Sea fewer than 3,000 casualties resulted.
Compared to the 51,000 killed, wounded and missing at Gettysburg in the three days of fighting there or the 24,000 in the two days at Shiloh, the month-long March to the Sea was nearly bloodless.
Yet, the march is remembered to this day as barbarism unleashed. There was glory to die in Pickett's Charge at Gettysburg, but only humiliation to have one's barn burned, silverware taken, house damaged or destroyed, or horses added to the enemy cavalry. Sherman successfully fought a psychological war of destruction. He entered the Confederate psyche and remains in some minds to the present day.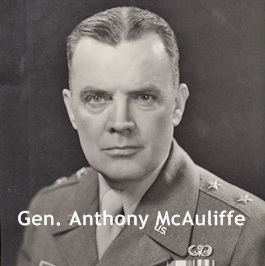 1944 – At the Battle of the Bulge: German troops demanded the surrender of United States troops at Bastogne, Belgium, prompting the famous one word reply by General Anthony McAuliffe: "Nuts!"
General Heinrich Freiherr von Lüttwitz dispatched a party under a flag of truce to deliver an ultimatum to McAuliffe, then the temporary commander of the 101st Airborne Division;
"The fortune of war is changing. This time the U.S.A. forces in and near Bastogne have been encircled by strong German armored units. More German armored units have crossed the river Our near Ortheuville, have taken Marche and reached St. Hubert by passing through Hompre-Sibret-Tillet. Libramont is in German hands.
There is only one possibility to save the encircled U.S.A. troops from total annihilation: that is the honorable surrender of the encircled town. In order to think it over a term of two hours will be granted beginning with the presentation of this note.
If this proposal should be rejected one German Artillery Corps and six heavy A. A. Battalions are ready to annihilate the U.S.A. troops in and near Bastogne. The order for firing will be given immediately after this two hours term."
When McAuliffe received the German message, he read it, threw it in a wastepaper basket, and muttered, "Aw, nuts". The officers in McAuliffe's command post were trying to find suitable language for an official reply when it was suggested that McAuliffe's first response summed up the situation pretty well, and the others agreed. The official reply was typed and delivered by Colonel Joseph Harper, commanding the 327th Glider Infantry, to the German delegation. It was as follows:
To the German Commander.
NUTS!
The American Commander
The German major appeared confused and asked Harper what the message meant. Harper said, "In plain English? Go to hell."
The promised German artillery fire did not materialize, although the German Luftwaffe attacked the town, bombing it nightly. The 101st held off the Germans until the 4th Armored Division arrived on December 26 to provide reinforcement.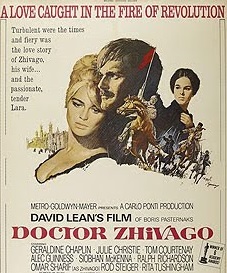 1965 – Doctor Zhivago, starring Omar Sharif, Julie Christie and Tom Courtenay, premiered in U.S. theaters.
Based on the 1957 Boris Pasternak novel of the same name, the film was set in Russia between the years prior to World War I and the Russian Civil War of 1917–1922. Because the book was banned in the Soviet Union, it could not be filmed there so director David Lean opted to use Spain.
Doctor Zhivago was nominated for ten Academy Awards and won five.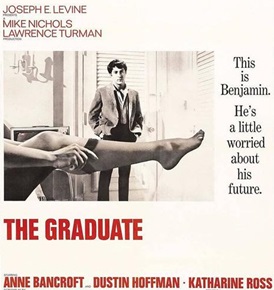 1967 – The Graduate, starring Dustin Hoffman – in his first major role – Anne Bancroft and Katherine Ross, premiered in U.S. theaters.
The film – about a recent college graduate with no well-defined aim in life – received Academy Award nominations for Best Picture, Best Actor (Hoffman), Best Actress (Bancroft), Best Supporting Actress (Ross), Best Adapted Screenplay (Buck Henry and Calder Willingham), and Best Cinematography (Robert L. Surtees).
They all lost but Mike Nichols won the Academy Award for Best Director.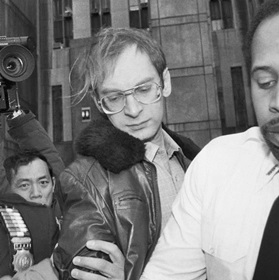 1984 – New York City resident Bernhard Goetz shot four black youths on a Manhattan subway, claiming they were about to rob him.
The incident began when Troy Canty approached Goetz and asked for money. Goetz produced a .38 caliber handgun and shot Canty, Barry Allen, James Ramseur, and Darrell Cabey.
Goetz later stated that he shot Cabey a second time, after saying, "You seem to be alright, here's another," although he subsequently denied on several occasions making the statement. The shot severed Cabey's spinal cord and resulted in his paralysis.
The conductor heard the shots and engaged the emergency brake, bringing the train to a stop. Goetz stepped from the train and disappeared into the subway tunnel. Reports indicated that the youths had three screwdrivers in their possession.
Goetz escaped to Burlington. VT but surrendered to authorities in Concord, NH, on December 31.
A grand jury was convened in late January 1985, and he was indicted on three counts of illegal weapons possession. The grand jury failed to return an indictment on the more serious charges facing Goetz, including attempted murder and assault.
A month later, Manhattan District Attorney Robert Morgenthau brought a total of 13 additional charges ranging from illegal weapons possession to attempted murder.
Goetz's lawyer argued a claim of self-defense. New York law allows deadly force in self-defense to thwart an attempted robbery. In the case of Goetz, the four men did not show the screwdrivers to him, although he claimed that one of the men had his hand in his pocket and there appeared to be an unidentified object.
The defense centered on Goetz's belief of impending physical harm if he did not comply with their demands for money.
He was convicted for criminal possession of a handgun and found not guilty on the other charges.
He served less than a year in jail.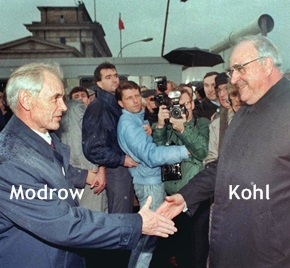 1989 – Berlin's Brandenburg Gate re-opened after nearly 30 years, effectively ending the division of East and West Germany.
West German chancellor Helmut Kohl walked through to be greeted by Hans Modrow, the East German prime minister. Demolition of the rest of the wall around the area took place the following year.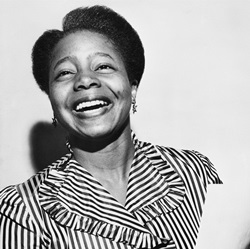 1995 – Actress Butterfly McQueen died from burns suffered in a house fire. She was 84.
She is best remembered for her portrayal of Prissy in Gone With The Wind the slave girl who confounded Scarlett O'Hara with the tearful pronouncement, "I don't know nothin' 'bout birthin' babies, Miss Scarlett!"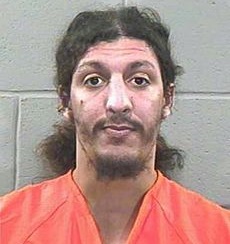 2001 – Richard C. Reid, a passenger on American Airlines Flight 63 from Paris to Miami, tried to ignite explosives in his shoes.
Flight attendant, Hermis Moutardier, thinking she smelled a burning match, walked along the aisles of the plane, looking for the source. A passenger pointed to Reid, who was sitting alone near a window and attempting to light a match. Moutardier warned him that smoking was not allowed on the airplane. Reid promised to stop.
A few minutes later, Moutardier found Reid leaned over in his seat. After asking "What are you doing?" Reid grabbed at her, revealing one shoe in his lap, a fuse which led into the shoe, and a lit match.
When another flight attendant arrived to try to subdue him, he fought her, biting her thumb.
Crew members and passengers finally subdued him – a doctor on board administered a tranquilizer to him which he found in the emergency medical kit on the plane, which was diverted to Logan International Airport in Boston.
He was subsequently arrested and indicted. In 2002, Reid pleaded guilty in U.S. federal court to eight federal criminal counts of terrorism, based on his attempt to destroy a commercial aircraft in flight.
He was sentenced to 3 life terms plus 110 years in prison without parole and is currently being held at ADX Florence, a super maximum security prison in the United States.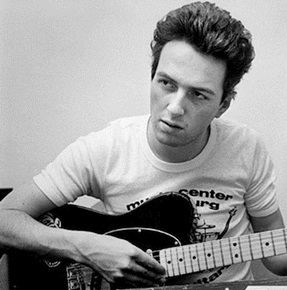 2002 – Singer/songwriter Joe Strummer died from an undiagnosed congenital heart defect. He was only 50.
As lead singer with The Clash, Strummer is best known for London Calling and Rock The Casbah.
On a personal level, Strummer formed Future Forests, an organization dedicated to planting trees in various parts of the world in order to combat global warming.
The Clash were inducted into the Rock and Roll Hall of Fame in January 2003.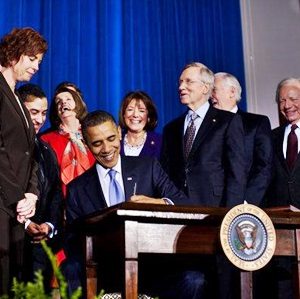 2011 – The repeal of the "Don't ask, Don't tell" policy, the 17-year-old policy banning homosexuals serving openly in the United States military, was signed into law by President Barack Obama.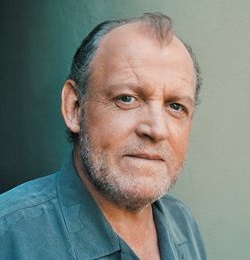 2014 – Singer Joe Cocker, known for his raspy, hulking voice and impassioned stage presence, passed away after battling lung cancer. He was 70 years old.
He first came to prominence with his monumental 1969 Woodstock performance of the Beatles' With A Little Help From My Friends. His eight-minute-long tour de force adaptation of the song turbo-charged his climb up the charts.
He went on to record more than 40 albums over the next four decades.
He scored huge hits with You Are So Beautiful, Cry Me A River, Delta Lady, The Letter, and had his first #1 Billboard hit with Up Where We Belong, his duet with Jennifer Warnes, which was used in the soundtrack of An Officer And A Gentleman.
Please Note: This will be the final history lesson for a while, although I will have one more Christmas medley tomorrow.
I could call it a "winter vacation" but the reality is I will be undergoing heart surgery on January 8th so I will be out of action for a few weeks.
Compiled by Ray Lemire ©2018 RayLemire.com / Streamingoldies.com. All Rights Reserved.