"I have done an in-depth study of drug abuse and Communist brainwashing techniques and I am right in the middle of the whole thing, where I can and will do the most good. I am glad to help just so long as it is kept very private."
~Elvis Presley
Letter to Richard Nixon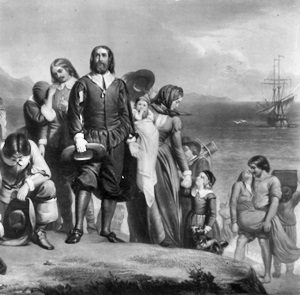 1620 – William Bradford and the Mayflower Pilgrims first landing party came ashore in the unforgiving edge of southeastern Massachusetts in the present-day town of Plymouth.
Plymouth Rock is the traditional site of disembarkation but the Pilgrims did not refer to Plymouth Rock in any of their writings; the first known written reference to the rock dates to 1715 when it was described in the town boundary records as "a great rock."
The first documented claim that Plymouth Rock was the landing place of the Pilgrims was made by Elder Thomas Faunce in 1741, 121 years after the Pilgrims arrived in Plymouth.
From that time to the present, Plymouth Rock has occupied a prominent spot in American tradition and has been interpreted by later generations as a symbol of both the virtues and the flaws of the first English people who colonized New England.
In 1774, the rock broke in half during an attempt to haul it to Town Square in Plymouth. The top portion (the fragment now visible) sat in Town Square, but was moved to Pilgrim Hall Museum in 1834 – it broke again – and was returned to its original site on the shore of Plymouth Harbor in 1880.
Today it is enclosed beneath a granite canopy.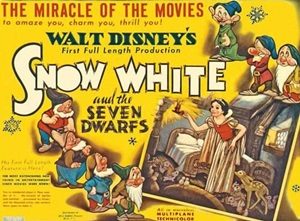 1937 – Snow White and The Seven Dwarfs, the world's first full-length animated feature, premiered at the Carthay Circle Theatre in Los Angeles.
Walt Disney risked everything to get the film produced..
Both his brother and business partner Roy and Walt's wife Lillian attempted to talk him out of it, and the Hollywood movie industry referred to the film derisively as "Disney's Folly" while it was in production.
He had to mortgage his house to help finance the film's production, which eventually ran up a total cost of nearly $1.5 million, a massive sum for a feature film in 1937.
The gamble paid off.
In 1989, the United States Library of Congress deemed the film "culturally, historically, or aesthetically significant" and selected it for preservation in the National Film Registry.
The American Film Institute ranked it among the 100 greatest American films, and also named the film as the greatest American animated film of all time in 2008.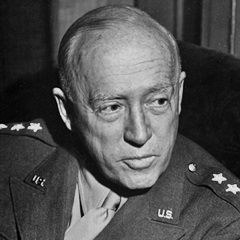 1945 – Gen. George S. Patton died of pulmonary edema and congestive heart failure.
On December 8, Patton had been involved in a car accident, hitting his head on the glass partition in the back seat. He began bleeding from a gash to the head, and was taken to a hospital in Heidelberg.
Patton was discovered to have a compression fracture and dislocation of the cervical third and fourth vertebrae, resulting in a broken neck and cervical spinal cord injury that rendered him paralyzed from the neck down.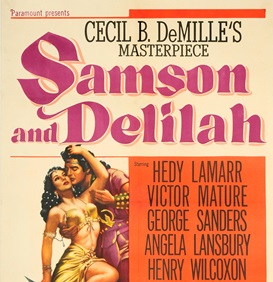 1949 – Samson and Delilah, directed and produced by Cecil B. DeMille, starring Hedy Lamarr and Victor Mature, premiered in New York City.
The film, based on the biblical Book of Judges was a box office hit and earned five Academy Award nominations, winning two.
Casting Factoid: DeMille's first choice to play the role of Samson was Burt Lancaster but he declined due to a bad back.
Vivien Leigh and Lucille Ball were early contenders for the role of Delilah, but Leigh, at 36, and Ball, then 38, were both judged by Paramount as "too old" for the part.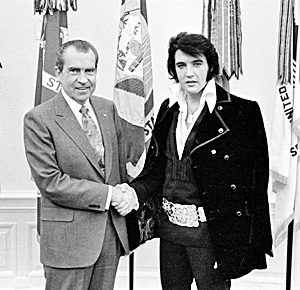 1970 – Elvis Presley met President Richard Nixon at the White House.
The journey began in Memphis a few days earlier, when Elvis' father, Vernon, and wife, Priscilla, complained that he'd spent too much on Christmas presents – more than $100,000 for 32 handguns and not one Mercedes-Benz, but 10 of them.
An angry Elvis decided to fly to Los Angeles but he soon got bored. Before heading back to Memphis, he resolved to check an item off his to-do list, one that required a stop-over in the nation's capital.
He wanted to meet the president – more to the point, he wanted a badge from the Federal Bureau of Narcotics and Dangerous Drugs, and Nixon was the one man who could get it for him.
On the red-eye to Washington, Elvis scribbled a six-page letter to the president.
"I wish not to be given a title or an appointed position. I can and will do more good if I were made a Federal Agent at Large and I will help out by doing it my way through my communications with people of all ages."
After they landed, Elvis and aide Jerry Schilling took a limo to the White House, and Elvis dropped off his letter at an entrance gate at about 6:30 a.m. His letter was delivered to Nixon aide Egil "Bud" Krogh, who happened to be an Elvis fan. Krogh loved the idea of a Nixon-Presley summit and persuaded his bosses, including White House Chief of Staff Bob Haldeman, to make it happen.
Around noon, Elvis arrived at the White House with Schilling and bodyguard Sonny West. Arrayed in a purple velvet suit with a huge gold belt buckle and amber sunglasses, Elvis came bearing a gift – a Colt .45 pistol mounted in a display case that Elvis had plucked off the wall of his Los Angeles mansion – which the Secret Service confiscated before Krogh escorted Elvis to meet Nixon.
Presley indicated that he thought the Beatles had been a real force for anti-American spirit. The President then said that those who use drugs were also those in the vanguard of anti-American protest.
And then the real reason for the trip finally came out as Elvis said, "Mr. President, can you get me a badge from the Bureau of Narcotics and Dangerous Drugs?"
The president turned to Krogh said, "Bud, can we get him a badge?" Krogh responded, "Mr. President, if you want to get him a badge, we can do that."
The badge, Krogh later wrote, was an "honorary" one, but for Elvis, it was the real thing.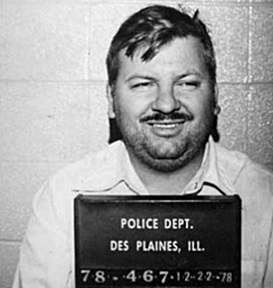 1978 – Police in Des Plaines, Illinois, arrested John Wayne Gacy and began unearthing the remains of 33 men and boys he was later convicted of murdering.
A member of the local "Jolly Joker" clown club, Gacy spent much of his free time hosting elaborate street parties for his friends and entertaining children as "Pogo the Clown". He appeared to be a generous and friendly man, but underneath the smiling mask of the clown was the face of depraved psychopath.
The purpose of the original warrant was specifically to search for the body of Robert Piest in the 28-by-38-feet crawl space underneath Gacy's home. An evidence technician named Daniel Genty entered the crawl space and began digging. Within minutes, he shouted to the investigators that they could charge Gacy with murder.
Genty added: "I think this place is full of kids."
The following morning, Gacy confessed to police that since 1972, he had committed approximately 25 to 30 murders, all of whom he falsely claimed were of teenage male runaways or male prostitutes.
Twenty-nine bodies were found on Gacy's property. Three additional bodies, which had been found in the nearby Des Plaines River between June and December 1978, were also confirmed to have been victims of Gacy.
On May 10, 1994, Gacy was executed by lethal injection at the Stateville Correctional Center in Crest Hill, Illinois. His final statement to his lawyer before his execution was that killing him would not compensate for the loss of others, and that the state was murdering him.
His final spoken words were "Kiss my ass."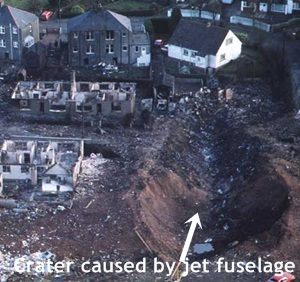 1988 – A bomb exploded on board Pan Am Flight 103 over Lockerbie, Dumfries and Galloway, Scotland, killing 270.
A bomb that had been hidden inside an audio cassette player detonated inside the cargo area when the plane was at an altitude of 31,000 feet.
All 259 on board were killed in the explosion.
In addition, 11 residents of Lockerbie were killed in the shower of airplane parts that fell from the sky.
In 1991, Libyans Abdelbeset Ali Mohmed al Megrahi and Al Amin Khalifah Fhimah were indicted for the bombing. Al Megrahi was found guilty, while Fhimah was found not guilty.
Al Megrahi was released from a Scottish prison in 2009 on compassionate grounds and returned to Libya. He died of prostate cancer in 2012.
In 2003, Libya agreed to pay $2.7 billion in compensation to families of those killed in the bombing.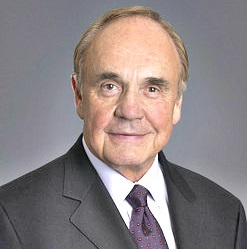 2017 – Dick Enberg died of a heart attack at the age of 82.
Over the course of an approximately 60-year career, he provided play-by-play of various sports for several radio and television networks (NBC, CBS and ESPN), as well as individual teams, such as UCLA Bruins basketball, Los Angeles Rams football, and California Angels and San Diego Padres baseball.
Enberg was well known for his signature on-air catchphrases: "Touch 'em all" (for home runs) and "Oh, my!" (for particularly exciting and outstanding athletic plays.)
Compiled by Ray Lemire ©2018 RayLemire.com / Streamingoldies.com. All Rights Reserved.