"From this day forward, the millions of our school children will daily proclaim in every city and town, every village and rural school house, the dedication of our nation and our people to the Almighty. To anyone who truly loves America, nothing could be more inspiring than to contemplate this rededication of our youth, on each school morning, to our country's true meaning."
~ President Dwight D. Eisenhower
June 14, 1954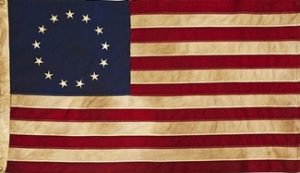 1777 – The Continental Congress adopted a resolution stating that "the flag of the United States be thirteen alternate stripes red and white" and that "the Union be thirteen stars, white in a blue field, representing a new Constellation."
The national flag, which became known as the "Stars and Stripes," was based on the "Grand Union" flag, a banner carried by the Continental Army in 1776 that also consisted of 13 red and white stripes.
On June 14, 1877, the first Flag Day observance was held on the 100th anniversary of the adoption of the Stars and Stripes. As instructed by Congress, the U.S. flag was flown from all public buildings across the country.
In the years after the first Flag Day, several states continued to observe the anniversary, and in 1949 Congress officially designated June 14 as Flag Day, a national day of observance.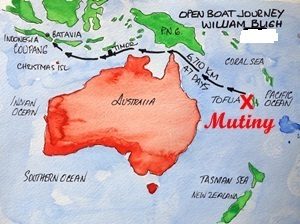 1789 – English Captain William Bligh and 18 others, cast adrift from the HMS Bounty seven weeks before, reached Coupang, Timor in the East Indies after traveling 3,600 miles in a small, open boat.
Fletcher Christian, the master's mate on the Bounty, had led a successful mutiny against Captain Bligh and his supporters. The captain and his crew were set adrift in the 23-foot-long boat with 25 gallons of water, 150 pounds of bread, 30 pounds of pork, six quarts of rum, and six bottles of wine.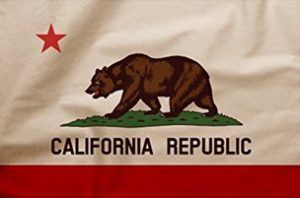 1846 – Anticipating the outbreak of war with Mexico, American settlers in California rebelled against the Mexican government and proclaimed the short-lived California Republic.
A party of 33 Americans under the leadership of Ezekiel Merritt and William Ide invaded the largely defenseless Mexican outpost of Sonoma just north of San Francisco. Merritt and Ide then proceeded to declare California an independent republic.
With a cotton sheet and some red paint, they constructed a makeshift flag with a crude drawing of a grizzly bear, a lone red star (a reference to the earlier Lone Star Republic of Texas), and the words "California Republic" at the bottom. From then on, the independence movement was known as the Bear Flag Revolt.
On July 7, American forces under Commodore John D. Sloat captured Monterey without a fight and officially raised the American flag over California. Since the ultimate goal of the Bear Flaggers was to make California part of the U.S., they now saw little reason to preserve their "government."
Three weeks after it had been proclaimed, the California Republic quietly faded away. Ironically, the Bear Flag itself proved far more enduring than the republic it represented: it became the official state flag when California joined the union in 1850.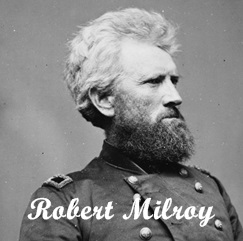 1863 – A small Union garrison in the Shenandoah Valley town of Winchester, Virginia, was easily defeated by the Army of Northern Virginia on the path of the Confederate invasion of Pennsylvania.
Robert Milroy, the commander of the Yankees in Winchester, was unaware that the vanguard of Robert E. Lee's army was heading his way. Milroy bragged that he could hold the town against any Confederate force. His assertion was rendered ridiculous when Richard Ewell's Rebel corps crashed down on his tiny garrison.
Ewell captured about 4,000 Federals, while Milroy and 2,700 soldiers escaped to safety. Ewell lost 270 men but captured 300 wagons, hundreds of horses, and 23 artillery pieces. Milroy was relieved of his command and later arrested, although a court of inquiry found that he was not culpable in the disaster.
Not culpable, perhaps, but indeed very arrogant.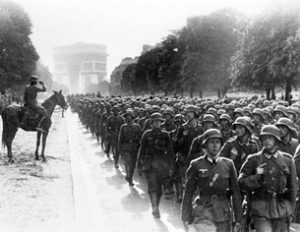 1940 – Parisians awoke to the sound of a German-accented voice announcing via loudspeakers that a curfew was being imposed for 8 p.m. that evening as German troops entered and occupied Paris.
British Prime Minister Winston Churchill had tried for days to convince the French government to hang on because he was certain that America would enter the war and come to its aid. French premier Paul Reynaud immediately sent a telegram President Franklin Roosevelt, asking for aid – a declaration of war, and if not that, any and all help possible.
Roosevelt replied that the United States was prepared to send material aid and was willing to have that promise published. Secretary of State Cordell Hull opposed such a publication, however, knowing that Adolf Hitler, as well as the Allies, would take such a public declaration of help as a prelude to a formal declaration of war. While the material aid would be forthcoming, no such commitment would be made formal and public.
The United States did not remain completely idle, though. On this day, President Roosevelt froze the American assets of the Axis powers, Germany and Italy.
Still, as German troops marched down the Champs Elysées on this day, it seemed that Adolf Hitler's once ridiculous dream that the German people should dominate Europe "from the Atlantic to the Urals" had come true.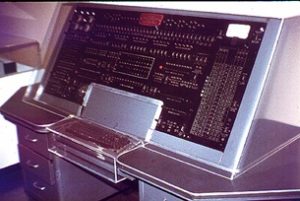 1951 – The U.S. Census Bureau dedicated UNIVAC, the world's first commercially produced electronic digital computer. UNIVAC, which stood for Universal Automatic Computer, was the forerunners of today's digital computers.
It weighed 16,000 pounds, used 5,000 vacuum tubes, and could perform about 1,000 calculations per second. On November 4, 1952, the UNIVAC achieved national fame when it correctly predicted Dwight D. Eisenhower's unexpected landslide victory in the presidential election after only a tiny percentage of the votes were in.

1954 – The phrase "under God" was incorporated into the Pledge of Allegiance by a Joint Resolution of Congress. President Dwight Eisenhower had encouraged Congress to add the words after hearing New York Avenue Presbyterian Church pastor George MacPherson Docherty deliver a sermon based on the Gettysburg Address entitled "A New Birth of Freedom."
Docherty argued that America's might lay not in arms but rather in its spirit and higher purpose. "There was something missing in the pledge, and that which was missing was the characteristic and definitive factor in the American way of life." He cited Lincoln's words "under God" as defining words that set the U.S. apart from other nations.
And as noted in the quote at the very top of this column, President Eisenhower agreed.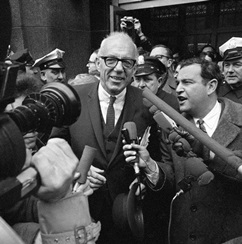 1968 – A Federal District Court jury in Boston convicted Dr. Benjamin Spock and three others, including Yale University Chaplain William Sloane Coffin, Jr., of conspiring to aid, abet, and counsel draft registrants to violate the Selective Service Act.
In April 1967, Spock, Reverend Martin Luther King, Jr., and entertainer Harry Belafonte led an estimated 300,000 people on a march to the United Nations headquarters in New York City, the largest antiwar demonstration to date.
During the Johnson administration, Spock, a physician and the famous author of The Common Sense Book of Baby and Child Care, was a constant figure at antiwar demonstrations. The 1968 convictions were overturned in 1969.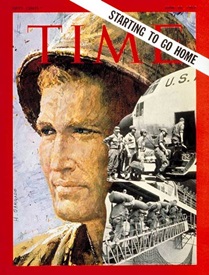 1969 – The U.S. command announced that three combat units would be withdrawn from Vietnam. They were the 1st and 2nd Brigades of the U.S. Army 9th Infantry Division and Regimental Landing Team 9 of the 3rd Marine Division – a total of about 13,000 to 14,000 men. These troops were part of the first U.S. troop withdrawal announced by President Richard Nixon.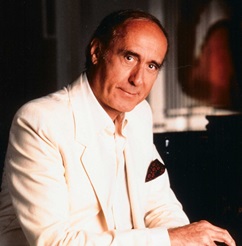 1994 – Composer and conductor Henry Mancini, cited as one of the greatest composers in the history of film, died of pancreatic cancer at the age of 70.
Mancini won four Academy Awards, a Golden Globe, and twenty Grammy Awards, plus a posthumous Grammy Lifetime Achievement Award. His best known works include The Pink Panther Theme, Moon River, and the theme to the Peter Gunn television series (which won the first Grammy Award for Album of the Year). Mancini also had a #1 hit single on the Billboard charts with The Love Theme from Romeo and Juliet.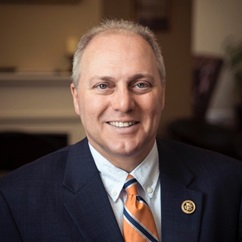 2017 – In Alexandria, Virginia, Republican member of Congress and House Majority Whip Steve Scalise of Louisiana was shot while practicing for the annual Congressional Baseball Game.
A ten-minute shootout ensued between the shooter – James Hodgkinson of Illinois, a left-wing activist – and officers from the Capitol and Alexandria Police. Officers shot Hodgkinson, who died from his wounds later that day.
Scalise was hospitalized for six weeks and underwent several surgeries before returning to Congress in September.
Compiled by Ray Lemire ©2018 RayLemire.com. / Streamingoldies.com. All Rights Reserved.