"We spend a great deal of time studying history, which, let's face it, is mostly the history of stupidity."
~Stephen Hawking
Or as I like to say…
"Those who don't study history are doomed to repeat it. Yet those who do study history are doomed to stand by helplessly while everyone else repeats it."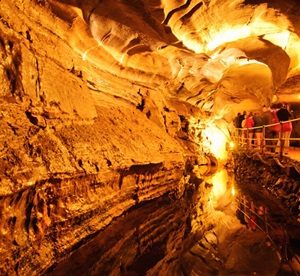 1842 – Lester Howe, a farmer in Schoharie County, New York, made a most remarkable discovery. On many hot summer days he noticed his cows pastured in the same spot; not on his land, but land owned by neighbor Henry Wetsel. When Howe approached his herd, he began to notice the temperature getting cooler. His dairy herd had gathered near a cave's hidden entrance to feel the cool air coming from below.
Quite by accident, Lester Howe had discovered what is now known as Howe Caverns, one of the most popular destinations in New York State. In February 1843, Howe purchased the land from his neighbor and turned the cavern – with its constant temperature of 52 degrees Fahrenheit, irrespective of the outside weather – into a commercial venture. Tours begin today with a 156-foot elevator ride to the cave's underground wonderland … and it is amazing!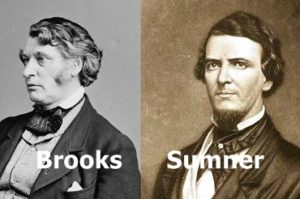 1856 – Congressman Preston Brooks (SC) savagely beat Senator Charles Sumner (MA) in the U.S. Senate chamber as tensions rose over the expansion of slavery.
Sumner, an ardent abolitionist, had decried the Kansas-Nebraska Act of 1854 as a "crime against Kansas" in a speech two days earlier and had blasted three of his colleagues by name, one of whom – South Carolina Senator Andrew P. Butler – was elderly, sick, and absent from the proceedings.
Representative Brooks (Butler's cousin) took it upon himself to defend the honor of his kin.
Wielding a cane he used for injuries he incurred in a duel over a political debate in 1840, Brooks entered the Senate chamber and attacked Sumner at his desk, which was bolted to the floor. Sumner's legs were pinned by the desk so he could not escape. Brooks continued beating Sumner until the cane broke, then quietly left the chamber.
Sumner suffered head trauma that would cause him chronic pain and symptoms consistent with what would now be called traumatic brain injury and post-traumatic stress disorder, and spent three years convalescing before returning to his Senate seat. He suffered chronic pain and debilitation for the rest of his life.
In the House, a motion to expel Brooks failed, but he resigned his seat anyway on July 15. Brooks claimed that he "meant no disrespect to the Senate of the United States" by attacking Sumner, and also that he had not intended to kill Sumner, or he would have used a different weapon.
Brooks was tried in a District of Columbia court for the attack. He was convicted of assault and was fined $300, though he was not incarcerated. He was quickly returned to office in a special election on August 1, and elected to a new term of office in November 1856.

1939 – Foreign Ministers Galeazzo Ciano (Italy) and Joachim von Ribbentrop (Germany) signed the "Pact of Friendship and Alliance between Germany and Italy," giving birth to the Axis powers.
The so called Pact of Steel was initially drafted as a tripartite military alliance including Japan. However, Japan wanted the focus of the pact to be aimed at the Soviet Union. Italy and Germany wanted it aimed at the British Empire and France. Due to this disagreement, the pact was signed without Japan.
Japan finally came on board in 1940 when the three nations signed the Tripartite Pact and this one had very little to do with the Soviet Union, England or France. This pact was directed primarily at the United States.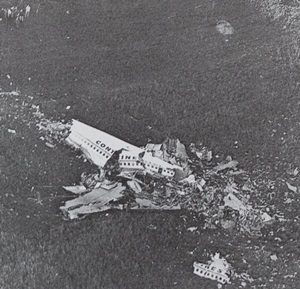 1962 – Continental Airlines Flight 11, flying from Chicago to Kansas City. The aircraft, a Boeing 707, crashed in a clover field near Unionville, Missouri, killing all 45 crew and passengers on board. The investigation determined the cause of the crash was a suicide bombing committed as insurance fraud.
Thomas G. Doty, a married man with a five-year-old daughter, had purchased a life insurance policy from Mutual of Omaha for $150,000, the maximum available; his death would also bring in another $150,000 in additional insurance purchased at the airport and death benefits.
Doty had recently been arrested for armed robbery and was to soon face a preliminary hearing in the matter. Investigators determined that Doty had purchased six sticks of dynamite for 29 cents each shortly before the crash and hid them in a carry-on briefcase.
Sixty-one minutes into the flight, Doty went into the lavatory with his briefcase and blew himself up, killing himself and everyone on board. The explosion occurred in the vicinity of Centerville, Iowa, 125 miles northeast of where the main wreckage struck the ground. The Boeing 707 literally snapped in half.
Doty's widow attempted to collect on the insurance, but when Doty's death was ruled a suicide, the policy was voided,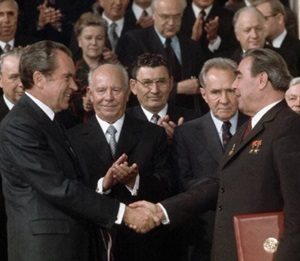 1972 – President Richard Nixon arrived in Moscow for a summit with Soviet leader Leonid Brezhnev. He was the first U.S. president to visit the USSR. During the summit, they signed SALT 1, the Strategic Arms Limitation Treaty, which was a major step towards ending the nuclear arms race. The two leaders also agreed to reduce pollution and undertake a joint U.S.–Soviet space mission.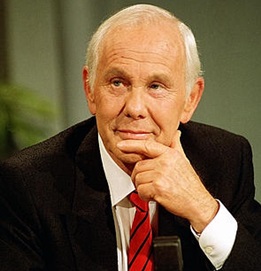 1992 – Johnny Carson hosted The Tonight Show for the final time. An estimated 50 million people watched the finale, taped before a by-invitation-only studio audience. The broadcast marked the end of a nearly 30-year run … 4531 episodes.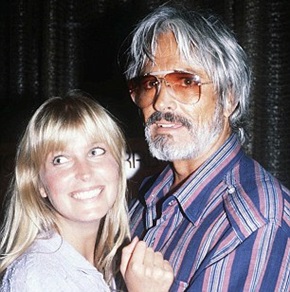 1998 – Actor John Derek died from cardiovascular disease at the age of 71. Well known for his roles in The Ten Commandments, All The Kings Men, Rogues of Sherwood Forest and Prince of Players, he is perhaps best remembered for introducing his fourth wife to the world … Bo Derek.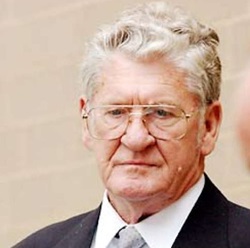 2002 – A jury in Birmingham, Alabama, convicted former Ku Klux Klan member Bobby Frank Cherry of the 1963 murders of four girls in the bombing of the 16th Street Baptist Church. Cherry, the third and final man convicted for the murders, died in prison in 2004.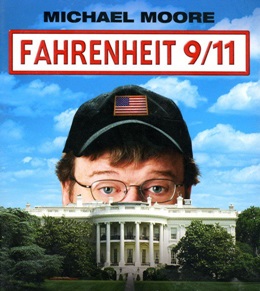 2004 – Michael Moore's documentary film Fahrenheit 9/11 beat out 18 other films to win the coveted Palme d'Or, the top prize at the Cannes Film Festival. Moore's film was a fierce critique of the foreign policy decisions made by the presidential administration of George W. Bush, principally its response to the terrorist attacks of September 11, 2001, and its decision to invade Iraq in 2003.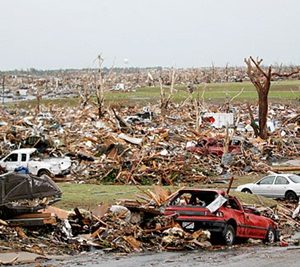 2011 – A catastrophic EF5 multiple-vortex tornado struck Joplin, Missouri, killing over 160 people and causing damages of over $2.8 billion. It was the costliest single tornado in U.S. history, and the seventh-deadliest overall.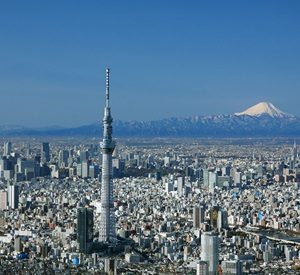 2012 – Tokyo Skytree, a broadcasting, restaurant, and observation tower in Sumida, Tokyo, Japan opened to the public. It is the tallest tower in the world (2,080 feet), and the second tallest man-made structure on Earth. In the photo above, the iconic Mount Fuji looms in the background.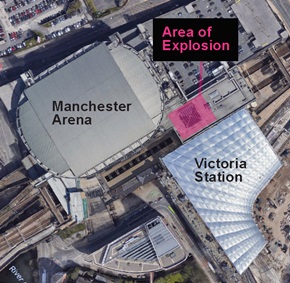 2017 – A shrapnel-laden homemade bomb was detonated as people were leaving Manchester Arena following a concert by singer Ariana Grande. Twenty-three people were killed, including the attacker, and over 500 were injured.
After initial suspicions of a terrorist network, police later said they believed the bomber, Salman Ramadan Abedi – a supporter of the Libyan Islamic Fighting Group, an organization banned in the UK – had largely acted alone but that others had been aware of his plans.
Compiled by Ray Lemire ©2018 RayLemire.com. / Streamingoldies.com. All Rights Reserved.