"The past should not be comfortable. The past should not be a familiar echo of the present, for if it is familiar why revisit it? The past should be so strange that you wonder how you and people you know and love could come from such a time."
~Richard White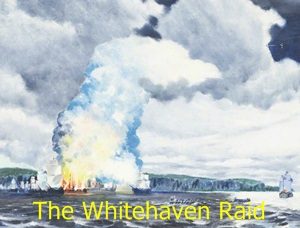 1778 – John Paul Jones, with 30 volunteers from his ship, the USS Ranger, launched a surprise attack on two harbor forts at Whitehaven, England. Jones' boat successfully took the southern fort, but the second boat, assigned to attack the northern fort, returned to the Ranger without having done so, claiming to have been scared off by a "strange noise".
To compensate, Jones decided to burn the southern fort; the blaze ultimately consumed the entire town. It was the only American raid on English shores during the American Revolution.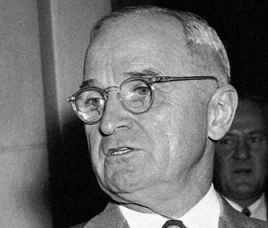 1945 – Less than two weeks after taking over as president after the death of Franklin D. Roosevelt, Harry S. Truman gave a tongue-lashing to Soviet Foreign Minister Vyacheslav Molotov.
Just weeks before his death, Roosevelt met with Russian leader Joseph Stalin and British Prime Minister Winston Churchill at Yalta to discuss the postwar situation. Agreements made during the meeting left the Soviets in de facto control of Eastern Europe in exchange for Soviet promises to hold "democratic" elections in Poland.
When Molotov arrived at the White House for a meeting with the new president, Truman immediately lashed out at him "in words of one syllable," as the president later recalled. As Molotov listened incredulously, Truman charged that the Soviets were breaking their agreements and that Stalin needed to keep his word.
Molotov indignantly declared that he had never been talked to in such a manner. Truman replied that if Stalin and Molotov had kept their promises, he would not need to be talked to like that. Molotov stormed out of the meeting. Truman was delighted with his own performance, telling one friend that he gave the Soviet official "the straight one-two to the jaw."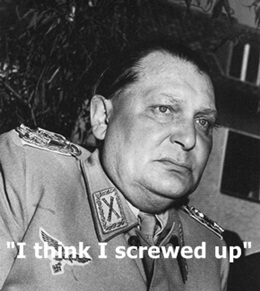 1945 – In June 1941, Adolf Hitler had issued a secret decree which formally named Hermann Goering his successor in the event of his death. It also gave Goering the power to act as Hitler's deputy with full freedom of action in the event Hitler ever lost his freedom of action – either by way of incapacity, disappearance or abduction.
On this date – with the Third Reich crumbling and nearing defeat – Goering sent a carefully worded telegram to Adolf Hitler, asking permission to assume leadership in accordance with the 1941 decree. Goring added that if Hitler did not reply by 22:00 that night, he would assume Hitler had lost his freedom of action and would assume leadership of the Reich.
The telegram sent Hitler into a rage and caused him to strip his hand-picked successor of power and appoint new political successors.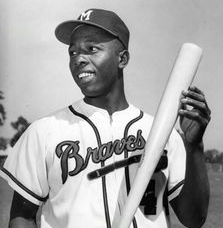 1954 – Hank Aaron hit the first home run of his Major League Baseball career. Twenty-two years later, Aaron would retire with 755 career home runs, a record that stood until 2007, when it was broken by Barry Bonds of the San Francisco Giants (although Bonds' accomplishment was, and is, controversial due to his suspected use of steroids).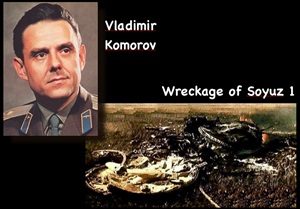 1967 – The U.S./Soviet Union space race claimed another victim when Soviet cosmonaut Vladimir Komarov was killed when his parachute failed to deploy during his spacecraft's landing.
Komarov, onboard Soyuz I, had completed 16 orbits of the earth and was scheduled to reenter the atmosphere. He ran into difficulty handling the vessel and was unable to fire the rocket brakes. It took two more trips around the earth before the cosmonaut could manage reentry.
When Soyuz I reached an altitude of 23,000 feet, a parachute was supposed to deploy, bringing Komarov safely to earth. However, the lines of the chute had gotten tangled during the craft's reentry difficulties and there was no backup chute. Komarov plunged to the ground and was killed.
Earlier in 1967, the U.S. space program had experienced its own tragedy. Gus Grissom, Edward White and Roger Chafee, NASA astronauts in the Apollo program, were killed in a fire during tests on the ground.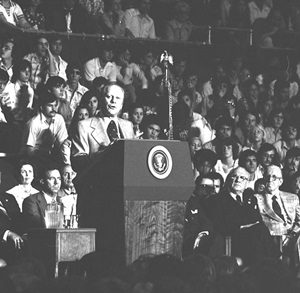 1975 – At a speech at Tulane University, President Gerald Ford said the Vietnam War was finished as far as America was concerned.
"Today, Americans can regain the sense of pride that existed before Vietnam. But it cannot be achieved by re-fighting a war." This was devastating news to the South Vietnamese, who were desperately pleading for U.S. support as the North Vietnamese surrounded Saigon for the final assault on the capital city.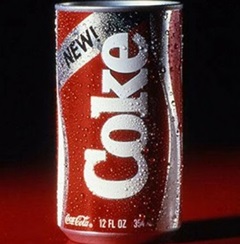 1985 – With their market share losing ground to diet soft drinks and non-cola beverages, the Coca-Cola Company took arguably one of the biggest risks in consumer goods history, announcing that it was changing the formula for the world's most popular soft drink, intending to re-energize its Coca-Cola brand and the cola category in its largest market, the United States.
The "New Coke" idea did not go over well.
By June 1985, The Coca-Cola Company was getting 1,500 calls a day on its consumer hotline. People seemed to hold any Coca-Cola employee – from security officers at company headquarters to their neighbors who worked for Coke – personally responsible for the change. Coca-Cola executives announced the return of the original formula on July 11.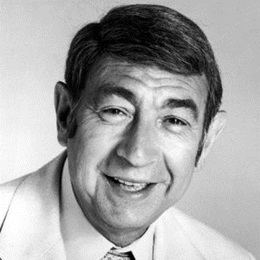 1995 – Howard Cosell, who delighted and infuriated listeners during a 30-year career as the nation's best-known and most outspoken sports broadcasters, died of a cardiac embolism at the age of 77.
Widely known for his blustery, cocksure personality, Cosell said of himself, "Arrogant, pompous, obnoxious, vain, cruel, verbose, a showoff. There's no question that I'm all of those things." To Cosell, criticism was just another form of homage. If the criticism came from other broadcasters, he always considered the source … "There's one thing about this business," he once said, "there is no place for talent. That's why I don't belong. I lack mediocrity."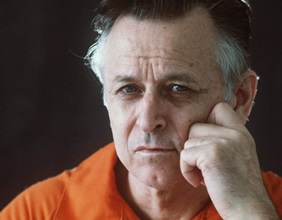 1998 – James Earl Ray, convicted for the assassination of Martin Luther King, Jr. in 1968, died at Columbia Nashville Memorial Hospital of complications due to chronic hepatitis C infection. He was 70. His body was cremated and his ashes were flown to Ireland, the home of his maternal family's ancestors.
Ray, who had confessed to the killing in 1969 but recanted it three days later, spent the remainder of his life unsuccessfully attempting to withdraw his guilty plea and secure a trial.
Prompted by the King family's acceptance of some of Ray's claims of conspiracy, United States Attorney General Janet Reno ordered a new investigation in 1998. On June 9, 2000, the United States Department of Justice released a 150-page report rejecting allegations that there was a conspiracy to assassinate King.
Compiled by Ray Lemire ©2018 RayLemire.com. All Rights Reserved.