The past remains integral to us all, individually and collectively. We must concede the ancients their place. But their place is not simply back there in a separate and foreign country; it is assimilated in ourselves, and resurrected into an ever-changing present.
~David Lowenthal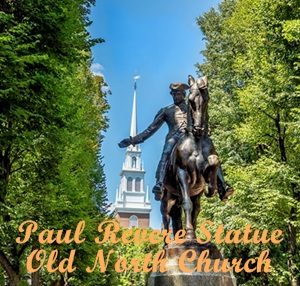 1775 – British troops marched out of Boston on a mission to confiscate the American arsenal at Concord and to capture patriot leaders Samuel Adams and John Hancock, known to be hiding at Lexington.
As the British departed, Boston patriots Paul Revere and William Dawes set out on horseback from the city to warn Adams and Hancock and to rouse the Minutemen.
They took separate routes in case one of them was captured: Dawes left the city via the Boston Neck peninsula and Revere crossed the Charles River to Charlestown by boat. As the two couriers made their way, guards in Charlestown waited for a signal from Boston informing them of the British troop movement.
As previously agreed, one lantern would be hung in the steeple of Boston's Old North Church, the highest point in the city, if the British were marching out of the city by Boston Neck, and two lanterns would be hung if they were crossing the Charles River to Cambridge.
Two lanterns were hung and the armed Minutemen set out for Lexington and Concord accordingly. Along the way, Revere and Dawes roused hundreds more, who armed themselves and set out to oppose the British.
Revere arrived in Lexington shortly before Dawes, but together they warned Adams and Hancock and then set out for Concord. Along the way, they were joined by Samuel Prescott, a young patriot who had been riding home after visiting a friend … The story continues tomorrow…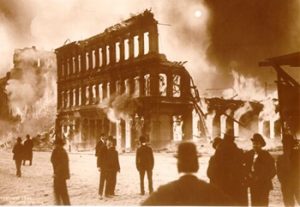 1906 – At 5:13 a.m., an earthquake estimated at close to 8.0 on the Richter scale struck San Francisco, California, killing hundreds of people as it toppled numerous buildings. The quake was caused by a slip of the San Andreas Fault over a segment about 275 miles long, and shock waves could be felt from southern Oregon down to Los Angeles.
By April 23, most fires were extinguished, and authorities commenced the task of rebuilding the devastated metropolis. 375 deaths were reported; however, hundreds of fatalities in Chinatown went ignored and unrecorded. It is now estimated that up to 3000 deaths were caused directly or indirectly by the catastrophe.
Most of the deaths occurred in San Francisco itself, but nearby cities, such as Santa Rosa and San Jose, also suffered loss of life and severe damage. In Monterey County, the earthquake permanently shifted the course of the Salinas River near its mouth. Almost 30,000 buildings were destroyed, including most of the city's homes and nearly all the central business district.

1923 – Yankee Stadium opened with the Yankees' first home game, against the Boston Red Sox. New York defeated the Sox by a score of 4–1, with Babe Ruth hitting a three-run home run into the right-field stands.
The stadium seated 58,000 but for the first game, the announced attendance was 74,217 (with another 25,000 supposedly turned away). However, Yankees business manager Ed Barrow later admitted "the numbers had been fudged" and the actual attendance was closer to 60,000.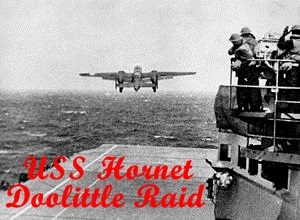 1942 – Sixteen American B-25 bombers, launched from the aircraft carrier USS Hornet 650 miles east of Japan and commanded by Lieutenant Colonel James H. Doolittle, attacked the Japanese mainland. The now-famous Tokyo Raid did little real damage to Japan but it did hurt the Japanese government's prestige and created doubt in Japan on the ability of its military leaders to defend their home islands.
Believing the air raid had been launched from Midway Island, approval was given to Admiral Isoroku Yamamoto's plans for an attack on Midway – an attack that turned into a decisive strategic defeat of the Imperial Japanese Navy by the U.S. Navy in the Battle of Midway. Doolittle was eventually awarded the Congressional Medal of Honor.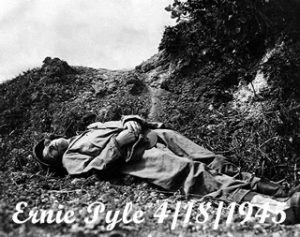 1945 – Pulitzer Prize-winning war correspondent Ernie Pyle was killed by Japanese machine-gun fire on the island of Ie Shima off the coast of Okinawa.
Extremely popular, especially with the average GI, whose life and death he reported on (American infantrymen braved enemy fire to recover Pyle's body), Pyle had been at the London Blitz of 1941 and saw action in North Africa, Italy, France, and the Pacific. A monument exists to him to this day on Ie Shima, describing him simply as "a buddy."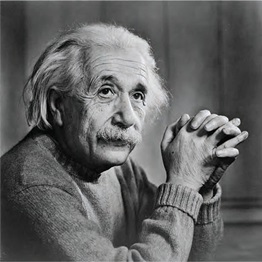 1955 – Albert Einstein, a German-born theoretical physicist who developed the theory of relativity, one of the two pillars of modern physics (alongside quantum mechanics), died at the age of 76.
Winner of the 1921 Nobel Prize in Physics, Einstein had experienced internal bleeding caused by the rupture of an abdominal aortic aneurysm. He refused surgery, saying, "I want to go when I want. It is tasteless to prolong life artificially. I have done my share. It is time to go. I will do it elegantly."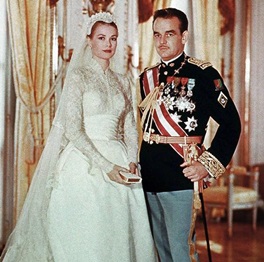 1956 – Academy Award winning actress Grace Kelly married Prince Rainier in a civil ceremony inside the throne room in the Palace of Monaco, followed by a larger religious wedding the next day.
To cap the ceremony, the 142 official titles that she acquired in the marriage (counterparts of her husband's) were formally recited … every single one of them.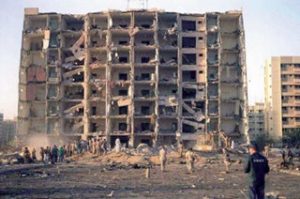 1983 – The U.S. embassy in Beirut, Lebanon, was destroyed by a car-bomb explosion that killed 63 people, including the suicide bomber and 17 Americans. The terrorist attack was carried out in protest of the U.S. military presence in Lebanon.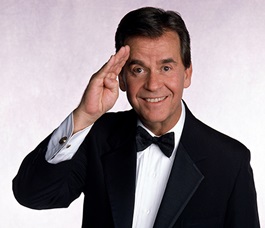 2012 – Dick Clark, TV personality and producer best known for hosting American Bandstand, died of a heart attack at the age of 82 in Santa Monica, California.
The youthful-looking Clark, dubbed "America's Oldest Teenager," also was the longtime host of the annual New Year's Rockin' Eve and headed an entertainment empire that developed game shows, awards shows, talk shows, made-for-TV movies and other programs.
Compiled by Ray Lemire ©2018 RayLemire.com. All Rights Reserved.