History is — or should be — a lesson in appreciation. History helps us keep a sense of proportion. Is life not infinitely more interesting and enjoyable when one can stand in a great historic place or walk historic ground, and know something of what happened there and in whose footsteps you walk?
~ David McCullough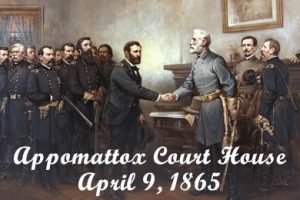 1865– Confederate General Robert E. Lee surrendered his army to Union General Ulysses S. Grant at Appomattox Court House, Virginia. That morning, Lee said, "It would be useless and therefore cruel to provoke the further effusion of blood." Grant offered generous terms. Officers could keep their sidearms, and all men would be immediately released to return home. Any officers and enlisted men who owned horses could take them home to help put crops in the field and carry their families through the next winter. Lee's starving men were also given Union rations.
Shushing a band that had begun to play in celebration, General Grant told his officers, "The war is over. The Rebels are our countrymen again."
In one of the great ironies of the war, the surrender took place in the parlor of Wilmer McClean's home. McClean had once lived along the banks of Manassas, Virginia, the site of the first major battle of the war ( First Battle of Bull Run, the name used by Union forces or First Battle Manassas, the name used by Confederate forces) in July 1861.
Seeking refuge from the fighting, McClean decided to move out of the Washington-Richmond corridor to try to avoid the fighting that would surely take place there. He moved to Appomattox Court House only to see the war end in his home. He is alleged to have said, "The war began in my front yard and ended in my front parlor."
Although there were still Confederate armies in the field, the war was officially over. Four years of bloodshed had left a devastating mark on the country: 360,000 Union and 260,000 Confederate soldiers had perished during the Civil War.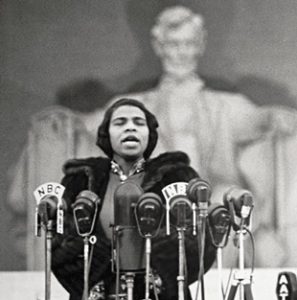 1939– On Easter Sunday, more than 75,000 people came to the Lincoln Memorial in Washington, D.C., to hear famed African-American contralto Marian Anderson give a free open-air concert.
Anderson had been scheduled to sing at Washington's Constitution Hall, but the Daughters of the American Revolution, a political organization that helped manage the concert hall, denied her the right to perform because of her race.
First Lady Eleanor Roosevelt, resigned her membership from the organization in protest, and Anderson's alternate performance at the Lincoln Memorial served greatly to raise awareness of the problem of racial discrimination in America.
There was nothing overtly political in the selection of songs Anderson performed that day before the gathered crowd and a live radio audience of millions. But the message inherent in an African American woman singing "My Country 'Tis of Thee" while standing before the shrine of America's Great Emancipator was crystal clear.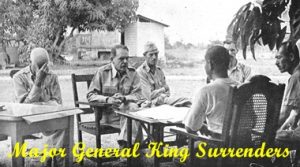 1942– Major General Edward P. King Jr. surrendered at Bataan, Philippines – against General Douglas MacArthur's orders – and 78,000 troops (66,000 Filipinos and 12,000 Americans), the largest contingent of U.S. soldiers ever to surrender, were taken captive by the Japanese.
The prisoners were immediately led 55 miles from Mariveles, on the southern end of the Bataan peninsula, to San Fernando, on what became known as the "Bataan Death March". At least 600 Americans and 5,000 Filipinos died because of the extreme brutality of their captors, who starved, beat, and kicked them on the way; those who became too weak to walk were bayoneted. Those who survived were taken by rail from San Fernando to POW camps, where another 16,000 Filipinos and at least 1,000 Americans died from disease, mistreatment, and starvation.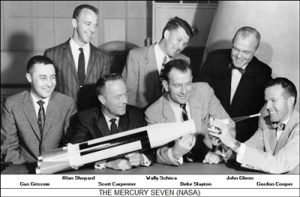 1959– The National Aeronautics and Space Administration introduced America's first astronauts to the press: Scott Carpenter, L. Gordon Cooper Jr., John H. Glenn Jr., Virgil "Gus" Grissom, Walter Schirra Jr., Alan Shepard Jr., and Donald Slayton. The seven men, all military test pilots, were carefully selected from a group of 32 candidates to take part in Project Mercury, America's first manned space program.
On May 5, 1961, Alan Shepard was successfully launched into space on a suborbital flight. On February 20, 1962, in a major step for the U.S. space program, John Glenn became the first American to orbit Earth.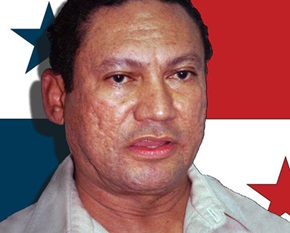 1992– A U.S. Federal Court found former Panamanian dictator Manuel Noriega guilty of drug and racketeering charges. Information about Noriega's connections to the CIA, including his relationship with Oliver North and his alleged contact with George H.W. Bush, were kept out of the trial. After the trial, Noriega appealed this exclusionary ruling by the judge to the United States Court of Appeals for the Eleventh Circuit. His appeal was denied. He was sentenced to 30 years in prison, but served only 17.
Noriega later served time in both France (money laundering) and Panama (human rights violations). He died on May 29, 2017, at the age of 83.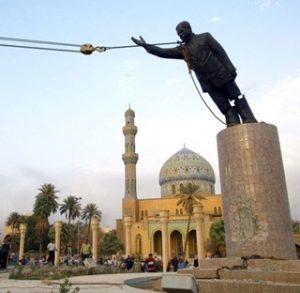 2003– After intense fighting within the city of Baghdad, U.S. forces ordered Iraqi forces to surrender or the city would face a full-scale assault. Within hours, Baghdad was formally occupied by Coalition forces but Iraqi president Saddam Hussein had vanished, and his whereabouts were at that time unknown.
Many Iraqis celebrated the downfall of Saddam by vandalizing the many portraits and statues of him. One widely publicized event was the dramatic toppling of a large statue of Saddam in Baghdad's Firdos Square.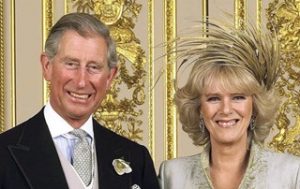 2005– Nearly eight years after Princess Diana's death in a car crash was mourned the world over, Prince Charles, her widower and heir to the British throne, wed his longtime mistress, Camilla Parker Bowles. The marriage, a private civil ceremony, took place at Windsory Guildhall, 30 miles outside of London.
After the civil ceremony, which the queen did not attend, Archbishop of Canterbury Rowan Williams blessed the union on behalf of the Church of England in a separate blessing ceremony. An estimated 750 guests attended the ceremony, which was held at St. George's Chapel in Windsor and was attended by both of Charles' parents, Queen Elizabeth II and Prince Philip.
Compiled by Ray Lemire ©2018 RayLemire.com. All Rights Reserved.