The late Bernard 'Buddy' Rich (jazz drummer) was born in 1917
The late Frankie Lymon ('Why Do Fools Fall In Love') was born in 1942
The late Gus Dudgeon (legendary producer for Elton John and the inventor of audio sampling) was born in 1942

The late Dewey Martin (born Walter Milton Dwayne Midkiff – drummer with Buffalo Springfield – 'For What It's Worth') was born in 1940
Rock Factoid: Long before he joined Buffalo Springfield, Martin worked as a drummer for many of country music's greatest artists, including Carl Perkins, The Everly Brothers, Patsy Cline, Charlie Rich, Faron Young and Roy Orbison.
The late Marc Bolan (born Marc Feld – guitarist and vocalist with glam-rock T. Rex – 'Bang A Gong') was born in 1947
Trey Anastasio (guitarist/vocalist with Phish – 'Down With Disease') is 50
Sylvia Peterson (The Chiffons – 'He's So Fine') is 68
Marilyn McCoo Davis (The Fifth Dimension – 'Stoned Soul Picnic') is 71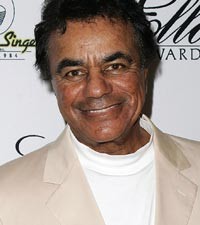 Johnny Mathis ('Chances Are') is 79
Rock Factoid: 'Johnny's Greatest Hits' was released in 1958. The album spent an unprecedented 490 weeks through 1967 (nine and a half years) on the Billboard top 100 album charts.
That "record" (pardon the pun) was broken by Pink Floyd's epic 1973 album, 'Dark Side Of The Moon'.
The New Musical Express Top 20 singles chart was published in England for the first time. Frank Sinatra's 'Three Coins In The Fountain' held the top spot—1954
James Dean died in a California car crash at the age of 24—1955
Elvis Presley recorded 'Anyone (Could Fall In Love With You)', 'Catchin' On Fast' and 'Kissin' Cousins'—1963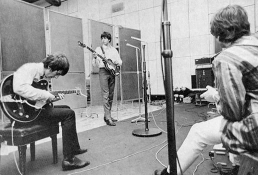 The Beatles recorded 'No Reply' and 'Every Little Thing'—1964
Rock Factoid: Paul McCartney thought 'Every Little Thing' would be the follow-up single to 'A Hard Day's Night'. "It was something I thought was quite good but it became an album filler rather than the great almighty single." … Paul McCartney
Rock Factoid #2: "'No Reply' was my song. Dick James, the publisher, said, 'That's the first complete song you've written where it resolves itself.' You know, with a complete story. It was my version of 'Silhouettes'. I had that image of walking down the street and seeing her silhouetted in the window and not answering the phone." … John Lennon
Donovan made his U.S. TV debut on ABC's Shindig—1965
The Kinks released 'See My Friends' / 'Never Met A Girl Like You Before' in the U.S.—1965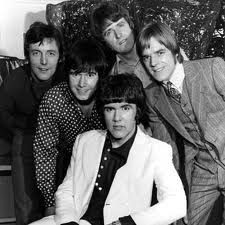 The Dave Clark Five released 'Nineteen Days' / 'Sitting Here Baby' in the U.S.—1966
Rock Factoid: 'Nineteen Days', which reached #48 in the U,S,, was one of only two singles released in America that was co-written (with Dave Clark) by saxophonist Denis Peyton.
BBC Radio 1 was launched in England. The Move's 'Flowers In The Rain' was the first record played—1967
Yes performed their first concert with Rick Wakeman as their keyboardist at the De Monfront Hall in Leicester, U.K.—1971
Mary Ford (born Colleen Summers – 'How High The Moon' with then-husband Les Paul) died (complications from diabetes) —1977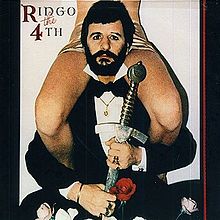 Ringo Starr released 'Ringo The 4th'—1977
Rock Factoid: On his previous three albums, Starr had depended on superstar friends, a few oldies, and a lighthearted attitude to get him through. The commercial disappointment of 1976's 'Ringo's Rotogravure' seemed to dictate a change of approach. 'Ringo The 4th' attempted to be a slick '70s soul-pop effort with hints of disco. The album was a major flop, peaking at #162 in the U.S. and didn't chart at all in England. Starr was dropped by Atlantic Records following the release.
Idle Thought: The album cover probably didn't help … and the back cover was even worse.
Foghat performed a benefit concert at The Palladium in New York City to help the New York Public Library buy a collection of rare blues albums for its Rodgers and Hammerstein Archives of Recorded Sound—1977
Bruce Springsteen released the 'Nebraska' album—1982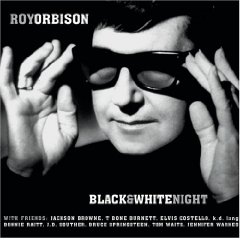 Roy Orbison filmed Roy Orbison and Friends; A Black and White Night at the Coconut Grove in Los Angeles—1987
Rock Factoid: The "friends" included Bruce Springsteen, James Burton, Elvis Costello, Glen D. Hardin, Tom Waits, Jackson Browne, J.D. Souther, Jerry Scheff, Ronnie Tutt, Steven Soles, Bonnie Raitt, k.d. lang and Jennifer Warnes.
Bette Midler was awarded $400,000 in a lawsuit against the Ford Motor Company over their use of a Midler sound alike in their commercials—1989
George Harrison and David Crosby made guest appearances on the season premiere of The Simpsons fifth season, which featured Homer Simpson in a barbershop quartet that made several references to The Beatles throughout the episode—1993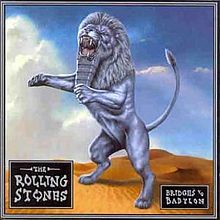 The Rolling Stones released the 'Bridges To Babylon' album—1997
Rock Factoid: 'Anybody Seen My Baby?', one of the songs on the album, was released as a single. Written by Mick Jagger and Keith Richards, the song also carries writing credits for k.d. lang and Ben Mink, because the songs' chorus sounds strikingly similar to lang's 1992 hit song 'Constant Craving'.
Rock Factoid #2: Jagger and Richards claimed to have never heard the song before, only having discovered the similarity prior to the song's release. The two gave Lang credit, along with her co-writer Mink, to avoid any lawsuits.
Fleetwood Mac's reunion show at the Continental Airlines Arena in East Rutherford, N.J., grossed a house record of $1,094,520—1997
Ronnie Dawson ('Rockin' Bones' and the session drummer on Paul & Paula's 'Hey Paula') died (cancer)—2003
Marv Taplin (guitarist/songwriter with The Miracles – 'The Tracks Of My Tears') died (cause unknown)—2011
Compiled by Ray Lemire ©2014 RayLemire.com. All Rights Reserved.
You may not, under any circumstances, reproduce, record, publish, republish, post, transmit, publicly display, publicly exhibit or distribute any articles or photographs on RayLemire.com without obtaining the express written consent of the Operator.