John Coltrane (legendary jazz saxophonist – 'A Love Supreme') was born in 1926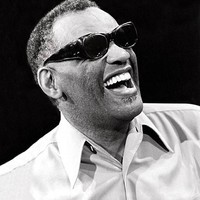 The late Ray Charles ('Georgia On My Mind') was born in 1930
Rock Factoid: Charles was nominated for 18 Grammy Awards. He won 12 times.
Rock Factoid #2: Charles was one of the original inductees to the Rock & Roll Hall of Fame at its inaugural ceremony in 1986.
The late Roy Buchanan (pioneer of the Telecaster sound and one of the world's greatest blues-rock guitarists – 'Chicago Smokeshop') was born in 1939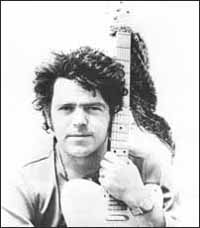 The late Tim Rose ('Morning Dew') was born in 1940
Rock Factoid: In 1962, Rose was in a folk group called The Singing Strings which included Scott McKenzie of 'San Francisco (Be Sure To Wear Flowers In Your Hair') fame.
Rock Factoid #2: Rose was later a member of the folk trio, The Big 3, which included Cass Elliot long before her Mamas & Papas years.
Rock Factoid #3: 'Morning Dew' was a post-apocalyptic folk-rock song written by Canadian singer Bonnie Dobson in 1962. Fred Neil heard Dobson's song and re-arranged it to suit his own style. Tim Rose heard Neil's version and then recorded his own in 1966, adding himself as co-writer. Through a loophole in U.S. copyright law, Rose was able to claim royalties. It wasn't the last time – as you will discover later this week – that Rose would find himself embroiled in a songwriting dispute.
The late John Banks (drummer with The Merseybeats – 'I Think Of You') was born in 1943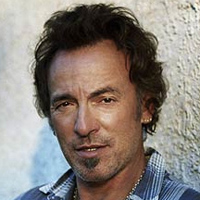 Bruce Springsteen ('Born To Run') is 65
Rock Factoid: Springsteen has won 20 Grammy Awards, an Academy Award for Best Original Song ('Streets Of Philadelphia'), is an inductee in the Rock & Roll Hall of Fame and the Songwriters Hall of Fame, and is a Kennedy Center Honors recipient.
Rock Factoid #2: Springsteen has reached #1 on the Billboard album charts nine times, but he has never had a #1 single on the Billboard Hot 100.
Jerry Corbetta (Sugarloaf – 'Don't Call Us, We'll Call You') is 66
Neal Smith (drummer with Alice Cooper – 'I'm Eighteen') is 67
Paul Petersen ('My Dad' and a cast member of The Donna Reed Show) is 69

Steve Boone (bass guitar/keyboards with The Lovin' Spoonful – 'Summer In The City') is 71
Rock Factoid: There are times rock and roll really pays off. Following the Lovin Spoonfuls breakup in 1969, Boone bought a 56-foot sailboat and spent the next three years writing songs and sailing the Caribbean.
Wallace Scott (lead singer with The Whispers – 'Rock Steady') is 71
Walter Scott (harmony vocals with The Whispers – 'It's a Love Thing') is 71
Julio Iglesias (born Julio José Iglesias de la Cueva – 'When I Fall In Love') is 71
The Spaniels recorded 'Goodnight, Sweetheart, Goodnight'—1953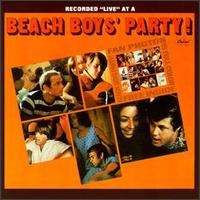 The Beach Boys recorded 'You've Got To Hide Your Love Away', 'The Times They Are-A-Changin' and 'Barbara Ann' for the 'Beach Boys Party' album—1965
Rock Factoid: All of the songs were recorded in a music studio, even though the album was issued as an impromptu live recording of a party.
The Rolling Stones released 'Have You Seen Your Mother, Baby, Standing In The Shadow?' / 'Who's Driving Your Plane'—1966
The Beach Boys recorded 'With A Little Help From My Friends' (with Bruce Johnston on lead vocal) but it wasn't released until 1983 as part of the 'Rarities' album—1967
The Mothers of Invention made their British concert debut at Royal Albert Hall—1967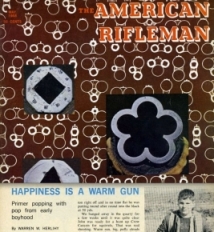 The Beatles began the three-day process of recording 'Happiness Is A Warm Gun'—1968
Rock Factoid: "George Martin showed me the cover of a magazine (American Rifleman) that said, 'Happiness is a warm gun'. I thought it was a fantastic, insane thing to say. A warm gun means you've just shot something." … John Lennon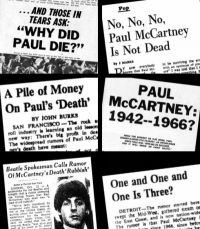 Paul McCartney was first rumored to be dead in an article in Northern Star, the Northern Illinois University newspaper, under the headline "Clues Hint At Beatle Death"—1969
Rock Factoid: The article claimed McCartney had been killed in a car crash in 1966 and had been replaced by a look-alike. Russell Gibb of WKNR-FM in Detroit picked up on the claim and the story went worldwide. By late October 1969, the hoax was so well entrenched that McCartney came out of seclusion at his Scottish farm to deny the story. When McCartney was asked to comment by a reporter visiting his farm, he replied, "Do I look dead? I'm as fit as a fiddle."
Rock Factoid #2: That didn't stop the frenzy. Other articles said clues to McCartney's death could be found among the lyrics and artwork of The Beatles' recordings. Clue hunting proved infectious and within a few weeks had become an international phenomenon.
Idle Thought: And for some conspiracy theorists, it still is. Paul isn't dead. Deal with it.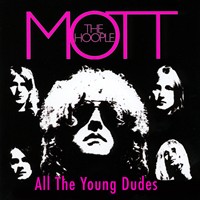 Mott The Hoople released 'All The Young Dudes'—1972
Rock Factoid: The song originated after David Bowie ran into Mott the Hoople's bassist Peter Watts and learned that the band was ready to split due to continued lack of commercial success. When the group rejected his first offer of a composition, 'Suffragette City' (which Bowie then recorded himself), Bowie wrote 'All The Young Dudes' specially for them.
Rock Factoid #2: Wondering where the group name originated? It came from the Willard Manus novel Mott the Hoople about an eccentric who works in a circus freak show.
Elvis Presley recorded 'I Miss You' and 'Are You Sincere'—1973
Robbie McIntosh (drummer with the Average White Band – 'Pick Up The Pieces') died (after he inhaled a white powder thought to be cocaine but was actually pure heroin)—1974
The Rolling Stones released a double live album ('Love You Live')—1977
Foreigner released the 'Double Vision' album—1980
Bob Marley collapsed on stage during a concert at the Stanley Theater in Pittsburgh, PA. It would be his final onstage performance. He died of cancer nine months later—1980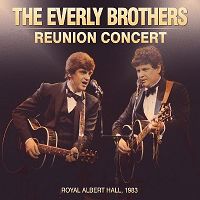 The Everly Brothers, one of the most influential duos in the history of rock and roll, reunited at a concert at Royal Albert Hall in London, playing together for the first time in a decade—1983
Rock Factoid: Following their bitter onstage split in 1973, the brothers had not spoken to each other, except at their father's funeral in 1975, until British guitarist Albert Lee (who became the reunion concert's musical director) became the intermediary, helping to bridge the "difficult" personal divide.
Rock Factoid #2: The reunion concert spawned a well-received live album and video; it was also broadcast on cable television in 1984. The brothers then returned to the studio as a duo for the first time in over a decade, resulting in the album 'EB '84', produced by Dave Edmunds. The album's lead single, 'On The Wings Of A Nightingale' (written by Paul McCartney), returned them to the United States Hot 100 and UK chart.
Rock Factoid #3: In 1986, the Everly Brothers were among the first 10 artists inducted into the Rock and Roll Hall of Fame. In 1997 the brothers were awarded the Grammy Lifetime Achievement Award. In addition, they were inducted into the Country Music Hall of Fame in 2001 and the Vocal Group Hall of Fame in 2004.
Claiming he, "didn't like the complications that became such a part of daily life in Guns N' Roses," guitarist Izzy Stradlin quit Guns N' Roses—1991
The Rolling Stones' Bridges To Babylon Tour opened in Chicago—1997
Elvis Presley was posthumously inducted into the Country Music Hall of Fame—1998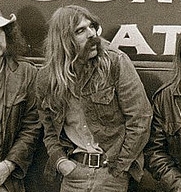 Roy Michaels (vocals and bass guitar with Cat Mother & The All Night Newsboys – 'Good Old Rock 'N' Roll') died (cancer)—2008
Rock Factoid: Before forming Cat Mother, Michaels had played with Stephen Stills and Richie Furay in the Au Go Go Singers, prior to Stills and Furay forming Buffalo Springfield.
Rock Factoid #2: Cat Mother's single and album, 'The Street Giveth And The Street Taketh Away', were both produced by Jimi Hendrix and recorded at his Electric Ladyland Studio.
Rock Factoid #3: Cat Mother scored a prestigious spot on the bill of the Toronto Rock and Roll Revival in 1969. That historic concert – which included Chuck Berry, Little Richard, The Doors, and John Lennon and The Plastic Ono Band – was the gig that convinced Lennon to quit The Beatles.
Heart guitarist Nancy Wilson filed for divorce from her husband of 22 years, film director Cameron Crowe. Wilson cited irreconcilable differences as the reason for the divorce—2010
Compiled by Ray Lemire ©2014 RayLemire.com. All Rights Reserved.
You may not, under any circumstances, reproduce, record, publish, republish, post, transmit, publicly display, publicly exhibit or distribute any articles or photographs on RayLemire.com without obtaining the express written consent of the Operator.