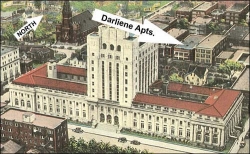 The late Eddie Cochran ('Summertime Blues') was born in 1938
Rock Factoid: In 1953, the Cochran family lived in apartment #6 at the Darliene Apartments, 215 N.W. 4th Street in Oklahoma City. The building stood at what is now the site of the Oklahoma City National Memorial, former site of the Alfred P. Murrah Building, where 168 people lost their lives in the Oklahoma City Bombing.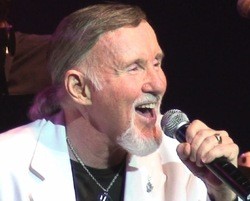 The late Alan O'Day ('Undercover Angel') was born in 1940
Rock Factoid: O'Day wrote 'Angie Baby' for Helen Reddy and 'Rock And Roll Heaven' for The Righteous Brothers.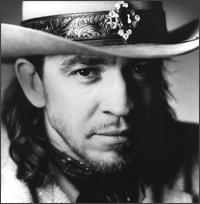 The late Stevie Ray Vaughan (guitarist/singer – 'Pride And Joy') was born in 1954
Idle Thought: Can anyone give me one good reason why Stevie Ray Vaughan has not been inducted into the Rock & Roll Hall of Fame?
Kevin Richardson (The Backstreet Boys – 'I Want It That Way') is 43
Gwen Stefani (lead singer with No Doubt – 'Don't Speak') is 45
Tommy Lee (born Thomas Lee Bass – drummer with Mötley Crüe – 'Dr. Feelgood') is 52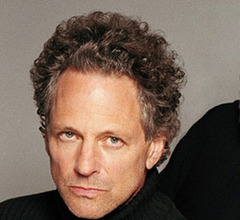 Lindsey Buckingham (guitarist/singer with Fleetwood Mac – 'Go Your Own Way' and 'Trouble' as a solo artist) is 65
Rock Factoid: "I've always believed that you play to highlight the song, not to highlight the player. The song is all that matters. There are two ways you can choose to go. You can try to be someone like Eddie Van Halen, who is a great guitarist, a virtuoso. Yet he doesn't make good records because what he plays is totally lost in the context of this band's music.
Then there are guitar players like Chet Atkins, who weren't out there trying to show themselves off as guitarists per se, but were using the guitar as a tool to make good records. I remember loving Chet's work when I was a kid, but it was only later, when I really listened to his guitar parts, that I realized how much they were a part of the song's fabric, and how much you'd be going 'Oh, that song just isn't working' if they weren't there." … Lindsey Buckingham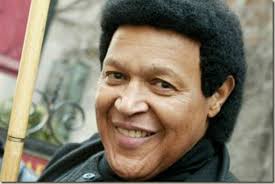 Chubby Checker (born Ernest Evans – 'The Twist') is 73
Rock Factoid: In 2002, Checker protested to the Rock and Roll Hall of Fame that 'The Twist' was not receiving sufficient airplay, claiming that "'Peppermint Twist' (Joey Dee & The Starliters) receives more airplay."
Rock Factoid #2: But at the same time, Checker says, "In a way, 'The Twist' really ruined my life. I was on my way to becoming a big nightclub performer, and 'The Twist' just wiped it out. It got so out of proportion. No one ever believes I have talent."
The Victor Talking Machine Company was incorporated—1901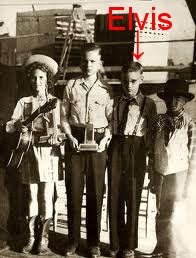 Ten-year-old Elvis Presley made his singing debut—1945
Rock Factoid: Elvis, dressed in a cowboy suit, stood on a chair at a microphone and sang Red Foley's 'Old Shep' in a youth talent contest at the Mississippi-Alabama Fair and Dairy Show held in Tupelo.
Rock Factoid #2: He finished second and won five dollars and free admission to all the rides at the fair.
The Biggest Show of Stars 1958 Tour appeared at the Worcester Auditorium in Worcester, Massachusetts. Featured artists included Buddy Holly, Frankie Avalon, Bobby Darin, The Olympics, Dion & The Belmonts, Bobby Freeman, The Elegants, Jimmy Clanton, The Danleers, Duane Eddy, Clyde McPhatter and The Coasters—1958
The Beatles performed at the Indra Club in Hamburg, West Germany. It was be their final night at the club, which was closed by the police when neighbors complained about the noise. The Beatles moved to Bruno Koschmider's top club, The Kaiserkeller—1960
The Beach Boys recorded 'Luau', 'Lavender' and 'Surfin'—1961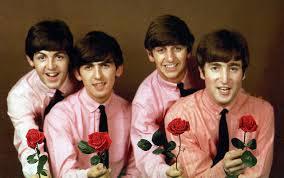 The Beatles recorded 'Little Child' with John Lennon as the primary vocalist—1963
Rock Factoid: "It was a work song, nothing special. 'Little Child' was another effort to write a song for Ringo, but he passed on it." … John Lennon
Rock Factoid #2: "Certain songs were inspirational and you just followed that. Certain other songs were 'Right, come on, two hours, song for Ringo for the album.' Ringo didn't have a large vocal range. It had to be something he could get behind. If he couldn't mentally picture it, you were in trouble. He couldn't get behind that one." … Paul McCartney
Manfred Mann became the first Western rock band to play behind the 'Iron Curtain' when they played in the USSR—1965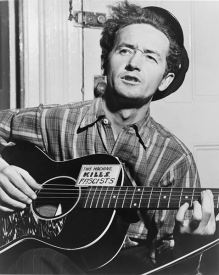 Woody Guthrie ('This Land Is Your Land') died (Huntington's Chorea)—1967
Rock Factoid: In his recordings in the early 1940s, Guthrie included the following "Copyright Warning": "This song is Copyrighted in U.S., under Seal of Copyright # 154085, for a period of 28 years, and anybody caught singin it without our permission, will be mighty good friends of ourn, cause we don't give a dern. Publish it. Write it. Sing it. Swing to it. Yodel it. We wrote it, that's all we wanted to do."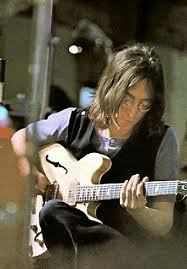 The Beatles (with John Lennon on lead guitar) recorded 'Honey Pie'—1968
Rock Factoid: "John played a brilliant solo on 'Honey Pie' – sounded like Django Reinhardt or something. It was one of them where you just close your eyes and happen to hit all the right notes… sounded like a little jazz solo." … George Harrison
Rock Factoid #2: At the end of the session, McCartney added a brief vocal overdub: the line "Now she's hit the big time." It was fed through an audio compressor to reduce the treble and bass. The sound of an old phonograph record was also overdubbed to give added period authenticity.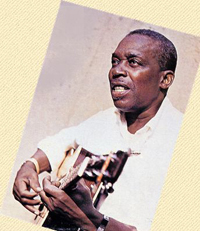 Nehemiah Curtis 'Skip' James (extraordinary delta blues singer/guitarist/pianist/songwriter – 'Devil Got My Woman') died (cancer)—1969
Rock Factoid: Cream covered the James written 'I'm So Glad' on their debut album.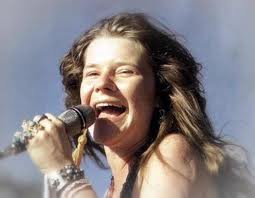 Janis Joplin visited Sunset Sound Recorders to listen to the instrumental track of a song her band had recorded one week earlier—1970
Rock Factoid: She and producer Paul Rothchild agreed she would record the vocal the following day. The next day, Janis Joplin was dead, killed by an overdose of heroin.
Rock Factoid #2: The name of the song Joplin was to record? 'Buried Alive In The Blues'.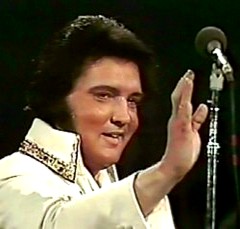 The posthumous 'Elvis In Concert' TV special aired on CBS—1977
Rock Factoid: A misconception regarding 'Elvis In Concert' stems from a statement broadcast by Presley's father, Vernon Presley at the program's conclusion (and also included on the soundtrack album) in which he said viewers had just witnessed Elvis' final performance. In fact, Presley made five more concert appearances before giving what would be his final show in Indianapolis, Indiana, on June 26.
Rock Factoid #2: Music critic William Ruhlmann said, "it's hard to believe that CBS-TV actually would have aired the show if Presley hadn't died two months later, making it his final recorded performance (and making his records big sellers again)."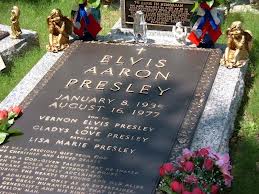 Beginning late in the evening of October 2 – and finishing the morning of October 3, the bodies of Elvis Presley and his mother were moved from their original places of burial at Forest Hill Cemetery and reburied side by side on the grounds of Graceland—1977
Bob Welch released 'Sentimental Lady'—1977
Members of Aerosmith bailed thirty fans out of jail after they were arrested for smoking pot during an Aerosmith concert at the Fort Wayne Coliseum in Fort Wayne, IN—1978
Seventeen years into their career, The Kinks performed at Madison Square Garden for the first time—1981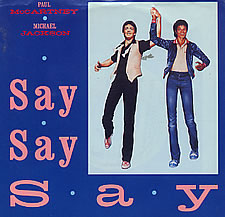 Paul McCartney and Michael Jackson released 'Say Say Say'—1983
Rock Factoid: In 1982, while recording the song together in London, Michael briefly lived with Paul and Linda McCartney. After dinner one night, Paul showed Jackson a thick leather book from a shelf which listed every song right that he had purchased in the previous decade. Paul bragged that in the last year alone, he had made over $40 million in royalties. Michael looked at him and said, "Some day I'm gonna own your songs". Paul just laughed.
Rock Factoid #2: Michael definitely was not joking. When Jackson's lawyer John Branca got wind that ATV Music Publishing (owners of the Beatles catalogue) was for sale in 1984, he approached Michael about making an offer, and together they prepared an offer that was likely to scare everyone off: $47.5 million. When the deal closed in 1985, Michael Jackson had gained control of the publishing rights to every Beatles song.
Imagine – The Film premiered in Hollywood—1988
Keith Richards released his 'Talk Is Cheap' solo album—1988
Sinead O'Connor tore up a picture of Pope John Paul II during her appearance on Saturday Night Live—1992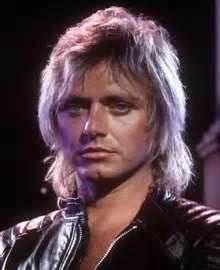 Ben Orr (bass guitar/singer with The Cars – 'Drive') died (pancreatic cancer)—2000
Darryl DeLoach (original lead singer with Iron Butterfly – 'Possession') died (liver cancer)—2002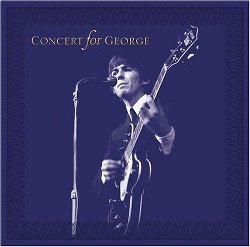 The Concert For George (film of the George Harrison tribute concert) premiered—2003
Kathi McDonald (lead singer with Big Brother & The Holding Company after Janis Joplin left – 'How Hard It Is') died (cause unknown)—2012
Albert Crump (The Heartbeats – 'Down On My Knees') died (lung and kidney cancer)—2012
Compiled by Ray Lemire ©2014 RayLemire.com. All Rights Reserved.
You may not, under any circumstances, reproduce, record, publish, republish, post, transmit, publicly display, publicly exhibit or distribute any articles or photographs on RayLemire.com without obtaining the express written consent of the Operator.