"If you find that these men or that each of them is not guilty of this conspiracy, it would be as true to say that there was no night time release from jail by Cecil Price, there were no white knights, there are no young men dead, there was no murder. If you find that these men are not guilty, you will declare the law of Neshoba County to be the law of the State of Mississippi."
~Closing Statement by John Doar
Lead Prosecutor
The Mississippi Burning Trial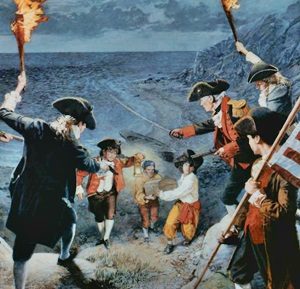 1790 – In a roundabout way, the United States Coast Guard was formed.
The United States Revenue Cutter Service was established by an act of Congress on the recommendation of Secretary of the Treasury Alexander Hamilton to serve as an armed customs enforcement service.
Hamilton assigned revenue cutters to the East Coast's ten major seaports, allowing for import tariff collection, critically important to the economic viability of the nation.
They also, as shown above, patrolled the seas and coastlines looking for and seizing contraband treasure.
As time passed, the service gradually gained missions either voluntarily or by legislation, including those of a military nature. It was generally referred to as the Revenue-Marine until 1894, when it was officially renamed the Revenue Cutter Service.
On January 28, 1915, the service was merged by an act of Congress with the United States Life-Saving Service to form the United States Coast Guard.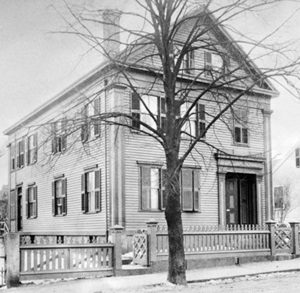 1892 – Andrew and Abby Borden, elderly residents of Fall River, Massachusetts, were found bludgeoned to death in their home.
Lying in a pool of blood on the living room couch, Andrew's face had been nearly split in two. Abby was found upstairs with her head smashed to pieces.
The Bordens, who were considerably wealthy, lived with their two unmarried daughters, Emma and Lizzie. Since Lizzie was the only other person besides the housekeeper who was present when the bodies were found, suspicion soon fell upon her. Because of the sensational nature of the murders, the trial attracted attention from around the nation.
Despite the fact that fingerprint testing was already becoming commonplace in Europe at the time, the police were wary of its reliability, and refused to test for prints on the murder weapon – a hatchet – found in the Borden's basement.
The prosecution tried to prove that Lizzie had burned a dress similar to the one she was wearing on the day of the murders and had purchased a small axe the day before.
But the jury took only 90 minutes to decide that she, as a devout Christian woman, "could never have committed such a heinous crime."
WARNING! This video is VERY graphic…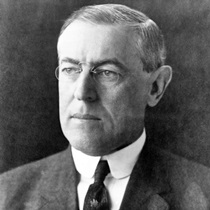 1914 – In response to the German invasion of Belgium, Belgium and the British Empire declared war on Germany.
The United States declared its neutrality. President Woodrow Wilson pledged that America would be "impartial in thought as well as in action."
The American neutrality would remain in effect until April 1917, after several ships carrying Americans had been sunk by the German navy.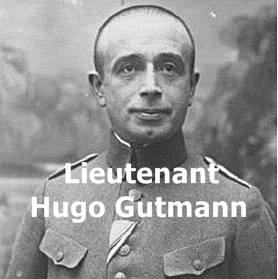 1918 – Lance Corporal Adolf Hitler received the Iron Cross First Class for bravery on the battlefield.
The medal – typically reserved for commissioned officers and rarely for corporals – was awarded based on the recommendation of his Jewish superior, Lieutenant Hugo Gutmann.
Hitler wore the medal throughout the remainder of his life, including while serving as Fuhrer of Nazi Germany.
Whatever Became of Lieutenant Gutmann?
In the autumn of 1933, Gutmann applied for a veterans war pension, which was granted, but in 1935, after the passing of the Nuremberg Laws, he lost his German citizenship and was formally discharged from the veteran rolls of the army, but still continued to receive a pension, possibly due to Hitler's influence.
In 1938, Gutmann was arrested by the Gestapo, but released as a result of the influence of SS personnel who knew his history. In 1939, Gutmann and his family left for Belgium as World War II was beginning. In 1940 he migrated to the United States.
Gutmann died in San Diego, CA on June 22, 1962.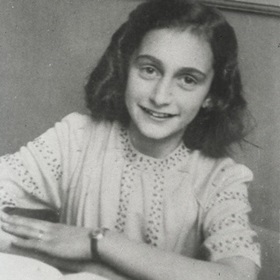 1944 – Anne Frank, a German-born Jewish girl, and her family, who had been hiding in German-occupied Holland, were found by the Gestapo and transported to various concentration camps.
She died of typhus at the Auschwitz concentration camp, in March 1945, not long before the camp was liberated by the Allies. The young girl's diary of her time in hiding was found after her death and published.
The Diary of Anne Frank remains one of the most moving testimonies to the invincibility of the human spirit in the face of inhuman cruelty.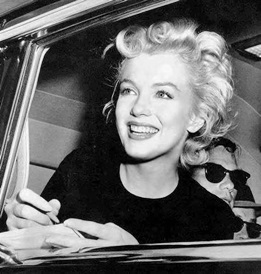 1962 – Actress Marilyn Monroe died from what Chief Coroner Theodore Curphey classified as a "probable suicide."
She was 36.
Her housekeeper Eunice Murray was staying overnight at Monroe's home and awoke at 3:00 a.m. on August 5, sensing that something was wrong. She saw light from under Monroe's bedroom door, but was unable to get a response and found the door locked.
Murray then called Monroe's psychiatrist, Dr. Ralph Greenson, who arrived at the house shortly after and broke into the bedroom through a window to find Monroe dead in her bed.
Monroe's physician, Dr. Hyman Engelberg, arrived at around 3:50 a.m. and pronounced her dead at the scene.
The police were not called until 4:30 a.m.
Based on the advanced state of rigor mortis at the time her body was discovered, it was estimated that she had died between 8:30 and 10:30 p.m. on August 4.The toxicological analysis concluded that the cause of death was acute barbiturate poisoning.
She was a top-billed actress for only a decade, but her films grossed $200 million (equivalent to $2 billion today) by the time of her death.
She is often recalled for her roles as the "dumb blonde" in films such as The Seven Year Itch, Gentlemen Prefer Blondes, and the iconic Some Like It Hot – for which she won the Golden Globe Award for Best Actress / Comical or Musical – but Monroe had her share of dramatic roles, appearing in Bus Stop, Niagara and The Misfits – her final film role.
Idle Thought: Yeah, I know all about the conspiracy theories surrounding her death but this is a history lesson, not a "speculation" site.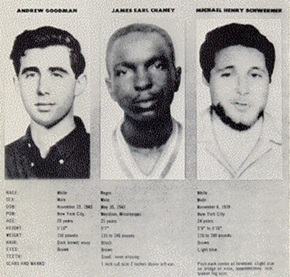 1964 – The remains of three civil rights workers whose disappearance on June 21 garnered national attention were found buried in an earthen dam near Philadelphia, Neshoba County, Mississippi.
Michael Schwerner and Andrew Goodman, both white New Yorkers, had traveled to heavily segregated Mississippi in 1964 to help organize civil rights efforts on behalf of the Congress of Racial Equality (CORE).
The third man, James Chaney, was a local African American man who had joined CORE in 1963. The disappearance of the three young men led to a massive FBI investigation that was code-named MIBURN, for Mississippi Burning.
Four months later, nineteen men were indicted by the U.S. Justice Department for violating the civil rights of Schwerner, Goodman, and Chaney (charging the suspects with civil rights violations was the only way to give the federal government jurisdiction in the case).
After nearly three years of legal wrangling, in which the U.S. Supreme Court ultimately defended the indictments, the men – including Deputy Sheriff Cecil Price – went on trial in Jackson, Mississippi.
An all-white jury found seven of the men guilty. Nine were acquitted, and the jury deadlocked on three others. The mixed verdict was hailed as a major civil rights victory, as no one in Mississippi had ever before been convicted for actions taken against a civil rights worker.
In December, U.S. District Judge William Cox, an ardent segregationist, sentenced the men to prison terms ranging from three to 10 years. After sentencing, he said, "They killed one n*****, one Jew, and a white man. I gave them what I thought they deserved."
None of the convicted men served more than six years behind bars.
Postscript: On June 21, 2005, the forty-first anniversary of the three murders, Edgar Ray Killen, was found guilty of three counts of manslaughter.
At eighty years of age and best known as an outspoken white supremacist and part-time Baptist minister, he was sentenced to 60 years in prison.
He died in 2018.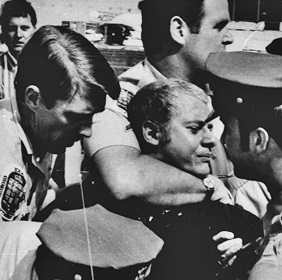 1972 – Arthur Bremer was convicted for the attempted assassination of Alabama Governor (and presidential candidate) George Wallace in May 1972. He was sentenced to 63 years in prison.
According to 1997 parole records, psychological testing indicated releasing him would be risky. He argued in his June 1996 hearing that "Shooting segregationist dinosaurs wasn't as bad as harming mainstream politicians."
Bremer was released from prison on November 9, 2007, at the age of 57, having served 35 years of his original sentence. His probation ends in 2025.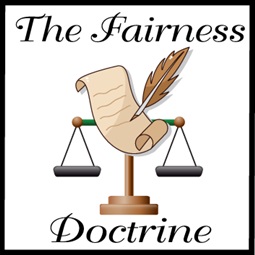 1987 – The Federal Communications Commission voted to rescind the Fairness Doctrine, which required radio and TV stations to present balanced coverage of controversial issues.
The fairness doctrine had two basic elements: It required broadcasters to devote some of their airtime to discussing controversial matters of public interest, and to air contrasting views regarding those matters.
Stations were given wide latitude as to how to provide contrasting views: It could be done through news segments, public affairs shows, or editorials. The doctrine did not require equal time for opposing views but required that contrasting viewpoints be presented.
The demise of this FCC rule is considered by some to be a contributing factor for the rising level of party polarization in the United States.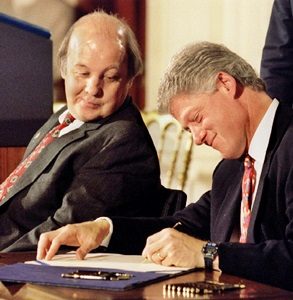 2014 – James Brady died at the age of 73. His death was ruled a homicide, caused by a shooting 33 years earlier.
The former White House Press Secretary under President Ronald Reagan, his service was cut short on March 30, 1981, during an assassination attempt against the president. In addition to Reagan, Brady and two law enforcement officers were shot.
The bullet damaged the right section of Brady's brain, paralyzing his left arm, weakening his left leg, damaging his short-term memory and impairing his speech.
Although he never returned to his position after the shooting, he kept the title of Press Secretary for the remainder of President Reagan's presidency.
On November 30, 1993, President Bill Clinton, as shown above, signed the Brady Bill into law. Brady Background Checks are required on all handgun purchases from federally licensed firearm dealers.
In 1996, Brady received the Presidential Medal of Freedom from Clinton, the highest civilian award in the United States. On February 11, 2000, Clinton officially named the White House Press Briefing Room "The James S. Brady Press Briefing Room" in his honor.
The video below says Brady was survived by his wife, Sarah. A prominent advocate for gun control in the U.S., she passed away in April 2015.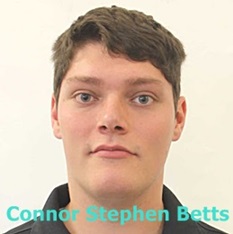 2019 – Connor Stephen Betts, 24, fatally shot nine people – including his sister – and wounded 17 others near the entrance of the Ned Peppers Bar in the Oregon District of Dayton, Ohio.
An additional ten persons were injured by other causes, bringing the total number of wounded to 27.
The rampage came only 12 hours after another mass shooting in El Paso, Texas, where 23 people were killed.
At 1:05 a.m., eyewitnesses reported that a man had opened fire at the entrance of Ned Peppers Bar. He was carrying a firearm that included part of a semi-automatic Anderson Manufacturing AM-15 (based on the AR-15) in a pistol configuration with a shortened barrel, and equipped with a 100-round drum magazine.
Betts fired 41 rounds into the crowd in less than 30 seconds.
Twenty seconds after the shooting began, law enforcement officers already on the scene engaged the shooter. Within 32 seconds after the first shots were fired, Betts was shot dead just steps outside the crowded bar.
An autopsy report showed that Betts was hit with 30 rounds.


Compiled by Ray Lemire ©2005-2021 RayLemire.com. / Streamingoldies.com. All Rights Reserved.