"Oh, that piano, it was magnificent. Words cannot describe the pleasure of listening back to the final mix of 'Hey Jude' on four giant Tannoy speakers which dwarfed everything else in the room."
~Paul McCartney
Trident Studios was a British recording facility located at 17 St. Anne's Court in London's Soho district between 1968 and 1981. In mid-1968, Trident Studios were among the first in the UK to use Dolby noise reduction, and employ an eight-track reel to reel recording deck. I realize an eight-track recording deck is laughably small today but back then, it was a huge deal.
While Abbey Road Studios still only used four-track at the time, Trident's Ampex eight-track machine drew The Beatles on July 31, 1968 to record the first single for their Apple label.
But the studio is not why I brought you here today. This piano is.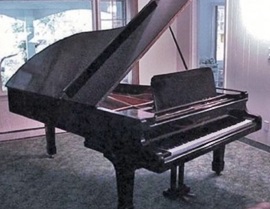 A feature synonymous with the studio was the "Trident Piano," a handmade Bechstein grand piano over 100 years old and often described as "the best rock and roll piano ever."
It was notoriously difficult to play because of its stiff hammers, meaning that the player had to really hit the keys to get something out of it. Despite this notoriety, the bright and crystal clear sound it delivered attracted loads of musicians.
And every song in today's medley features that very same glorious piano Paul McCartney used on that July evening in 1968.
Play button is on the left … Volume slider is on the right
The Trident Piano Medley
Beatles – America – Elton John
Nilsson – David Bowie – Queen
Mott The Hoople – Carly Simon – T. Rex