"We are losing sight of civility in government and politics. Debate and dialogue is taking a back seat to the politics of destruction and anger and control. Dogma has replaced thoughtful discussion between people of differing views."
~James McGreevey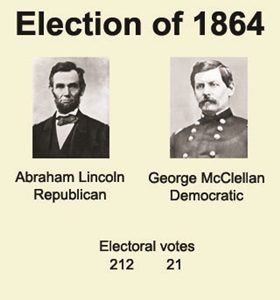 1864 – In the midst of the Civil War, President Abraham Lincoln won reelection, easily defeating Democratic challenger George McClellan, a man Lincoln had dismissed as Commanding General of the U.S. Army two years earlier.
As the Civil War was still raging, no electoral votes were counted from any of the eleven southern states that had joined the Confederate States of America.
Party Factoid: The photo above is not only misleading; it's incorrect. Lincoln, who had won as a Republican in 1860, did not run under that party's banner in 1864. The Republican Party and some Democrats created the National Union Party. The temporary name was used to attract War Democrats and border state voters.
That was the main reason why Andrew Johnson, the Military Governor of Tennessee, was selected to be the vice presidential nominee instead of then-current Vice President Hannibal Hamlin.
The National Unionists supporting the Lincoln–Johnson ticket hoped that the new party would stress the national character of the war, and "having Johnson, the southern War Democrat, on the ticket sent the right message about the folly of secession and the continuing capacity for union within the country."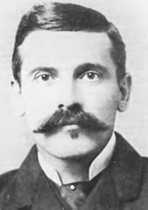 1887 – John Henry "Doc" Holliday, best known for his role in the events leading up to and following the Gunfight at the O.K. Corral, died of tuberculosis at the age of 36.
A former dentist with a serious drinking and gambling addiction, Holliday had befriended Wyatt Earp in Dodge City and, when in Tombstone, joined the Earp brothers in the celebrated 1881 gunfight at the O.K. Corral against the Clanton gang.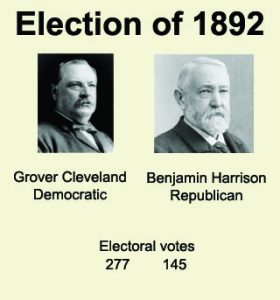 1892 – In a re-match of the closely contested 1888 presidential election, former Democratic President Grover Cleveland defeated incumbent Republican President Benjamin Harrison, becoming the only president to win non-consecutive terms in the White House.
Harrison's re-election bid was a decisive loss in both the popular and electoral count, unlike President Cleveland's re-election bid four years earlier, in which he won the popular vote, but lost the electoral vote.
It was a double crushing blow for Harrison. His wife, First Lady Caroline Harrison, died from tuberculosis two weeks before the election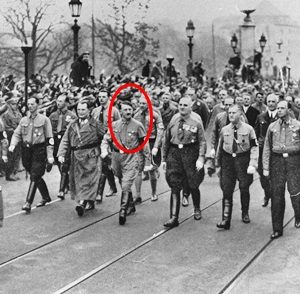 Adolf Hitler, president of the far-right Nazi Party, launched the Beer Hall Putsch, his first attempt at seizing control of the German government.
Nazi forces under Hermann Goering surrounded the Munich beer hall where Bavarian government officials were meeting with local business leaders. A moment later, Hitler burst in with a group of Nazi storm troopers, discharged his pistol into the air, and declared that "the national revolution has begun."
The next morning, government troops surrounded the main Nazi force occupying the War Ministry building. A desperate Hitler responded by leading a march (shown above) toward the center of Munich in a last-ditch effort to rally support.
Near the War Ministry building, 3,000 Nazi marchers came face to face with 100 armed policemen. Shots were exchanged, and 16 Nazis and three policemen were killed. Hermann Goering was shot in the groin, and Hitler suffered a dislocated elbow but managed to escape.
Three days later, Hitler was arrested. Convicted of treason, he was given the minimum sentence of five years in prison – although he only served nine months. He was imprisoned in the Landsberg fortress and spent his time writing his autobiography, Mein Kampf.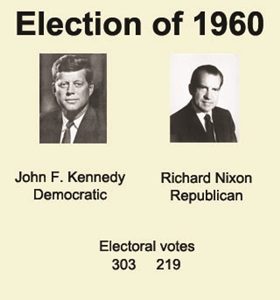 1960 – Sen. John F. Kennedy defeated Vice President Richard M. Nixon to become the 35th president of the United States.
Some, including Republican legislators and journalists, believed that Kennedy benefited from vote fraud, especially in Texas, where his running mate Lyndon B. Johnson was senator, and Illinois, home of Mayor Richard Daley's powerful Chicago political machine.
Kennedy won Illinois by less than 9,000 votes out of 4.75 million cast, or a margin of 0.2%, even though Nixon carried 92 of the state's 101 counties.
In Texas, Kennedy defeated Nixon by just 46,000 votes out of 2.3 million cast. Some Republicans argued that Johnson's formidable political machine had stolen enough votes in counties along the Mexican border to give Kennedy the victory.
Fourteen unpledged electors from Mississippi and Alabama cast their vote for Senator Harry F. Byrd, as did an elector from Oklahoma.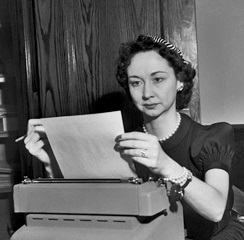 1965 – Dorothy Kilgallen, a well-known journalist and television game show panelist (What's My Line?), was found dead on the third floor of her five-story Manhattan townhouse. Her death was determined to have been caused by a fatal combination of alcohol and barbiturates. She was 52.
Conspiracy theorists have claimed over the years she was killed because she knew too much about President John F. Kennedy's assassination. She had written several pieces about her skepticism of the Warren Commission's report on Kennedy's death.
She obtained a copy of Jack Ruby's testimony to the Warren Commission – which she defiantly published in August 1964 – months before the testimony was to be made public.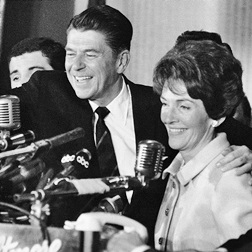 1966 – Ronald Reagan was elected governor of California, easily defeating two-time incumbent Pat Brown by a 57.5% to 42.3% margin.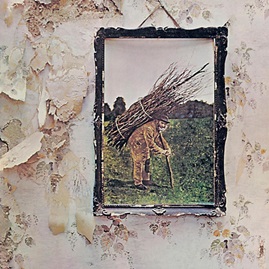 1971 – Led Zeppelin's officially untitled album (commonly known as Led Zeppelin IV), was released.
The album contained two hit singles (Black Dog and Rock And Roll) but is best known for a song that was never released as a single in the U.S. – Stairway To Heaven.
The album is one of the best-selling albums of all time with more than 38 million copies sold.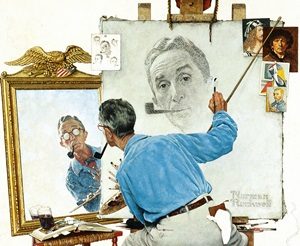 1978 – Norman Rockwell, renowned painter, illustrator and author, died of emphysema at the age of 84.
Rockwell is most famous for the cover illustrations of everyday life he created for The Saturday Evening Post magazine over nearly five decades.
Among the best-known of Rockwell's works are the Willie Gillis series, Rosie the Riveter, The Rookie, Tired Salesgirl on Christmas Eve, The Problem We All Live With, Saying Grace, the Four Freedoms series, and as shown above, Self Portrait.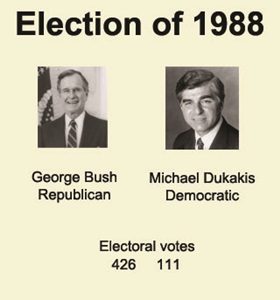 1988 – Vice President George H. W. Bush defeated Massachusetts Governor Michael Dukakis to become the 41st president of the United States.
Running an aggressive campaign, Bush concentrated on the economy and continuing President Ronald Reagan's policies. He attacked Dukakis as an elitist "Massachusetts liberal", and Dukakis failed to respond effectively to Bush's criticism, even though Bush himself was born in Massachusetts, attended Yale University, and was a member of the exclusive Skull and Bones society.
Dukakis did himself no favor when he attempted to quell criticism that he was ignorant on military matters by staging a photo-op in which he rode in a tank outside a General Dynamics plant in Sterling Heights, Michigan.
The move ended up being regarded as a major public relations blunder, with many mocking the candidate's appearance as he waved to the crowd from the tank. Footage of Dukakis was used by the Bush campaign as evidence he would not make a good commander-in-chief, and the incident remains a commonly cited example of backfired public relations outings.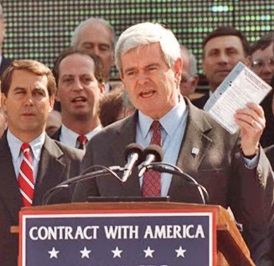 1994 – Republicans – campaigning on a Contract With America message – made historic electoral gains in the midterm elections by securing massive majorities in both houses of congress (54 seats in the House and 8 seats in the Senate), thus bringing a close to four decades of Democratic domination. The Republicans also gained ten governorships.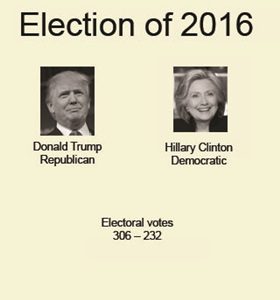 2016 – Businessman Donald J. Trump defeated former U.S. Secretary of State Hillary Clinton to become the 45th president of the United States.
Trump became the fifth person in U.S. history to become president while losing the nationwide popular vote. While Clinton received over 2.8 million more votes nationwide (4.3 million of her margin came from California alone), Trump won 30 states and 57% of the 538 Electoral College votes available.
The tone of the general election campaign was widely characterized as divisive and negative, with both candidates beleaguered by controversy.
Trump made numerous controversial remarks about race and immigration, was accused of inciting violence against protestors at his rallies, and faced multiple allegations of sexual misconduct.
Clinton, whose public approval ratings had declined sharply since the end of her tenure as Secretary of State, was dogged by an FBI investigation of her improper use of a private email server, while her assertion that "half" of Trump's supporters were bigoted "deplorables" met with polarized reactions.
Although the photo shows Trump won 306-232 in state-by-state tallies, Trump lost two votes and and Clinton five due to "faithless electors" in the Electoral College voting. Ultimately, Trump received 304 electoral votes and Clinton won 227.
Of the "faithless" votes, Colin Powell received three electoral votes, and Sen. Bernie Sanders, Gov. John Kasich, former Congressman Ron Paul and Native American activist Faith Spotted Eagle each received one.

NOTE: The purpose of bringing back the Daily Lesson this week was to focus on presidential elections – and since November 8th is the latest date any presidential election can be held – there will be no lesson tomorrow.
Compiled by Ray Lemire ©2018 RayLemire.com / Streamingoldies.com. All Rights Reserved.