Actually, it was 50 years ago today, that producer Robert Stigwood had a flea placed in his ear and the flea said: "What is the greatest rock-and-roll album of all time? Who right now are the greatest, most popular music stars? And how can you possibly lose if you combine them both?"
Answer that question with another question: How could you possibly WIN???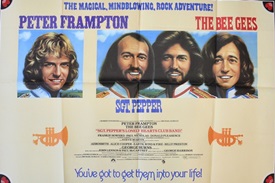 David Ansen of Newsweek dismissed Sgt. Pepper as "a film with a dangerous resemblance to wallpaper."
Perry Seibert of AllMovie called the film "quite possibly the silliest movie ever conceived."
Chris Garman, writing for Rotten Tomatoes, said, "Wow. Just… wow. This film is the rock n' roll equivalent of burning an American flag. It is the equivalent of making out during Schindler's List."
James Sanford of the Kalamazoo Gazette wrote, "Sitting through what passes for a story here is like trying to make a meal out of a can of vanilla frosting."
The Beatles themselves were also distinctly unimpressed with the movie. Despite attending the premiere, Paul McCartney and Ringo Starr refused to associate themselves with the film after seeing it. George Harrison and John Lennon wouldn't even watch it.
In a 1979 interview, Harrison expressed his sympathy for Stigwood, Peter Frampton and the Bee Gees, acknowledging that they had all worked hard to achieve success before making Sgt. Pepper. He said of Frampton and the Bee Gees: "I think it's damaged their images, their careers, and they didn't need to do that."
He was partially correct. Frampton had one final Top 20 hit in 1979, and other than a #74 song in 1986, never hit the Billboard charts again. It was even worse in Frampton's native Britain. He never again hit the UK charts.