1776 – Admiral Richard Howe and General William Howe, "the King's Commissioners for restoring Peace," issued a proclamation from New York City, promising pardon to those who would within 60 days subscribe to a declaration that they would desist from "Treasonable Actings and Doings."
1782 – In Paris, representatives from the United States and the Kingdom of Great Britain signed preliminary peace articles (later formalized as the 1783 Treaty of Paris).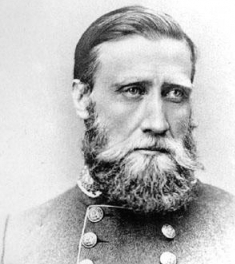 1864 – The Confederate Army of Tennessee suffered a devastating defeat after its commander, General John Bell Hood, ordered a frontal assault on strong Union positions around Franklin, Tennessee. The loss cost Hood six of his finest generals, including Patrick Cleburne, one of the Confederate army's finest division commanders.
Of 15,000 Union troops engaged, some 200 were killed and more than 2,000 were wounded. The Confederates had 23,000 men at Franklin; approximately 1,750 died and 5,500 were wounded or captured. 60 of Hood's 100 regimental commanders were killed or wounded. Despite the defeat, Hood continued to move against Thomas. Just two weeks later, Hood hurled the remnants of his army against the Yankees at Nashville with equally disastrous results.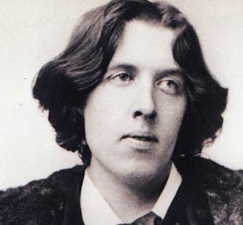 1902 – Novelist/playwright Oscar Wilde (The Picture Of Dorian Gray, The Importance Of Being Earnest) died of cerebral meningitis at the age of 46.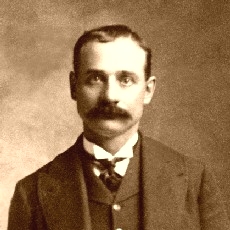 1902 – Harvey "Kid Curry" Logan, the second-in-command in Butch Cassidy's Wild Bunch crew, was sentenced to 20 years hard labor in a Tennessee prison. Though the famous Hollywood movie Butch Cassidy and The Sundance Kid portrayed Harry Longabaugh (Sundance) as Cassidy's main partner, Logan was his true sidekick and right-hand man.
In 1901, Butch and Sundance fled the country for Bolivia, and no one is certain what became of them. The evidence for Logan's fate is somewhat clearer. Most historians believe that after escaping from a Knoxville prison in June of 1903, he fled to Colorado, where it is believed he was wounded by pursuers and took his own life.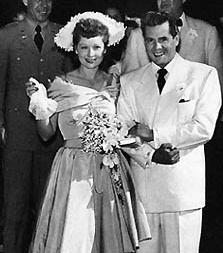 1940 – Lucille Ball married Desi Arnaz. The marriage lasted 20 years.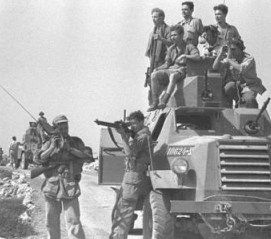 1947 – In the aftermath of the United Nations adoption of Resolution 181(II) – a resolution recommending the creation of independent Arab and Jewish States and the Special International Regime for the City of Jerusalem – the Arab-Israeli Civil War erupted when passengers on a Jewish bus were attacked by Arabs (on behalf of Mandatory Palestine) near Kfar Sirkin with five of the passengers killed. Thirty minutes later, another bus was attacked near Jerusalem, killing two more.
Murders, reprisals, and counter-reprisals came fast on each other's heels, resulting in dozens of victims killed on both sides in the process. And as we all know, the Declaration of the Establishment of the State of Israel being proclaimed in May 1948 has never really stopped the fighting.

1950 – President Harry S. Truman announced during a press conference that he was prepared to authorize the use of atomic weapons in order to achieve peace in Korea. At the time of Truman's announcement, communist China had joined North Korean forces in their attacks on United Nations troops, including U.S. soldiers, who were trying to prevent communist expansion into South Korea.
Truman said the U.S. would take "whatever steps were necessary" to contain communist expansion in Korea. A reporter asked "Will that include the atomic bomb?" to which Truman replied, "That includes every weapon that we have."
After affirming that a president always had to consider the use of nuclear weaponry in any scenario involving U.S. troops, Truman went on to assure the press that day that he never wanted to see the bomb used again. "It is a terrible weapon, and it should not be used on innocent men, women, and children."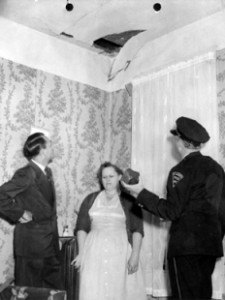 1954 – A meteorite crashed through the roof of a house in Sylacauga, Alabama, landed in the living room, bounced off a radio, and struck Elizabeth Hodges, who was sleeping on a couch at the time of impact. The space rock was a sulfide meteorite weighing 8.5 pounds and measuring seven inches in length. Mrs. Hodges was not permanently injured but suffered a nasty bruise along her hip and leg.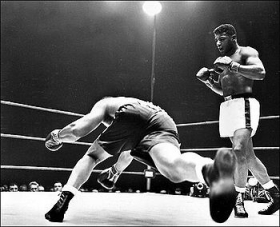 1956 – 21-year old Floyd Patterson knocked out 42-year old former light-heavyweight champion Archie Moore to become (at the time) the youngest World Heavyweight Champion in history.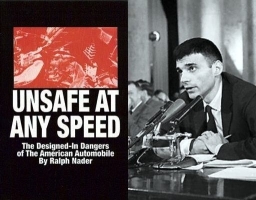 1965 – 32-year-old lawyer Ralph Nader published Unsafe At Any Speed: The Designed-In Dangers of the American Automobile. The book became a best-seller right away. It also prompted the passage of the National Traffic and Motor Vehicle Safety Act of 1966, seat-belt laws in 49 states (all but New Hampshire) and a number of other road-safety initiatives.
1965 – Defense Secretary McNamara reported in a memorandum to President Lyndon B. Johnson that the South Vietnamese government of Nguyen Cao Ky was "surviving, but not acquiring wide support."
McNamara said the U.S. policymakers faced two options: to seek a compromise settlement and keep further military commitments to a minimum, or to continue to press for a military solution, which would require substantial bombing of North Vietnam.
In conclusion, McNamara warned that there was no guarantee of U.S. military success and that "U.S. killed in action can be expected to reach 1,000 a month." In the end, however, Johnson chose to seek a military solution. By 1969, there were more than 500,000 U.S. troops in Vietnam.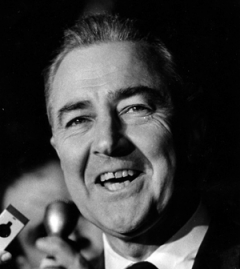 1967 – Senator Eugene J. McCarthy (D-Minnesota), an advocate of a negotiated end to the war in Vietnam, declared that he intended to enter several Democratic Presidential primaries in 1968. McCarthy believed that the majority of Americans were unhappy with President Lyndon B. Johnson's handling of the war, and he planned to challenge the president for the Democratic nomination.
McCarthy shocked the political establishment when he almost defeated Johnson in the New Hampshire primary. When Johnson announced that he would not run for re-election, Vice President Hubert H. Humphrey defeated McCarthy for the presidential nomination at the 1968 Democratic National Convention in Chicago.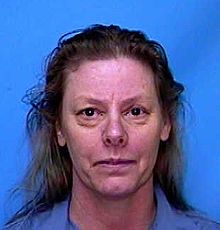 1989 – Richard Mallory, a storeowner in Palm Harbor, Florida, was last seen taking a ride with Aileen Wuornos. The following day, his car – containing his wallet, some condoms, and an empty vodka bottle – was found abandoned in a remote area of Ormond Beach. Nearly two weeks later, his body turned up in a Daytona Beach junkyard with three bullets in his chest. Mallory's murder was the first of seven committed by Wuornos over the next year.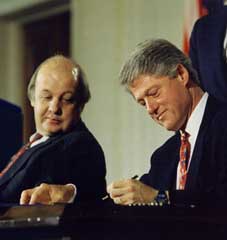 1993 – During a White House ceremony attended by James S. Brady, President Bill Clinton signed the Brady Handgun Control Bill into law. The law requires a prospective handgun buyer to wait five business days while the authorities check on his or her background, during which time the sale is approved or prohibited based on an established set of criteria.
In 1981, James Brady, who served as press secretary for President Ronald Reagan, was shot in the head by John Hinckley, Jr., during an attempt on President Reagan's life outside a hotel in Washington, D.C. Reagan himself was shot in his left lung but recovered and returned to the White House within two weeks. Brady, the most seriously injured in the attack, was momentarily pronounced dead at the hospital but survived and began an impressive recovery from his debilitating brain injury.
Brady passed away in 2014.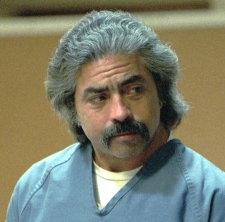 1993 – Authorities in California arrested Richard Allen Davis, who confessed to abducting and killing 12 year-old Polly Klaas of Petaluma, CA.
On October 1, 1993, Klaas had invited two friends for a sleepover. Around 10:30 p.m., she opened her bedroom door to get sleeping bags. Davis was inside, waiting with a knife. He tied her friends up, told them to count to 1,000 and then kidnapped Klaas. Over the next two months, a massive manhunt was underway.
8 million images of Polly were sent out worldwide during the search and 4,000 volunteers pitched in. The participation of celebrities including actress Winona Ryder, a Petaluma native who offered a $200,000 reward, were unprecedented. The way law enforcement and communities reacted to child abductions would never be the same again.
On November 30, police arrested Davis for violation of parole during routine patrol and the arresting officer recognized him from police sketches. As his palm print had been found in Klaas' bedroom, he was charged with the crime. Four days later, he led police to Polly's body. Davis was convicted in 1996 and sentenced to death. He is still on death row.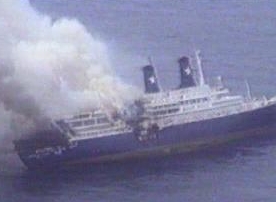 1994 – The Achille Lauro caught fire and sank near Somalia. The large luxury liner had a checkered history that included deaths and terrorism prior to its sinking.
In 1971, the ship rammed an Italian fishing boat in the Mediterranean Sea, killing one person. Ten years later, a fire on board the ship killed two people. The most infamous incident in the history of the Achille Lauro, though, occurred in 1985, when it was hijacked by Palestinian terrorists who shot and killed an American passenger, Leon Klinghoffer.
On this day, the ship was carrying 1,000 passengers near the Horn of Africa when a fire broke out on board. The lifeboats were launched as the fire caused the huge ship to list to the port side. A tug boat was sent to bring it back to shore, but as the tug was trying to connect to the ship, there was a huge explosion. Two people died and the doomed ship sank to the bottom of the ocean.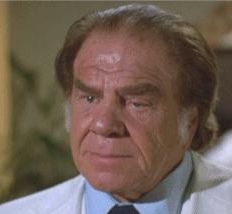 1994 – Actor Lionel Stander (longtime character actor best known for his role as Max on Hart To Hart) died of lung cancer at the age of 86.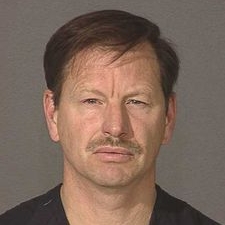 2001 – Gary Ridgway was arrested for the murders of four women in Washington State whose cases were linked to him through DNA evidence. He would eventually admit to killing 48 women between 1982 and 1998, and in exchange for a guilty plea, the "Green River Killer" was spared a death sentence and given 48 life terms.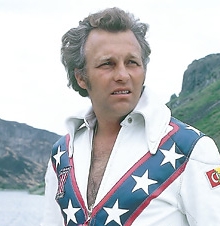 2007 – Stuntman Robert Craig "Evel" Knievel (suffered 433 bone fractures attempting more than 75 ramp-to-ramp motorcycle jumps, and a canyon jump across Snake River Canyon in Idaho in a steam-powered rocket – which failed) died of pulmonary disease at the age of 69.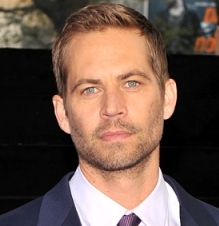 2013 – Actor Paul Walker (She's All That, Varsity Blues, Flags Of Our Fathers, and best known for The Fast And The Furious series of films) died in a violent car accident at the age of 40.
Compiled by Ray Lemire ©2015 RayLemire.com. All Rights Reserved.

[whohit]nov-30-2015[/whohit]