U.S. and World History
1639 – The New College (also known as The College at New Towne) was renamed Harvard College in honor of clergyman John Harvard.

1852 – "Uncle Sam" made his debut as a cartoon character in the New York Lantern.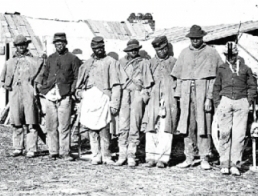 1865 – With the main Rebel armies facing long odds against must larger Union armies, the Confederacy, in a desperate measure, reluctantly approved the use of black troops. General Patrick Cleburne had suggested enlisting slaves a year before, but few in the Confederate leadership considered the proposal, since slavery was the foundation of Southern society. One politician asked, "What did we go to war for, if not to protect our property?" Another suggested, "If slaves will make good soldiers, our whole theory of slavery is wrong."
General Robert E. Lee weighed in on the issue and asked the Confederate government for help. "We must decide whether slavery shall be extinguished by our enemies and the slaves be used against us, or use them ourselves." Lee asked that the slaves be freed as a condition of fighting, but the bill that passed the Confederate Congress on this date did not stipulate freedom for those who served.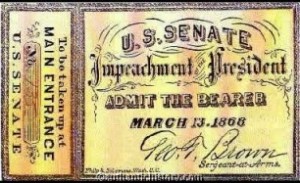 1868 – The impeachment trial of President Andrew Johnson – reviled by the Republican-dominated Congress for his views on Reconstruction, and accused of having violated the controversial Tenure of Office Act, passed by Congress over his veto in 1867 – began in the U.S. Senate.
On May 16 and again on May 26, the Senate voted on the charges brought against President Johnson. Both times the vote was 35 for conviction and 19 for acquittal, with seven moderate Republicans joining 12 Democrats in voting against what was a weak case for impeachment. Because both votes fell short – by one vote – of the two-thirds majority needed to convict Johnson, he was judged not guilty and remained in office.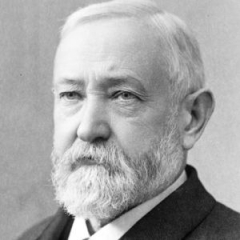 1901 – Benjamin Harrison, the 23rd president of the United States, died from pneumonia in Indianapolis at the age of 67.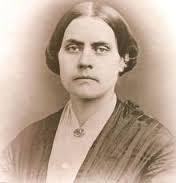 1906 – Susan B. Anthony, feminist who played a pivotal role in the women's suffrage movement, died of heart failure and pneumonia at the age of 86.
1925 – Tennessee passed a bill prohibiting the teaching of evolution in public schools.
1933 – Joseph Goebbels was named Nazi Germany's Minister of Information and Propaganda.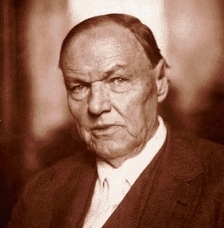 1938 – Defense attorney Clarence S. Darrow – best known for defending teenage killers Leopold and Loeb, and for defending John T. Scopes in the "Scopes Monkey Trial" – died at the age of 80.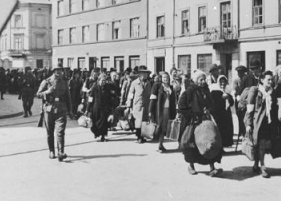 1943 – The Nazis – under the command of SS-Untersturmfuhrer Amon Goth – began to shut down the Jewish ghetto in the Polish city of Kraków. Eight thousand Jews deemed able to work were transported to the Plaszow labor camp. Approximately 2,000 were taken to Auschwitz-Birkenau. Those deemed unfit for work – some 2,000 Jews – were killed in the streets of the ghetto.
The events of that day were recreated in the film Schindler's List. In a novel based on the Krakow Ghetto (Schindler's Ark by Thomas Keneally), the sight of smoke arising from the burning remains was a moment of epiphany in which Oskar Schindler, a German industrialist, resolved to do everything within his power to save Jews from the Krakow Ghetto.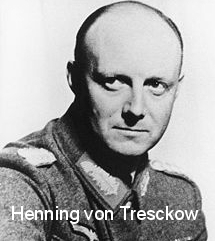 1943 – A plot to kill Adolf Hitler failed twice in one day. As Hitler visited troops on the Eastern Front, a group of officers were to shoot Hitler collectively at a signal in the officers' mess during lunch but that plan was called off at the last minute.
Phase 2: General Hermann Henning von Tresckow arranged to have a bottle of liqueur placed into the casing of a British magnetic mine, with a timer consisting of a spring which would be gradually dissolved by acid, and put on board Hitler's plane. When Hitler landed safely at his East Prussian headquarters, it became obvious that the bomb had failed to detonate. The extremely low temperatures in the unheated luggage compartment probably prevented the fuse from working.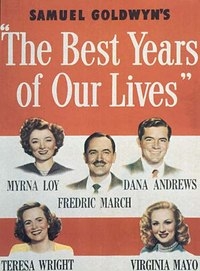 1947 – At the 19th Academy Awards, The Best Years Of Our Lives was named Best Picture and William Wyler won Best Director for the same film. Fredric March (The Best Years Of Our Lives) was the winner of the Best Actor Award, while Olivia de Havilland (To Each His Own) won Best Actress.
Harold Russell (The Best Years Of Our Lives) was named Best Supporting Actor, and Anne Baxter (The Razor's Edge) won Best Supporting Actress.
By the way, It's a Wonderful Life was nominated for five Academy Awards, including Best Picture, Best Director (Frank Capra) and Best Actor (James Stewart), but were shut out. The film did, however, receive a Technical Achievement Award for the development of a new method of simulating falling snow on motion picture sets.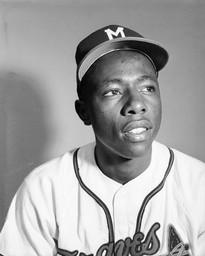 1954 – Milwaukee Braves outfielder Bobby Thomson broke his ankle sliding into second base during a spring training game. The Braves replaced him with a rookie named Hank Aaron.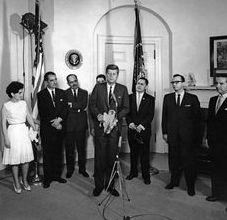 1961 – President John F. Kennedy proposed a 10-year, multibillion-dollar aid program for Latin America. The program came to be known as the "Alliance For Progress" and was designed to improve U.S. relations with Latin America, which had been severely damaged in recent years.
Congress voted for an initial grant of $500 million in May 1961. During the next 10 years, billions were spent on the Alliance, but its success was marginal and there were many reasons that the program was ultimately a failure. American congressmen were reluctant to provide funds for land redistribution programs in Latin America because they felt it smacked of socialism.
Latin American elites directed most of the funds into pet projects that enriched themselves but did little to help the vast majority of their people. The Alliance certainly failed in its effort to bring democracy to Latin America: by the time the program faded away in the early 1970s, 13 governments in Latin America had been replaced by military rule.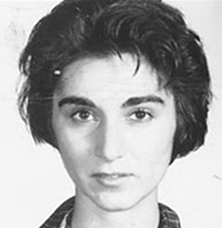 1964 – Catherine "Kitty" Genovese was stabbed to death near her Queens, New York, home. The case came to be a symbol of urban apathy, though initial reports that 38 neighbors ignored Genovese's calls for help have been disputed.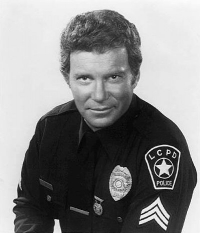 1982 – T.J. Hooker, starring William Shatner as a 15-year veteran Los Angeles police sergeant, debuted on ABC. The program would run for four years on the network before switching to CBS for a final season.
1987 – John Gotti, boss of the Gambino crime family, was acquitted of racketeering charges. During jury deliberations, one juror, George Pape, held out for acquittal until the rest of the jury began to fear their own safety would be compromised. Five years later Pape was convicted of obstruction of justice for agreeing to sell his vote on the jury for $60,000. He was sentenced to three years in prison.
1988 – The Seikan Tunnel, the longest (14.5 miles) and the deepest (790 feet below sea level) operational main-line rail tunnel in the world, opened in Japan.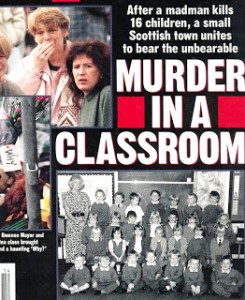 1996 – 43-year-old Thomas Hamilton burst into the gymnasium of the Dunblane Primary School (Scotland) with four guns and opened fire on a kindergarten class. Sixteen children and their teacher, Gwenne Mayor, were fatally shot before Hamilton turned the gun on himself. Twelve other children in the class, along with one other adult, were injured.
Hamilton was a single man who lived in public housing in the nearby town of Stirling. A former Boy Scout leader, he had resigned in 1974 following allegations of improper behavior but during the 1980s formed his own youth athletic clubs. The shooting deeply shocked the Scottish village of 9,000 people and led to the passage of more stringent gun bans by the British government.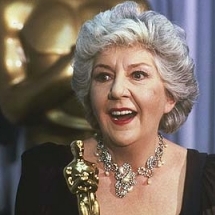 2006 – Actress Maureen Stapleton (nominated four times for an Academy Award for best Supporting Actress: Lonelyhearts, Airport, Interiors and Reds, which earned her an Oscar) died of chronic obstructive pulmonary disease at the age of 80.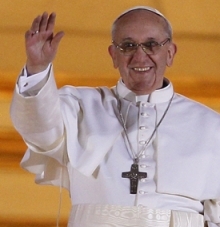 2013 – Pope Francis was elected as the 266th Pope of the Catholic Church.
Compiled by Ray Lemire ©2015 RayLemire.com. All Rights Reserved.
You may not, under any circumstances, reproduce, record, publish, republish, post, transmit, publicly display, publicly exhibit or distribute any articles or photographs on RayLemire.com without obtaining the express written consent of the Operator.