On August 27, 1990, at 12:50 a.m. (CDT), Stevie Ray Vaughan and members of Eric Clapton's touring entourage played an all-star encore jam session at Alpine Valley Music Theatre in Alpine Valley Resort in East Troy, Wisconsin.
Afterwards they took off for Midway International Airport in Chicago in a Bell 206B helicopter, the most common way for acts to enter and exit the venue as there is only one road in and out, which is heavily used by fans. The helicopter crashed into a nearby ski hill shortly after takeoff.
Vaughan and the four others on board – pilot Jeff Brown, agent Bobby Brooks, bodyguard Nigel Browne, and tour manager Colin Smythe – were all killed.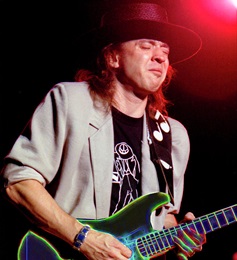 Vaughan won six Grammy Awards and ten Austin Music Awards and was inducted posthumously into the Blues Hall of Fame in 2000 and the Musicians Hall of Fame in 2014.
In 2003, Rolling Stone ranked him seventh among the "100 Greatest Guitar Players of All Time" and Guitar World Magazine ranked him eighth in its list of The 100 Greatest Guitarists.
In 2015, Vaughan and Double Trouble (drummer Chris Layton and bassist Tommy Shannon) were finally inducted into the Rock and Roll Hall of Fame. In a ridiculous insult, Vaughan had been eligible for the Rock Hall of Fame in 2008, but did not even appear on a nominations roster until 2014!
If this video doesn't give you chills, check your pulse.