A look at the past reminds us of how great is the distance, and how short, over which we have come. The past makes us ask what we have done with us. It makes us ask whether our very achievements are not ironical counterpoint and contrast to our fundamental failures.
~Robert Penn Warren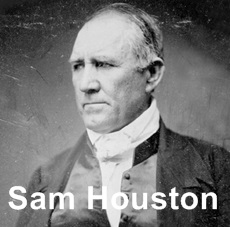 1836 – Six weeks after the Battle of The Alamo, Texas militia under Sam Houston launched a surprise attack against the forces of Mexican General Santa Anna along the San Jacinto River. The Mexicans were thoroughly routed in just 18 minutes and hundreds were taken prisoner.
Santa Anna, the President of Mexico, was captured and surrendered the following day and held as a prisoner of war. Three weeks later, he signed the peace treaty that dictated that the Mexican army leave the region, paving the way for the Republic of Texas to become an independent country. These treaties did not specifically recognize Texas as a sovereign nation, but stipulated that Santa Anna was to lobby for such recognition in Mexico City.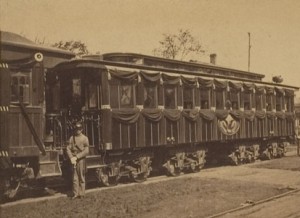 1865 – A train carrying the coffin of assassinated President Abraham Lincoln left Washington, D.C. on its way to Springfield, Illinois, where he would be buried on May 4. The train carrying Lincoln's body traveled through 180 cities and seven states on its way to Lincoln's home state of Illinois.
Scheduled stops for the special funeral train were published in newspapers. At each stop, Lincoln's coffin was taken off the train, placed on an elaborately decorated horse-drawn hearse and led by solemn processions to a public building for viewing.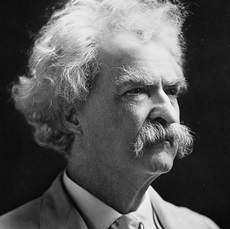 1910 – Samuel Langhorne Clemens, better known by his pen name Mark Twain, died of a heart attack at the age of 74. Among his novels are The Prince and The Pauper, A Connecticut Yankee in King Arthur's Court, and of course, The Adventures of Tom Sawyer and its sequel, Adventures of Huckleberry Finn.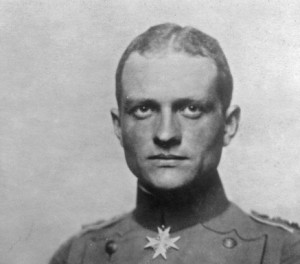 1918 – In the skies over Vauz sur Somme, France, Manfred von Richthofen, the notorious German flying ace known as "The Red Baron," was killed by Allied fire. Richthofen had penetrated deep into Allied territory in pursuit of a British aircraft. The Red Baron was flying too near the ground and his plane crashed into a field alongside the road from Corbie to Bray.
British troops recovered his body, and he was buried with full military honors. He was 25 years old. In a time of wooden and fabric aircraft, when 20 air victories ensured a pilot legendary status, Manfred von Richthofen had downed 80 enemy aircraft.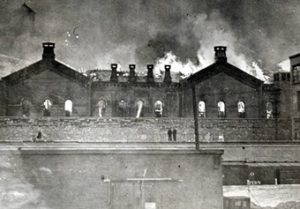 1930 – A fire at an Ohio prison in Columbus killed 320 inmates, some of whom burned to death when they were not unlocked from their cells. It was one of the worst prison disasters in American history. The prison, built to hold 1,500 people, was almost always overcrowded and notorious for its poor conditions.
At the time of the 1930 fire, there were 4,300 prisoners living in the jail. The cell block adjacent to the scaffolding housed 800 prisoners, most of them already locked in for the night. The inmates begged to be let out of their cells as smoke filled the cell block. However, most reports claim that the guards not only refused to unlock the cells, they continued to lock up other prisoners. Meanwhile, the fire spread to the roof, endangering the inmates on the prison's upper level as well.
Two prisoners finally forcibly took the keys from a guard and began their own rescue efforts. Approximately 50 inmates made it out of their cells before the heavy smoke stopped the impromptu evacuation. The roof then caved in on the upper cells. About 160 prisoners burned to death.

1934 – Supposedly taken by London gynecologist Robert Kenneth Wilson, the most famous photo allegedly showing the Loch Ness Monster was published in the Daily Mail. Wilson's refusal to have his name associated with it led to it being known as the "surgeon's photograph".
In 1999, it was revealed to be a hoax … Really? It took them 65 years to officially determine that?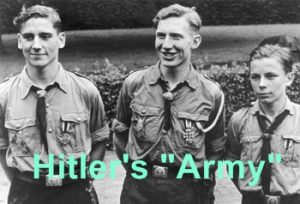 1945 – Soviet forces fighting south of Berlin, at Zossen, assaulted the headquarters of the German High Command. The only remaining opposing "force" to the Russian invasion of Berlin were the "battle groups" of Hitler Youth – teenagers with anti-tank guns, strategically placed in parks and suburban streets.In a battle at Eggersdorf, 70 of these Hitler teens strove to fight off a Russian assault with a mere three anti-tank guns. They were bulldozed by Russian tanks and infantry. The "Thousand-Year Reich" was just days from collapse.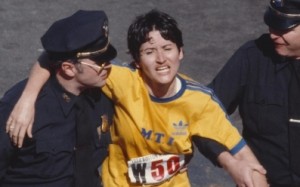 1980 – Rosie Ruiz, age 26, finished first in the women's division of the Boston Marathon with a time of 2:31:56. She was rewarded with a medal, a laurel wreath and a silver bowl. However, eight days later, Ruiz was stripped of her victory after race officials learned she jumped into the race about a mile before the finish line.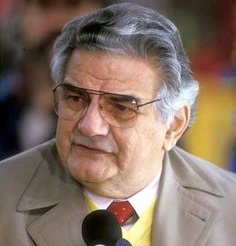 1996 – Jimmy Snyder, better known as Jimmy the Greek, died of a heart attack at the age of 77. A Las Vegas bookmaker and television sports commentator (NFL Today), Snyder had lost his television job in 1988 after making insensitive (understatement) racial comments during a television interview
"The black is a better athlete to begin with because he's been bred to be that way, because of his high thighs and big thighs that goes up into his back, and they can jump higher and run faster because of their bigger thighs and he's bred to be the better athlete because this goes back all the way to the Civil War when during the slave trade … the slave owner would breed his big black to his big woman so that he could have a big black kid."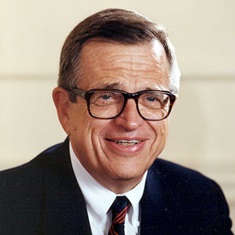 2012 – Charles Colson, Special Counsel to President Richard Nixon, died from complications resulting from a brain hemorrhage. He was 80. Once known as Nixon's "hatchet man," Colson gained notoriety at the height of the Watergate scandal, for being named as one of the Watergate Seven, and pleaded guilty to obstruction of justice for attempting to defame Pentagon Papers defendant Daniel Ellsberg. In 1974, he served seven months in the federal Maxwell Prison in Alabama as the first member of the Nixon administration to be incarcerated for Watergate-related charges.
See you on Monday!
Compiled by Ray Lemire ©2017 RayLemire.com. / Streamingoldies.com. All Rights Reserved.