"It was just one of those moments in the universe that was mine. And I look back on it, it's almost like it happened to somebody else."
~Carlton Fisk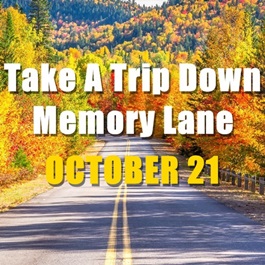 ROCK & ROLL HISTORY
1958 – Buddy Holly's last studio recording session included True Love Ways, Raining In My Heart and It Doesn't Matter Anymore at Pythian Temple Studios in New York City.

1965 – Bill Black, bass player who played on many of Elvis Presley's early hits and later the leader of his own Bill Black's Combo (Smokie) died following surgery to remove a brain tumor. He was only 39.

1965 – Incorporating George Harrison's sitar into their music, The Beatles continued to expand their musical horizons when they recorded Norwegian Wood (This Bird Has Flown) for the Rubber Soul album.

1977 – Meat Loaf released his Bat Out Of Hell album. It included Paradise By The Dashboard Light which peaked at #39 on the Billboard Hot 100.
Songwriter Jim Steinman wanted equal billing on the album cover. His ideas for the album title included 'Jim Steinman presents…' or 'Jim and Meat'
The record label rejected both ideas but did placate the songwriter by placing "Songs by Jim Steinman" just below the title.

1985 – Blue Suede Shoes: A Rockabilly Session, featuring Carl Perkins and a few of his friends, was taped live at a televised concert at Limehouse Studios in London.
Perkins' "friends" included George Harrison, Eric Clapton, Dave Edmunds, Roseanne Cash, Ringo Starr, The Stray Cats and others.
Forget what the video title says. This was not recorded in Passaic, NJ. Trust me, I'm a professional.

1995 – Richard Shannon Hoon, lead singer with Blind Melon (No Rain) died from a cocaine overdose. He was only 28 … and left behind a 3-month old daughter.

1995 – Maxene Andrews (Andrews Sisters – Boogie Woogie Bugle Boy) died of a heart attack at the age of 79.
Maxine is the one on the left in the video below.

MOVIE/TV HISTORY
1964 – My Fair Lady premiered in U.S. theaters.
The film starred Rex Harrison, Audrey Hepburn, Stanley Holloway and Wilfrid Hyde-White, and won eight Academy Awards, including Best Picture, Best Actor (Harrison), and Best Director (George Cukor).
Hepburn's singing was judged inadequate and she was dubbed by Marni Nixon. Harrison declined to pre-record his musical numbers for the film, claiming he could not convincingly lip-sync to a playback during filming.
Sound director George Groves decided to use a wireless microphone on Harrison, the first such use during filming of a motion picture. He won an Academy Award (Best Sound) for his efforts.

SPORTS HISTORY
1975 – Boston catcher Carlton Fisk's 12th inning home run lifted the Red Sox to a 7-6 win over the Cincinnati Reds in Game 6 of the World Series.
Fisk would not have had that opportunity if Bernie Carbo hadn't delivered as a pinch-hitter in the 8th inning.

1976 – The New York Knicks retired Willis Reed's #19. Reed was the first Knick to have his jersey retired.
Reed's most famous performance took place on May 8, 1970, during Game 7 of the 1970 NBA Finals against the Los Angeles Lakers in Madison Square Garden.

1998 – The New York Yankees defeated the San Diego Padres to win their 24th World Series title.
The Yankees had a magical season with 114 regular-season wins and 11 postseason victories (125 total – the most by any team in Major League Baseball history.
No one was more magical during that World Series than Yankees' third basemen Scott Brosius.

Compiled by Ray Lemire ©2005-2020 RayLemire.com / Streamingoldies.com. All Rights Reserved.