"If there is something in my eyes, a kind of honesty in the face, then I guess you could say that's the man I'd like to be, the man I want to be."
~Henry Fonda
WARNING: There are several photos readers may find disturbing!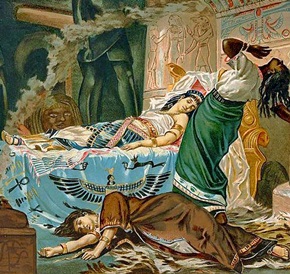 30 B.C. – Cleopatra, queen of Egypt and lover of Julius Caesar and Mark Antony, took her life – possibly by means of an asp, a poisonous Egyptian serpent – following the defeat of her forces against Octavian, the future first emperor of Rome.
Octavian then executed her son Caesarion, annexed Egypt into the Roman Empire, and used Cleopatra's treasure to pay off his veterans. In 27 B.C., Octavian became Augustus, the first and arguably most successful of all Roman emperors.
He ruled a peaceful, prosperous, and expanding Roman Empire until his death in 14 A.D. at the age of 75.
I'll be the first to admit this event has absolutely nothing to with the kind of history subjects I usually dig up, but this historic event did turn into a major motion picture for Elizabeth Taylor … so there's always that.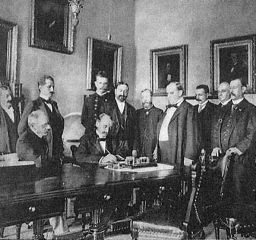 1898 – The brief and one-sided Spanish-American War came to an end when Spain formally agreed to a peace protocol on U.S. terms: the cession of Cuba, Puerto Rico, and Manila in the Philippines to the United States pending a final peace treaty.

1898 – The Hawaiian flag was lowered from 'Iolani Palace in Honolulu as part of a formal annexation ceremony and replaced with the flag of the United States to signify the completion of the transfer of sovereignty from the Republic of Hawaii to the United States.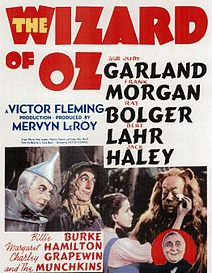 1939 – The Wizard of Oz, starring Judy Garland and featuring words and music by E.Y. "Yip" Harburg and Harold Arlen, received its world premiere in Oconomowoc, Wisconsin.
The beloved characters – Dorothy, the wicked witch, the scarecrow, tin man, cowardly lion, and of course the wizard – were mostly all there in the original children's book, first published in 1900.
But what had been missing Frank Baum's bestselling novel was the music that helped make those characters so beloved.
Not only did Judy Garland's signature song, Over The Rainbow, earn Arlen and Harburg the Academy Award for Best Song at the 1940 Academy Awards, but it quickly became an indispensable standard in the American Songbook, later being acknowledged as the #1 song on the "Songs of the Century" list compiled in 2001 by the Recording Industry Association of America and the National Endowment for the Arts.
First and foremost, Arlen and Harburg's songs accomplished their primary goal with flying colors, carrying and deepening the emotional impact of the story in the film for which they were written.
As innovative and impressive as the production values of The Wizard Of Oz were in 1939, it is impossible to imagine the film earning the place it has in the popular imagination without songs like The Lollipop Guild, If I Only Had A Brain and We're Off To See The Wizard.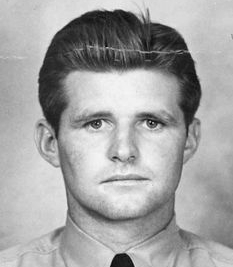 1944 – Joseph P. Kennedy Jr., eldest son of Joseph and Rose Fitzgerald Kennedy, was killed when an explosives-laden Navy plane flying a top-secret mission blew up over England during World War II.
His father had high expectations – the U.S. presidency – for his son, but those plans then fell upon Joe Jr.'s younger brother John who was later elected President.
Ironically, Joseph P. Kennedy Jr. was the only son of Joseph and Rose who did not run for president.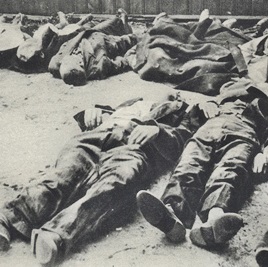 1944 – Nazi troops ended the week-long Wola Massacre, during which time at least 40,000 people were killed indiscriminately or in mass executions. For seven days, tens of thousands of Polish civilians along with captured Home Army resistance fighters had been brutally and systematically murdered by the Germans in organized mass executions throughout Wola, a district of Poland's capital city of Warsaw.
The Germans anticipated that these atrocities would crush the insurrectionists' will to fight and put the uprising to a swift end. However, the ruthless pacification of Wola only stiffened Polish resistance, and it took another two months of heavy fighting for the Germans to regain control of the city.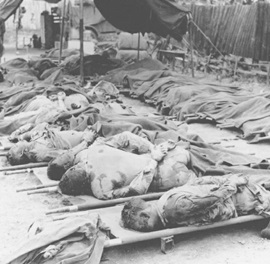 1950 – After a successful attack on two undefended U.S. Artillery Battalions that killed or wounded hundreds of U.S. troops, members of the North Korean People's Army executed seventy-five captured U.S. Army prisoners of war during one of the smaller engagements of the Battle of Pusan Perimeter.
Fifty-five men from the 555th Field Artillery Battalion and twenty men from the 90th Field Artillery Battalion were rounded up. The North Koreans then ordered the men from the 555th into a house where they machine-gunned the entire group, killing all fifty-five, and as the photo above shows, each victim died with his hands tied behind his back.
In a separate location, the twenty survivors of the 90th Field Artillery Battalion were executed, each with a gunshot to the head.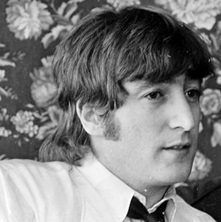 1966 – John Lennon apologized at a news conference in Chicago for saying "the Beatles are more popular than Jesus."
The controversy had started when an article appeared in the London Evening Standard in which Lennon told journalist Maureen Cleave "We're more popular than Jesus now."
The comment drew little attention in England when it was published in March 1966, but after U.S. teen magazine Datebook reprinted the quote out of context months later, the controversy boiled over.
With the band's popularity (and safety) at stake while on a U.S. tour, Lennon said, "I'm not anti-Christ or anti-religion or anti-God. I'm not saying we're better or greater, or comparing us with Jesus Christ as a person, or God as a thing or whatever it is. I just said what I said and was wrong, or was taken wrong, and now it's all this.
"If I'd have said television is more popular than Jesus, I might have got away with it. In reference to England, we meant more to kids than Jesus did, or religion at that time. I wasn't knocking it or putting it down I was just saying it as a fact and it's true more for England than here."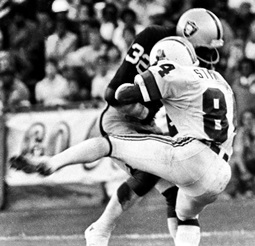 1978 – Oakland Raiders free safety Jack Tatum leveled New England Patriots wide receiver Darryl Stingley with a helmet-to-helmet hit in a preseason game, leaving Stingley paralyzed for life.
The hit did not violate any NFL rules and no flag was thrown on the play, but Stingley's neck was broken between the fourth and fifth vertebrae, rendering the 26-year-old a quadriplegic, paralyzed from the chest down.
Stingley died on April 5, 2007, as a result of complications from his injury.
Tatum never expressed any remorse about the hit by explaining "you can't get emotional about it."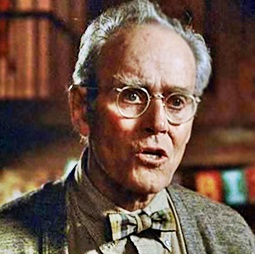 1982 – Actor Henry Fonda, whose career spanned more than five decades, died at the age of 77.
Through the course of his career, he appeared in many critically acclaimed films, including such classics as Young Mr. Lincoln, 12 Angry Men, The Best Man, Fail Safe, and The Ox-Bow Incident.
He was nominated for an Academy Award for Best Actor for his role in 1940's The Grapes Of Wrath and won for his role of Norman Thayer Jr. in 1981's On Golden Pond.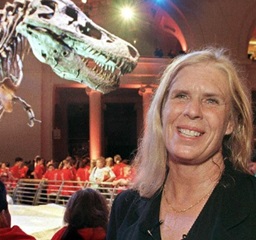 1990 – Fossil hunter Susan Hendrickson discovered three huge bones jutting out of a cliff near Faith, South Dakota. They turned out to be part of the largest-ever Tyrannosaurus rex skeleton ever discovered, a 65 million-year-old specimen dubbed "Sue", after its discoverer.
In 1992, a long legal battle began over Sue. The U.S. Attorney's Office claimed Sue's bones had been seized from federal land and were therefore government property. In October 1997, Chicago's Field Museum purchased Sue at a public auction for $8.36 million, financed in part by the McDonald's and Disney corporations.
Sue's skeleton went on display at the Field Museum in May 2000. The tremendous T.rex skeleton – 13 feet high at the hips and 42 feet long from head to toe – is displayed in one of the museum's main halls. Another exhibit gives viewers a close-up view of Sue's five foot-long, 2,000-pound skull with its 58 teeth, some as long as a human forearm.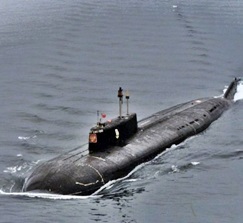 2000 – The Russian Navy submarine Kursk exploded and sank in the Barents Sea during a military exercise, killing her entire 118-man crew.
The Kursk was 500 feet long and weighed 24,000 tons. It had two nuclear reactors and could reach speeds of 28 knots. It was the largest attack submarine in the world, approximately three times the size of the largest subs in the United States Navy.
Using $100 million, the best available technology and an international team of experts, the Kursk was raised on September 26, 2001, about a year after the accident.
The team was forced to cut off the front hull from the rest of the sub in order to bring it to the surface, leaving the best evidence of what caused the explosions at the bottom of the sea.
The exact cause of the disaster remains unknown.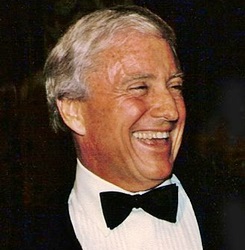 2007 – Merv Griffin, television host, media mogul (The Merv Griffin Show, Jeopardy, Wheel of Fortune), and real estate tycoon, died of prostate cancer at the age of 82.
At the time of his death, Griffin's estate was worth more than a billion dollars.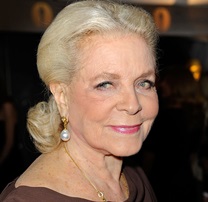 2014 – Actress Lauren Bacall, who shot to fame in her debut film, To Have And Have Not,in which she appeared opposite Humphrey Bogart, died at the age of 89. In a career that spanned nearly 70 years, the smoky-voiced Bacall made more than 40 films, including The Big Sleep, How To Marry A Millionaire, and The Mirror Has Two Faces which earned her an Academy Award nomination for Best Supporting Actress.
Married in 1945, Bogart and Bacall became one of Hollywood's iconic couples and made three more films together, The Big Sleep, Dark Passage and Key Largo.
Compiled by Ray Lemire ©2018 RayLemire.com. Streamingoldies.com. All Rights Reserved.