If February 5 was a memorable date for no other reason than being the birthday of session drummer Hal Blaine, that alone would be a reason for celebrating. He played on 40 #1 hit singles, 150 Top Ten hits, and 6 consecutive Grammy Records of the Year. In total, Hal Blaine played drums on over 35,000 songs!
I could have devoted this entire medley to Blaine's recordings but in the interest of time, I have chosen just one song to represent his output; a song that Max Weinberg of The E Street Band praised by saying, "If Hal Blaine had played drums only on the Ronettes' Be My Baby, his name would still be uttered with reverence and respect for the power of his big beat."
While it's true Blaine could drive the Wrecking Crew of studio musicians with power, he could also play subtly in the background, keeping perfect rhythm and holding an orchestra together. No matter the genre, the next time you listen to the #1 songs listed at the very bottom of this post,you'll be listening to Hal Blaine.
And hey, there are five other songs connected to February 5, as well … and they are awesome, too!
Play button is on the left … Volume slider is on the right
What Happened On February 5?
1929 – Hal Blaine was born (He's 89 today!)
1961 – Roy Orbison recorded a classic #1 song
1961 – Gene Pitney released his first Top 40 hit
1967 – The Monkees recorded a #2 single (Hal Blaine on drums)
1972 – Paul Simon released a #4 single
2006 – Bob Dylan released a "thunderous" song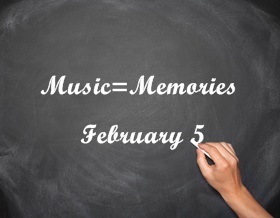 And Now … The List of #1 Hal Blaine Recordings
• "Johnny Angel" – Shelley Fabares
• "He's A Rebel" – The Crystals
• "Surf City" – Jan & Dean
• "I Get Around" – The Beach Boys
• "Everybody Loves Somebody" – Dean Martin
• "Ringo" – Lorne Greene
• "This Diamond Ring" – Gary Lewis & the Playboys
• "Help Me, Rhonda" – The Beach Boys
• "Mr Tambourine Man" – The Byrds
• "Eve Of Destruction" – Barry McGuire
• "My Love" – Petula Clark
• "These Boots Are Made For Walkin'" – Nancy Sinatra
• "Monday Monday" – The Mamas & the Papas
• "Aquarius/Let the Sunshine In" – The 5th Dimension
• "Strangers In The Night" – Frank Sinatra
• "Poor Side Of Town" – Johnny Rivers
• "Good Vibrations" – The Beach Boys
• "Somethin' Stupid" – Frank & Nancy Sinatra
• "The Happening" – The Supremes
• "Windy" – The Association
• "Mrs. Robinson" – Simon & Garfunkel
• "Dizzy" – Tommy Roe
• "Love Theme From Romeo and Juliet" – Henry Mancini
• "Wedding Bell Blues" – The 5th Dimension
• "Bridge Over Troubled Water" – Simon & Garfunkel
• "(They Long To Be) Close To You" – The Carpenters
• "Cracklin' Rosie" – Neil Diamond
• "I Think I Love You" – The Partridge Family
• "Indian Reservation" – The Raiders
• "Song Sung Blue" – Neil Diamond
• "Calypso" – John Denver
• "Half Breed" – Cher
• "Annie's Song" – John Denver
• "Top Of The World" – The Carpenters
• "The Way We Were" – Barbra Streisand
• "Thank God I'm A Country Boy" – John Denver
• "Love Will Keep Us Together" – Captain & Tennille
• "I'm Sorry" – John Denver
• "Theme From Mahogany (Do You Know Where You're Going To)" – Diana Ross