Wherever we turn our eyes, we cannot fail to behold some magnificent ruin. Our daily footsteps are imprinted in the dust of things which were once the admiration of men. They are the hieroglyphics of time. Silent and holy are all their teachings. Sometimes they remind us of beauty and peace, and sometimes of terror, tumult and woe.
~Charles Lanman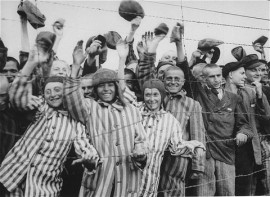 April 29, 1945: The U.S. Seventh Army's 45th Infantry Division liberated Dachau, the first concentration camp established by Germany's Nazi regime. A major Dachau subcamp was liberated the same day by the 42nd Rainbow Division.
Established five weeks after Adolf Hitler took power as German chancellor in 1933, Dachau was situated on the outskirts of the town of Dachau, about 10 miles northwest of Munich. During its first year, the camp held about 5,000 political prisoners, consisting primarily of German communists, Social Democrats, and other political opponents of the Nazi regime. During the next few years, the number of prisoners grew dramatically, and other groups were interned at Dachau, including Jehovah's Witnesses, Gypsies, homosexuals, and repeat criminals. Beginning in 1938, Jews began to comprise a major portion of camp internees.
The camp served as the training center for SS concentration camp guards and was a model for other Nazi camps. Nazi scientists tested the effects of freezing and changes to atmospheric pressure on inmates, infected them with malaria and tuberculosis and treated them with experimental drugs, and forced them to test methods of making seawater potable and of halting excessive bleeding. Hundreds of prisoners died or were crippled as a result of these experiments.
Americans found more than 30 railroad cars filled with bodies in various states of decomposition. Inside the camp there were more bodies and 30,000 survivors, most severely emaciated.
Some of the American troops who liberated Dachau were so appalled by conditions at the camp that they machine-gunned at least two groups of captured German guards. It is officially reported that 30 SS guards were killed in this fashion, although unconfirmed accounts listed the number as closer to 500. The German citizens of the town of Dachau were later forced to bury the 9,000 dead inmates found at the camp.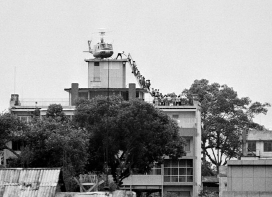 April 29, 1975: Operation Frequent Wind, the largest helicopter evacuation on record, began removing the last Americans from Saigon.
The North Vietnamese had launched their final offensive in March 1975 and the South Vietnamese forces had fallen back before their rapid advance. With the North Vietnamese attacking the outskirts of Saigon, U.S. Ambassador Graham Martin ordered the commencement of Frequent Wind.
In 19 hours, 81 helicopters carried more than 1,000 Americans and almost 6,000 Vietnamese to aircraft carriers offshore. Cpl. Charles McMahon, Jr. and Lance Cpl. Darwin Judge, USMC, were the last U.S. military personnel killed in action in Vietnam, when shrapnel from a North Vietnamese rocket struck them as they were guarding Tan Son Nhut Airbase during the evacuation. At 7:53 a.m. on April 30, the last helicopter lifted off the rook of the embassy and headed out to sea. Later that morning, North Vietnamese tanks crashed through the gates of the Presidential Palace. North Vietnamese Col. Bui Tin accepted the surrender from Gen. Duong Van Minh, who had taken over from Tran Van Huong (who only spent one day in power after President Nguyen Van Thieu fled).
The Vietnam War was over.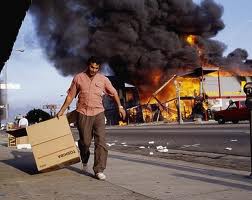 April 29, 1992: A jury of 10 whites, one Hispanic, and one Filipina in the Los Angeles suburb of Simi Valley acquitted four police officers who had been charged with using excessive force in arresting black motorist Rodney King a year earlier. The announcement of the verdict, which enraged the black community, prompted widespread rioting throughout much of the sprawling city. Over the next three days, 53 people were killed and hundreds of buildings are destroyed.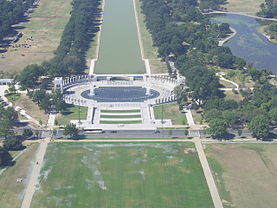 April 29, 2004: The National World War II Memorial opened in Washington, D.C., to thousands of visitors, providing overdue recognition for the 16 million U.S. men and women who served in the war.
Though the federal government donated $16 million to the memorial fund, it took more than $164 million in private donations to get it built. Only a fraction of the 16 million Americans who served in the war would ever see it. Four million World War II veterans were living at the time, with more than 1,100 dying every day, according to government records.