Curtis Lee, best remembered for "Pretty Little Angel Eyes" (#7 in 1961), died Thursday (January 8) of cancer in San Diego. The Yuma, Arizona native was 75.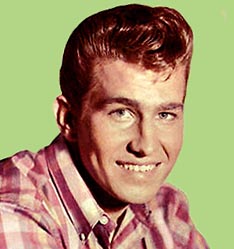 Groomed to be a teen idol after Elvis went into the Army, Lee was signed by Ray Peterson's Dunes Records in New York in 1960. However, his early recordings – including "Pledge Of Love" (#110) – failed to generate much interest.
The label pulled out all the stops for Lee on "Pretty Little Angel Eyes", getting Tommy Boyce to write it (based on a title suggestion by Curtis), Phil Spector to produce it, and pairing him with doo-wop group The Halos for the catchy background. 
Spector also produced Lee's follow-up, "Under The Moon Of Love" (#46 in 1961) but once the two split professionally, Curtis was back to bubbling-under on "Just Another Fool" (#110-1962). Dunes soon dropped him from their roster of artists, leaving Lee as a one-hit wonder.